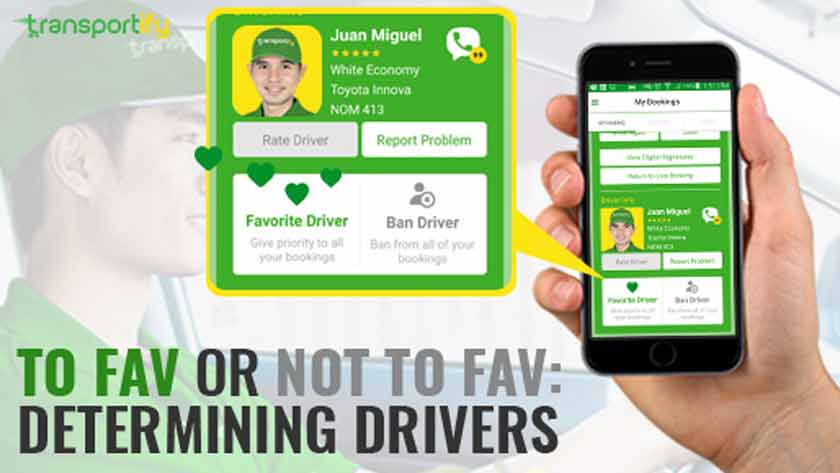 Have you ever had one of those experiences where you really commended a Transportify driver partner for doing a good job with your delivery request? Do you sometimes wish that the same driver would deliver your next package? Wish no more! Transportify is indeed Manila's smartest logistics provider and has found a way so you could easily find your favored driver partners and request their service for your next transaction.
Called the Favs and Bans feature, this app features allows Transportify users to categorize the delivery drivers they encounter based on how much the client preferred the driver's services and customer treatment. Using the Transportify app for delivery service, the client can list their preferred drivers under their Favs, and list their not-so-favored drivers under the Bans list. Both the web and mobile versions of the app allows the users to list drivers either under Favs or under Bans.
Once a client listed a driver partner under Favs, that driver will be the first to see your bookings so there will be a greater chance that he will handle your deliveries. On the other hand, the driver partners you have listed under Bans will never get a booking from you again.
The Favs and Bans feature was created to show our clients how much we care about how they are treated and to prove that our company does not tolerate unprofessional and irresponsible behavior from any of our Transportify delivery driver partners. Additionally, the Favs and Bans feature is a way to encourage driver partners listed under Bans to improve the quality of their delivery service and customer approach. It is also a way to let driver partners listed under Favs know that their excellent performance is being appreciated and noted.
For more information on how the Transportify's Favs and Bans app feature, you can visit our website and ask our customer service representative for any inquiries.