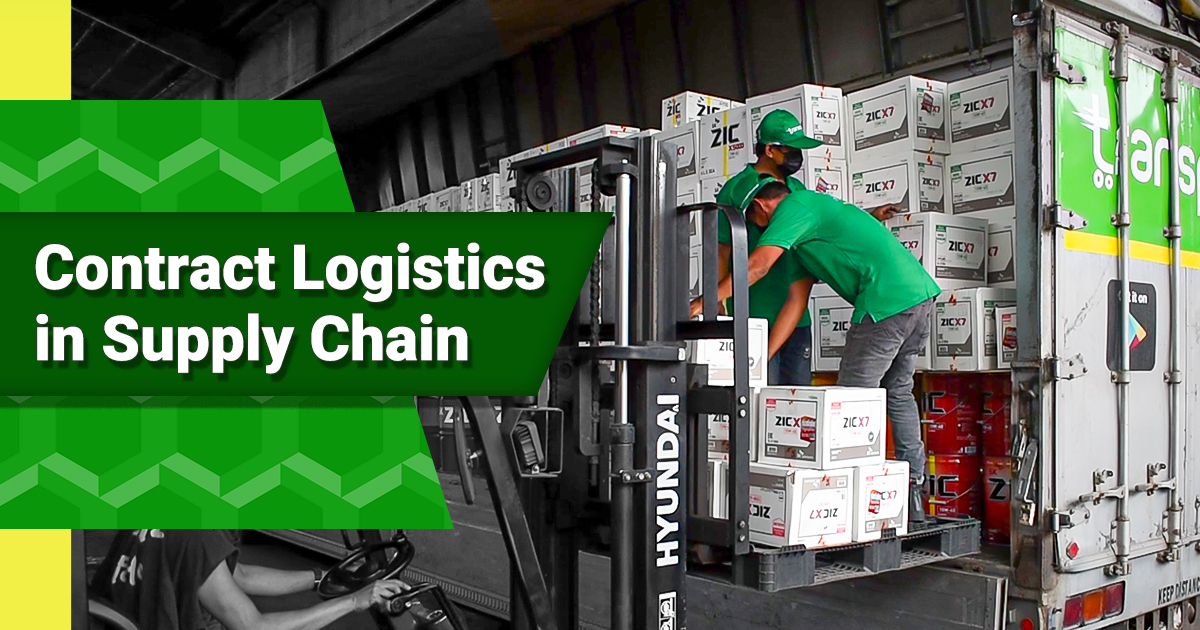 In business, supply chain management (SCM) actively manages supply chain activities to maximize customer value and achieve sustainable competitive advantage. It represents a conscious effort by the supply chain firms to develop and run their operations in the most effective & efficient way possible.
Contract logistics is often seen as one of the key components of successful SCM. This blog post will explore how important contract logistics in SCM and what benefits they can bring to your organization. Continue reading to start learning!
How is Contract Logistics Defined?
Contract logistics in SCM is an outsourced service in which a company delegates its supply chain activities to one or multiple logistics service providers. It involves managing components and resources across production, delivery, and returns processes. It reduces the capital expenditure and operating costs associated with material handling. As a result, it increases overall profitability through process optimization.
Why Should You Know About The Importance of Contract Logistics?
1Contract logistics in SCM allows you to reduce costs
Outsourcing your supply chain and logistics operations allows you to cut overhead expenses while lowering the number of people needed to manage the process.
2It increases efficiency
When you outsource your contract logistics needs to a third-party provider, they have access to more resources, enabling them to manage your supply chain and logistics operations more efficiently.
3It can help you keep up with changing customer demands
Contract logistics will allow you to adjust quickly to changes in customer demand, providing better service to your customers while reducing costs associated with maintaining inventory and transportation.
4It provides you with better visibility
You will have better visibility into the supply chain process when outsourcing your contract logistics in SCM. This gives you a better understanding of where things are in the process and when they will be delivered, allowing for more accurate planning and forecasting.
5It helps to streamline processes
By outsourcing certain aspects of your logistics operations, you can free up staff to focus on more important tasks such as customer service and product development. This allows for a more streamlined process and better customer satisfaction.
6It's cost-effective
Outsourcing your contract logistics in SCM is typically cheaper than hiring an in-house team. This makes it an ideal solution for companies that don't have the resources to hire full-time staff.
7It minimizes the risk
By outsourcing your contract logistics in SCM, you can minimize the risk associated with supply chain and logistics operations, as a third-party provider is responsible for any issues that may arise. This helps cut delays and extra costs.
8It helps you stay competitive
By outsourcing your contract logistics needs, you can ensure that your company is always up-to-date with the latest trends in the industry. This allows you to remain competitive while also providing customers with better service.
9It's more convenient
You don't need to worry about maintaining on-site staff and resources when outsourcing your contract logistics. This makes it easier for companies with limited personnel resources to still benefit from having a professional logistics provider manage their supply chain operations.
10It helps to reduce errors
By outsourcing your contract logistics to a third-party provider, you can reduce errors related to inventory and transportation. This is because professional providers know the best practices in the industry and have experience dealing with these types of tasks.
Contract logistics is an essential component of the supply chain for businesses, large and small. This method of handling product warehousing, transportation, and distribution can help organizations streamline their processes. In addition, contract logistics services are designed to be flexible with their portfolio offerings, allowing businesses to customize these services to meet their individual needs.
SEE ALSO:
Five Tips for Working With a Contract Logistics Provider
Establish clear communication
Setting up a system for regular communication between you and the third-party provider is important. This will ensure that everyone is on the same page and can discuss any obstacles before they become problems.
Have an understanding of your needs
Before working with a contract logistics provider, it is important to have a clear understanding of your organization's needs. This will help you identify the most suitable services for your company and ensure you get the best value from them.
Invest in quality control
Quality control is essential when it comes to contract logistics providers. Make sure that the provider you choose has quality assurance checks in place to ensure that the products you receive or ship out are up to your standards.
Make sure they provide end-to-end service
Look for a provider who offers an end-to-end logistics solution, from transportation and warehousing to product tracking and delivery. This will make it easier for you to keep track of your products and ensure that they are delivered on time.
Check their customer support
Make sure to investigate the provider's customer service options before hiring them. A good provider should have a dedicated team ready to respond to any queries or concerns you may have about the services. This will help you resolve any issues quickly and efficiently.
You can benefit from improved efficiency, cost savings, minimized risk, and increased competitiveness by outsourcing your contract logistics needs. Working with the right provider can help ensure you get the most out of their services and remain competitive in today's market.
Outsource From A Trusted Contract Logistics In 2023
Transportify is a rising third-party logistics provider nationwide for big companies and SMEs. Transportify offers hassle-free service agreements without unnecessary fees. Clients can scale up or down their logistics operations using the resources of Transportify. Businesses will have access to trucks of varied sizes that should fit your every delivery need. You can check the table below for more information about Transportify's business accounts.
Transportify Business Account
Business Program
Services
Program Features
Live Support

Open 24/7

Prepay

Available

Postpay with Monthly Invoicing

Available

Destinations

A total of 16 destinations can be added in every booking

COD/POD
COD + POD
2.50% of invoice
Min of 80 PHP
(Flat Fee/Booking)
POD Only
80 PHP for ≤ 3 destinations
160 PHP for ≤ 10 destinations
200 PHP for ≤ 15 destinations
Insurance and Warranty

Up to 3 million PHP coverage from OONA Insurance

Nationwide Service Area

Available




Interisland and Same Day Trucking in Luzon, Visayas, and Mindanao

Business Web Dashboard

Team Account Management Customized Reports
Contract logistics in SCM is a vital part of many businesses, and finding the right provider is essential to ensuring that your company runs smoothly. There are many factors to consider when choosing a contract logistics provider, but by keeping these five tips in mind, you can find the best possible partner for your business.
| | | |
| --- | --- | --- |
| | or | |
Frequently Asked Questions:
What is the difference between contract logistics and warehousing?
🚚 Contract logistics is a third-party service that helps manage the end-to-end warehousing and distribution process. It offers services such as inventory management, order fulfillment, and transportation. With contract logistics, businesses can outsource some or all of their supply chain operations to reduce costs and create more efficient processes. On the other hand, warehousing is a facility used for storing and handling goods. It typically involves receiving, storing, and distributing products to customers or other locations. Warehousing can be done in-house or outsourced to another company specializing in this service. Outsourcing warehousing services can offer businesses cost savings, improved efficiency, and access to better resources. It is important to note that while contract logistics may include warehousing services, the two are separate entities and serve different purposes within the supply chain.
What is the difference between contract logistics and 3PL?
🚚 Contract logistics is a total supply chain solution that includes customized services and products to meet the specific needs of individual customers. It often involves long-term partnerships between companies and service providers, in which services are tailored to the customer's specifications. Contract logistics providers specialize in designing, implementing, and managing complex supply chains for their clients.