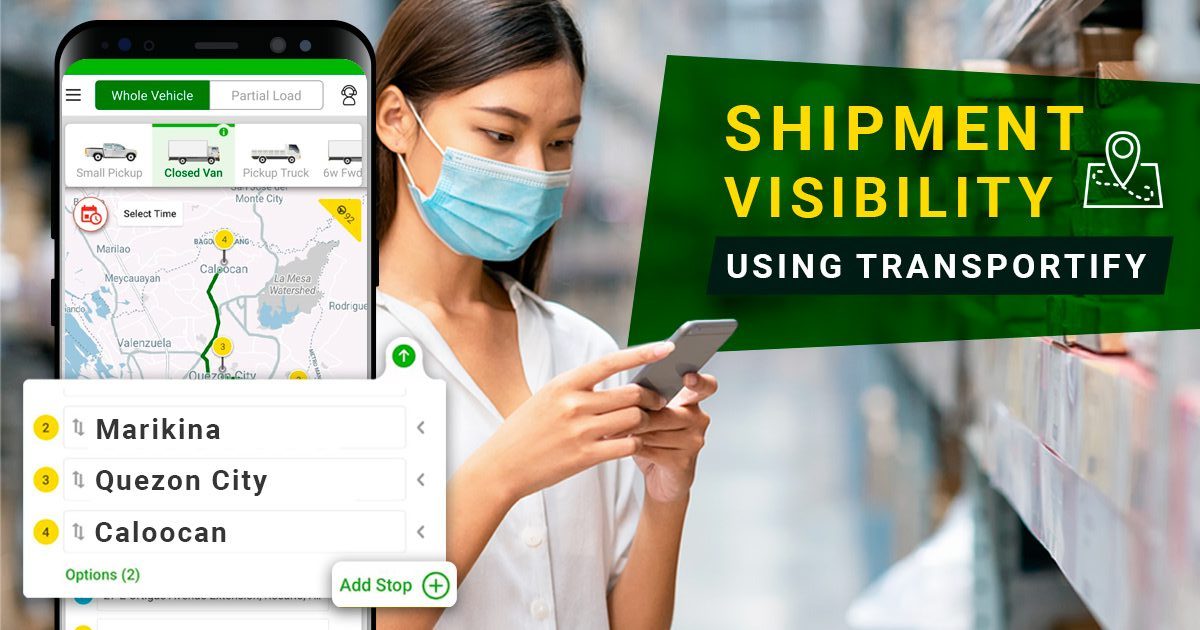 The desire for same-day delivery and sending packages within a short timeframe is the modern last-mile expectation due to globalization. The need for goods to get to the customer's doorstep in a short amount of time has grown to be a major bottleneck. Shipment visibility is evolving and is a crucial differentiation between companies as customers become more demanding. Businesses have grown into doing multiple delivery to target as many customers as possible at once.
What Role Does Shipment Visibility Play in the Modern Supply Chain?
Shipment visibility is critical in the modern supply chain for many reasons.
It's an excellent tool to track single/multiple delivery
It allows businesses to track their shipments and ensure they arrive on time and as expected, especially if it's multiple delivery. This information is essential for planning and coordination between customers and the business.
Allows you to see the larger picture of operations
Shipment visibility can help businesses identify issues and problems with their supply chain partners. If shipments are consistently late or not arriving as expected, this can indicate larger issues that need to be addressed.
Boost your customer service
Shipment visibility can help businesses improve customer service by providing accurate and up-to-date information on estimated arrival times. This information can proactively resolve customer inquiries and issues rather than waiting for customers to contact the business after shipments have arrived.
Supply chain management is more effective when informed by shipment visibility, especially regarding the last mile. This refers to single and multiple deliveries, most likely to be delayed or lost without good coordination. In other words: better shipment information leads to fewer issues and happier customers.
Read here to learn how to improve your last mile delivery visibility.
How Can Businesses Gain Shipment Visibility?
Track and trace technologies
Businesses can gain shipment visibility in several ways, most commonly through track and trace technologies. Track and trace technologies for deliveries allow businesses to view the whereabouts of their shipments at any given time and receive updates on the status of those shipments. Various track and trace technologies are available, each with features and benefits.
One of the most popular track and trace technologies is GPS tracking. GPS tracking provides real-time visibility into the location of a shipment, as well as its estimated time of arrival. This information can be extremely valuable for businesses that must ensure that their shipments arrive on time and in good condition.
RFID tracking
Another popular track and trace technology is RFID tracking. RFID tracking uses radio frequency tags to track shipments and visibility into their whereabouts. RFID tracking is often used with GPS tracking, providing more detailed information about a shipment's location.
Barcoding
Businesses can also utilize barcode tracking to gain shipment visibility. Barcode tracking uses barcodes affixed to shipments to track their movement and provide visibility into their whereabouts. Barcode tracking is often used with other track and trace technologies, such as GPS and RFID.
Manual and traditional ways
Businesses can also use manual methods to gain shipment visibility. Manual methods include keeping records of shipments and locations and contacting shipping companies or other businesses that may have information about a particular shipment. Traditional methods of tracking shipments, such as bills of lading and waybills, can also provide businesses with some visibility into the whereabouts of their shipments.
Gaining shipment visibility is important for businesses that rely on shipments to conduct their operations. There are various ways to gain shipment visibility, each with its advantages. Track and trace technologies are the most common way to gain shipment visibility. However, businesses can also use manual or traditional methods to monitor their shipments.
How Can Shipment Visibility Help in Handling Multiple Delivery?
Technology has changed the way we ship our products today. The shipment visibility technology can help manage multiple delivery and provide a competitive edge to businesses. It helps reduce the cost of multiple deliveries while ensuring that each delivery is on time and per the schedule. This technology also provides an efficient way to track and monitor the status of each delivery.
Read here to learn how route planning can help you manage multiple deliveries.
What Happens if Your Business Has No Visibility Over Its Shipments?
If you're not using shipment visibility technology, chances are good that you don't have a clear picture of your shipments' progress. That can lead to delays, lost shipments, and unhappy customers. Shipment visibility technology gives businesses real-time tracking information for their shipments. This means that you can see where your shipment is at all times, and you can track its progress from beginning to end.
SEE ALSO:
Who Can Help You Improve Your Shipment Visibility?
Technology has made a huge impact on the way we do business today. Connecting with customers and clients worldwide has never been easier, and Transportify is making it even easier with its track and trace feature. This allows you to see exactly where your shipment is at all times, so you can plan accordingly and ensure that your goods arrive on time.
This feature is handy for businesses that need to ship multiple delivery to different locations. With our track and trace feature, you can easily see where each item is and when it is expected to arrive. This helps you to manage your inventory better and ensures that your customers are always happy with their purchases.
Transportify Business Account
Business Program
Services
Program Features
Live Support

Open 24/7

Prepay

Available

Postpay with Monthly Invoicing

Available

Destinations

A total of 16 destinations can be added in every booking

COD/POD
COD + POD
2.50% of invoice
Min of 80 PHP
(Flat Fee/Booking)
POD Only
80 PHP for ≤ 3 destinations
160 PHP for ≤ 10 destinations
200 PHP for ≤ 15 destinations
Insurance and Warranty

Up to 3 million PHP coverage from OONA Insurance

Nationwide Service Area

Available




Interisland and Same Day Trucking in Luzon, Visayas, and Mindanao

Business Web Dashboard

Team Account Management Customized Reports
The track and trace feature of the Transportify app is available for individual and business customers. The feature is the perfect tool for logistics managers or personnel managing single and multiple delivery. However, you can become our logistics client if you are a business looking to improve your overall logistics service levels and get ahead of your competitors.
As a business client, you will have your account manager, your single point of contact for all your logistics needs. You will also access our state-of-the-art technology to help you manage and monitor your shipments. Transportify can also customize a logistics strategy for your business and provide a dedicated fleet to match each delivery need. Contact us today to learn more about our Business Account and how we can help you improve your shipment visibility and multiple delivery.
| | | |
| --- | --- | --- |
| | or | |
Frequently Asked Questions:
What happens if a business has no shipment visibility?
🚚 If a business has no shipment visibility, it may be unable to track its shipments or determine the whereabouts of its products. This can lead to delays in deliveries, lost shipments, and other problems. Shipment visibility is a term used to describe the ability to track and monitor shipments as they move through the supply chain. This information can plan and optimize route schedules, improve customer service, and reduce costs.
How can businesses improve their process in handling single/multiple delivery?
🚚 Technology has long been an important element in improving business processes and making processes more efficient. Shipment visibility systems may be used by businesses to monitor their shipments and optimize their routes, allowing them to save time and money. Many types of shipment visibility technology are available, but some of the most popular include GPS tracking, barcode scanning, and RFID tags. By using one or more of these technologies, businesses can get real-time updates on where their shipments are located, what route they took to get there, and how long it will take for them to arrive. This information can help businesses plan their schedules more efficiently and decide when and how to ship their products.