×
Intracity Van / L300 For Rent | Mega Manila Delivery & Logistics Services
Transportify offers L300 for rent for logistics services in Mega Manila. Bulk micro distribution of cargo is now available and affordable with our unique logistics services. Our L300 is the top vehicle choice for SME Businesses that needs top intracity manila delivery service.
Delivery in manila is now 40% cheaper when you book Transportify's L300 for rent for top logistics services.
Our L300 for rent can carry up to a maximum of 1000 kg which will allow you to load more cargo at once. Suitable to deliver large packages and huge items such as appliances like washing machine or refrigerator, furniture as big as a couch and a bed, and equipments. Top businesses book our same day manila delivery for the distribution of their stocks and materials to different branches. You may select from L300, H100, Hiace, to Urvan which starts at Php430.00 as the base rate and costs Php27.00 per succeeding kilometer. We also accomodate intracity logistics services services in Pampanga. Head on over our Pampanga fleet & prices to know more.
When you book our L300 for rent you can request assistance from our driver partners or / and extra helpers with an additional charge. Our driver partners could help you carry your goods and materials for Php 60.00 for the first two destinations and Php 30.00 additional for the succeeding kilometers. In Php 200.00 add-ons, two extra helpers will be present to help you carry out your goods for the first two destinations. If you will be delivering your cargo to more destinations, just add Php50.00 for the extra helper.
Our L300 for rent can be booked for 10 hours for a flat rate of P2,800 with unlimited destinations within the intracity standard service area. Maximize our manila delivery service to transport your goods wherever within 10 hours. If you will exceed at 10 hours, overtime price as low as Php100.00 will be charged from you. Our driver partners and its extra helper are ready to assist you in loading and unloading your goods. Special help from our driver partner costs P200 for the day while for the extra helpers, it's P400.
You can also avail provincial logistics services with our fixed price route service. Deliver to key provincial cities for a fixed price. Learn more about our affordable all-in fixed price delivery service in Luzon in the trucking solutions page.
Be updated with the latest news from Transportify in the media section. Discover in our news how Transportify is able to offer affordable delivery L300 for rent in the Philippines while our blogs will show you how Transportify is redefining the meaning of logistics service.
---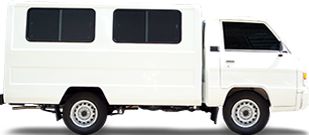 L300/H100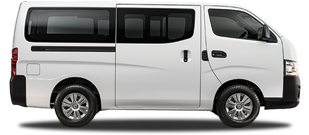 Van
Standard Price

Full Day Price
Outside Metro Manila
2600 PHP
Reasonable driving route within 40 KM radius of pickup address.
Included Free

Extra Options

Driver

Fuel

Loading / Unloading

CS 24/7

App Features
Transportify's L300 van for delivery from anywhere in Luzon and key islands in Visayas and Mindanao. L300/Van can carry up to 1000kg, allowing you to load more cargo at once. Our delivery van service is the best for SME businesses that need to rent a van to deliver supplies and cargo.