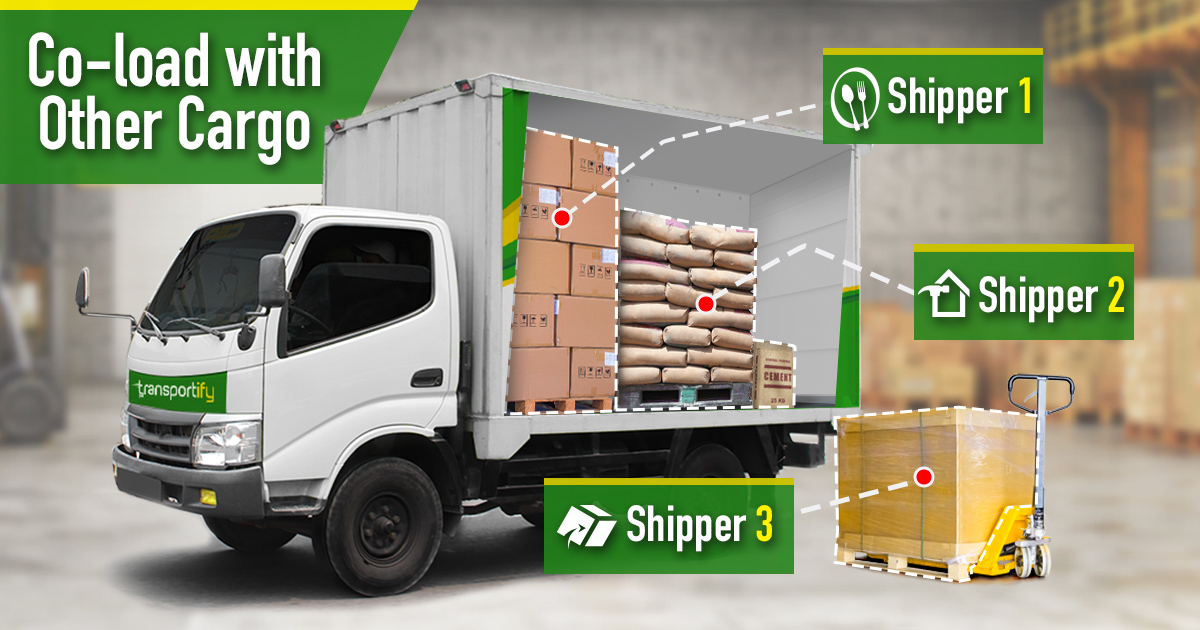 As a business owner branching into the world of e-commerce and cargo shipping, you may have heard the term "partial truckload shipping" come up once or twice. With so many other logistical terms to contend with, you might find yourself feeling a little lost and overwhelmed. Worry no more. This article will tell you everything you need to know about partial truckload shipping, including whether it will suit your business and when best to utilize it.
In This Article:
What is Partial Truckload (PTL) Shipping?
What Are the Benefits of Partial Truckload Shipping?
When Partial Truckload Shipping is Best Utilized
Co-load and Save on Cost
Partial Load Shipping With Transportify
What is Partial Truckload (PTL) Shipping?
As the name suggests, partial truckload shipping refers to shipping goods in a partially loaded truck. A partial load is typically reserved for large shipments that aren't large enough to need a full truckload trailer to accommodate its size.
Partial truckload shipping is a term used to describe logistics operations in which several clients share the cargo space of a delivery vehicle. In many instances, this is utilized by companies who want to save money on logistics and cannot fill the full truck with cargo.
So, where does PTL fall between LTL (less than truckload) and FTL (full truckload)?
A partial truckload falls between LTL and FTL. A partial truckload shipment doesn't require a freight class to be able to secure a rate, resulting in faster transit times or involving less handling.
Check out the table below to give you a quick difference between less than truckload and full truckload:

What Are the Benefits of Partial Truckload Shipping?
So, now that you have a pretty good idea of what partial truckload shipping is, why don't we go through some ways it can benefit you?
First, partial truckload shipping is a highly viable option for those looking for the most cost-effective mode of shipping that falls between less than truckload and full truckload. The benefits of doing so are as follows:
1Delivery Straight From Point to Point Only
Partial truckload carriers do not generally stop at distribution terminals on their way to their destinations, resulting in improved delivery times and less freight handling. In addition, partial truckload carriers usually provide cargo insurance coverage comparable to that of full truckload carriers.
2No Freight Class is Required for PTL
Partial truckload shipping also benefits from not having to have a freight class. This is ideal as it can help you avoid any nasty additional charges associated with freight re-classification, which, as briefly mentioned above, can happen if you get the classification wrong.
3Less Freight Handling is Necessary
Again, when your freight is handled less, there is a significant reduction in the potential for accidental damage. In addition, partial truckload shipping means that your goods may only be susceptible to accidental damage during the loading and unloading process, which will only happen once. Packaging and labeling are important steps before loading your shipments into the vehicle. Properly packed freight will mostly likely be properly handled because drivers will have ideas on how to carry it.
4It's Cheaper than FTL
Partial truckload shipping is one of the most cost-effective modes of shipping, allowing you to only pay for the space you need instead of an entire truck.
When Partial Truckload Shipping is Best Utilized
So, when is a PTL service best utilized? When will it benefit your business the most? Let's have a look.
When you have low-density freight: If your freight is light, however, it takes up a lot of space, then partial truckload shipping will be much more appropriate for you.
If your freight is especially fragile: If your freight is particularly fragile, you will be concerned about freight damage in transit. As mentioned above, one of the great benefits of a partial truckload service is that less handling will be involved. As such, this will significantly decrease the odds of your cargo being damaged during its transit period.
When you wish to cut costs: As you only pay for the space and weight capacity that you use with partial truckload shipping, it can help you to cut your shipping costs.
Co-load and Save on Cost
You're probably already familiar with that partial truckload shipping involves consolidating multiple loads for delivery on one truck.
Co-loading (also known as batching or consolidation) is a basic yet practical approach to reducing the cost of logistics. According to China Business News, by consolidating similar goods into one shipment, shippers can save up to 40 percent on their total logistics spend.
Co-loading has become popular among companies in recent years due to its advantages over other transportation and supply chain management strategies. The most prominent advantage of co-loading is that it can effectively lower logistical costs by reducing transit time and volume. In addition, with fewer shipments, fewer trucks are needed, resulting in lower prices.
Partial and co-loading offer a wide range of logistical cost savings. These include:
Operating costs: the costs associated with the transportation of goods, such as fuel prices or mileage rates; these can be reduced by using partial as opposed to full truckloads as the vehicle will be utilized for more extended periods; additionally, smaller vehicles tend to use less fuel than larger ones which also benefits operating costs.
Vehicle utilization: this relates to how efficiently your fleet is used. Due to a high volume of shipments, you may have a lot of trucks out on the road even when they are fully loaded – leading to wasted time and money. For this reason, it's best to utilize a third-party fleet as efficiently as possible, reducing unnecessary costs.
Send Load Shipping With Transportify
So, in conclusion:
Partial truckload shipping services fall between less than truckload and full truckload;
It is the most cost-effective form of shipping for spacious, low-density freight;
With Transportify's send load service, you can enjoy the advantages of less than truckload and partial truckloads, such as lowered rates and flexible shipping options. Transportify's partial truckload shipping is available for pick up and delivery anywhere in Luzon, Cebu, Davao, Bacolod, Dumaguete, and Iloilo.
To start your booking, choose send load on the app and indicate the type of cargo you plan to load. Under send load service, you can ship smaller domestic freight such as boxes, bags, pallets, crates, drums, and rolls that can't fill the entire truck.
You can visit Transportify's Send Load Service website for more information.
| | | |
| --- | --- | --- |
| | or | |
Frequently Asked Questions:
When shipping for PTL, do I need to know the exact dimensions of my shipment?
📦 Yes, you need to know the exact dimensions of your shipment. Having the exact dimensions of your shipment is vital. Before accepting a partial shipment from you, we first need to know that the freight will fit onto the truck or light delivery vehicle. By providing accurate dimensions, you are assured that you will be assigned to a vehicle that will fit your shipments.
How do I know that partial truckload shipping is my best option?
📦 If your goods don't occupy the whole truck, a partial truckload service might be your best option. If you aren't sure whether partial truckload shipping is your best option, the team at Transportify will gladly provide you with real-time quotes to help you decide on the best possible shipping option.