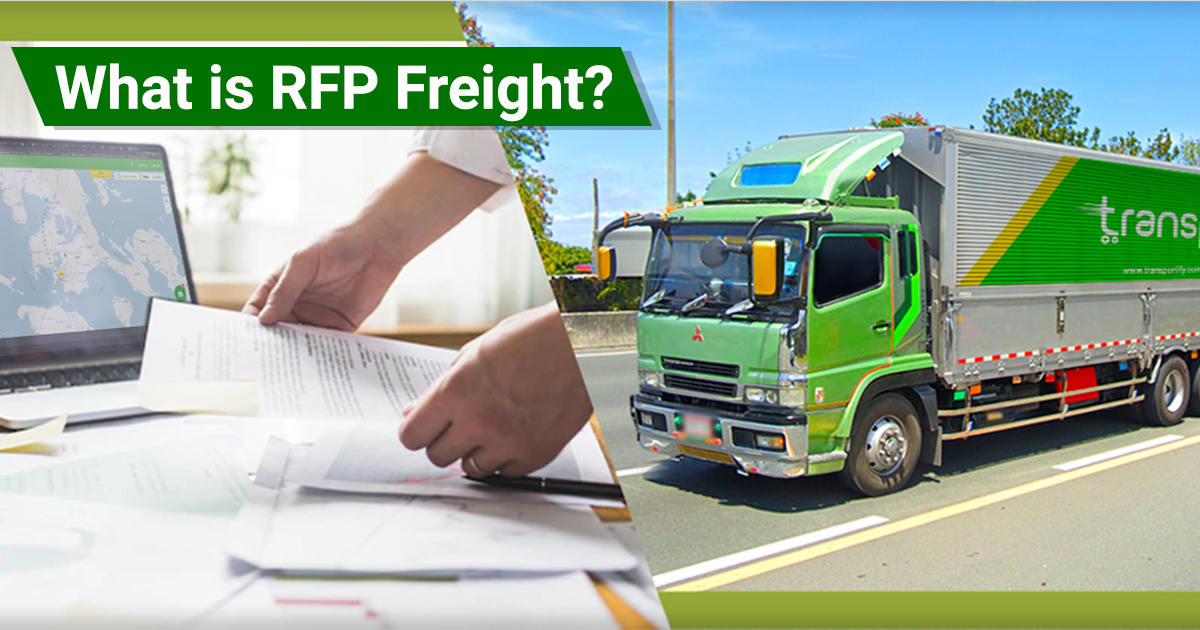 Understanding the paperwork, proposals, and acronyms associated with freight shipping is necessary for anyone within this industry. Knowing these essential terms and conditions can help ensure a successful outcome for your business endeavors. This article will provide vital insights into the advantages of utilizing RFP freight and how it can benefit your business's long-term success.
What Is An RFQ Freight?
In business, time is money. When it comes to shipping and logistics, businesses need to be able to rely on their transportation partners to get the job done efficiently and without delay. That's where an RFP Freight comes in.
RFP freight is a freight procurement process that enables shippers to obtain competitive pricing from multiple carriers with the click of a button. RFP freight technology allows shippers to create optimized shipping lanes, identify capacity opportunities, and rate shops. The process is transparent, secure, and simple to use, removing the need for manual solicitations.
This process can save businesses time and money, as they can quickly compare rates and choose the best option for their needs. For example, if your business needs reliable trucking services, utilizing an RFP freight may be the way to go. Keep reading to learn more about how this procurement process works and how it can benefit your business.
How Does An RFP Work?
RFP freights are one of the most utilized tools in outsourcing reliable trucking services. RFQ stands for Request For Proposal and involves submitting a request to a variety of trucking service providers for rates, terms, and conditions of shipment.
Specifications of goods to be delivered
The RFP begins with an organization specifying its needs for transporting goods. This typically includes information about the types of goods needing to be transported, how often they need to move, and the distance they will travel.
Outline of safety and security standards
The organization also outlines its standards and expectations regarding safety, reliability, responsiveness, and other criteria that they want to be met by any company offering services.
Sending to prospective trucking service providers
Once this information is established, the organization can send an RFP to trucking companies that meet the outlined criteria. The companies can then submit bids outlining the cost per mile for transportation services and other relevant information, such as how quickly they can get goods from point A to point B.
Evaluation and negotiation
Once all the bids are collected, the organization reviews them carefully and compares the prices and services offered to make the best decision. Ultimately, they will select the provider that meets their criteria at the best price.
RFPs for trucking services are an effective way for organizations to ensure they get quality transportation services at a reasonable rate. Organizations can secure better rates by creating this competitive bidding environment.
Top Five Benefits Of Having An RFP Freight Process In Your Logistics Operation
1Improve pricing
RFP freight has extensive knowledge of the best shipping strategies. As a result, trucking providers can allow their partners to leverage their resources for competitive pricing that can help them save money and stay ahead of the competition.
2Maximize Efficiency
Modern trucking providers today use advanced technology to optimize your freight shipments to ensure on-time and secured delivery. As a result, maximize your logistics operations efficiency without having to invest in costly infrastructure by leveraging the resources of an external provider.
3Increase Capacity
Getting a logistics partnership via the RFP process can help you to increase your capacity. Your company can utilize its network of truckers to find the best solution for each shipment. This helps you to scale up your logistics operations quickly and efficiently during peak season with minimal disruption.
4Improve Security
Your chosen trucking service provider can ensure that all shipments are secure and in compliance with your shipping regulations and standards, providing users with peace of mind that their freight is safe.
5Gain Access to Expertise
Partnering with a credible trucking service offers access to expert knowledge which can help you make better decisions about your logistics processes. This can help you stay competitive and ensure your operations run as efficiently as possible.
SEE ALSO
7 Tips for Writing a Winning Freight RFP
Make sure the requirements are clear and concise. This means that all stakeholders should agree on what is needed from a trucking service provider before issuing an RFP.
Include deadlines, payment terms, and other important details in the document. This will ensure that vendors have all the information they need to make an informed decision about whether or not to submit a proposal.
Research relevant trucking and logistics providers and include specific questions about their services so you can assess how well each one would meet your needs.
Consider establishing minimum standards for service quality and safety when evaluating bids so you know your freight is handled correctly by reliable carriers who take these matters seriously.
Make sure the evaluation criteria are detailed, so vendors know what they need to do to succeed during the selection process.
Set realistic expectations for delivery times and costs – this will help lower rates and improve performance.
Provide a clear timeline for responding to RFPs with milestones and feedback points along the way and a deadline for submitting bids. This will ensure that all trucking providers have enough time to evaluate your needs and submit their best proposals accordingly.
Following these tips when crafting your freight RFP can increase the chances of getting attractive offers from reliable trucking providers while ensuring your transportation needs are met in the most efficient manner possible.
Request For Proposal From Transportify
Start preparing for peak season by strengthening your company's processes. Transportify is here to help. We have the resources and experience you need to make sure your freight is delivered on time and efficiently. We invite you to submit a Request for Proposal (RFP) with your requirements so that we can develop a customized solution for your business needs.
Business Program
Services
Program Features
Live Support

Open 24/7

Prepay

Available

Postpay with Monthly Invoicing

Available

Destinations

A total of 16 destinations can be added in every booking

COD/POD
COD + POD
2.50% of invoice
Min of 80 PHP
(Flat Fee/Booking)
POD Only
80 PHP for ≤ 3 destinations
160 PHP for ≤ 10 destinations
200 PHP for ≤ 15 destinations
Insurance and Warranty

Up to 3 million PHP coverage from OONA Insurance

Nationwide Service Area

Available




Interisland and Same Day Trucking in Luzon, Visayas, and Mindanao

Business Web Dashboard

Team Account Management Customized Reports
Transportify offers corporate accounts for businesses that wish to partner with us for logistics and trucking services. Submit your inquiries to us today!
| | | |
| --- | --- | --- |
| | or | |
Frequently Asked Questions:
What are RFP and RFQ?
🚚 RFP stands for Request for Proposal and is a document used to solicit proposals from potential suppliers. It is typically used when large projects are being considered so that the company can evaluate multiple bids and determine the best value for their needs. RFQ stands for Request for Quotation and is a type of solicitation commonly used when procuring goods and services. It outlines the purchase details and allows suppliers to submit bids for the requested items. RFPs and RFQs are important tools for companies looking to procure goods and services in a competitive market efficiently.
What is RFP in shipping?
🚚 RFP (Request for Proposal) is a formal process in the shipping industry where potential buyers issue requests to suppliers and/or truckers, outlining their needs and requirements. The service provider then responds with an offer outlining how to fulfill those needs. This enables companies to easily compare offers from different suppliers or carriers and select the one that best suits their needs. The process also helps to ensure that service providers fulfill all the requirements outlined in the RFP before any contract is signed or services are provided. By utilizing an RFP, companies can achieve maximum efficiency and cost savings while ensuring they receive the highest quality services.