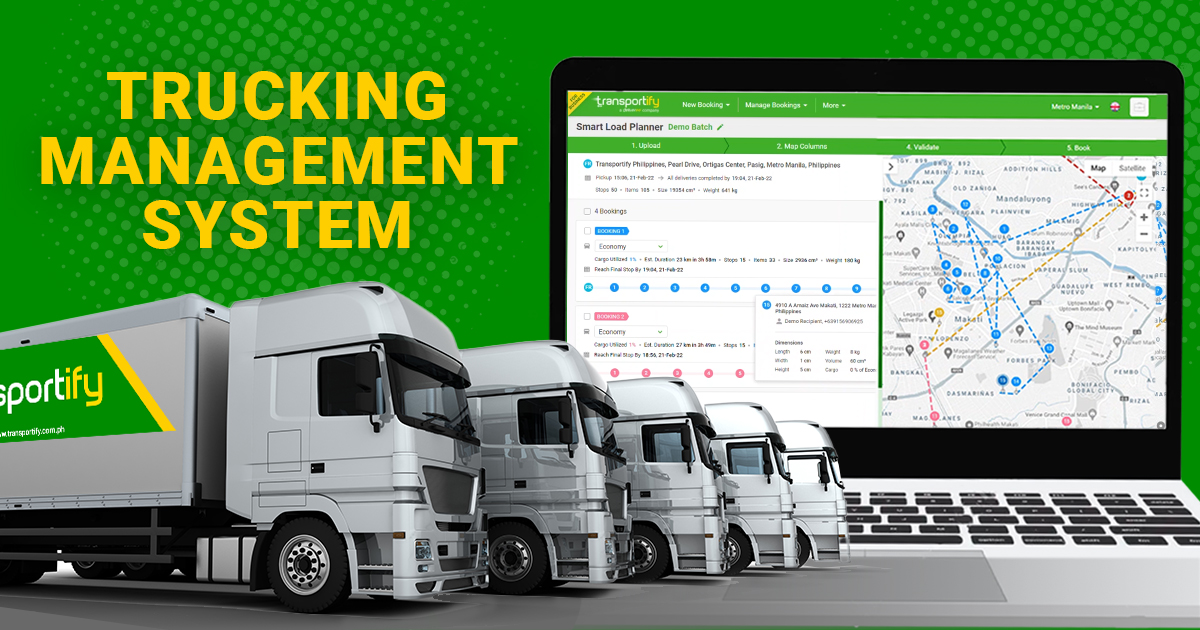 Lately, people would want to keep everything fast and simple. Especially in the fast-changing world, it is important to maximize our time. When handling a business, a customer would be satisfied if you provided their goods most efficiently. For logistics, a trucking management system is needed to achieve that goal.
Businesses using delivery services must ensure that every aspect of their supply chain runs well. A small error or oversight could have severe effects on the operation as a whole. As a result, if you use the advantages of a trucking management system, one of the ways you can prevent ongoing faults in your logistics services. Learn more about the benefits of trucking management system Philippines below.
What Is the Trucking Management System About?
A trucking management system is a procedure used in logistics operations to ensure that shipping and documentation are in order. It also refers to organizing the physical transfer of goods entering and exiting. The supply chain management system, which is larger, includes a subset called the trucking management system.
A trucking management system is often an interactive and intuitive piece of software. It aids users in finding more cost-effective business solutions. Implementing this system has several advantages. One is that it improves the cash flow for your services. By creating a pool of carrier services, a trucking management system Philippines enables users to examine a choice of transportation providers. Additionally, the system will show the user the financial implications of each potential route.
The system gives you a wide range of options. This will allow you to choose the most affordable options. Also, saving you money on gasoline and improving the system's effectiveness.
A trucking management system Philippines enables businesses to:
Plan and project network requirements
Improve the routes
Control carriers
Organize and track shipments
Take care of settlement and payment
Business Program
Services
Program Features
Live Support

Open 24/7

Prepay

Available

Postpay with Monthly Invoicing

Available

Destinations

A total of 16 destinations can be added in every booking

COD/POD
COD + POD
2.50% of invoice
Min of 80 PHP
(Flat Fee/Booking)
POD Only
80 PHP for ≤ 3 destinations
160 PHP for ≤ 10 destinations
200 PHP for ≤ 15 destinations
Insurance and Warranty

Up to 3 million PHP coverage from OONA Insurance

Nationwide Service Area

Available




Interisland and Same Day Trucking in Luzon, Visayas, and Mindanao

Business Web Dashboard

Team Account Management Customized Reports
Logistics Tasks Involving Proper TMS
One of the best features of a trucking management system is its adaptability. It can help e-commerce companies and anyone else who transports goods and freight.  Anyone involved in these sectors will gain from the system, which oversees various aspects of transportation management.
Making Plans and Decisions
Trucking management system aids in identifying and selecting the most cost-effective modes of transportation for particular circumstances. The system will also help to develop methods of dealing with disruptions to the supply chain.
Efficient and Timely Execution
After the decision-making process, a trucking management system will automatically generate the necessary documents for shipping. This includes creating bills of lading, packing lists, and other vital shipping particulars. The system can also plan and monitor vehicle maintenance records to keep them up to date. Additionally, it will track fleet utilization rates and labor costs. Doing all these things makes it possible to optimize routes and schedules.
Monitoring Progress
The system's ability to monitor progress is one advantage businesses should not overlook. A trucking management system can continuously track every load from start to finish. It will show you where the load is and if it is on schedule. The system will also monitor any changes in the estimated arrival time. A trucking management system can even provide regular reports detailing your shipments' status. These things are possible because the system gathers data from every journey stage.
Making Informed Decisions
Trucking management systems make tracking and evaluating your company's performance easier. The system can show you areas where you need to make improvements. Additionally, it can help you benchmark your company against others in the industry. All this information is useful in making sound business decisions about your transportation operations.
SEE ALSO
How Can a Trucking Management System Philippines Benefit You?
The following are the justifications for developing a dependable and cutting-edge trucking management solution. This can help you resolve the logistical challenges. In addition, it will assist you in realizing the business value trucking management system Philippines generates.
Optimizing User Experience
Companies struggle to please customers and meet their expectations. Entrepreneurs encounter challenges adapting services to consumers' waiting needs during this process. The trucking management system Philippines for logistics will link order management and warehouse management systems. All client orders are consolidated to help choose the most affordable carrier. Both businesses and customers enjoy this setup.
Comprehensive Planning and Execution
To manage a company's transportation needs, the most recent generation of trucking management system Philippines integrates with existing systems. This integration will enable the business to execute orders using the least expensive carrier. Additionally, it offers the advantages of greater load optimization and route planning. In other words, order planning and execution are improved.
Inventory Management
The trucking management system Philippines for logistics enables real-time tracking of orders and shipments. As a result, it will increase the accountability of the supply chain network. Also, assist in ensuring that your customers receive their orders on time.
Thus, this level of inventory management control can only help your trucking management system Philippines supply chain operations in the long run.
Greater Efficiency
A time-saving tool for your logistics operations could be shipment management software like trucking management system Philippines. Thus, incorporating route data into the system lets you track loads and deliveries from a single location. It also provides access to order data. So spreadsheets are not required to maintain inventory and order details. Instead of reading through emails, logistics managers may focus on strategic initiatives and business pain areas.
The results in almost every area of your operations will improve upon implementing these tips. Along with its benefits, it can produce fruitful client solutions. Two examples are increased warehouse productivity and more time to manage your business operations. Flexible thinking is essential in the logistics industry. Without compromising client needs, a specialized trucking management system may assist you in fixing minor issues that arise during the delivery process.
| | | |
| --- | --- | --- |
| | or | |
Frequently Asked Questions:
What is trucking management system?
🚚 Trucking management system is a software application designed to streamline the process of shipping goods by truck. TMS provides visibility into all aspects of the trucking operation, from dispatch to driver tracking. By automating manual tasks and providing real-time data, TMS can help trucking companies improve efficiency, reduce costs, and deliver better customer service. There are many types of TMS software on the market, each with unique features and capabilities. When choosing a TMS, it is important to consider the specific needs of your trucking operation and select a system that will best meet those needs.
What benefit does a trucking management system provide to businesses?
🚚 A trucking management system can benefit businesses, including improved efficiency and productivity, lower operating costs, and better customer service. A trucking management system Philippines can help businesses to better plan and coordinate their trucking operations. This can improve efficiency and productivity and reduce downtime and wasted resources. In addition, a trucking management system can help businesses reduce the cost of their operations. Lastly, a trucking management system can help businesses to improve their customer service. This can be done by providing customers with better information about their shipments and tracking and tracing capabilities.