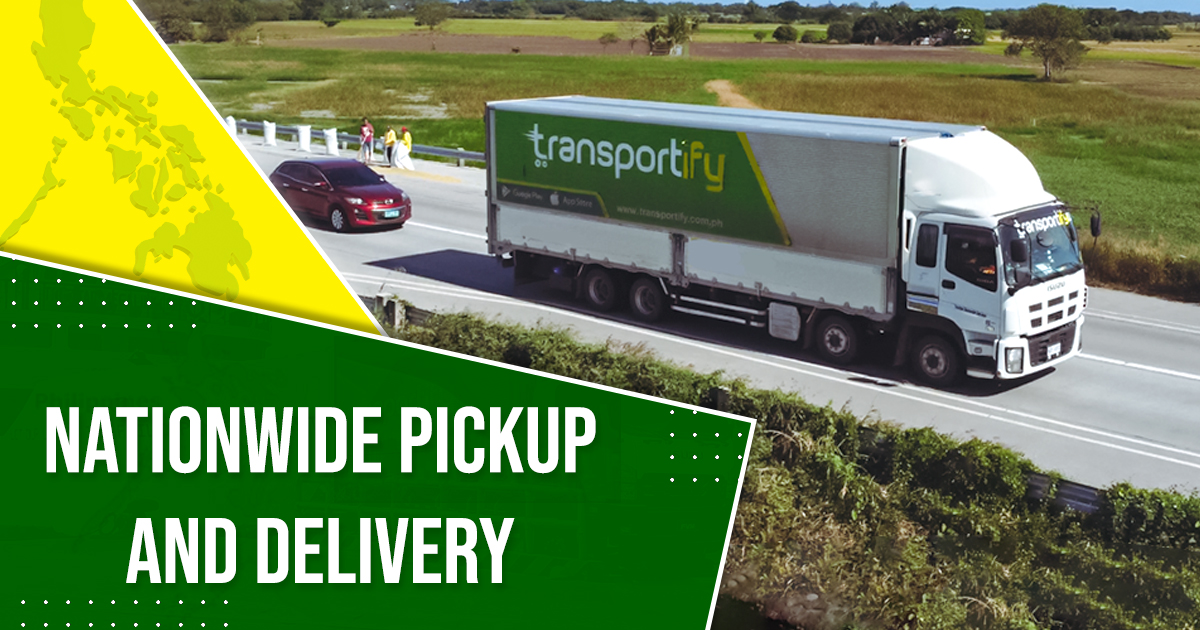 Shipping nationwide is an essential part of doing business in the Philippines. With more businesses expanding into new areas, the need for a reliable shipping service that can reach every corner of the country has never been greater. That is where nationwide pickup and delivery service comes in. Transportify offers a convenient and cost-effective way to get your goods to their destination quickly and efficiently. Read on to learn more about our interisland trucking nationwide shipping Philippines.
How Can Nationwide Trucking Service Help Businesses?
In the Philippines, a lot of businesses are still limited by their geographical reach. This is mainly due to the fact that shipping goods and materials across the country are expensive and time-consuming.
Expansion to New Markets
Nationwide shipping capabilities can be a huge boon to businesses looking to expand in the Philippines. With reliable nationwide pickup and delivery service, businesses can enjoy the convenience of shipping goods anywhere in the country without having to worry about logistics. This can save time and money, making it easier for companies to do business across the nation. A shipping company that offers nationwide shipping services is a smart choice for your business.
Here are popular routes that you can distribute to via Transportify:
Accessible Trucking Service Even to SMEs
A third-party logistics provider with nationwide shipping Philippines capabilities can be a great help for SMEs looking to distribute their products or services to new markets. By using a shipping partner who has an extensive network of delivery points across the country, businesses can easily reach more consumers without having to invest in building their own infrastructure. In addition, this type of service allows your company to focus on what matters most, delivering quality products and services at competitive prices.
For instance, shipping nationwide can give businesses a great advantage of having direct access to consumers in areas not served by any other shipping service. Moreover, it gives consumers in these areas a better shopping experience by providing them with the convenience of having access to items that are not available locally.
When choosing a shipping partner for nationwide delivery, make sure to consider one with extensive experience and a reliable track record.
Boost Competence
Make shipping nationwide your top priority to boost your business' competence. Today, companies are facing many challenges, such as shipping and logistics issues. In addition, the pandemic also adds some other concerns that may affect operations if not solved right away.
One shipping concern among many is how to deliver products or services outside their locality or region. And this is where nationwide shipping Philippines comes into play. It can help businesses expand their reach and services to new markets, which can improve their competitiveness.
For example, in the Philippines, there are many provinces with great potential, but lack of connectivity often hampers business growth outside of major cities like Manila.
Increased Sale Potential
One of the main benefits that businesses can get from shipping nationwide is increased sales. By reaching more consumers in different parts of the country, companies can boost their revenue and grow their business. Moreover, with a reliable nationwide pickup and delivery service, businesses can enjoy greater convenience and efficiency when shipping. Furthermore, it gives a business better control over shipping costs since shipping nationwide is usually more affordable than shipping locally.
SEE ALSO:
What Are The Challenges of Shipping Nationwide?
Shipping goods across the Philippines is often seen as a very challenging task. This is largely because the country comprises many islands, which makes shipping routes more complicated and expensive. In addition, there are often delays caused by bad weather or port congestion. These factors can make it difficult for businesses to expand beyond their local service area.
Timely pickup and delivery
One of the challenges of shipping nationwide is ensuring that your products will reach their destination on time and in good condition. This means carefully planning your shipping routes and using reputable shipping carriers. Another challenge is dealing with different shipping regulations in each province or city.
Higher cost of shipping
Another consideration when shipping nationwide is the cost of shipping. You need to compare shipping companies' shipping rates to find out which is cheaper. However, shipping nationwide can be affordable if you buy shipping supplies in bulk. The shipping cost per package will be lower if the shipping materials are bought in large quantities. By using shipping supplies in bulk, you can keep the shipping cost per package low and make shipping more low costs.
Tracking delivery
When shipping nationwide, you need to make sure that your shipping company has item tracking capabilities so you know where your items are at any time. This can help prevent lost shipments or late deliveries.
Additional workload on logistics
If you want to ship nationwide but don't have enough staff, it's a good idea to outsource your shipping to a nationwide logistics company. Shipping nationwide can be a daunting task, but with careful planning and the help of a reputable shipping company, your products can reach their destination on time and in good condition.
Extreme weather conditions
Delivering packages to different parts of the country is often hindered by severe weather conditions. For businesses looking to expand their reach to other areas in the Philippines, shipping nationwide can be a huge challenge. Heavy rains and strong winds can easily delay deliveries, leaving your products stranded. Worse yet, it could take weeks for the package to arrive at its destination finally.
This is why having a reliable nationwide pickup and delivery service is crucial for any business looking to grow. With this service, you can avoid potential delays and ensure that your products get to their destination on time. Not only is this more convenient for you as a business owner, but it also gives your customers peace of mind.
Having Nationwide Shipping Can Help Your Business Grow
Nationwide shipping Philippines is an excellent way for businesses to expand their operations in the Philippines. It allows you to reach more customers and increase sales. Nationwide shipping Philippines also provides convenience for both parties involved, as it eliminates the need for physical contact between them during delivery or pickup times which helps save time on shipping costs. This service will be door-to-door nationwide pickup and delivery provided by Transportify, covering major islands of the Philippines – Luzon, Visayas, and Mindanao. Some of these areas are Cebu, Tacloban, Bacolod, Iloilo, Dumaguete, Mindoro Oriental, Cagayan De Oro, Davao, and General Santos City, to name a few.
If you and your team are projecting business expansion for the year 2023, it has to be done the right way with the right team. Make sure that you will be partnered with a third logistics party that is aligned with your vision, need, and budget.
| | | |
| --- | --- | --- |
| | or | |
Frequently Asked Questions:
Why is shipping nationwide an important capability for a business?
🌤️ One of the main advantages of shipping nationwide is that it allows businesses to reach a wider market. With nationwide delivery capabilities, companies can expand their operations beyond their local area and tap into new consumers in other parts of the country. This can be especially helpful for small businesses that are looking to grow and establish themselves in the Philippine market.
How can businesses overcome the challenge of shipping nationwide?
🌤️ Businesses can effectively handle shipping nationwide pick up and delivery if they outsource or hire third-party logistics to do the job for them. Through this way, the business can focus on the core aspects of operations and leave the logistics to experts. This is proven to be more cost-effective and time-saving for operations.