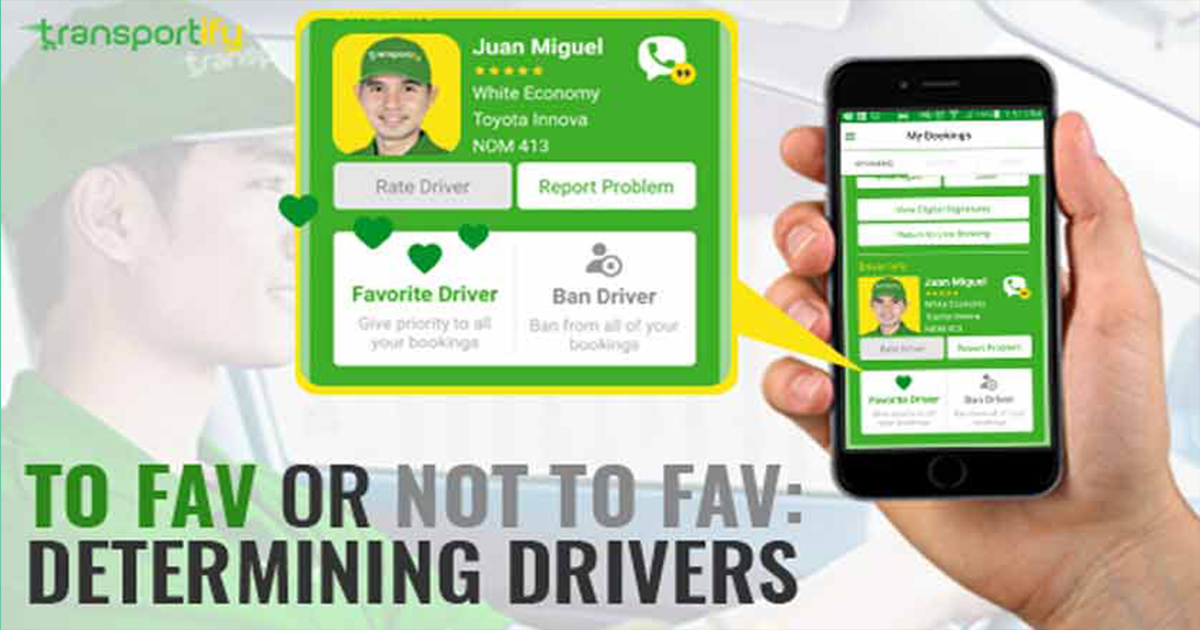 Have you ever had one of those experiences where you really commended a Transportify Transporters for doing an excellent job with your delivery request? Do you sometimes wish that the same driver would deliver your next package? Wish no more! Transportify is indeed Manila's smartest logistics provider and has found a way so you could easily find your favored Transporters and request their service for your next transaction.
Called the Favorite Driver feature, this app features allows Transportify users to categorize the delivery drivers they encounter based on how much the client preferred the driver's services and customer treatment. Using the Transportify app for delivery service, the client can list their preferred drivers under their Favorite List, and ban their not-so-favored drivers. Both the web and mobile versions of the app allows the users to record drivers either under Favorite or under Ban List.
Once a client listed a Transporter under the Favorite List, that driver will be the first to see your bookings, so there will be a greater chance that he will handle your deliveries. On the other hand, the banned drivers you have selected will never get a booking from you again.
The Favorite Driver or Ban Driver feature was created to show our clients how much we care about the treatment they get and to prove that our company does not tolerate unprofessional and irresponsible behavior from any of our Transportify delivery drives. Additionally, the Favorite Driver or Ban Driver feature is a way to encourage the delivery Transporters listed under the Ban list to improve the quality of their delivery service and customer approach. It is also a way to let drivers under Favorite List know that their excellent performance is being appreciated and noted.
For more information on how the Transportify's Favorite Driver or Ban Driver feature works, you may visit our website and ask our customer service representative for any inquiries.
The Favorite Driver or Ban Driver feature may be new to the website and app, but the rationale behind the feature and the use of the model is familiar to you. It is Transportify's way of gaining feedback and data, much like "reactions" on Facebook and "like-dislike" on YouTube. Much like online content, there are many moving parts in the logistics industry that can be overwhelming for the user. This feature of the truck service app and web app provides you a sense of security in the delivery team you hire. To get a better sense of the stakes, you can refer to the table below for the fleet dimensions of Transportify truck service app:
Vehicle Type
Dimensions/
Weight Limits
Base Price


(Metro Manila)

Base Price


(Outside Metro Manila)

Base Price


(Visayas/Mindanao)

Wing Van 

32 to 40 x 7.8 x 7.8 ft




12000kg to 28000kg

7500 PHP

6500 PHP

6500 PHP

6w Fwd Truck

18 x 6 x 7 ft




7000kg

4850 PHP

4850 PHP

4850 PHP

Closed Van

10 to 14 x 6 x 6 ft




2000kg to 4000kg

1800 PHP

1450 PHP

1450 PHP

Open Truck

10 to 21 x 6 ft x open




2000kg and 7000kg

2300 PHP

1950 PHP

N/A

L300/Van

8 x 4.5 x 4.5 ft




1000kg

430 PHP

330 PHP

310 PHP

Small Pickup

5 x 5 ft x open




1000kg

310 PHP

250 PHP

220 PHP

Light Van

5.5 x 3.8 x 3.8 ft




600kg

250 PHP

192 PHP

225 PHP

MPV/SUV

5 x 3.2 x 2.8 ft




200kg

160 PHP

130 PHP

140 PHP

Sedan

3.5 x 2 x 2.5 ft




200kg

140 PHP

110 PHP

120 PHP
Transportify Truck Service App Favorite Driver & Ban Driver Feature
As mentioned above, the Favorite Driver or Ban Driver feature is a way to rate your delivery driver's service. Star-ratings and like-dislike ratio have become the basis for you and other clients to determine which services provide the most ideal experience. In other transportation apps, the rating system, both for the driver and the user, simply moves them up and down the priority list for jobs and rides respectively. There are no hard no's and yes's.
The truck service app's Favorite Driver feature takes a hard approach to the client's rating experience. Your requests will be a priority for your favorite drivers and will be non-existent for banned drivers. Your decision to have a favorite driver or banned driver does not only affect the service you receive, but it informs the company of key individuals to praise or to correct. There is no sliding up and down a priority list for both parties. There is only the reinforcement of the client-delivery driver partner relationship.
On a small scale, this feature does not directly affect the amount of jobs delivery drivers get from the truck service app. It is just one less repeated client. On a larger scale, where the delivery driver is truly irresponsible, the more bans mean fewer job assignments. The numbers reflected can identify the company about banned drivers with subpar performance and investigate the reasons why.
Why ban drivers?
Banning drivers may seem like such a harsh move if you are not accustomed to it. However, the service cannot improve without proper feedback. Here are a couple of questions you can ask yourself if you struggle to have banned drivers:
What was my issue with their service? Was it circumstantial, or could it have been avoided?
What actions did they take to address the problem? Was it enough?
Were they apologetic about the issue? Am I bothered if they aren't?
What was the feedback of the recipient of the package? Were they satisfied with the service or not? Will it affect my business?
Would I want them to deliver my packages in the future?
Banned drivers can be beneficial for both parties. When the problem in the delivery process is about approach, the driver is better off prohibited. As much as Transportify's drivers are expected to be professional and flexible, we cannot deny that people have their strengths. Banned drivers with their lack of experience in an industry can be prompted to improve themselves, which in turn enhances the quality of service for other businesses in a similar field. In extreme cases, where banned drivers don't improve, the company will take action.
For the client, banned drivers mean you are closer to creating a pool/ community of people who are up to your standards. Circumstantial problems with deliveries are unfortunate and out of anyone's control, but they do happen. It may not seem easy to ban drivers based on it, but from a business standpoint—having banned drivers is a preventive measure. Any unsatisfactory deliveries should be weeded out to make sure that when you book from the truck service app, you are drawing from a group of delivery driver partners you have vetted.
Why favorite drivers?
The same way liking is an immediate reaction when on social media, it is easy to have favorite drivers on the truck service app. The standard to favorite a driver is simple—your delivery went on without a hitch. If you want to approach favoring a driver more methodically, here are some guide questions you can ask yourself:
Did my delivery come through without any issues?
If there were issues, how were they handled? Did they present qualities that I find admirable?
If I were to have issues with deliveries in the future, would I trust them to take care of it?
How did they approach the recipient of the package?
Would I want them to deliver my packages in the future?
Having a favorite driver when things are going well is a given. Who doesn't want to have a hitch-free transaction? However, you can also choose to have a favorite driver instead of a banned driver when things go wrong. As much as we try to ensure that nothing goes wrong, it is bound to happen, and in that scenario, you want a driver who is accustomed to your style and values.
Your delivery Transporters primed to learn your preferences, so even if they have never encountered problems with your deliveries before, they can still act. However, you do not have the same access. Sometimes seeing how they respond to issues is the best way to assess whether you want to work with them in the future. To have a favorite driver or a banned driver boils down to your strategy for creating a dream team when you open the truck service app.
Another incentive to favor a driver is to encourage good work. Everyone enjoys being acknowledged for what they do. Let us celebrate qualities we want to see more of like timeliness, initiative, pleasant disposition, and patience. Having favorite drivers also means they can respond to your requests ergo more work. It can also be an indirect referral for other users when a driver always gets highly rated on the truck service app.
At the end of the day, your business benefits from the Favorite Driver or Ban Drivers feature in the truck service app and website. Even without a business program membership (which you can easily avail), you have access to your favorite drivers who work seamlessly with you. While you sift the good experiences from the bad, the data also lends itself useful to inform the company about points of improvement. When using Transportify's website or truck service app, don't forget to use this feature!
Frequently Asked Questions:
How much does a truck service app charges for a delivery?
✔️There is no standard pricing for a truck service. Usually, the rental fee from the truck service app varies depending on the distance that the delivery will cover. For Transportify, Closed Van prices start at ₱1,800 plus ₱45 per km traveled. Factors like the size of the item, and the size of vehicle affects the total price. It would also help if you also consider additional services that you will need, such as extra helpers, additional stops, and special assistance.
How can I avoid encountering issues with my delivery driver?
✔️Communication is key! Your favorite driver usually is easy to contact. At the same time, make sure that all the details needed in every transaction are provided and stated clearly. Most services offer back-end support. Transportify has a 24/7 customer service that can aid you and your driver if ever there is a concern that needs to be addressed. Transportify does its best to be accountable for all drivers. They provide the best care and assists the drivers all through out their deliveries to provide excellent service to the customers.