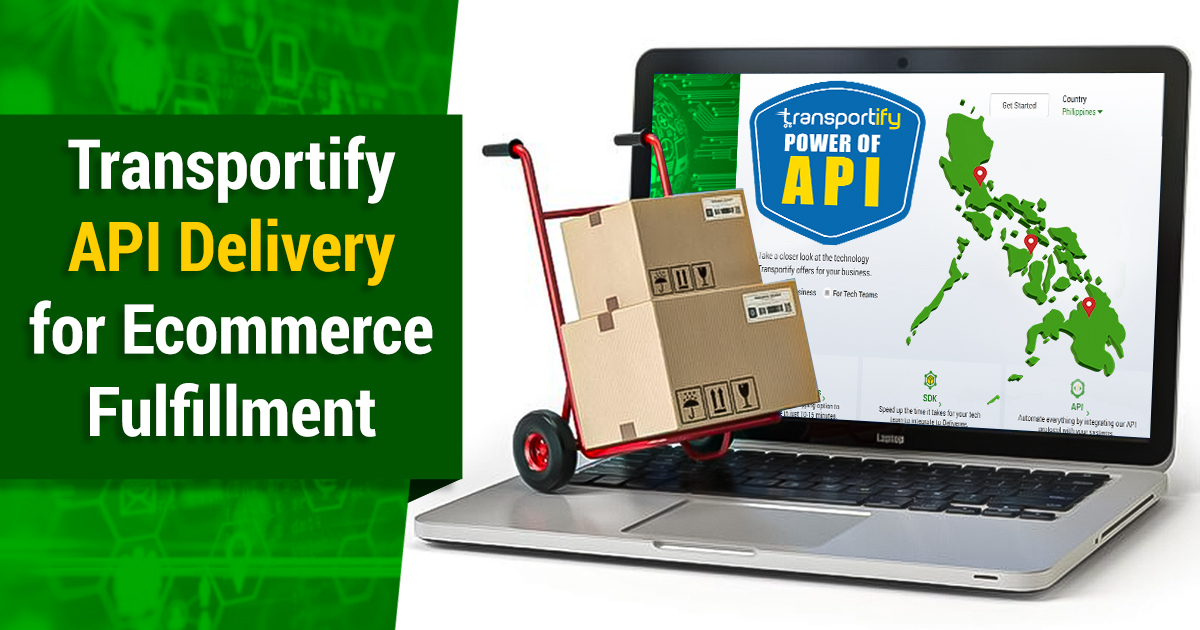 As an online business owner, you should be aware of how complicated ecommerce fulfillment logistics and the supply chain can get. Ecommerce businesses all over the world spend most of their time trying to refine their supply chain and make improvements/cost reductions wherever possible. At Transportify, we are all about making life easier for our clients and now we have an API delivery app that we would like to put forward to you.
If you want to save time and money on your business deliveries whilst boosting the overall efficiency with as little effort as possible then we've got the perfect solution. This is the Transportify API delivery app. It is a simple system that allows you to upload all of your orders in one go and have them balanced automatically across our fleet, paired with the most efficient routes at the best possible prices and taken off your hands entirely.
You no longer have to labor over finding the cheapest and easiest way to ship to your customers across the Philippines. We offer nationwide, including interisland shipping and you can access this with a few clicks of a button.
How Does Transportify App Works?
When your system and our system are seamlessly integrated, you get access to the following functionality:
Get quotes
Create bookings
Cancel bookings
Manage bookings
Find driver locations & delivery ETAs
Receive delivery confirmations
Special requirements
Proof of delivery (POD) – exclusive for business bookers
You can manage all of your orders with the greatest efficiency using this new system. We have gone to great lengths to create an entirely user-friendly platform that we are confident you are going to love. Save precious time and kiss the stress goodbye. Managing multiple orders has never been so easy.
The table below shows the features of API integration with Transportify.
| Icon | Text | Column 3 |
| --- | --- | --- |
| API System Integration | | |
| Get Quote | Create Bookings | Amend Bookings |
| Manage Bookings | Driver Location & ETA | Delivery Confirmation |
Streamline Ecommerce Fulfillment This 2023
Use an Ecommerce Plugin
Not only do we support WooCommerce, Shopify, and Magento, but the process is incredibly simple:
Use the Transportify ecommerce plugin: Transportify ecommerce plugin empowers your daily omnichannel distribution by booking vehicles on demand.
Fully automated: With Transportify as a delivery option, your booking process can be fully automated to get the best-fit vehicle at the best price.
Hassle-free setup: Now you can directly install our plugins to your ecommerce fulfillment website from the available plugin stores.
The installation and setup is incredibly easy:
In a few hours: Install our plugin and go through the tutorials.
Within a few days: Contact our business team to complete the formalities and get your Transportify API key.
After 2 – 3 days: During implementation, count on Transportify's tech team to help with configuration and testing, providing you with 24/7 support and guidance.
Go live in 1 to 2 weeks: From start to finish, the entire plugin setup process requires 1 to 2 weeks. Transportify's tech team will continue to provide support during the live operations.
OR use our API (application program interface) and SDK (software development kit)
What is API? Our Application Program Interface (API) is a protocol that your technical team can use to custom integrate with Transportify.
What is SDK? Our Software Development Kit (SDK) is a development toolset that can speed up the time it takes for your technical team to integrate with Transportify.
The installation and setup is incredibly easy:
Week 1: Gather requirements – This includes process mapping and determining what information needs to be automated between your system and Transportify.
Within a few days: Prep tech team – Shorter if you're using your internal tech team for implementation which we highly recommend. Perhaps an extra 1 or 2 weeks if you choose to outsource. In all cases, Transportify's tech team is available for education, guidance, and planning.
1 day to 1 week: Implement & test – During implementation, count on Transportify's tech team to provide 24/7 support and guidance
In 2 to 4 weeks: Go live – From start to finish, the entire API delivery integration process requires 2.5 to 4 weeks. Transportify's tech team will continue to provide support during the live operations.
If you are worried about having to change your existing system or make any drastic changes to your business, rest assured that the only way your business will change is for the better. We will simply make your entire ordering process faster, easier, and much more efficient. Our API delivery app and SDK is compatible with the following:
PHP
Ruby
C# (.Net & .Net Core)
Java
Python
NodeJS
SEE ALSO:
What Are the Benefits for Your Business?
Now that you know how the installation and integration process works, how will it actually benefit your business? Is it really worth the hype? Here's everything you need to know:
1One logistics partner: Using an all-encompassing logistics and delivery management system enables you to work with one logistics partner. That way, you don't have to worry about maintaining multiple relationships. You simply add your orders to the system for your ecommerce fulfillment and we will take care of everything for you, no matter where you are shipping to in the Philippines.
2Reduced overheads: By outsourcing your logistics requirements to us, particularly when leveraging our API delivery app and SDK services, you will be able to save a significant amount of money on employment costs. This is because it will remove any and all need for you to have a fleet of delivery vehicles at all or an internal logistics department for that matter. These huge savings will reduce your overheads significantly and can be fed back into your business to facilitate further expansion.
3Better rates: At Transportify we take great pride in the fact that we can offer our customers some of the best rates available. This is because our app has smart routing technology and GPS tracking software, allowing us to make considerable savings by using the most efficient routes possible. These shavings are saved with you in the form of more affordable rates. Everybody wins.
3Greater efficiency: Rather than working with multiple third parties and using only us, you will save yourself a lot of time and energy. In addition to that, integrating into our existing supply chain and leveraging our services for ecommerce fulfillment will enable you to handle all of your deliveries with the utmost efficiency.
4More control and visibility: When using multiple parties to deliver various goods nationwide keeping track of everything can become messy and complicated. With Transportify, all of your orders can be tracked from one single location. In addition to that, these orders can be tracked in real-time allowing you to see where each order and delivery driver is whenever you need to.
5Focus your energy on critical business activities: Again, all of the time and energy that you will save will allow you to focus more on the aspects of your business that matter. Rather than being buried under countless orders, instead, you can focus on growing your business – while we take care of the rest for you.
6Stay on top of your demand: When you continue to fulfill orders for your customer with greater efficiency and without any issues, you can bolster brand loyalty and retain your customers. This will allow you to focus more on the growing demand and we will worry about getting your goods from A to B.
7Reduce your carbon footprint: Removing the need for you to have a fleet of your own will allow you to reduce your carbon footprint significantly. Leverage our existing and ever-expanding fleet of vehicles.
Conclusion
In a nutshell, using this API delivery app and teaming up with Transportify is an amazing way to take your ecommerce fulfillment to the next level, outperforming your competitors, and improving your relationship with your customers. If you want to take advantage of the potential savings and dedicate your valuable time to more important aspects of your business then we invite you to join us for a free, no-obligation consultation.
| | | |
| --- | --- | --- |
| | or | |
Frequently Asked Questions:
What scripting language does the Transportity API delivery system support?
💻 Transportify is compatible with PHP, Ruby, C# (.Net & .Net Core), Java, Python, and NodeJS. If you're concerned about having to modify or make significant modifications to your current system, don't be. The only way your business will improve is if you let us help. We'll only streamline your whole ordering process, making it faster, easier, and more efficient.
How can Transportify API delivery improve my business logistics?
💻 Transportify is an app-based on-demand delivery service provider. Today, customers are more likely to buy from businesses that can deliver their orders in a breeze – faster. Having a tool online to manage and create bookings whenever needed anytime 24/7 can significantly help your delivery fulfillment.