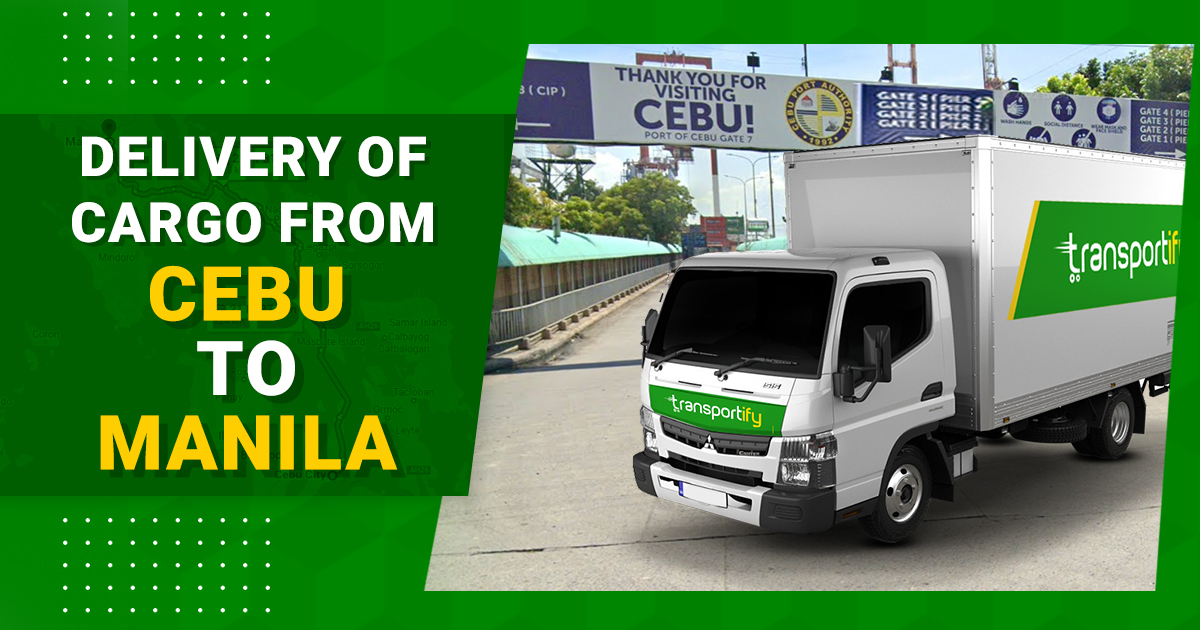 Many businesses need Cebu to Manila cargo delivery to move their products between islands. However, they are facing some challenges when it comes to this. The most common challenge is finding a reliable cargo service that can deliver their products safely and on time. But you don't need to worry anymore because Transportify interisland can help you with this. We are one of the leading interisland cargo service providers in the Philippines.
This blog post will discuss the challenges of delivering cargo from Cebu to Manila and how our service can help you overcome these challenges.
Why Is Moving Cebu to Manila Cargo a Challenge?
Many factors make it challenging to move Cebu to Manila cargo. One of the most important factors is the distance between these two places. It is about 600 kilometers from Cebu to Manila, so transporting goods would take significant time and effort.
Another factor that makes moving Cebu to Manila cargo challenging is the limited direct flights between these two places. As a result, businesses must use other transportation methods, such as ships, to move their products from Cebu to Manila.
Moreover, the demand for cargo services in the Visayas is high. This is because many businesses in this region must regularly transport their products to Manila. As a result, cargo companies are often fully booked, and getting a slot for your shipment can be difficult.
How Can Transportify Interisland Help You?
Transportify's interisland can help you overcome all of these logistical challenges. We are a leading interisland cargo service provider in the Philippines. We have a wide network of partners from our fleet partners and drivers between Cebu and Manila.
The Transportify interisland service allows SMEs and companies to ship their cargoes between locations entirely separated by water. This service will benefit businesses with shipments that must be delivered from Cebu to Manila.
For example, businesses in the food and beverage industry can use our service to transport their Cebu to Manila cargo without worrying about it getting spoiled. This is because we have a team of experts who will take care of your shipment and ensure that it is delivered safely and on time.
The process of shipping with us is simple and straightforward. First, you need to book a slot online, and our team will take care of the rest. Then, we will pick up your cargo from your location and deliver it to your destination on time, as the app estimates.
Tips for Packing Cebu to Manila Cargo with Transportify Interisland
It is important to pack your cargo correctly to ensure the safety of your cargo. Doing this will also help you avoid potential risks with shipping Cebu to Manila cargo.
Packing cargo for shipping is easy. You need to follow the basic guidelines like the following:
Know the rules of your logistics company – Transportify interisland has its own rules and regulations for shipping cargoes. Familiarize yourself with these rules to avoid any problems with your shipment. For example, our company does not allow flammable, corrosive, or poisonous cargoes. You can ask our customer service representatives for more information about this.
Pack and seal your goods – Packing your goods will help you save money because you don't need to hire a cargo packer. It is also a good way to ensure that your cargoes are packed properly and well-sealed. This will help prevent them from getting damaged during transit.
Use the right boxes and packing materials – Using any box when packing your cargo is not enough. You must ensure that you use the right box for your particular cargo. For example, if you are shipping fragile items, it is important to use a box designed for these cargoes. Also, use materials like packing peanuts or bubble wrap to protect your freight from getting damaged.
Label all the sides of your parcels – Make sure to label all the sides of your cargoes so that our team will know how to handle them properly. For example, if you are shipping fragile items, put a "fragile" label on all sides of the box. Doing this will help our team take extra care when handling your cargo.
If you remember these tips, there's no need to hire a cargo packer. You can pack and ship your cargo on your own. Just follow the guidelines, and you can ship your cargo safely and without any problems.
The Cost of Shipping Cebu to Manila Cargo with Transportify Interisland Service
The cost of shipping Cebu to Manila Cargo with Transportify interisland depends on several factors.
Here are the prices for the interisland service of Transportify:
10 Wheeler Wing Van
A 10 wheeler wing van can help with large deliveries by providing a lot of storage space. They have a higher payload capacity than most other vehicles, so you can be sure that your large delivery will get where it needs to go safely and securely. Businesses can best use this for palletized goods and large volume supplies for appliances, FMCG products, furniture, and more.
6w Fwd Truck
The 6w Fwd Truck is ideal for deliveries requiring more space and stability. Thanks to their extra wheels, these trucks can handle even the roughest roads. If you're looking for a truck that can handle just about anything, then a six-wheeler forward truck is the way to go. This is your top pick if you need something bigger than a Closed Van Truck.
Closed Van Truck
A closed van is a small truck that is 6 feet in length. The van has a closed back, which protects your belongings from the elements and makes it more difficult for thieves to break in. This truck is typically used for business deliveries and lipat bahay.
L300
L300 is a light commercial vehicle with a decent cargo space to carry up to 1000 kilograms. It is a great vehicle for those who need to transport large but not very heavy items.
In addition, the cost of shipping Cebu to Manila cargo also depends on the type of service that you choose. For Transportify interisland shipping, we offer a full truckload. You will need to rent a whole container to ship your cargo in this type of shipping. Full truckload is the right choice if you have a large and heavy volume of freight to ship. It is also the right choice if you need your cargo delivered as soon as possible.
SEE ALSO:
Transportify Interisland Service Package
Businesses and logistics providers in the Philippines face challenges when transporting goods across bodies of water. Transportify has developed a nationwide trucking service that picks up throughout the island of Luzon and Cebu, as well as Luzon, Visayas, and Mindanao areas. As a result of recent breakthroughs and developments, Transportify has partnered with well-known roro shipping companies in the Philippines to connect islands. Two of them are Starlite and Archipelago FastCat. We make certain that each shipment arrives safely at its destination.
Now that you know more about our company and services, please book a truck or container today! We look forward to helping you with your logistics needs.
| | | |
| --- | --- | --- |
| | or | |
Frequently Asked Questions:
How much is the cost of shipping Cebu to Manila cargo with Transportify interisland?
🛳 The cost depends on several factors, such as the weight and volume of your cargoes, the type of service you choose, and the vehicle you're using. You can check our price list for more information.
What are the vehicles for transportify interisland?
🛳 For interisland transport, we have a variety of vehicles available, including 10 wing vans, 6w Fwd Trucks, Closed Van Trucks, and L300s. Whatever your shipping needs, we have a vehicle that can accommodate them. Plus, with our 24/7 customer support, you can always rest assured that help is just a phone call away. So why wait? Contact us today and let us help you get your shipments where they need to go.