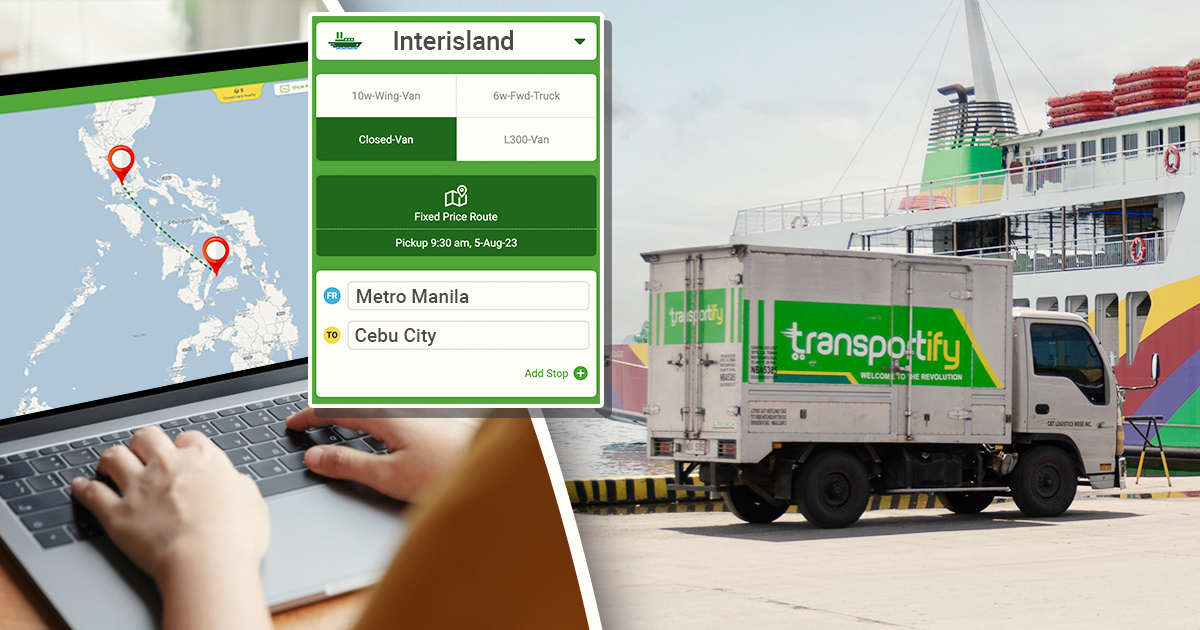 Being a country composed of more than 7,000 islands, it is easy to conclude that logistics operations are not easy to execute in the Philippines. Aside from the long distances on land, many companies have to transport goods to other islands via air or sea logistics solutions in order to scale up the company. A company in Cebu would want to expand its reach to include other places in the Visayas area in order to grow the business. And in order to achieve that, using a roro Cebu truck booking app is the right way to go about the logistics needs of the business. In this article, we will talk about the Transportify interisland delivery service from Cebu.
As mentioned above, the archipelagic structure of the Philippines would necessitate moving goods from one island to another using a ship. From enabling people to travel across various places in our country to powering the nation's economy by enabling trade and other commercial activities, the roro (roll-on roll-off) system is a very useful logistics network for individuals and businesses alike.
Generally speaking, the roll-on roll-off system operates quite simply. First, a vehicle is loaded with items and drives into the roro ship. That ship, carrying multiple vehicles, departs and travels along the nautical highways of the country until it reaches the port of destination. These vehicles then disembark or "rolls off" the ship and make their way to their final destination, usually a warehouse or a distribution center.
Opened in 2003, the roro system has benefitted many companies and organizations in the country. A report from the Philippine Institute for Development Studies claims that those organizations dependent on agricultural products experience an increase in income with the opening of roro ports. This goes to show how crucial roro operations are in the agriculture industry. Furthermore, it expedites growth in places outside Metro Manila because the roro system allows those areas to import and export goods more effectively.
The Philippine Nautical Highway System, another name for the roro system, provides many benefits to businesses and even individual retailers. In this article, we will talk about how roro Cebu operations using a truck booking app like Transportify should be used as the logistics solution of many businesses. It provides affordable rates, can reach a wide service area, and offers plenty of flexibility in the choice of vehicle as well as the option to book at any time.
The table below shows the routes and prices of roro Cebu trucking operations.
Why Use a Roro Cebu Truck Booking App?
Next to Metro Manila, Cebu is the center of business and commerce in the country. It is widely popular in international business communities as a great place to do business and has numerous economic zones which provide perks to companies inside that area. Because it is a center of business in the south, many companies would regularly ship out products from Cebu to various places in the Philippines. Normally, these companies would do their own roro shipping operations or course it through traditional logistics providers.
In the section below, we will go over the advantages in using a truck booking app like Transportify for your Cebu operations.
SEE ALSO
1

Affordable interisland deliveries from Cebu

In any business decision, cost is always a crucial factor in evaluating the course of action. On many occasions, the cost of a solution is the make or break criteria. When it comes to fulfilling interisland delivery requirements from Cebu, there are many options to consider. First, a company can choose to procure its own delivery trucks and establish its own process. However, such an endeavour would be very costly. It would also set the company up to deal with vehicle breakdowns and maintenance in the future.

Thus, the best course of action would be to partner up with a logistics company like Transportify that offers roro Cebu capabilities at any time. By using a truck booking app like Transportify for your logistics needs, a company does not have to procure trucks which would save them a lot of money. There is also no need to worry about managing vehicle breakdowns or other similar issues in the future.

It is also important to note that Transportify's rates are very competitive in the market. This enables businesses to go a long way with their money by offering affordable logistics solutions to various places in the Visayas area.
2

Wide service area reach

The Visayas region, a chain of islands located at the center of the Philippines, is full of business potential. For starters, the cities of Cebu, Iloilo, Bacolod and Tacloban are experiencing rapid growth in the last few decades. In fact, the province of Iloilo and Negros Occidental always make it to the list of the top 10 wealthiest provinces of the country.

Thus, the Visayas area is a great place to expand the business. A company based in Cebu should be able to ship goods to distribution centers in Iloilo, Bacolod and even reach the well known island of Boracay off the coast of Panay island. By doing so, the company would expand its reach of customers and grow its revenue streams.

And one way for a business in Cebu to be able to realize this business opportunity is to use Transportify, a truck booking app with roro Cebu shipping capabilities. From Cebu, clients can create a delivery booking using a variety of large trucks and transport goods to cities like Bacolod and Iloilo.
3

Enhanced flexibility in delivery bookings

As many business owners know, the rise and fall of consumer demand is a tricky situation to deal with. In the months leading up to December, businesses experience plenty of demand from consumers due to the Christmas season. However, there is a drop in consumer demand during the wet season, specifically in June and July. This example highlights the need for a reliable and flexible logistics provider that can respond quickly to changes in consumer demand behavior.

One way that Transportify addresses the fluctuating demand is by being available 24/7 throughout the year. With this service offering, a client can book a delivery vehicle at any time of the day and from anywhere in Cebu. In the case of roro Cebu operations, a delivery booking can be created at any time as well. If there are any concerns, our 24/7 customer service department is also more than willing to assist you in your Transportify interisland booking requirements.

Besides the 24/7 availability of this truck booking app, Transportify Offers a variety of delivery vehicles for interisland shipping logistics. Currently, the L300 van, closed van truck, the 6w forward truck and the 10 wheeler wing van can accommodate roro shipping operations from Cebu.
| | | |
| --- | --- | --- |
| | or | |
Frequently Asked Questions:
Why are roro Cebu operations important?
🚢 Cebu is a major economic hub in the Philippines next to Metro Manila. As such, roro Cebu operations are important because many cities in the Visayas and Mindanao region source their products from Cebu. For example, Cebu exports plenty of furniture products to Iloilo and Bacolod City. This is just one of many instances that highlight the importance of roro Cebu operations.
What are the advantages of using a truck booking app?
🚢 One of the major advantages of using a truck booking app like Transportify is that the client does not have to procure numerous vehicles to fulfill its own logistics requirements. By just downloading the app and entering the booking details, a delivery vehicle will be ready to service the logistics operation. Another advantage is that the customer will have access to delivery trucks at any time.