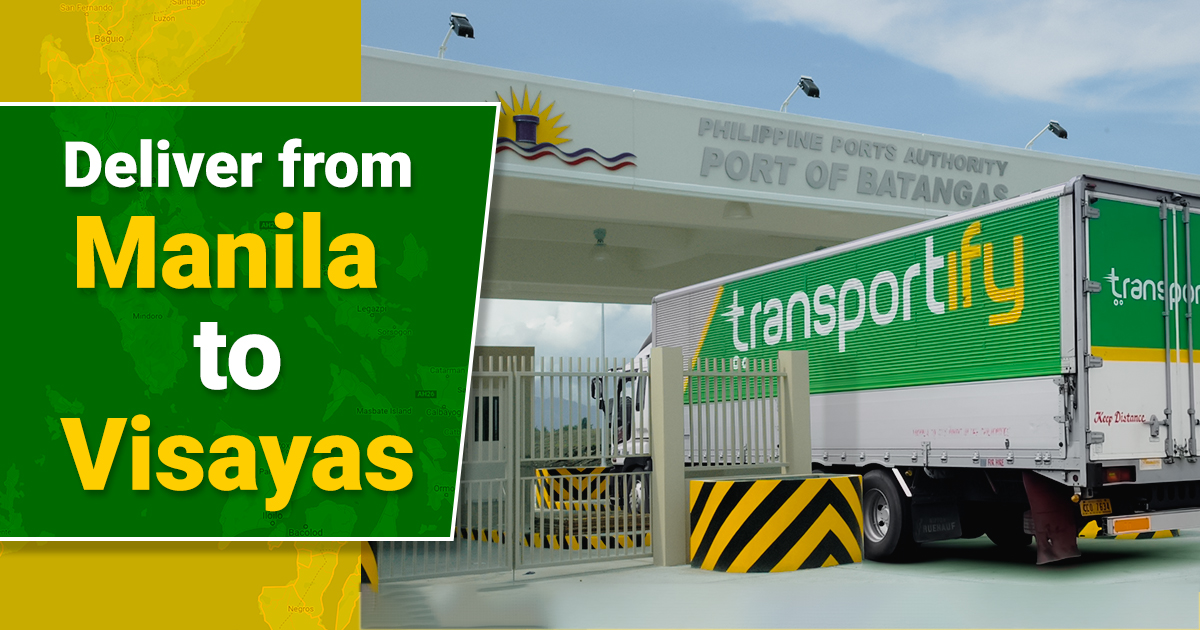 Is your business expanding nationwide? Transportify is here to help. Our nationwide shipping Philippines capabilities will allow you to send and receive cargo from Manila to Visayas easily and affordably. We understand that businesses need to be able to move their products and supplies quickly and efficiently, so we are committed to providing the best service possible. Get a quote and start your booking through the buttons below.
What Industries Usually Need Cross Island Delivery From Manila to Visayas?
There are a lot of businesses in Metro Manila that sends cargo to Visayas. These businesses can take advantage of Transportify's nationwide shipping Philippines capabilities to make the process easier and more efficient. Among these industries are manufacturers, retailers, and exporters, to name a few.
Here's how nationwide shipping Philippines from Manila to Visayas can help businesses in each industry:
Manufacturing Industry
According to the Board of Investments in 2017, the manufacturing industry is the engine of the Philippine economy. The industry is driven by the production of wood articles, tobacco, machinery and equipment, publishing ang printing, chemicals, paper and pulp products, and electronics. Some of the biggest manufacturing companies in the Philippines are operating in Luzon, particularly CALABARZON. Being a hub, these companies usually have the responsibility to distribute their products to other provinces and islands of the archipelago. Having the capability to bring their products to different parts of Visayas is beneficial in ensuring strong sales and customer reach.
Retail Industry
The Philippine retail industry is a vibrant industry that revolves around food, beverages, electronics, appliances, clothing, furniture, and other essential and non-essential products. It is an aggressively growing industry heavily driven by the growth of e-commerce.
For some business owners in Manila, they see Visayas as a potential area to expand because provinces in the region are also competitive for doing business. Since the number of online retailers increased significantly during the pandemic, it also created more demand, especially in Visayas. A modern logistics provider can support them with efficient and easy distribution to desired islands.
Exporting Industry
Exporters can also take advantage of nationwide shipping. This is because it will allow them to reach more consumers in other parts of the country. Additionally, exporters can use nationwide shipping to test new markets before investing in a physical presence there. By using Transportify, exporters can get their products to new markets quickly and at a fraction of the cost of opening up their own office or warehouse.
These are just a few of the businesses that can take advantage of nationwide shipping from Manila to Visayas. Transportify is capable of handling cargo of all sizes, so no business is too small or too large to benefit from our service. Here are the vehicles businesses can hire to distribute from Manila to Visayas:
Nationwide Shipping Philippines: Most Efficient Way To Deliver To Visayas
Manila to Visayas covers a distance of roughly 458 kilometers. It is understandable that some may find it extra challenging to deliver from point to point, especially there are bodies of water that separate the regions. However, over time and due to modernization, the government created the RRTS (Roll on Roll off Terminal System) that connects provinces and cities across the country to create a network of routes.
These routes are what we use today to deliver easier from Luzon to Visayas, and even to Mindanao. So why Roro is the most efficient and reliable freight service that businesses can use in the Philippines?
1Stable
First, both services rely on paved roads or railways to transport cargo, which minimizes the chances of goods being damaged during transit. Second, both services are relatively fast and can deliver cargo to its destination in a timely manner.
SEE ALSO:
2Can deliver to more stops at once
Second, these services usually have multiple stops along their routes, which allows for a more even distribution of goods and reduces the risk of items becoming backlogged at certain ports.
3More economical
Roro shipping via truck tends to be more affordable than other shipping options such as air cargo. As a result, businesses that require reliable and cost-effective transportation solutions should consider using interisland trucking when shipping goods nationwide in the Philippines.
4More flexible with prohibited items
With Roro shipping, there's a greater degree of flexibility regarding the types of goods that can be transported nationwide in the Philippines. Certain items might be restricted from being shipped via air, thus making this method an ideal solution if businesses need to safely transport sensitive products nationwide across different islands like from Manila to Visayas.
5Allows more weight capacity
Roro shipping for nationwide shipping Philippines is known to have a higher weight allowance per shipment than air freight. If businesses need to transport nationwide shipments that weigh more than one ton (the average limit for most courier services), then they should consider using this method instead of air cargo since it's much cheaper and can accommodate heavier loads. However, be mindful of the size limitations on each type of vehicle before booking your nationwide delivery service so there won't be any problems with loading up goods at collection points like Manila or Visayas.
Interisland Delivery From Manila to Visayas via Transportify
Transportify continues to expand nationwide and now has started serving interisland deliveries from Luzon or Cebu to other islands of Visayas and Mindanao. These islands include Leyte, Samar, Panay, Davao, Cagayan De Oro, General Santos City, Mindoro and more. You can book full truck deliveries for L300/Van, Closed Van trucks, 6w Fwd Trucks, 10w Wing Vans.
There are a lot of possibilities for businesses to expand their reach today, and Transportify's interisland trucking is one of them. Send us further inquiries to business@transportify.com.ph. You can also check our Interisland page here.
| | | |
| --- | --- | --- |
| | or | |
Frequently Asked Questions:
Why is interisland trucking a more efficient way of transporting goods nationwide?
🏝️ Interisland trucking from Manila to Visayas, depending on the business need can be the most efficient shipping option because it has a higher weight capacity compared to air freight and other usual couriers. Moreover, it has lesser cargo restrictions that widen options in the market.
Why is nationwide shipping Philippines important for businesses to have?
🏝️ To have the ability to ship nationwide raises a business' competence. The wider the customer reach, the higher the sales can be. Especially if you are operating in an archipelago country like the Philippines, where there are vast waters in between cities and regions. The Philippines economy has powerhouse industries that play important roles in its development, and to be able to transport their services to other islands is crucial. Some of these industries are the manufacturing, retail, and exporting industries. CALABARZON is one of the biggest manufacturing hubs in the Philippines, aside from supporting companies in Luzon, the hub also supports other companies in Visayas and Mindanao. These companies are able to maintain big operations because their sales are relative to their customer reach nationwide.
How can businesses improve their nationwide shipping?
🏝️ If the core of a business is not logistics, it would be hard for them to optimize their nationwide shipping process by themselves. In instances like this, it would be practical to seek or hire help from a logistics company like Transportify that can provide you seamless interisland deliveries nationwide.