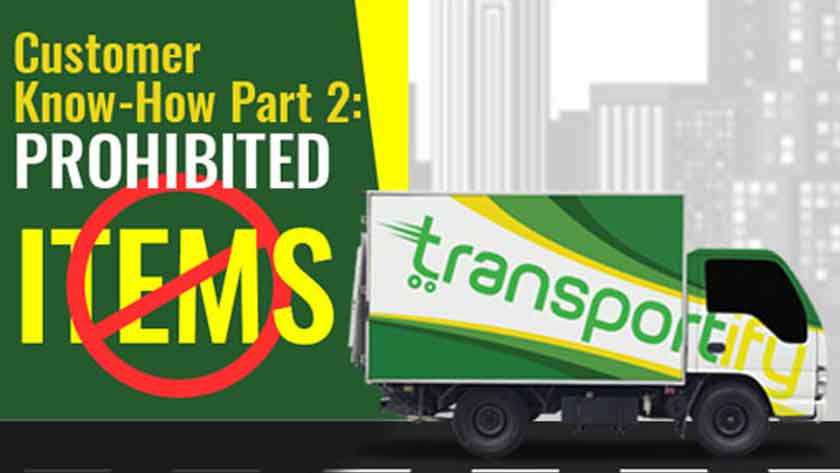 Our customers' wishes are our command and we will try to do everything we can to fulfill their delivery requests booked through the Transportify on-demand delivery app.  But as a package delivery company in the Philippines, Transportify must also follow the local rules and regulations on logistics and take responsibility in keeping our driver partners' lives and other customers' valuables safe. So for everyone's knowledge and safety, here is a list of items Transportify is prohibited from shipping.
Live animals
Transporting live animals might be dangerous to both the driver partner and the animal. Moreover, transporting live animals for livestock like poultry and pigs require a different type of delivery vehicle.
Explosives
Explosives such as bombs and dynamites are very dangerous items. Unexpected circumstances during shipping of explosives might damage the Transportify delivery vehicle and the other packages booked by other customers.
Gases and fuels
Transporting flammable gases and fuels like LPG tanks could endanger the vehicle and the driver, especially because our delivery vehicles are not made for transporting flammable fuels, unlike gasoline trucks.
Environmental and human waste
As we use our vehicles for food delivery services, transporting environmental and human waste like household, town, or city garbage would be very unhygienic and unsafe. Transporting garbage might contaminate Transportify delivery vehicles.
Biological substances
Urine samples, stool samples, blood samples, and saliva samples could risk delivery vehicle contamination even if they are in sealed containers.
Human remains
Transportify does not accept delivery requests involving human ashes, bones, and/or corpses as shipping such items require a different kind of expertise and authority.
Illegal drugs
It is important to note that Transportify refuses to have any involvement in delivering and/or transporting cocaine, meth crystals, and other illegal drugs. Our company does not tolerate smuggling of illegal drugs.
If you have further questions about our policies regarding items that the Transportify movers app refuses to deliver, our customer service representative will be glad to answer your questions.