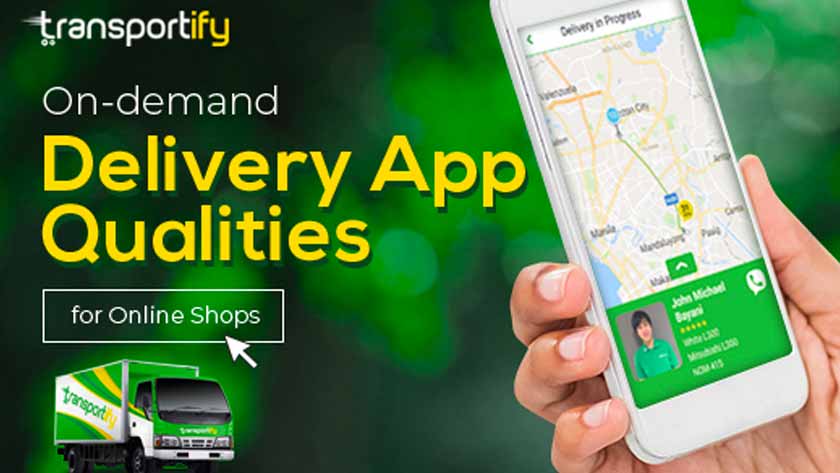 Online shops may lack the physical traits of actual stores but they are a form of business nonetheless. A form of business that needs a third-party logistics partner to ensure proper distribution of goods among the business' customers.
But as an online shop owner, how should you choose the right delivery partner for you? There are certain qualities online shop owners should look for. Below is a list of qualities Transportify Logistics Company recommends that on-demand delivery app partner should have.
#1 Reachability
Above affordability and delivery speed, being reachable is one the qualities an online shop owner should look for in a delivery partner. You are a business person—a proprietor that needs to monitor your product deliveries from time to time. You need to make sure that the on-demand delivery app you will use for your business is open daily, from early in the morning until late at night, just like Transportify's customer service which is open from 6 AM to 10 PM daily. You will also need a way to directly contact your driver, like Transportify's User-Driver Chat App Feature.
Being reachable also means that your courier partner's customer service immediately replies to your messages whenever you have concerns regarding your business logistics.
#2 Vehicle Flexibility & Driver Versatility
This quality is especially important for shops with online furniture delivery in the Philippines, as not all furniture share the same size, shape, and weight. What if your customer ordered a disassembled bookshelf? Should your delivery partner use a truck for delivery even if the package can fit in the trunk of a car just because they only have trucks as delivery vehicles available? Choose a partner that has a wide range of delivery vehicle options so you can deliver any type of product that needs to be delivered.
Additionally, make sure that the logistics company you choose has well-trained drivers who can easily adapt to different types of delivery. Find a logistics partner that can provide you with drivers who know how to take care of hardware materials and how to handle food delivery services, so the cupcakes that you sell online will not arrive on their destination as damaged goods.
#3 Speed
Of course, you must get a fast courier partner. After all, you would not be looking for an on-demand delivery app if you are okay with delayed deliveries, right? Moreover, running a business means you are running on a tight schedule, especially for online shops as most online shop consumers prefer to buy online because they think shopping is faster when done online.
#4 Wide Coverage
A third-party logistics partner with a wide coverage of standard service area is a must-have for online shop owners whose target market include consumers outside Metro Manila. Take Transportify for example—we now offer delivery services in all of Luzon. Our coverage includes remote areas in the Northern provinces and Southern provinces.
#5 Affordability
Last but not the least of the qualities you need to look for in an online shop logistics partner is affordability. Sure, you are not paying rent for a physical store, but you also need to make sure that your income is greater than your expenses. If your logistics partner is too expensive, it might cause you more trouble than not having any logistics partner at all. At the same time, it is also risky to hire a courier service whose pricing is too cheap to be true. Choose a logistics partner that is not too cheap and not too expensive, but is just affordable with reasonable and transparent pricing.
We hope you learn a thing or two on finding the right logistics partner for your online shop. It would not hurt to also consult the customer reviews and testimonials of your choices to make sure which one truly deserves your trust.