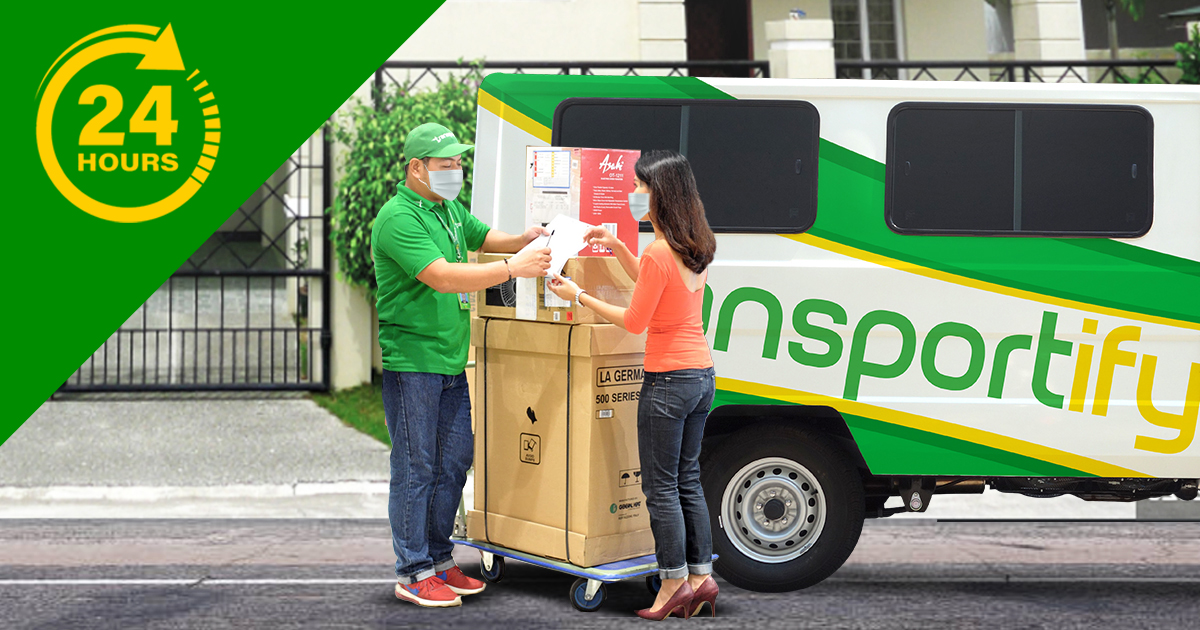 Trade and commerce are essential economic activities in the country. A report from Statista, a global business platform, shows that consumer spending in the country has more than doubled in the last 2 years. However, instead of going to shopping malls, many consumers resort to purchasing items using online selling platforms.
And because of this new behavior, many customers expect their delivery within 24 hours to be fulfilled by the retailer. Thus, a retailer would need the help of a door to door transport service company like Transportify to fulfill these logistics requirements.
What Is Door to Door Transport Service?
In simple terms, door to door transport service is a type of logistics operation wherein a vehicle drives to the "door" of the pickup address, gets the package or cargo, and then travels to the "door" of the destination. Door to door transport service refers to the entire logistics process from the shipper to the consignee. It involves many elements in the supply chain process, such as the dispatcher, delivery driver, and receiver of the packages.
The table below shows all the vehicle types Transportify offers for door to door delivery. The diversity of the vehicle types shows that Transportify can fulfill all types of door to door delivery, from small packages to large and bulky cargo.
Vehicle Type
Dimensions/
Weight Limits
Base Price


(Metro Manila)

Base Price


(Outside Metro Manila)

Base Price


(Visayas/Mindanao)

Wing Van 

32 to 40 x 7.8 x 7.8 ft




12000kg to 28000kg

7500 PHP

6500 PHP

6500 PHP

6w Fwd Truck

18 x 6 x 7 ft




7000kg

4850 PHP

4850 PHP

4850 PHP
Closed Van

10 to 14 x 6 x 6 ft




2000kg to 4000kg

1800 PHP

1450 PHP

1450 PHP

Open Truck

10 to 21 x 6 ft x open




2000kg and 7000kg

2300 PHP

1950 PHP

N/A

Mini Dump Truck

10 x 6 ft x open




2000kg

1500 PHP

1200 PHP

N/A

L300/Van

8 x 4.5 x 4.5 ft




1000kg

430 PHP

330 PHP

310 PHP

Small Pickup

5 x 5 ft x open




1000kg

310 PHP

250 PHP

220 PHP

Light Van

5.5 x 3.8 x 3.8 ft




600kg

250 PHP

192 PHP

225 PHP

MPV/SUV

5 x 3.2 x 2.8 ft




200kg

160 PHP

130 PHP

140 PHP

Sedan

3.5 x 2 x 2.5 ft




200kg

140 PHP

110 PHP

120 PHP
Many consumers are thrilled when they see sales and promos while they shop, both in physical stores and on online selling platforms. And many times, retailers offer delivery within 24 hours for larger and bulkier items that require a truck. The reason is that for these heavy items, like appliances and furniture, customers have no capability to bring them home right after payment, even more so for those who purchase these items online. That is why the door to door transport service and delivery within 24 hours logistics arrangement is sought after by many business owners in logistics companies in the Philippines.
The door to door transport service is becoming the default choice among consumers nowadays. Many customers prefer to buy items, even large and bulky ones like a new television set or refrigerator, using online shopping platforms. And in order to keep these customers satisfied, many retailers offer delivery within 24 hours solution. The only problem here is that the retailer may have a hard time fulfilling all of its logistics requirements if it only had recourse to its own fleet of delivery vehicles.
That is why the best course of action would be to outsource the logistics operation to a third-party logistics provider in the Philippines. In fact, many company executives agree that outsourcing logistics operations to a competent delivery provider in the Philippines is a strategic decision that will reap plenty of benefits. Not only will the business be able to focus on its core business processes, but it will also get the industry expertise of the logistics company that it partners with.
SEE ALSO
In the section below, we offer some reasons why it is best to outsource the door to door transport service operations of your business to an app-enabled logistics company like Transportify.
What Benefits Can You Get From Using Transportify For Door-to-Door Delivery?
Create Delivery Requests Anytime and From Anywhere in Luzon, Cebu, and Davao
Convenience and ease are two very important elements that a business owner looks for whenever the company is planning to partner up with a third-party service provider. And in the case of logistics services, being partnered with a delivery provider that can accept delivery requests at any time offer a lot of convenience for the company.
We all know that consumer demand is very hard to predict. The various seasons in the country translate to either a rise or fall in demand. For example, during the months of November and December, everyone in the country is willing to spend cash to buy gifts for loved ones. But on the rainy seasons stretching from June to July, consumers are not as willing to spend.
A business owner must navigate through these uncertain patterns. And in order to be able to adjust quickly to the rise and fall of consumer demand, partnering up with a door to door transport service that has delivery within 24 hours capability is a major asset.
First of all, this means that there is no need to worry about meeting cut-off times or planning delivery routes. The Transportify app can accommodate your delivery needs at any time of the day. Furthermore, Transportify can do door to door transport services anywhere in Luzon, Cebu, and Davao. Thus, a business owner will have no trouble fulfilling delivery requirements from Metro Manila to Baguio City or vice versa.
Reduce Operational Costs
Cutting back on expenses is a goal of almost every business. Business owners around the globe are always on the lookout for new methods or strategies to reduce operating costs. And in every business process, logistics operations tend to be quite expensive.
First and foremost, the company would need to acquire these vehicles. Such an endeavor is quite expensive and would need a lot of capital. After that, there is a need to train a team of drivers and dispatchers that would be in charge of the entire logistics operation. Lastly, there are unavoidable vehicle breakdowns or maintenance issues that would have to be addressed by the company.
That is why the best practice is to outsource the logistics operations to a door to door transport service company in the Philippines like Transportify. In doing so, there is no need for a company to invest heavily in its logistics operations. All it has to do is download the Transportify app, create an account and start booking. There is no need to worry about fulfilling delivery within 24 hours of requests of customers.
Partnering up with Transportify ensures that you can fulfill any delivery requirement at any time of the day.
Access to a wide range of vehicle types
Many logistics professionals will recommend having a wide range of vehicle types to attend to various delivery needs. For example, door to door transport service of small items such as packages, home appliances and the like can be brought to the customer's home using an L300 van. However, for larger items like an entire dinner table set or a bed frame, a closed van for rent should do the trick.
Transportify offers a wide range of vehicle types that can fulfill many different logistics operations. The sedan vehicle option is mostly used for transferring food products or even cosmetic items. Using a sedan is a safer option in the Philippines wherein the weather could suddenly change from a sunny day to a rainy one. The L300 van, considered the "workhorse" of many businesses, is a common vehicle for medium-sized items, such as house furniture or merchandise items.
For larger and heavier deliveries, Transportify offers the closed van or the 6w forward truck. These vehicles can carry loads between two to seven tons and can accept deliveries from anywhere in Luzon. Another vehicle type is the 10 wheeler wing van, although this is often used for the warehouse to distribution center logistics operations. For the specialized types of logistics needs, Transportify has the refrigerated truck for temperature-sensitive goods and the minidump truck for hauling construction aggregates.
Lastly, Transportify also offers the open truck vehicle type. Because it has an open back, this vehicle is ideal for cargo that needs a lot of headroom. For example, oversized furniture items can be transported via the open truck of Transportify. Of course, Transportify drivers are fully equipped with a "trapal" cover that can give protection against rain.
Scan the QR code below or click on the buttons to start using the Transportify delivery app.
| | | |
| --- | --- | --- |
| | or | |
Frequently Asked Questions:
Why are door to door transport services important?
🚚 In the Philippines, a large percentage of consumers purchase items online and have those goods delivered straight to their homes. And in order for the retailers to send goods to their customers, door to door transport services are important. Without door to door transport services, customers would be forced to get their items from a pickup center which would entail a lot of hassle for the clients.
How does the delivery within 24 hours work?
🚚 The delivery within 24 hours would work if the business has a large network of drivers that can accommodate delivery bookings at any time of the day. And for a business owner, this means partnering up with a third-party logistics company like Transportify. By partnering up with an app-enabled logistics service provider, the company would have access to thousands of delivery drivers which means that it could fulfill its delivery within 24 hours.