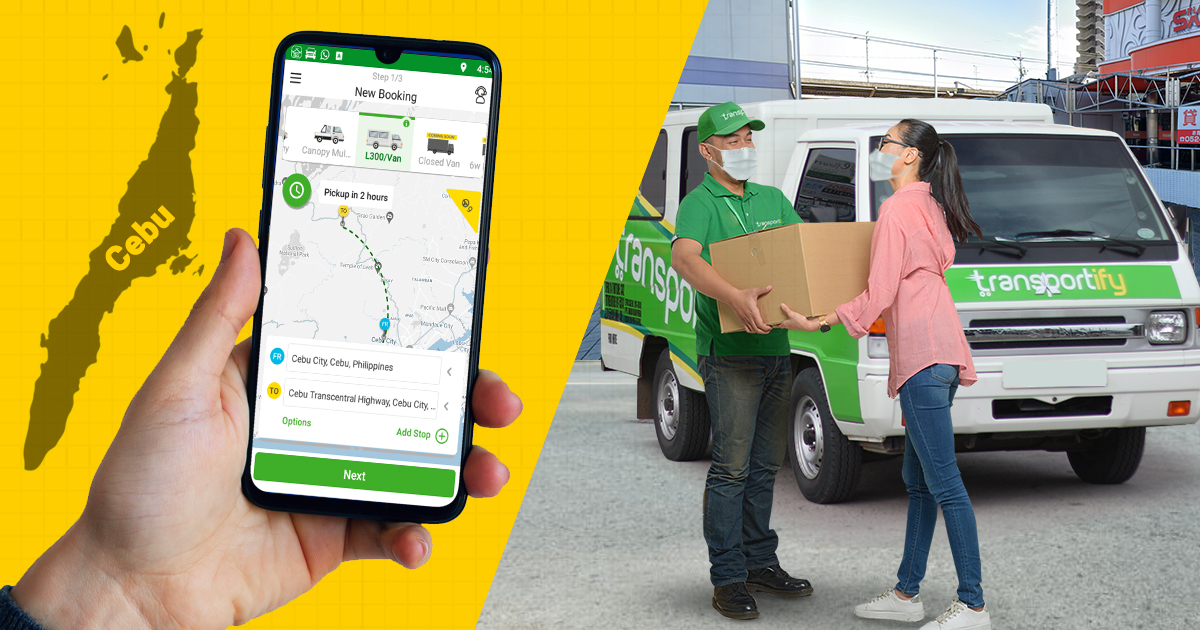 Over the last few decades, Cebu has grown into a bustling metropolis with a large population. As the city grows in size, so does the need for fast and more efficient logistics operations. A fast delivery process is needed by many business owners, both big and small, to be able to deliver goods to clients across a wide area. And in order to address that need, an express delivery app in Cebu is what Cebuanos must use to be able to move their goods promptly and efficiently across the entire province.
Cebu City often called the "Queen City of the South," is rapidly growing and making a name in the global setting as a destination for businessmen and investors. In fact, the European Chamber of Commerce in the Philippines (ECCP) describes Cebu as being full of business potentials. Big corporations in the Philippines like Filinvest and Ayala are investing heavily in the space of real estate in Cebu. These are just a few indicators that business is booming on the island of Cebu which translates to an increase in logistics operations for many delivery companies.
Just like in the retail business, as the company expands and reaches more customers, the delivery operations grow as well. And since Cebu is growing at a rapid pace, there is a great need for an express delivery app to service the growing logistics operations of numerous businesses. In this article, we will talk about the advantages of using Transportify, an express delivery app in Cebu, for your day-to-day logistics operations.
The table below shows the different vehicles available for use via the Transportify app in Cebu.
Vehicle Type
Dimension &
Weight Capacity
Base Price
(Visayas/Mindanao)
Wing Van 
32 to 40 x 7.8 x 7.8 ft
12000kg to 15000kg
6500 PHP
6w Fwd Truck
18 x 6 x 7 ft
7000kg
4850 PHP
Closed Van
10 to 14 x 6 x 6 ft
2000kg to 4000kg
1450 PHP
L300/Van
8 x 4.5 x 4.5 ft
1000kg
310 PHP
Small Pickup
5 x 5 ft x open
1000kg
220 PHP
Light Van
5.5 x 3.8 x 3.8 ft
600kg
225 PHP
MPV/SUV
5 x 3.2 x 2.8 ft
200kg
140 PHP
Sedan
3.5 x 2 x 2.5 ft
200kg
120 PHP
SEE ALSO
What are the Advantages of Using an Express Delivery App in Cebu?
There are many advantages to using an express delivery app in Cebu for your logistics needs. We all know that the logistics operations of a company are very crucial and quite tedious to operate. It is also expensive to execute because it requires a large budget to procure and maintain delivery vehicles and trucks. That is why most businesses prefer to outsource their logistics operations to an express delivery app in Cebu such as Transportify. The express delivery app of Transportify offers a unique trucking service for interisland transport via roro shipment from Cebu to other cities in Visayas and Mindanao.
Book deliveries at any time and from anywhere in Cebu
Because Cebu is such a large market with a huge population, the rise and fall of demand are crucial. Business owners must be able to take action immediately when there is a shift in consumer demand. For example, the Christmas season brings a lot of consumer demand which translates to having a lot of deliveries, whether first mile, mid-mile, or last-mile logistics. And there are also periods in the year, such as the rainy season, wherein demand is low, which means that there are not too many deliveries happening at that time.
Because of the constant rise and fall of consumer demand, a business owner must be able to respond quickly. Having an express delivery app that can accommodate deliveries at any time of the day and from anywhere in Cebu would put you in an advantageous position. Because it can attend to delivery requirements at any time, a business owner can easily resupply stocks to a distribution center immediately. And a logistics company like Transportify can cover the whole island of Cebu, which means that it can deliver to places up north like Danao city and down south like Carcar city.
The capability to book deliveries at any time and from anywhere would also be advantageous to an individual business owner or a small and medium-sized enterprise (SME). This would enable you to offer a same-day delivery service to your customers after they have purchased your product. In effect, this would increase the reputation of your business and attract more customers to your doors.
Wide range of vehicle types
Logistics operations are a complex combination of transporting goods, from the source up to the warehouse and then from the warehouse to a distribution or shopping center. In each of these stages, a different vehicle type is being used in order to fulfill the logistics requirements. If a company chooses to fulfill its own delivery operations, it would have a hard time due to the complexity of the supply chain distribution process.
That is why most business owners prefer to use an express delivery app in Cebu with a wide range of vehicle types. This ensures that the company is able to handle all stages of the logistics process, from the first mile to last-mile delivery operations.
By partnering with an app-based third-party logistics company like Transportify, the business does not have to worry about procuring a 10 wheeler wing van for first-mile delivery and an L300 van for last-mile logistics needs. By simply downloading and using the app, the business would have access to a wide range of delivery vehicles from sedans up to a 6w forward truck and 10 wheeler wing van.
Having access to a wide range of delivery vehicles via an express delivery app like Transportify will surely take your business to the next level. With Transportify, you would have a logistics provider that can fulfill your logistics needs from transporting goods from the supplier up to distributing them to the doorsteps of your customers.
Real-time delivery tracking and 24/7 customer service
Oftentimes, we would like to monitor the progress of an important service. For example, business owners would often visit the construction site of their new distribution center just to check if things are going as planned. In the case of a delivery service, many clients would want to view the progress of their delivery for many reasons. Among them would be to ensure that the goods are delivered safely and on time.
With the Transportify app, the customer can monitor the progress of the delivery in real-time thanks to the GPS technology that enables this feature. Customers can also share this information with the recipient of the goods in order to prepare for the driver's arrival. This also comes with the ability to communicate with the driver in real-time.
Aside from the real-time tracking feature of Transportify, the app also offers 24/7 customer service support. This feature allows the customer to communicate with a member of the customer service team when it comes to questions or concerns regarding the booking.
These app features from Transportify are designed to give customers a superior booking experience. Business owners and individual clients who use the app are very grateful for these features since it gives them visibility on the progress of their delivery and assurance that there is available personnel ready to assist them at any time of the day.
Download the Transportify app today by scanning the QR code or clicking the button below.
| | | |
| --- | --- | --- |
| | or | |
Frequently Asked Questions:
What is an express delivery app?
🚢 An express delivery app, like Transportify, is a technology-enabled logistics platform that connects customers with drivers. It allows customers to create delivery bookings at any time, select their pick up and drop off locations and choose their desired vehicle. On the other hand, it connects delivery truck operators or driver-partners with those customers who need their services.
Should I use a delivery app in Cebu?
🚢 If you are looking for a secure logistics solution that can deliver your goods at any time and from anywhere in Cebu, then you should use a delivery app. Transportify is the recommended delivery app for business clients that need to transport large quantities of goods at any time and anywhere in Cebu. Individual clients may also use the Transportify app for personal needs such as lipat bahay, gym equipment, and appliance delivery.