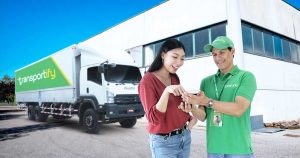 With the significant increase in the demand for truck rental and delivery services, cargo forwarding companies and logistics providers are now exploring different options to improve their service and introduce new business lines. They are pressured to adhere to the changes happening in the market as time goes by. Most of the forwarding company implement different strategies, such as using new technologies in advanced logistics solutions and trying methodologies in delivery excellence. 
On-demand logistics companies like Transportify provide the best solution to these inevitable changes in the marketplace. We are the smartest tech-logistics and forwarding company that launched the cheap truck rental and delivery service to any point in mainland Luzon, Cebu, and Davao. Our company offers a unique all-in fixed priced matrix for point to point delivery, which is an offering you cant find from any cheap truck rental business or forwarding company. 
Apart from our company, no other forwarding company offers a cheap truck rental and delivery service. Curious about how it works? Here's how:
1Access our Web and Mobile Application
Transportify has a sophisticated on-demand logistics mobile and web application that will connect customers with top qualified drivers and their vehicles for an affordable point to point delivery rate. You may visit Google Play Store and Apple App Store to download our application. You may visit our website for our web services to get instant quotations for our cheap truck rental. 
2Choose your preferred vehicle
Depending on your package or cargo size, Transportify's delivery service can accommodate with our large variety of vehicles available. These fleets are tailor-fit to accommodate different requirements from all our customers since customer satisfaction has been our priority. You may check out the table below the full list of available vehicles:
Vehicle Type
Dimensions/
Weight Limits
Base Price


(Metro Manila)

Base Price


(Outside Metro Manila)

Base Price


(Visayas/Mindanao)

Wing Van 

32 to 40 x 7.8 x 7.8 ft




12000kg to 28000kg

7500 PHP

6500 PHP

6500 PHP

6w Fwd Truck

18 x 6 x 7 ft




7000kg

4850 PHP

4850 PHP

4850 PHP
Closed Van

10 to 14 x 6 x 6 ft




2000kg to 4000kg

1800 PHP

1450 PHP

1450 PHP

Open Truck

10 to 21 x 6 ft x open




2000kg and 7000kg

2300 PHP

1950 PHP

N/A

Mini Dump Truck

10 x 6 ft x open




2000kg

1500 PHP

1200 PHP

N/A

L300/Van

8 x 4.5 x 4.5 ft




1000kg

430 PHP

330 PHP

310 PHP

Small Pickup

5 x 5 ft x open




1000kg

310 PHP

250 PHP

220 PHP

Light Van

5.5 x 3.8 x 3.8 ft




600kg

250 PHP

192 PHP

225 PHP

MPV/SUV

5 x 3.2 x 2.8 ft




200kg

160 PHP

130 PHP

140 PHP

Sedan

3.5 x 2 x 2.5 ft




200kg

140 PHP

110 PHP

120 PHP
3Input your pick up point and destination
Currently, we are servicing cheap truck rental and pickup services in Metro Manila, Pampanga, and Baguio with drop-offs anywhere in Baguio, Pangasinan, Pampanga, Batangas City, San Pablo, Lipa, Tarlac City, Cabanatuan, Subic / Olongapo, and Lucena with plans to open more cities soon. Transportify is expanding its horizons to service more customers from different parts of the Philippines and eventually remove the hassle from their packages through our smart logistics solutions. 
4Choose your preferred time
You may choose from Quick Booking, Scheduled Booking, and Full Day. Quick booking features immediate pickup for your item or parcel 1 to 2 hours from your booking time. On the other hand, Scheduled Booking gives you the chance to schedule your delivery in advance for up to 14 days. The last option is Full Day service, wherein you may avail of our cheap truck rental service for up to 10 hours and may be extended with a corresponding hourly price.  
5Avail our flexible options
Transportify's top-quality delivery service and cheap truck rental service includes our drivers' specialized help by loading your cargo from its pickup location and unloading them to its destination. Apart from that, we also can add up to 20+ more destinations on your booking. And, you may opt to add extra helpers to assist you with your heavy packages and parcels. This option can be seen on the application interface while booking your delivery. 
As a forwarding company, we should also improve our logistics services to increase our visibility and enhance market penetration through our cheap truck rental and delivery services. Our forwarding company also provides flexible options for intra city delivery; this includes courier, moving cheap truck rental, and other logistics services in selected areas within the Philippines.
6Booking payment
You have different payment options for your cheap truck rental and delivery services. You may choose to pay in cash from either the sender or receiver or top up on your Transportify account. Other flexible payment options will be available soon on our application. Stay tuned!
What's more to offer?
Transportify also has different features to ensure the safety and security of your booking. We have a track and trace feature for every booking. While the freight is in transit, you can monitor the location and estimated arrival time with the in-app live tracking mechanism. You don't even have to worry about the toll gates and parking fees, for they are part of our service package, regardless of where you are heading in our service area. Do not forget that we have our 24/7 customer service agents with the #1 service support and update you throughout. Your concerns are highly prioritized with us! 
On-time Services
Time is an essential element of every company or business. A waste of time directly means a waste of resources and money. That is why we guarantee that our driver-partners arrive on time to pick up your packages. Our forwarding company has top-notch service when it comes to these things as we want to meet every expectation from our customers. 
Extra safety precautions
We also implemented some safety precautions concerning COVID-19. Our drivers are trained to handle your parcel with extra safety, as mandated by the government. Policies have also been implemented about our drivers' proper handling and attire to prevent any harm from both the customers and drivers. Our driver-partners also practice adequate sanitation and disinfection. Safety is our priority especially in these trying times. 
Transportify as a partner for your business
Transportify can be your one-stop forwarding company to handle your logistics network. We have a business partnership program with many enjoyable perks such as prepay options, dedicated fleet, process mapping, goods insurance, and customer service to cater to our business partners' different requirements. We also have our 24/7 dedicated line for our business program partners to address their outstanding concerns on the booking. 
We are the forwarding company that delivers top-quality full end-to-end logistics in mainland Luzon and Cebu at an affordable price. It's the most favored logistics app by businesses in the Philippines — Book now the only fixed price truck rental for provincial delivery. You can view the full details on the fleet prices page or contact us for more information. Read through our blogs and news articles for the latest updates of our delivery app that disrupt and evolve a truck rental & forwarding company. You can also access our website to get an instant quotation on our services. 
Frequently Asked Questions:
What are the cheap truck rental services available in Metro Manila? 
? There are many rental services providers present in Metro Manila. Their service varies depending on customer needs. If your business is looking for a cheap truck rental service with top qualified drivers and vehicles, you should choose Transportify. Our company trained our fleet to give the highest quality of service to its customers. This assures you that your goods are safe and secure while on transit to the destination. 
What are the key points in choosing the right forwarding company?
? There are several things that you should consider when choosing a forwarding company as your partner. It depends on the requirements of your company or business. But the key point to consider is that your partner company must be reliable and can withstand the market changes. In Transportify, we practice these things. We continuously improve our services to cope with the inevitable changes in the market. And, we always open our line to feedback and suggestions from our customers. We are reliable in giving our best logistics solutions to the market.