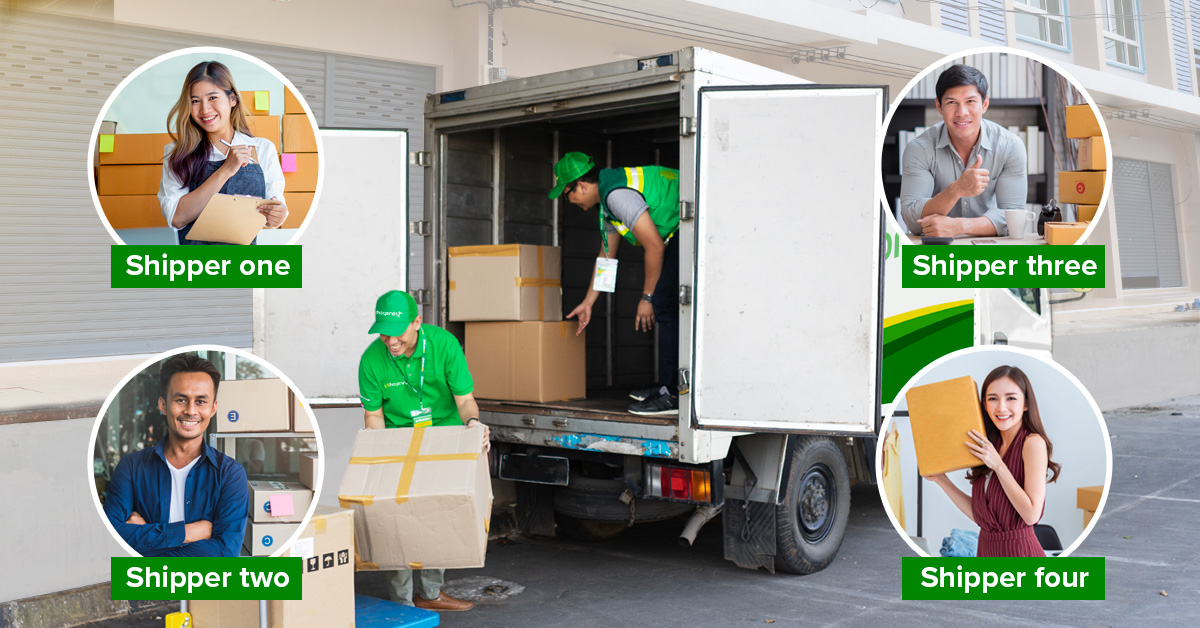 In the logistics industry, especially with freight and cargo, it is common practice that a customer is charged with the entire truck's space to be used. What if there was another way to transport your items? Partial load or LTL shipping is one of the innovations in the logistics industry.
This mode of shipment asks senders to only pay for the space occupied by your products and not the entire space of the delivery vehicle. The cargo is consolidated from different senders to fill up an entire truck. Transportify, a freight LTL trucking company, offers this option to senders in the Philippines. Freight LTL and sustainable supply chain companies make deliveries greener and reduce transportation costs. You can get a price quote by clicking the buttons below.
Transportify offers several vehicle options for your transportation needs, ranging from smaller sedans to vehicles as big as our 10-wheeler wing vans. As a same-day delivery app, it provides quality service with your customer's convenience in mind. Because of constant technological advancements, partnering with a 3rd-party logistics (3PL) company can keep you up to date with the latest trends in the industry, like send load LTL shipping.
What Are The Advantages of Using a Freight LTL Trucking Company?
If you start as a small business owner needing a logistics partner, exploring different delivery methods could help your business succeed. LTL aims to maximize the space available on a given truck by offering it to as many shippers as possible. It is done by sharing cargo space with other deliveries and paying for your partial load. What could this mean for you? LTL could lower costs, improve efficiency, and even help reduce our carbon footprint.
Lower costs
Choosing the right freight LTL trucking company that helps you with your deliveries could lead to lower overall costs. It is especially true if you transport smaller items that do not fill an entire truck. LTL company could be the best option for entrepreneurs who sell clothing, toys, mobile accessories, and other smaller items. Because you are only paying for a partial load and using the truck together with other senders, LTL shipping is significantly cheaper than the alternative of FTL. You need to pay for the entire truck's space in FTL shipping.
Greater efficiency
Your business' efficiency could significantly improve with LTL trucking. Because you are no longer piling up and waiting for parcels to be enough to fill up an entire truck, you can now send out orders as they come with LTL freight. Additionally, you are not wasting vehicle space in your deliveries. Unlike the unfilled FTL trucks, you just occupy the area you need. Freight LTL trucking companies in the Philippines, like Transportify, also offer advanced technology to help track your shipments without worry.
Reduced carbon footprint
With an increasing awareness of climate change, businesses can now choose LTL companies with more sustainable practices in the logistics industry. Consolidating shipments can aid a considerable amount in reducing our carbon footprint. Using fewer trucks also means less fuel consumption and fewer carbon emissions produced on the road.
LTL Company In The Philippines
Finding a domestic cargo/freight forwarder in the Philippines may seem intimidating, so it is best to see and evaluate whether they fit your needs. Partnering with an LTL company with wide area coverage is advantageous, and one of the reasons for this is its convenience.
Suppose you have a business that does not rely heavily on the transportation of goods constantly. If that is the case, there is no need to spend on purchasing and maintaining a vehicle fleet. Owning trucks for deliveries also implies many things that can add to a business's expenses, including a vehicle's maintenance, insurance, and depreciation.
Partnering with a 3rd-party logistics company, especially one that offers alternative services for starting businesses like partial load trucking, gives you more options that can cater specifically to your needs. Transportify, a trusted logistics company, offers the utmost quality services.
Transportify has catered to Filipino customers transporting cargo, big or small, and has changed how freight is done. It has helped countless families with the lipat-bahay delivery service. Additionally, Transportify has aided in the emergence of home deliveries, especially for small businesses in this time of need.
Business Program
Services
Program Features
Live Support

Open 24/7

Prepay

Available

Postpay with Monthly Invoicing

Available

Destinations

A total of 16 destinations can be added in every booking

COD/POD
COD + POD
2.50% of invoice
Min of 80 PHP
(Flat Fee/Booking)
POD Only
80 PHP for ≤ 3 destinations
160 PHP for ≤ 10 destinations
200 PHP for ≤ 15 destinations
Insurance and Warranty

Up to 3 million PHP coverage from OONA Insurance

Nationwide Service Area

Available




Interisland and Same Day Trucking in Luzon, Visayas, and Mindanao

Business Web Dashboard

Team Account Management Customized Reports
Our app-based service connects you with our driver-partners, who will cater to your transportation needs. They are dedicated, professional, and highly competent individuals in the logistics industry and can provide excellent service to our customers. On top of that, the user-friendly app, available on both the web and mobile, will connect you to the nearest driver in your area.
SEE ALSO
Transportify for LTL shipping
Transportify offers a wide range of vehicles you can choose from that may fit your daily needs. One day you can book an economy-sized car to deliver a cake, and the next, you can book a closed van to order ingredients as heavy as multiple bags of flour. This kind of flexibility and mobility that Transportify can offer to your business is essential, especially in today's ever-changing landscape.
In this increasingly connected world, logistics is more important than ever. We saw how essential logistics services were when everyone was staying at home. Since things are constantly changing, keeping up with technological advancements and innovative ideas will transform your business. If you are looking for fresh and new ideas to explore with your business, you can watch out for new services from a
freight LTL trucking company.
Learn more about Transportify's freight services by contacting our customer service representatives. You may contact our dedicated customer service representatives or chat on our website and social media platforms.
If you're interested in downloading our application, you may scan the QR code or click the button below:
| | | |
| --- | --- | --- |
| | or | |
Frequently Asked Questions:
What is freight LTL?
📦 Freight LTL are goods that do not take up the space of an entire truck. These items are usually smaller in size and only use the partial load of a vehicle. LTL shipping is ideal for senders with freight that does not require a full truck. It consolidates deliveries from different senders and maximizes the space available in a vehicle while minimizing the cost of deliveries.
How do I choose a freight LTL company?
📦 Choosing a freight LTL company that best fits your needs is one of the steps needed to improve business performance. There are several factors to look at, including price, vehicle options, and quality of service. Transportify, a 3rd-party logistics (3PL) and LTL company offers low prices with various vehicle options and still promises excellent service guaranteed to help make your business more successful than ever.
What are the benefits of partnering with a third party LTL trucking company?
📦 Partnering with an LTL trucking company is advantageous to businesses, whichever stage it may be. Owning and operating your vehicles for your businesses comes with its challenges. Outsourcing your logistical needs to 3rd-party LTL trucking companies, especially those that capitalize on technology and innovation, leaves you with more room to grow your business in other ways. You would not need to worry about the complicated nature of logistics and still be on par with other companies.