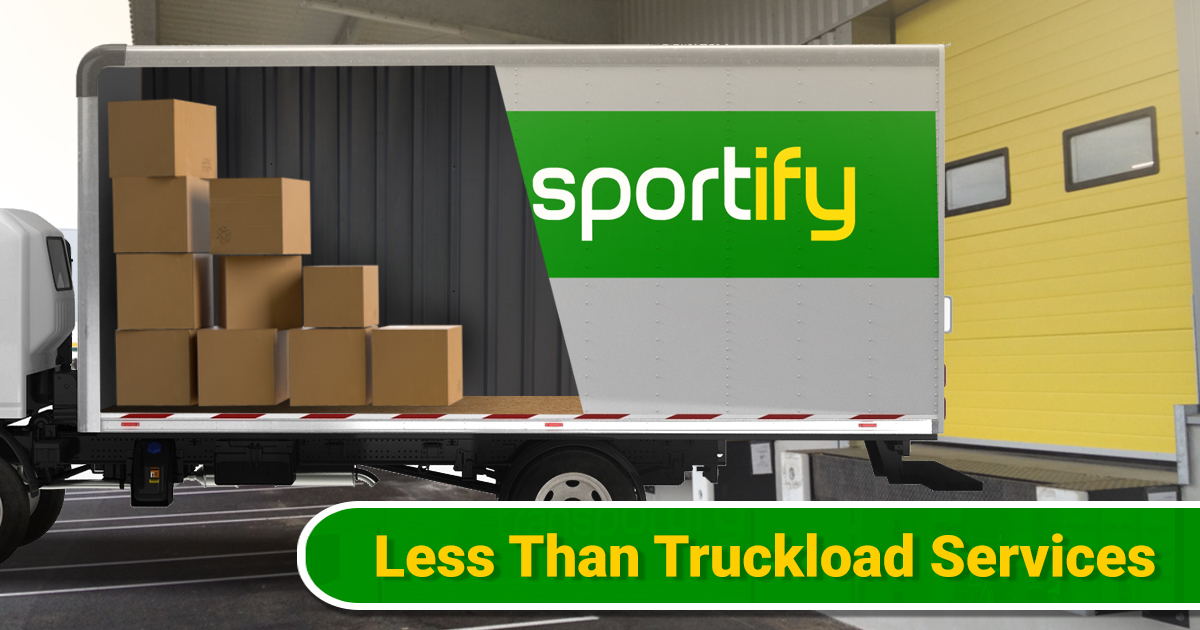 Being able to meet customer deadlines and simultaneously have an efficient delivery process in the supply chain are business must-haves. However, a company must find methods to minimize delivery expenses in terms of logistics operations. One cost-effective way is to lower logistics expenses using less than truckload services or LTL delivery methods. In doing so, you will only need to pay for the space your cargo occupies.
Transportify is a domestic freight company that offers convenient delivery services for bulky and small loads. We can help you improve your delivery fulfillment procedure without breaking the bank. Continue reading to learn more about less than truckload services.
In This Article
What is Less Than Truckload Shipping?
LTL stands for less than truckload, which refers to transporting freight from multiple consignees. Trucking companies for less than truckload shipping costs are significantly lower than transporting objects using FTL shipments.  Under this service, the freight will be shipped on a vehicle or truck and other freight. This is more cost-effective since it can handle multiple customers simultaneously, thus splitting the initial shipping expense.
Less Than Truckload (LTL) and Full Truckload (FTL): A Brief Comparison
LTL and FTL are fundamental terms in logistics. They are the most common choices for customers who need to transport goods via land, sea, or air. Businesses must know the differences between FTL and LTL well enough to assess better which type of service would best fit every situation or need. In a simple explanation, FTL uses a whole truck for every customer, while LTL utilizes one vehicle or truck for multiple customers. Unlike intermodal freight transport, FTL services are commonly under the multimodal method.
Transportify is a domestic freight company for Less Than Truckload shipping (LTL) and FTL that offers the best service types to businesses and individuals. Here are the two service types compared side-by-side.

What Are the Characteristics of Less Than Truckload Shipping Freight Companies?
Less than truckload services are used when a company does not have enough cargo from the warehouse to occupy the entire space of a delivery vehicle. It is a cost-effective way of still fulfilling logistics demands at a lower cost. Instead of renting the whole cargo truck rental service and only utilizing a small portion of that space, less than truckload services allows many clients to share the space of a delivery vehicle and only pay for the space their cargo occupies.
In the context of public transportation in transport hubs like airports and bus terminals, less than truckload uses the sharing economy concept, which we can commonly observe with carpools. More than one customer will load cargo into the vehicle, and the delivery fee will be divided accordingly.
Learn in this section the characteristics of less than truckload companies.
Diverse Fleet Selection and Cargo Type
Because their main line of business is transporting large volumes of goods from point A to point B, these freight forwarding companies have many delivery vehicles that can fulfill almost any logistics need. Some might have a tail lift for heavier loads.  Last mile transportation deliveries for small cargo boxes or bags can be accomplished by L300 vans or even sedans and MPVS. If you need less than truckload transport for bigger volumes like pallets, crates, drums, or rolls, the domestic freight company of Transportify has 4-wheeled trucks to co-load your cargo if you want a more economical option.
With Transportify, you can use these vehicles for distribution if you can not entirely occupy its cargo capacity. The less than truckload services option allows you to share the space of your chosen vehicle with other clients who opted for that vehicle. This will be more cost-effective since you only have to pay for your cargo's space.
Book in Luzon, Visayas, and Mindanao
An app-based domestic freight company like Transportify can accept deliveries anytime and anywhere in our less than truckload service area. Transportify provides a 24/7 less than truckload delivery service, so clients can pre-schedule and plan their dispatching well. There is no need to wait until you have enough goods to fill up an entire truck or vehicle. You can deliver anytime.
Transportify provides customer package tracking and notification system capabilities through the in-app GPS tool available on mobile and website applications for ongoing bookings. This gives customers and receivers real-time package delivery whereabouts.
Active Customer Service 24/7
Domestic freight companies know that customers want problems resolved right away. That is why investments to improve customer service support are always prioritized by many businesses.
For example, problems directly related to bookings can be resolved by the 24/7 customer service personnel of Transportify. They can immediately respond to your less than truckload shipment queries, assuring you that your products are in good hands.
Because a less than truckload domestic freight company like Transportify specializes in handling large volumes of goods compared to the competition, insurance coverage is good. A service company that provides professional driver service, damage insurance, paperless document handling for receipts and invoices, and access to real-time information is a mark of a company that values customer experience.
Get Familiarized With the Types of Less Than Truckload (LTL) Carriers
Even though the less than truckload market is smaller than the full truckload market, several types of regional LTL carriers create a unique blend of cost, service, and speed. There is no magic number. Your ideal carrier mix will depend on your specific needs, but understanding each type will help you set a better strategy. Remember that each carrier's network is different and may not fall into one category cleanly.
Types of Less Than Truckload Trucking Carriers
National LTL Carriers
Multi-Regional LTL Carriers
Regional LTL Carriers
Sub-Regional Carriers
Impact of Technology on the LTL Industry in the Philippines
Most businesses strive to reduce expenses while increasing efficiency. Regarding shipments, company owners are confronted with the rapidly growing demand from customers and companies alike for their products to arrive faster than usual. With the Philippines' improving telecommunication and internet capabilities, it is only right that logistics companies should adapt.  These are the primary drivers that push LTL trucking in the Philippines logistics industry:
E-commerce Fulfillment
App-based Services
On-demand Delivery Services
API Integration
Real-time Visibility
When Are Less Than Truckload Services Best Used?
A business must find out which logistics service is ideal for its needs. A food franchise business that does wholesaling could use Closed Van trucks to transport perishable products and maintain good inventory. E-commerce retail companies will likely utilize Transportify's sedans and L300 delivery vans crew service to deliver items directly to their consumers' homes. Usually, in the cases narrated above, the entire vehicle is rented by the customer to deliver goods to a specific location. This method is called full truckload (FTL) shipping. What if you don't have enough truck shipments to fill the entire vehicle? Is this the best time to use LTL shipping services?
When you are cutting costs
On the business side, cost savings are always appreciated. To reduce the delivery budget, freight logistics providers like Transportify provide LTL shipping alternatives to customers. In less than truckload services, the freight audit is calculated based on dimension and weight, which means you are only required to pay what your cargo occupies. To get a freight quote and pricing for Transportify's LTL service, visit our computing platform, the Price Wizard. It is important to remember to provide the exact dimensions and weight for accuracy and precision.
When there's not enough cargo to fill the truck
There are times when the number of products transported from the loading dock does not fill a cargo truck space. Should you still take out a whole truckload service and pay for the space of a vehicle that isn't utilized in these situations? Would you want to look into a different method of shipping goods that would only entail you paying for the luggage space occupied by your items? Given the two options, it's clear that businesses will pick the latter one.
When you want a greener alternative
Less than truckload shipping is, without a doubt, a greener way to ship goods. If those businesses hired a delivery truck, more cars would be on the road, increasing greenhouse gas emissions. Because there are several clients in a single delivery truck's space, fewer vehicles on the road and lower carbon emissions result. Thus, LTL shipping benefits the environment since it reduces carbon impact. We should take ownership of the emission we release into our environment.
Increasing Sustainability Through Less Than Truckload Deliveries
Freight forwarding is an important element in any business or organization, and all business operations will likely include logistics. The continuous consumption of resources at some point contributes to the exploration of nature, which may impact us in the long run. Businesses must explore other delivery options, such as LTL trucking companies, and start sustainable practices.
How Does Less Than Truckload Reduce Emissions?
Optimized route management for reduced fuel consumption
Use of one vehicle for multiple deliveries
More efficient use of fuel
Reduce waste
Tips on How to Prepare Your LTL Shipment
Just like the practice of well-known foreign freight forwarders like United Parcel Services (UPS) and FedEx Express, less than truckloads must be well-packed to endure trips over bumpy roads without breaking other shippers' goods. Learn these tips before you book your first LTL booking.
Choose the ideal box size based on the contents. Under-filling boxes are more likely to collapse; overloaded ones are more prone to burst.
Use high-quality materials when packing your goods for shipment.
When choosing your wrapping materials, choose based on strength, cushioning, and durability.
Each package delivery must be marked with one address label and each pallet with two address labels. The total number of cargo for package delivery should be indicated on the labels.
The cargo must be marked with visible instructions, such as "must be hand-carried" or "must only be handled by expert drivers."
Research about tariff or tax regulations you need to pay before shipping your cargo. This is to avoid overspending and would make you more prepared.
In the early phases of your expansion, less than truckload freight shipping can be advantageous to your business when delivering goods. You don't have to wait until you've reached a certain number of sales or volume before shipping your items to other locations. This allows you to ship products nationwide without having to fulfill any requirements. Your consumers will not be waiting for long, allowing them to get their stuff as quickly as possible. This will improve your customer care, reputation, and retention rate.
Benefits of Using Less Than Truckload Services
LTL freight shipping has many benefits to businesses and non-business clients. A business does not have to do its own logistics operations with LTL shipping. It can simply outsource the delivery requirements to third-party logistics providers like Transportify. A business can spend more time on core business processes such as product innovation, sales, and marketing.
Another benefit of less than truckload services is saving up more money. You can lower logistics expenditure because you only pay for the space occupied by your cargo and not the entire truck. Domestic freight forwarders like Transportify offer LTL shipping services at affordable rates so that you can deliver more while spending less without a contract.
Lastly, another benefit of LTL shipping is it reduces carbon footprint. With less than truckload logistics, the space of a single delivery truck is shared by multiple clients. This eliminates the need for all those clients to book a delivery vehicle separately. Fewer delivery vehicles on the road will reduce greenhouse gas emissions.
Less than truckload services delivery is the best solution when you do not have enough cargo to fill up an entire truck. Along with other freight transportation types, it can improve your logistics operation. With LTL, you only have to pay for your cargo's space.
Furthermore, this is an environmentally friendly logistics solution since it lessens the number of delivery vehicles on the road. Transportify is a domestic freight moving company offering send load (LTL) solutions to individuals and businesses. It has excellent services and features such as 24/7 customer service.
It also has a Corporate Account for Business that requires regular delivery services. If you are open to a partnership with Transportify, email us at business@transportify.com.ph or have a conversation with our Customer Service.
Download the Transportify app and start making delivery bookings!
| | | |
| --- | --- | --- |
| | or | |
When should I use less than truckload services?
🚚 LTL shipping should be used when you do not have enough cargo to fill up the space of a delivery vehicle. In this case, many clients share the capacity of a single delivery truck and only pay for the space occupied by their goods. Furthermore, this shipping method should also be used when a company is under construction of a friendly logistics solution.
What is a Domestic Freight company?
🚚 A domestic freight company handles the transportation of goods and products within a country. For example, an appliance company in Manila wants to transport stocks to its branch in Cebu. Domestic freight companies handle this operation and ship goods via land, air, and sea from source to destination within the country.