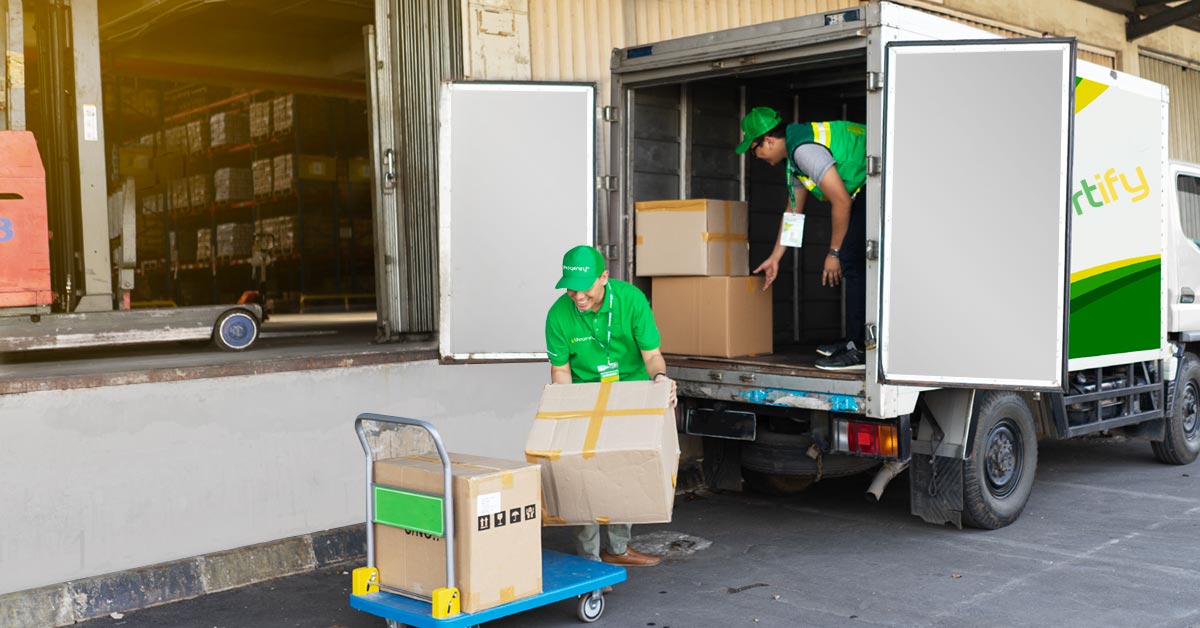 "Araw-araw na sure ang biyahe dito sa Transportify. Hindi ka na mahihirapan humanap ng customer mo, kahit saan mayroon. Ikaw pa mismo ang pipili! On-time mo pa laging makukuha ang kita mo." – Marco Cabral, Transporter since 2018
There are plenty of ways where a driver or an operator can get delivery jobs or truck load from different types of clients.
A traditional way that a lot of truckers do before is posting bills in different public places such as lamp posts and walls. This practice is now becoming obsolete due to modernization. And also avoided in a lot of places since they are considered as a form of vandalism.
Some operators and drivers would get trips and some truck load through recommendations such as friends, families, acquaintances, and previous customers that have tried and appreciated their delivery jobs.
Others would opt to get their trips by applying to logistics companies doing subcontractor jobs to get a truck load, also known as a "Subcon." These drivers usually get delivery jobs from owner-operators who have a hauling contract from a company. Their objective is to be able to complete a particular portion of a project that is assigned to them. An example of this is a logistics company that currently has 15 available trucks, and acquires a project that requires 20 truck load daily. An individual trucker who has five trucks can apply for a hauling contract as a subcontractor in this logistics company to do delivery jobs with them.
As technology is rapidly evolving, company looking for trucking services is adapting to it as well. Drivers and operators are becoming more creative in acquiring a hauling contract for delivery jobs or to search for truck load.
Some usual practices that people do nowadays is posting ads for their company or services online in places like Facebook and Carousell, and some register their vehicles in mobile applications like Transportify.
Advantages and Drawbacks of Online Market Delivery Jobs
When looking for customers online, you are exposed to plenty of people depending on which platform you use, therefore increasing your chances of getting a client. There are a lot of ways to get customers and sign a deal for a hauling contract in these places. An example would be deploying different types of marketing strategies such as being creative with the way you advertise your service to get a truck load, having a very professional profile, and having a humorous approach. The effectivity of this would vary depending on which type of market you are attracting and how they'll react to your marketing style. If you're lucky, then you might be able to attract a lot of customers so you better be prepared for that since unfulfilled or poor quality of service will damage your reputation and can lead to bad feedback.
Having been able to acquire customers doesn't mean profit right away. There are times where a lot of operators encounter payment problems with their customers. Being able to have a hauling contract to serve a big corporation or a logistics company will increase your opportunity to get regular bookings for constant income, but that isn't the case for all. Some experienced operators, had a point wherein a customer doesn't pay or is due to pay a certain amount of money but is postponed to several months later since not companies are very liquid and agile to pay for their debts.
In some instances, getting individual customers might get tricky too. Since you are getting these people online without a hauling contract, it's hard to verify if they're legitimate clients or not. There will be times where a customer will avail of your service and cancel at the last minute when you're already there on the pickup location or sometimes might even end up ghosting you and not show up at all.
If you're a driver or an operator and want to avoid these kinds of scenarios, then Transportify will come in useful to you. You might be wondering what Transportify is, and you've probably seen our brand on Facebook, Google, or even on the road with our stickered vehicles. Don't worry. It isn't a requirement to put those large stickers on your vehicle since it's optional, but if you are interested, there's a monthly incentive that comes along with it. Check these accepted vehicles that you can enroll on Transportify:
Vehicle Class
Accepted Make and Models
Vehicle Class
Accepted Make and Models

Sedan

Toyota - Vios
Ford - Fusion
Honda - Civic
Mitsubishi - Mirage
Mazda - 3
And other hatchbacks variants

Year model is 2004 or newer

MPV/SUV

Honda - CRV, BRV, HRV
Mitsubishi - Adventure
Suzuki - Ertiga
Toyota - Innova
And other MPV/SUV variant

Year model is 2004 or newer

Light Van

Haima Fstar
Mitsubishi L200 FB
Suzuki APV FB

Toyota Hilux (FB)

And other Light Van variants

Year model is 2004 or newer

L300/Van

Mitsubishi L300FB (All variants)

Kia K2700

Hyundai H100

Isuzu NHR

Urvan (all Variants)

Hiace (all Variants)

Starex

Transvan

View Traveller

Golden Dragon Vans

Year model is 2004 or newer


Small Pickup

Kia Bongo
Ford Ranger
Mazda BT50
Mitsubishi Strada
Toyota Hilux
And other Small Pickup Variants

Year model is 2004 or newer

Closed Van

All 4-wheel light commercial trucks with Closed Van body that have 2000kg - 4000kg weight capacity.

Year model is 2004 or newer

6W FWD Truck

All 6-wheel light commercial trucks with 18 feet in length and has 7 tons capacity.

You may contact us to know more.


Open Truck

All 6-wheel light commercial trucks with pickup body

Gross-Vehicle-Weight (GVW) of 2000kg - 7000kg

Pickup body length of 10ft - 21ft

You may contact us to know more.

10W Wing Van
- Trucks 32 - 40 feet long and have 12000kg - 28000kg capacity.
You may contact us to know more.
| | | |
| --- | --- | --- |
| | | |
Substantial Benefits from Transportify
The company had served millions of customers already, and we're known for being flexible and punctual with payments.
Secure Immediate and Weekly Payments
Transportify appreciates the effort that the drivers put into every booking, so we make sure that we pay all of them on time. There are two types of bookings that you can choose from our platform.
These are booking requests from our logistics business partners who signed-up for this program. These clients receive monthly billings, and don't pay in cash. After completing delivery jobs with a customer, the total receivable amount from the customer goes to the driver's wallet as credits. This credit then accumulates and gets deposited to the driver's GCash account every week.
With Transportify, you'll have more peace in mind since you won't have any problems collecting payments compared to having a hauling contract that can potentially make you wait for months if the customer isn't ready to pay yet. We take care of collecting payments from our customers, and we give the cash to our drivers on time without delay.
Cash bookings are bookings created by individual customers of Transportify but don't have a business account registered. This type of customer always pays in cash in either at the pickup location or any of the dropoff points, that is stated in the app.
Various Industries That Offer Delivery Jobs
Transportify has a wide variety of customers that use our platform. Each customer has different requirements for their delivery jobs. Here you'll learn about the industries that you will serve and the items you'll handle.
1Fast Moving Consumer Goods Industry
Transportify has a wide variety of customers that use our platform. Some of these are big industries like fast-moving consumer goods, also known as "FMCG." Since these companies are huge, they also have a lot of truck load requirements. Some examples of the product they produce are canned goods, packed noodles, household products like soap, shampoo, and many more. Expect that these products are already in boxes when it gets transported from their warehouses to another or their customer's location.
2Logistics Industry
Logistics companies are also part of our business customers. Since this industry requires a lot of truck load that they sometimes can't provide, they use Transportify's services to accomplish the delivery jobs for their hauling contract. The items delivered would vary depending on the customer of the logistics industry.
3Corporate Offices
Since vehicle acquisition costs for a corporation may not be too practical all the time, A lot of them find it more reasonable to use Transportify and fill in the truck load they need for their delivery requirements. Some of the things usually delivered in this type of industry would be office materials like papers, office equipment, and other office requirements.
4City and Provincial Lipat Bahay
For our individual customers, a considerable portion of them use our services for their city and provincial lipat bahay. Most of these clients have furniture and appliances that might be hard to fit in their vehicle, so they use Transportify moving service lipat bahay app instead. We just also want our customers to remove the hassle in house moving.
Note: We highly encourage our customers to ensure that all packages for moving services should be well packed especially to furniture and appliances that have large glass which is required to be fully bubble-wrapped to avoid unwanted damages during transport.
To sum it all up, Transportify should be your number one choice in terms of choosing a place where you can get bookings. Because of its guaranteed payment, and the amount of volume the platform can give without having to exert any effort in looking for a hauling contract. Why don't you try us out and start doing delivery jobs to earn a truck load of money?
Frequently Asked Questions:
What is the difference between having a hauling contract and joining an on-demand app platform?
🚚 Getting a hauling contract means acquiring projects depending on the requirements of a particular client. These types of deals come from different kinds of industries, and the arrangement like the number of trips, distances of one location to another would depend on the agreement. Once you've agreed and signed up for a contract, you're committed to making trips with the company for the whole duration of it. Transportify, the most in-demand application, allows customers to book anytime, depending on their needs and schedule, so as the drivers. Once a driver joins the platform, they aren't required to make trips until they choose to get one. Transportify has thousands of customers booking on the platform so a driver can actually select the type of booking he wants, including the time and location. He also can take trips while he's signed up in a hauling contract if it doesn't violate anything in it, such as exclusivity. Being part of an on-demand application is a significant advantage to a driver since he can accept bookings anytime he wants to add up to his income.
What are the other platforms that offer delivery jobs?
🚚 Numerous platforms offer delivery jobs. Some are online marketplaces like Carousell( previously known as OLX) and Facebook marketplace that display job postings online to provide delivery jobs. Others are logistics companies with different specializations in cargo. For example, LBC and JRS are known for shipping parcels and documents. Grab express, a motorcycle courier app with various specialties in ride-hailing, food delivery, and express courier delivery. Transportify offers a much organized and flexible logistics service. This kind of efficiency allows Transportify to provide more delivery jobs from its million customers.