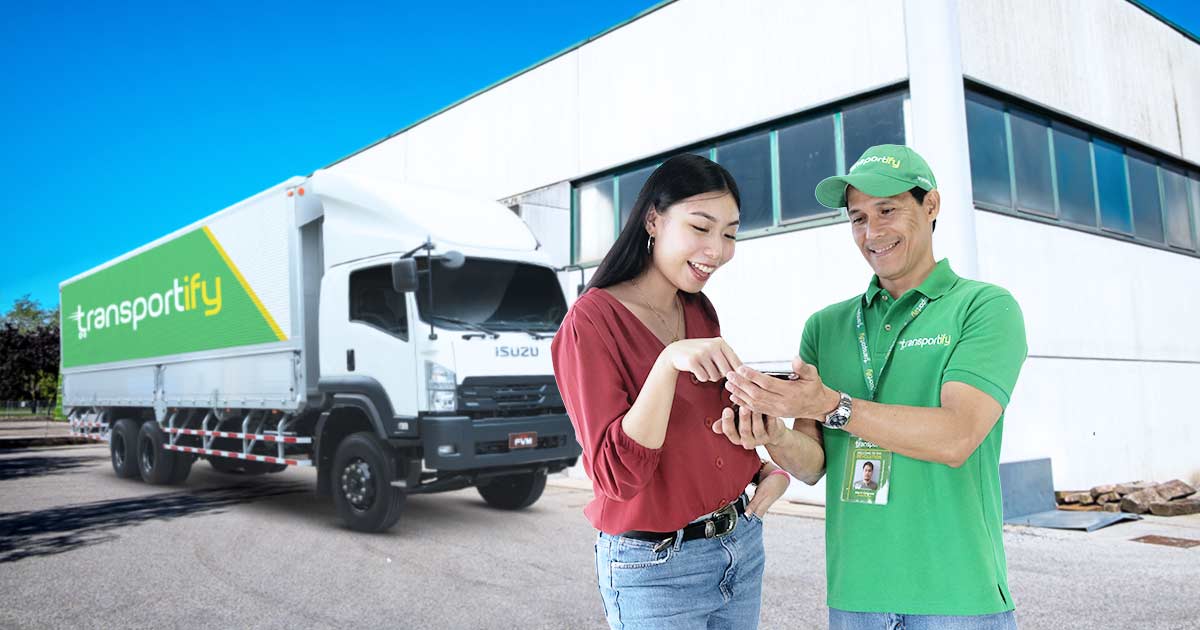 Transportify is the #1 delivery truck rental app that launched the most affordable provincial delivery service from Metro Manila, Pampanga, or Baguio to key cities in Luzon. Our provincial forwarding company offers a unique all-in fixed priced matrix for point to point delivery, which is an offering you cant find from any delivery truck rental business.
No other forwarding company offers affordable truck rental for delivery service.
How does it Work?
Our #1 logistics app will connect customers with top qualified drivers together with their vehicles for an affordable point to point delivery rate. Whatever the size of the cargo the customer will deliver, Transportify's delivery service can accommodate all with our extensive vehicle selection. You can check out the table below the full list of available vehicles.
Column 1
Column 5
Column 4
Vehicle Type
Cargo Dimension
Capacity

Economy

L: 3.5 ft
W: 2 ft
H: 2.5 ft

200 kg

Economy+

L: 5 ft
W: 3.2 ft
H: 2.8 ft

300 kg

L300/Van

L: 7 ft
W: 4 ft
H: 4 ft

1000 kg

Closed Van

L: 10 ft
W: 5 ft
H: 5.5 ft

2000 kg

10-W Wing Van

L: 32 ft
W: 7.8 ft
H: 7.8 ft

15,000 kg
Just choose the "Long Haul" time type after selecting which vehicle you need then book the schedule you want. Our forwarding app also provides flexible options for intracity delivery; this includes courier, moving truck rental, and other logistics services in selected areas within the Philippines.
Currently, our long haul delivery is servicing pickup in Metro Manila, Pampanga and Baguio with drop-offs anywhere in Baguio, Pangasinan, Pampanga, Batangas City, San Pablo, Lipa, Tarlac City, Cabanatuan, Subic / Olongapo, and Lucena with plans to open more cities soon.
What's more to offer?
Transportify's top-quality delivery service includes the special help of our drivers by loading your cargo from its pickup location and unloading them to its destination. While the freight is in transit, you can monitor the location and estimated time of arrival with the in-app live tracking mechanism. You don't even have to worry about the toll gates and parking fees, for they are part of our service package, regardless of where you are heading in our service area. Also, do not forget that we have our 24/7 customer agents with the #1 service supports and updates you throughout. Transportify also gives you the freedom to select multiple destinations up to 15 drop-off locations, with an option to have extra helpers for assistance and POD service for your business.
The forwarding company that delivers top-quality full end-to-end logistics in Metro Manila at an affordable price is what we are all about. That's why it's the most favored logistics app by businesses in the Philippines — Book now the only fixed price truck rental for provincial delivery. You can view the full details on the fleet prices page, or you can contact us for more information. Read through our blogs and news articles for the latest updates of our delivery app that's disrupting and evolving a truck rental & forwarding company.