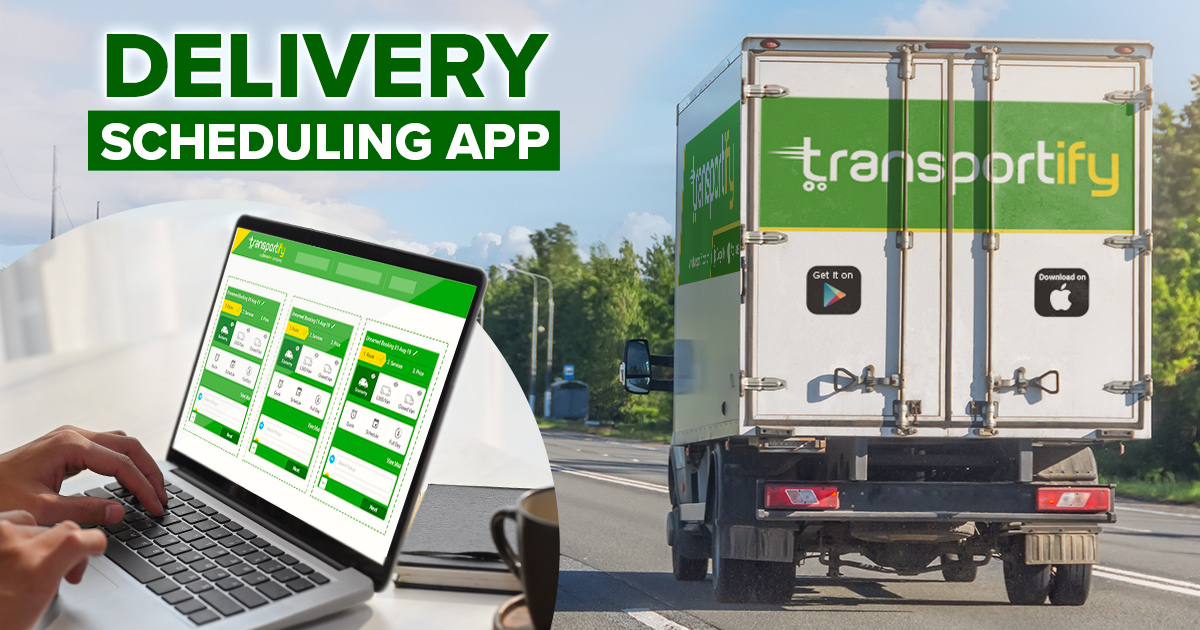 More and more companies are moving to the "modern era of customer service". This is based on mobile and web access, in response to the economy's shifting terrain, which is brought on by recent technological advances. Thus, the creation of a delivery scheduling app was only inevitable. Transportify delivery scheduling app continues to develop and make additions to both our web and mobile applications.
As well as the services we offer as Manila's most intelligent logistics supplier. To pick up and transport your items on the same day, you can use the web and mobile delivery and moving software. Here are some examples of useful application features you can expect when using the delivery scheduling app.
The introduction of delivery scheduling apps in the Philippines has supported companies in providing faster delivery services to their clients. How did it transform the Philippine logistics sector? Let's find out!
How Can A Delivery Scheduling App Speed Up Your Process?
In general, delivery scheduling refers to the procedures that make it possible for items to be transferred from one site to another. A delivery scheduling app is used to control the supply chain operations involved in moving items from one place to another. In general, it's how companies transport a package from point A to point B.
Delivery scheduling apps are essential for simplifying ecommerce delivery processes. This is accomplished by linking systems for ecommerce and retail logistics. As well as information on the order, inventory, fleet, and driver availability. Delivery scheduling apps make it easier for businesses to do delivery. It starts from route planning and dispatches to live customer tracking and digital proof of delivery. This is done by digitizing and connecting the various processes involved in the delivery.
Transportify was first introduced here in Manila in August 2016. Since then, it has grown to become the top delivery scheduling app choice for SME companies looking for a quick, secure, and affordable way to transfer their goods.
Business Program
Services
Program Features
Live Support

Open 24/7

Prepay

Available

Postpay with Monthly Invoicing

Available

Destinations

A total of 16 destinations can be added in every booking

COD/POD
COD + POD
2.50% of invoice
Min of 80 PHP
(Flat Fee/Booking)
POD Only
80 PHP for ≤ 3 destinations
160 PHP for ≤ 10 destinations
200 PHP for ≤ 15 destinations
Insurance and Warranty

Up to 3 million PHP coverage from OONA Insurance

Nationwide Service Area

Available




Interisland and Same Day Trucking in Luzon, Visayas, and Mindanao

Business Web Dashboard

Team Account Management Customized Reports
To learn the top 5 characteristics that make a faster delivery scheduling app, read this post.
1. Optimizing Your Route
A delivery scheduling app is used to control the supply chain operations involved in moving items from one place to another. In general, it's how companies transport a package from point A to point B. When it comes to lowering delivery turnaround times, delivery route optimization is essential for order fulfillment. The shortest route between any two sites is not always the fastest, safest, or most fuel-efficient option. Poor weather forecasts, traffic jams, driver idling time, and no-entry time windows are just a few issues. These variables must be taken into account during routing. When constructing routes that take these considerations into account, route planning software can be of great help.
2. Track and Trace using GPS
Today's consumers depend on recent developments in the logistics sector to preserve their current way of life. Shipping speeds are higher than ever thanks to cutting-edge advancements in GPS technology. Yet shipping costs are still quite modest. This effectiveness has a huge impact on many things. It includes online shopping, drug delivery, product freshness, and much more. Although we may only think of GPS software as a navigational aid, these technologies actually offer much more usefulness in the transportation sector. GPS services are what keep the truckload logistics sector structured and optimized for on-time deliveries, more so than a beautiful map.
3. Real-time Updates
Fleet managers can establish virtual parameters to set up geofence notifications anytime a vehicle arrives and exits a job site. GPS tracking can follow vehicles in real-time. When you don't have to track your vehicles, you can organize your operations and everyday activities more. The administrative burden can be lessened by being aware of the locations of all your cars and getting automatic notifications when they enter or leave key locations.
For instance, alerting customers to delays is a significant benefit of GPS tracking. Fleet managers can also warn shippers or recipients based on geofenced notifications in a similar manner. If motorists are on their way to the facility, that is. Processes can be accelerated, productivity can rise, and detention time can be decreased with early notifications.
4. Monitor Delivery Personnel
All your route optimization, delivery schedule, and route planning efforts might not be successful if you aren't tracking your fleet of cars and delivery personnel. Make careful to limit long lunch breaks, pointless idle time, fuel card fraud, and route deviations. Track your delivery drivers and reward those that perform up to or even beyond your standards. You may track your delivery drivers in almost real-time with the Transportify app for several stops. In a tracking history, you may also view your drivers' completed scheduled routes in hindsight. As long as you track your drivers, whether it's live on a map or after the fact as a report, it doesn't matter when or how you do it.
5. Optimizing Warehouse Order Picking
Analyzing your storage operations to determine where you can make improvements is the first step in optimizing your last mile delivery business. How do the orders get chosen by your order-pickers? Do you create routes for the equipment you use for warehouse picking? If not, you ought to think about it.
SEE ALSO:
Reap The Benefits Of Using A Delivery Scheduling App
Transportify has a lot more to offer in addition to these top 5 characteristics that make us the finest delivery scheduling app for faster delivery. Every business experiences major adjustments due to the delivery schedule. Let's go over some benefits of scheduling deliveries for modern businesses:
Well-planned deliveries lead to faster deliveries;
Scheduling increases customer satisfaction;
Drivers don't stick with more deliveries than they can handle;
Managers can scale deliveries more quickly as the business grows;
Scheduled deliveries reduce fuel costs, time, and other resources;
And they make it simpler to react to last-minute changes and adjustments.
It is essential to your company's success to find a delivery scheduling app that can increase productivity and make it stand out. Transportify is one of the top courier apps accessible in the Philippines. There is a large selection of reasons why Transportify can provide you with faster deliveries. Get a delivery app like Transportify if you want to increase the profitability of your company and deliver your goods to customers' doorsteps.
| | | |
| --- | --- | --- |
| | or | |
Frequently Asked Questions:
1How can a delivery scheduling app help?
💡 There are many benefits that a delivery scheduling app can offer. Perhaps the most obvious benefit is the ability to save time. When you have a delivery scheduling app, you can plan your deliveries in advance and schedule them for a specific day and time. This means that you don't have to waste time calling different courier services to find out their availability or waiting on hold for someone to pick up the phone. Another benefit of using a delivery scheduling app is that it can help you to save money. Many courier services offer discounts if you book your deliveries in advance. By using a delivery scheduling app, you can take advantage of these discounts and save yourself some money.
2What are the useful features of a delivery scheduling app?
💡 Assuming you are talking about a delivery scheduling app for businesses, some of the key features would be, the ability to schedule and route multiple deliveries at once, an interactive map that shows the location of each delivery and the estimated time of arrival, the ability to track the real-time progress of each delivery, notifications for customers and businesses about changes in delivery status, and a history of all past deliveries made through the app.