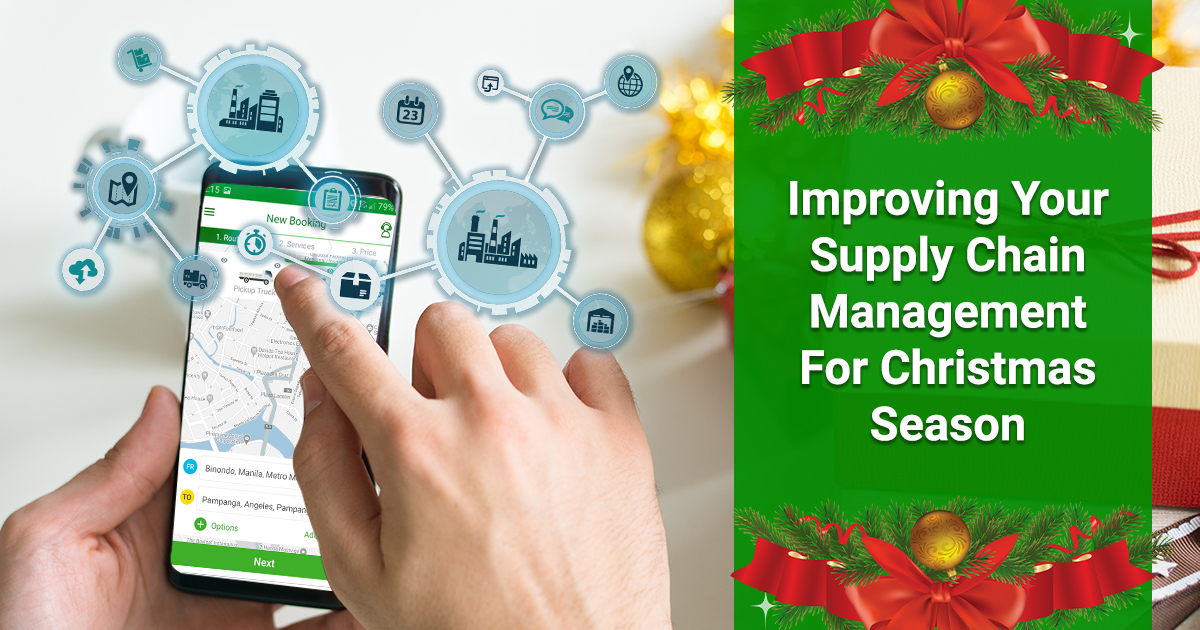 With Christmas fast approaching, now is a good time to improve your supply chain management procedures in preparation for the busiest time of year for retailers and e-commerce businesses. If you are expecting a surge in orders, you should have the appropriate infrastructure to meet this demand and do so with airtight precision.
Improving your supply chain management can seem daunting and almost impossible, particularly when you are so busy trying to run a business and deal with a plethora of other time-consuming tasks. However, with the support of a credible logistics company, you can accomplish this with little effort.
Are You Tired of Experiencing Delayed Deliveries?
They say that the definition of insanity is repeating the same actions and hoping for change. It is time to change things if you constantly battle delayed deliveries and poor logistical performance.
The fact is that delayed deliveries can be detrimental to your brand reputation. You will lose customers and accumulate negative reviews if you do not start plugging holes and applying best practices in optimizing your e-commerce supply chain management procedures. These disgruntled customers will not only refuse to purchase products from you again and subsequently turn to your competitors, but the negative feedback they will leave will deter other potential customers from choosing you.
The sooner you re-evaluate your supply chain management in time for Christmas in the Philippines, the sooner you can acquire more customers, bolster brand loyalty, and ultimately take your business to the next level.
Want More Control Over the Shipping Process?
Would you like to have more control over the shipping process? Do you feel as though you are helpless once your products leave your establishment? And that it's a 'hit and hope' situation as to whether your goods will arrive at their intended destination on time? If so, then you are not alone in this regard. Many companies are currently struggling with their shipping and supply chain management processes. However, you can take steps to regain control of your processes and streamline them.
At Transportify, we will take care of absolutely everything on your behalf. You can retain control over the shipping process, be kept in the loop, and even track your orders in real time using our state-of-the-art GPS tracking application. You can physically watch your deliveries moving from point A to point B using a free smartphone or desktop computer application. You will certainly feel in control, allowing you to update your recipients and offer an accurate estimated arrival time at your convenience.
Here is the complete list of Transportify's vehicles and trucks that can support your operations in time for Christmas in the Philippines:
Vehicle Type
Dimensions/
Weight Limits
Base Price


(Metro Manila)

Base Price


(Outside Metro Manila)

Base Price


(Visayas/Mindanao)

Wing Van 

32 to 40 x 7.8 x 7.8 ft




12000kg to 28000kg

7500 PHP

6500 PHP

6500 PHP

6w Fwd Truck

18 x 6 x 7 ft




7000kg

4850 PHP

4850 PHP

4850 PHP
Closed Van

10 to 14 x 6 x 6 ft




2000kg to 4000kg

1800 PHP

1450 PHP

1450 PHP

Open Truck

10 to 21 x 6 ft x open




2000kg and 7000kg

2300 PHP

1950 PHP

N/A

Mini Dump Truck

10 x 6 ft x open




2000kg

1500 PHP

1200 PHP

N/A

L300/Van

8 x 4.5 x 4.5 ft




1000kg

430 PHP

330 PHP

310 PHP

Small Pickup

5 x 5 ft x open




1000kg

310 PHP

250 PHP

220 PHP

Light Van

5.5 x 3.8 x 3.8 ft




600kg

250 PHP

192 PHP

225 PHP

MPV/SUV

5 x 3.2 x 2.8 ft




200kg

160 PHP

130 PHP

140 PHP

Sedan

3.5 x 2 x 2.5 ft




200kg

140 PHP

110 PHP

120 PHP
Overworked or Slow Dispatchers?
Do you feel as though your dispatchers are being overworked? Or perhaps they are too slow to handle your requests appropriately and promptly? It could be that they simply do not have the infrastructure to handle your requests.
In this case, it's time to jump-ship and partner with a reputable and well-established logistics company that can easily manage your supply chain, making it more efficient, streamlined, and smooth. You may have close and long-term relationships with your existing dispatcher, but if their poor performance is affecting the integrity of your business, then you should be willing to make the change. There is nothing more important than preserving your brand identity and reputation. If you fail to meet consumer delivery expectations, you will suffer for it in the long term.
Suppose you are serious about driving your business forward and thriving in the new normal in a post-COVID-19 world. In that case, you'll need to delegate your logistics requirements to a company that will serve you well and saves you time and money.
Manual Routing Affecting Costs and Timing?
Are you finding that manual routing severely affects your overall costs and timings? If so, then it's time to go digital. Automation via technological innovation has never been more important than it is today.
The companies that are refusing to update their business procedures and leverage some of the new technologies that are coming out are failing. In comparison, those embracing the future of logistics and leveraging technology to streamline their processes and automate routing are thriving.
By embracing these changes, you'll be cutting out an awful lot of time wasted on manual processes that can otherwise be carried out automatically, with very little human interaction involved whatsoever.
How Is Transportify Helping Corporations Optimize Their Supply Chain?
So, how are we helping corporations optimize their supply chain? And what can we do to help take your business to the next level?
API (application programming interface): With quick & easy API integration, we can help you go from struggling to keep up with shipping requirements and fulfilling orders on time to running a streamlined operation like clockwork. We can enable you to reliably reach your customers in good time, fully automate your supply chain, optimize your routes to save time and money, and expedite the shipping process entirely.
SKD (software development kits): We also offer software development kits that can seamlessly integrate with your existing software, thus bolstering your processes significantly. This means you won't have to invest large amounts of money on new software and simply 'plug in' to our existing network.
Support a variety of e-Commerce platforms: At Transportify, we support many reputable e-Commerce platforms such as WooCommerce and Magento 1&2. The installation is easy and fully automated, and we can create a seamless experience for your valued customers.
Learn more about integrating your e-commerce WordPress or Shopify site with Transportify's API here.
In addition to that, you will have access to a free application that allows you to track your orders in real time. The same GPS tracking software has state-of-the-art re-routing capabilities. In other words, this AI-learning technology will always anticipate and plot the most cost-effective and time-efficient routes available, considering any changes in weather and the constant uphill battle of Manila's congestion and traffic conditions. So, if there is a road accident causing a large traffic jam, rather than have your driver sit in gridlock for hours on end, it will provide a quick and easy alternate route so that they can avoid delay and make good on their order fulfillment.
We Fit Like a Glove
Putting your faith in a logistics company to take control of your supply chain and handle your logistical requirements can be quite daunting. This is why we go to great lengths to ensure that our clients are well taken care of. You see, we will fit in your business like a glove. Transportify exists to simplify.
Business Program
Services
Program Features
Live Support

Open 24/7

Prepay

Available

Postpay with Monthly Invoicing

Available

Destinations

A total of 16 destinations can be added in every booking

COD/POD
COD + POD
2.50% of invoice
Min of 80 PHP
(Flat Fee/Booking)
POD Only
80 PHP for ≤ 3 destinations
160 PHP for ≤ 10 destinations
200 PHP for ≤ 15 destinations
Insurance and Warranty

Up to 3 million PHP coverage from MAPFRE

Nationwide Service Area

Available




Interisland and Same Day Trucking in Luzon, Visayas, and Mindanao

Business Web Dashboard

Team Account Management Customized Reports
We are all about improving business procedures, saving time and money, and ultimately bolstering the logistics industry in the Philippines. So, if you are worried about making such a drastic change, don't be. All of our clients had the same reservations at first, but once you see how easily we can transform your supply chain and meet consumer delivery expectations easily, you'll never look back.
| | | |
| --- | --- | --- |
| | or | |
Frequently Asked Questions:
Can Transportify support the supply chain management of businesses in Visayas and Mindanao?
🚚 Yes. Transportify has operations in the whole island of Cebu for same day deliveries. In case that your business is not in Cebu, but is within Visayas and Mindanao, Transportify can provide interisland deliveries from Manila and Cebu to key cities in the Visayas and Mindanao.
What is the advantage of hiring a logistics partner in time for Christmas in the Philippines?
🚚 Historically, Christmas is the time of high demand for almost all businesses. One of the primary advantages of hiring a logistics partner in time for Christmas in the Philippines is that you will be relieved from the stress of handling and managing deliveries. If you partner with the right logistics provider, you will have better delivery fulfillments that can result in happier customers.