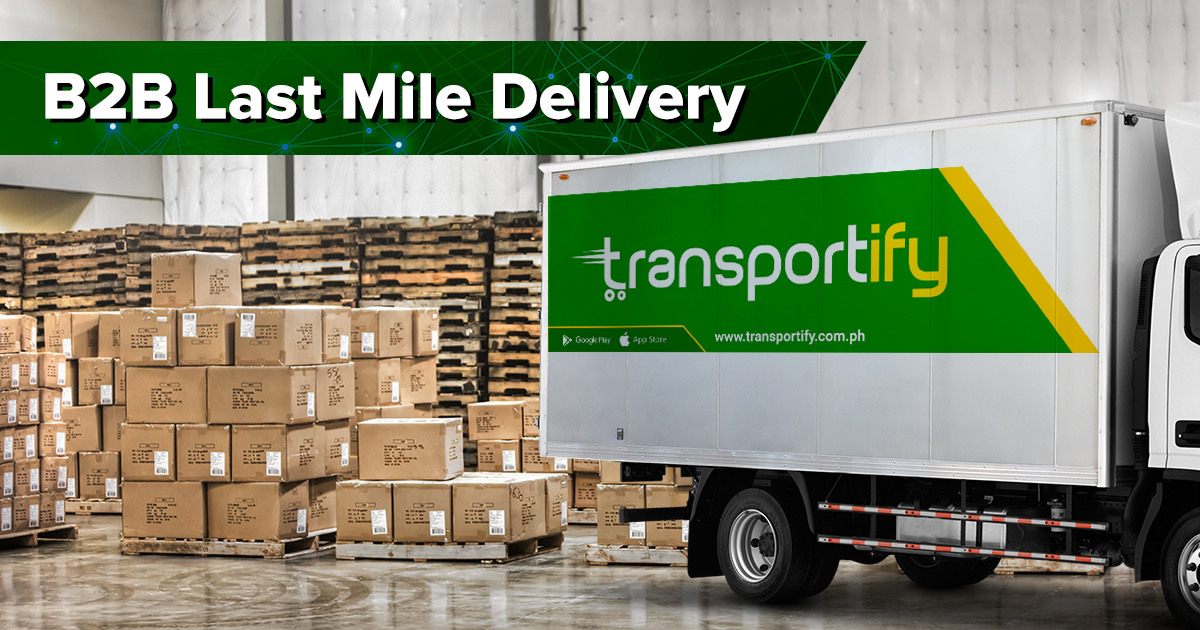 Time is of the ultimate importance in a B2B last mile delivery. Every second counts! Companies must maximize their resources to make sure they cater to their customers on time. Navigating the B2B last mile delivery process can be difficult. But, with the appropriate strategies in place, you'll have no trouble making it as efficient and streamlined. This blog post will discuss some key strategies businesses can use to optimize their B2B last mile delivery process!
What Happens in B2B Last Mile Delivery?
"Last-mile logistics" refers to the supply chain process of delivering goods from their final transit stop to the ultimate receiver. Last mile logistics involve the distribution of products to their final destinations, in direct opposition to port-to-port or terminal-to-terminal logistics. Road transportation is a core part of completing the B2B last mile delivery. It often presents the most logistics challenges that businesses must manage.
In the B2B realm, buyers expect seamless delivery like what they experience when purchasing as consumers. According to a Capgemini Research Institute survey, more than half of respondents said they would replace their current brand to favor those with faster deliveries. Although B2B logistics come with a hefty price tag, the complexities that accompany them justify the cost.
How Crucial Is B2B Last Mile Delivery in Building Supplier and Buyer Relationships
B2B last mile delivery can make-or-break suppliers in today's competitive marketplace. However, to stay afloat for their clients, B2B logistics providers must invest in modern solutions: B2B delivery apps or software.
Three Qualities Buyers Look For in a Logistics Supplier
Affordable Delivery
As the e-commerce industry expands, businesses seek new, affordable last-mile delivery. Companies are turning to third-party delivery providers to help deliver products to consumers at a reduced cost. Lower costs mean less overhead for businesses. As a result, this is more money saved in the long term, allowing businesses to focus on other ways to increase their bottom line.
Insider Intelligence reports that 53% of shipping expenses go to last mile delivery. To get the most out of B2B last mile delivery initiatives, businesses must balance cost-effectiveness and client happiness.
Faster Delivery
The drive for businesses to offer rapid delivery is part of a larger trend in the industry. Consumers expect their orders to arrive faster, and businesses are responding by looking for ways to speed up delivery times. B2B last mile delivery partners ensure that goods reach customers' doorsteps.
Last mile delivery partners are game changers for businesses who want to stay on top of customer expectations and remain competitive. These services allow companies to capitalize on impulse buying with quick deliveries that drive sales. Consumers are more likely to buy if they know they will receive their orders in 1 to 2 days.
Safe and Insured Delivery
The security and dependability of delivering products have the potential to make or break a business. After all, there are risks associated with shipping such as theft, damages, and delays, that can damage any company. Businesses need to protect their customers' goods when sending deliveries. Businesses can offer customers a better experience and peace of mind by having an insured delivery option.
In addition, an insured delivery can protect businesses from financial losses due to damaged or lost packages. For these reasons, businesses must look into secured and insured delivery options.
Key Strategies You Should Do To Overcome B2B Last Mile Delivery Challenges
What strategies should a B2B company adopt to achieve a high-quality, customer-oriented delivery experience similar to that of B2C?
If you're looking for a B2B delivery solution, here are some essential features to consider:
Route Optimization
Route optimization is the key to cost savings and timely deliveries. By utilizing this technology, businesses can quickly discover the most efficient route for each delivery, ensuring that they are economical and punctual. Additionally, incorporating route optimization allows fleets to overcome B2B last mile delivery challenges such as inclement weather, road conditions, and lack of staffing for loading/unloading cargo.
Hybrid routing allows dispatchers and fleet managers to create route plans tailored to customers' needs and orders. Instead of just taking the fastest route, B2B companies should make anchor stops for their most significant customers and optimize all other orders to revolve around those stops.
Real-Time Tracking For Transparency
B2B businesses can better manage their fleets and give customers transparency by using real-time tracking for B2B deliveries. Secondly, it helps reduce costs and simplifies the complex process of managing delivery exceptions.
Partner With A Trusted B2B Logistics Provider
Finding a reliable B2B logistics provider is essential for businesses that need to optimize their delivery operations. Access to the right resources, technologies, and procedures can help streamline the process, improving customer satisfaction and reducing costs. In addition, companies gain access to expertise in route optimization, warehousing, inventory management, and real-time tracking capabilities. This can help businesses improve their delivery operations and optimize their overall performance.
Request Quote From Transportify for B2B Logistics Solutions
Transportify is a modern B2B logistics app designed to help businesses streamline and optimize their movement of goods. Through our technology, Transportify offers real-time tracking, automated routing, and detailed analytics that can help companies improve the efficiency and accuracy of their deliveries. Additionally, Transportify provides an easy-to-use online dashboard for businesses with access to customer service representatives who are available 24/7. These representatives can assist customers with any issue they may have in order to ensure shipments arrive safely and on time.
Connect with us any time and get real time price quotes from our website.

Business Program
Services
Program Features
Live Support

Open 24/7

Prepay

Available

Postpay with Monthly Invoicing

Available

Destinations

A total of 16 destinations can be added in every booking

COD/POD
COD + POD
2.50% of invoice
Min of 80 PHP
(Flat Fee/Booking)
POD Only
80 PHP for ≤ 3 destinations
160 PHP for ≤ 10 destinations
200 PHP for ≤ 15 destinations
Insurance and Warranty

Up to 3 million PHP coverage from OONA Insurance

Nationwide Service Area

Available




Interisland and Same Day Trucking in Luzon, Visayas, and Mindanao

Business Web Dashboard

Team Account Management Customized Reports
What Are The Costs Associated With B2B Last mile Delivery?
Labor Costs
The cost of labor for B2B last mile delivery is dependent upon the size and workforce of a company. This amount includes wages, benefits, and worker's compensation insurance.
Fuel Expenses
Last-mile delivery for B2B is often a hefty expenditure due to fuel costs. Depending on the size of your business, you may need to fund reimbursements for gas or invest in fuel cards that can be used at petrol stations by employees.
Vehicle Expenses
Businesses that depend on vehicles for transporting products should consider the cost of maintenance, repairs, buying, and leasing when making these investments.
Technology Expenses
Although it can be costly, using technology to simplify B2B last mile delivery is often a necessary investment. After all, companies require software to monitor driver performance and track deliveries in real time.
Insurance Costs
When considering the cost of B2B last-mile delivery, businesses must remember to consider insurance. This way, they can safeguard drivers and customers from any potential problems with liability coverage or other types of protection.
SEE ALSO:
How Can Hiring A Third Party B2B Logistics Reduce Costs?
Investing in a third-party B2B logistics provider is the ultimate way to slash on logistcs costs and guarantee efficient last-mile delivery. A logistics provider is the perfect solution for any business looking to save money, as it offers access to innovative technologies, resources, and specialized knowledge.
With the ability to rapidly adapt their operations as customer needs rise, companies can ensure that orders are processed quickly and efficiently. Additionally, having an experienced provider manage the logistics of B2B last mile delivery can minimize errors. Companies can create better customer experiences while saving money by using a reliable logistics provider.
| | | |
| --- | --- | --- |
| | or | |
Frequently Asked Questions:
What does B2B mean in logistics?
🚚 Business-to-business (B2B) is a type of transaction in logistics referring to the exchange of goods or services between two or more companies. For example, a manufacturer may require raw materials from a supplier and purchase them through B2B transactions. The same concept applies to other products, such as electronics, finished goods, and services. B2B also applies to transportation and shipping, as businesses use delivery carriers or freight services to move goods from one place to another. Logistic companies often use B2B solutions to streamline operations, manage inventory levels and reduce costs associated with transporting goods.
What is KPI in last mile delivery?
🚚 KPIs (Key Performance Indicators) are metrics used to measure the performance of last mile delivery operations. Common KPIs include order accuracy, on-time delivery rate, customer satisfaction scores, cost per shipment, and other metrics. Companies use KPIs to keep track of their performance and strive for continual improvement. Companies can improve their performance and better serve customers by setting benchmarks and continually evaluating KPIs.