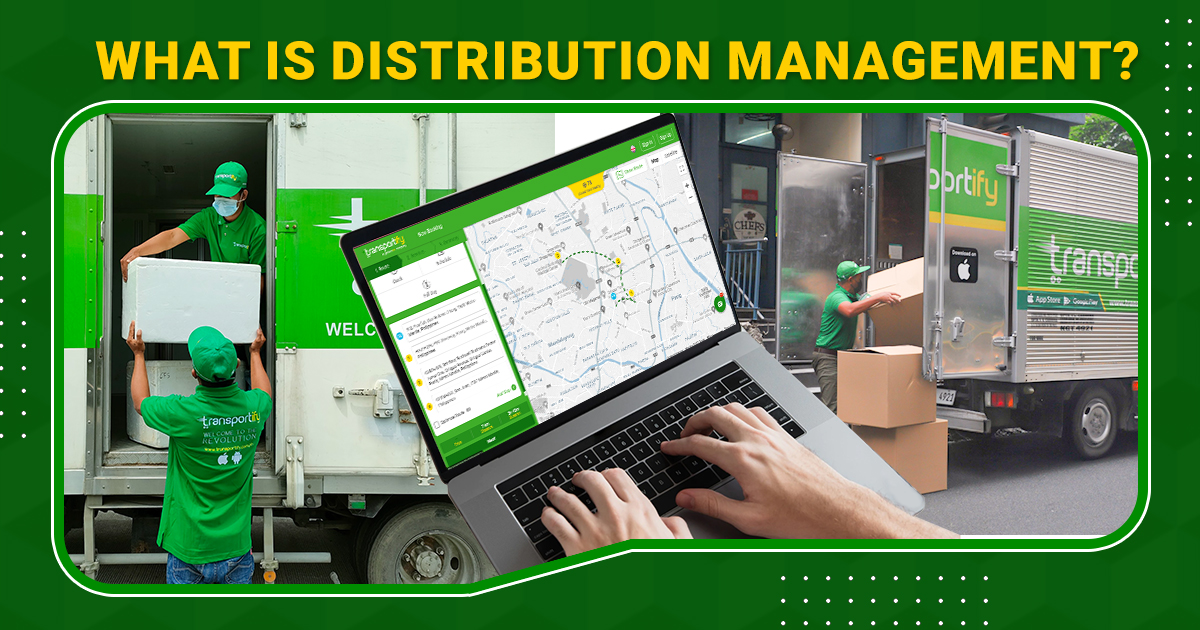 Time is money, especially for businesses. We must incorporate a routine or system into which we can pattern our lives. Effective time management also makes us better people. It improves our focus and productivity and helps us manage our priorities. It helps us shape the person we can become. To become an excellent owner of a business, a good leader, or want to set an example.
We all know that time is something that we do not want to waste. The same goes for our business and economic sector. Good organizational skills like distribution management are critical to customer satisfaction in businesses. Here's what you need to know about distribution management. Find out its benefits on your last mile delivery and overall fulfillment.
What Is Distribution Management?
Distribution management refers to controlling the flow of things from the supplier or producer to the point of sale. Distribution management can be an essential part of the business cycle for retailers. The ability of an organization to turn over its products can affect its sale. Businesses need a good distribution management system to maintain customer satisfaction and competitiveness.
Distribution management today involves more than transporting goods from point to point. It requires obtaining and sharing important data that can propel market growth. Most growing businesses today collect market data through their distribution networks. This is critical for establishing their competitive advantage. To track and save everything, distribution management collaborates with other systems. Producers, retailers, distributors, wholesalers, and final customers make up this distribution route.
This method entails renting warehouses, lowering costs, maintaining market prices, and soliciting ongoing customer input. Such steps are important, so you don't have to worry about last mile delivery bottlenecks.
How Does It Affect Last Mile Delivery?
Due to the pandemic, last mile delivery became more disorganized. Contactless delivery and health restrictions became priorities. This somehow caused challenges for logistics companies. Some struggled to adapt to shifting client demands for faster delivery. Smart consumers desire complete transparency of the fulfillment process. They are more loyal to businesses with flexible shipping options and better client experience.
Supply chain managers must review their last mile delivery plan to meet these requirements. Conventional logistics strategies will not be enough to balance client satisfaction and profitability. The digitalization of last mile delivery will impact the future of many industries. Such industries are retailers, ecommerce, supermarket chains, restaurants, and manufacturers.
Transportify vehicles for last mile delivery:
Vehicle Type
Cargo Dimension
Capacity
Starting Price
Vehicle Type
Cargo Dimension
Capacity
Price Starts at
Economy (Sedan/Hatchback)
L: 3.5 ft
W: 2 ft
H: 2.5 ft

200 kg

₱120 (Metro Manila)
₱90 (Other Areas)

Light Van
L: 5.5 ft
W: 3.8 ft
H: 3.8 ft

600 kg


₱250 (Metro Manila)
₱192 (Other Areas)

L300/Van
L: 7 ft
W: 4 ft
H: 4 ft
1000 kg
₱430 (Metro Manila)
₱330 (Other Areas)

Small Pickup
L: 5 ft
W: 5 ft
H: Open
1000 kg
₱310 (Metro Manila)
₱250 (Other Areas)
Closed Van
L: 10 ft
W: 6 ft
H: 6 ft

2000 kg

₱1800 (Metro Manila)
₱1450 (Other Areas)
6w Fwd Truck
L: 18 ft
W: 6 ft
H: 7 ft
7000 kg
₱4850
10w Wing Van (32ft)
L: 32 ft
W: 7.8 ft
H: 7.8 ft
15000 kg
₱7500
Wing Van (40ft)
L: 40 ft
W: 7.8 ft
H: 7.8 ft
28000 kg
₱10500 (Metro Manila)
₱9500 (Other Areas)
Pickup Truck
L: 10 ft
W: 6 ft
H: Open
2000 kg
₱2300 (Metro Manila)
₱1950 (Other Areas)
Long Pickup Truck
L: 18 ft
W: 6 ft
H: Open
7000 kg
₱4850

Mini Dump Truck
L: 10 ft
W: 6 ft
H: Open
3500 kg
₱1500 (Metro Manila)
₱1200 (Other Areas)

Distribution Management Can Support Last Mile Delivery?
Transportation items from warehouses/stores to their final destinations in the last mile. Most of the time, these destinations are consumers' homes. It has become an important logistical component because more people make online purchases, thus, expecting quicker delivery. Let's go over some logistical issues and see what distribution management can do to improve the processes.
Making Same Day Delivery Possible
Every ecommerce logistics company requires same day delivery service. It is important because it enables the delivery of purchased items to customers' homes. Keeping up with this expectation is the most difficult aspect of last mile delivery. According to studies, more than 80% of customers are willing to pay more for faster delivery. However, reducing delivery turnaround times is difficult. The entire shipping process is challenged due to ineffective routing procedures, manual reliance on work allocation, and inadequate management of third-party logistics companies.
For the consumer, a distribution management system can also simplify things. It enables consumers to shop for a variety of goods at any location. Customers would need to visit many sites only to receive what they need if the system didn't exist.
SEE ALSO:
Specified Logistics Procedures
Procedures that involve many channels can be a lot to handle. Distribution management is the process of moving completed items/products from a producer or supplier to the consumer. Storage, inventory control, packaging, shipping, and delivery are part of the procedure. One of the primary inefficiencies is rigid delivery methods, which have no place in a world focused on customer satisfaction. In contrast, traditional systems that rely on manual intervention fall short of customer expectations. Such situations can result in customer dissatisfaction skyrocketing. Modern consumers prefer 3PLs like Transportify. They like it more because it allows them to change delivery location and time based on their preferences.
Distribution management keeps a keen eye on the distribution network or channels. It maintains all client, inventory, and sales-related data and information. As a result, it is simpler to obtain, evaluate, and report on this data. In addition, it is making logistics procedures more convenient to handle both on the client and supplier's end.
Routing Models Traditionally Used
Here in Transportify, we make it to the point that our offers and processes are innovative but effective. We aim to satisfy the customer using our delivery app. However, it is difficult to ensure the timely and cost-effective execution of last mile delivery, especially in the absence of practical routing tools and procedures. Traditional routing models rely on manual processes. This makes it difficult to account for the variables that influence the creation of productive routes.
Distribution management makes everything in order. Effective distribution management includes selling your goods while ensuring adequate supply in channels. You are also managing promotions in those channels and attending to the various needs of those channels.
Increased deliveries during the pandemic have made things much more complicated. But unfortunately, little information is out to educate consumers and suppliers about the environmental impacts of various delivery options—some our unaware of the power of tiny changes.
With Transportify's last mile delivery, you won't ever have to worry about the hassle and anxiety with your shipping or cargo needs. Instead, you can leave the logistics in our hands.
| | | |
| --- | --- | --- |
| | or | |
Frequently Asked Questions:
What is distribution management?
🚚 Distribution management is the process of organizing and managing the physical distribution of goods. This includes everything from manufacturing to storage to transportation. Distribution management aims to ensure that goods are delivered to customers promptly, efficiently, and cost-effectively. There are many different aspects to distribution management, and the specific strategies and tactics used will vary depending on the industry and the product being distributed. However, some common elements are typically involved in distribution management, such as inventory control, order fulfillment, warehousing, and transportation.
How can effective distribution management affect last mile delivery?
🚚 The secret to efficient last mile delivery lies in effective distribution management. Optimizing your distribution process can minimize errors and delays, ensuring that your deliveries arrive on time and in pristine condition. In addition, effective distribution management can help you keep track of your inventory levels, avoiding overstocking or running out of essential products. You can ensure a smooth and efficient last mile delivery operation by closely monitoring your distribution process.