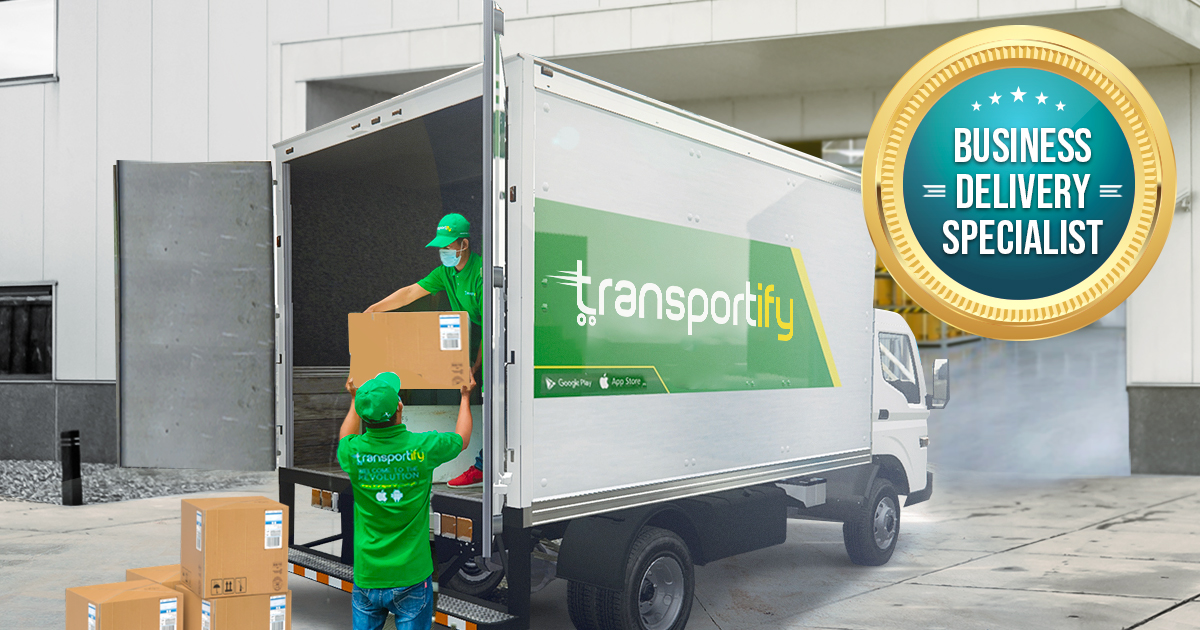 For many businesses, the logistics process is a very important but delicate role in the entire operation. This role not only includes managing business deliveries for clients but also making sure that business deliveries are done efficiently without unnecessary costs. Cargo truck services help with this process by providing business delivery solutions. In this article, we will explore the benefits that a company gets when it uses Transportify for its business delivery operations.
Business deliveries encompass all activities that companies do to transport products from point A to point B on behalf of consumers and other businesses. This includes both first mile and last mile logistics as well as mid-mile operations. What's more, is that these business deliveries can be from warehouse-to-warehouse or from one location to another within the same city or province. In this way, it is seen as a vital part of the daily operations of a business.
In the Philippines, business deliveries play an important role in the lives of owners and customers alike. In fact, much of the items that we use on a daily basis were part of a company's business delivery operations at some point. Whether it is business-to-business (B2B) or business-to-customer (B2C), business delivery is a key factor in the success of any business. Whatever the logistics operation, business owners need third-party cargo truck services like Transportify for their business delivery needs.
Most business owners understand the need for cargo trucking services, but many do not know how they work or what their business delivery needs involve. Companies have specific logistics needs when it comes to business deliveries because of various reasons such as service, the distance between supplier and the warehouse, and the size of the merchandise being delivered. These business deliveries can be done either on a small scale or large scale basis depending on how big the business is and what type of products are being distributed to customers.
The table below shows the different vehicles classes of Transportify for your various business delivery needs.
Vehicle Type
Cargo Dimension
Capacity
Vehicle Type
Cargo Dimension
Capacity
Economy (Sedan/Hatchback)

L: 3.5 ft
W: 2 ft
H: 2.5 ft



200 kg



Light Van

L: 5.5 ft
W: 3.8 ft
H: 3.8 ft



600 kg



L300/Van

L: 8 ft
W: 4 ft
H: 4 ft

1000 kg

Small Pickup
L: 5 ft
W: 5 ft
H: Open

1000 kg



Closed Van (4W)


L: 10 ft
W: 6 ft
H: 6 ft



2000 kg


6w Fwd Truck
L: 18 ft
W: 6 ft
H: 7 ft
7000 kg
10w Wing Van (32ft)
L: 32 ft
W: 7.8 ft
H: 7.8 ft
15000 kg
Wing Van (40ft)
L: 40 ft
W: 7.8 ft
H: 7.8 ft
28000 kg
Pickup Truck

L: 10 ft
W: 6 ft
H: Open

2000 kg

Long Pickup Truck
L: 18 ft
W: 6 ft
H: Open
7000 kg

Mini Dump Truck
L: 10 ft
W: 6 ft
H: Open
3500 kg
Why Use Cargo Truck Services for Your Business Delivery Needs?
There are many reasons why a company should use the services of a third-party delivery service provider for their business delivery needs. As a matter of fact, the growing trend among business owners is to outsource the logistics operations of their company to capable providers like Transportify. In the section below, we will go over the main benefits of using a cargo truck service provider like Transportify for your business delivery needs.
Wide Vehicle Selection
For a business owner, having the right tool to do the right job is important to carry out the functions of the company well. The same concept can be applied in the field of logistics. Having the right vehicle type to carry out the various stages of the logistics process is crucial to ensure business success.
The Transportify app has a wide range of vehicle types that can accommodate almost any kind of delivery requirement. 
The sedan and L300 van are best used for small item deliveries and last mile logistics operations. Many businesses in the food and beverage industry as well as cosmetic companies use the sedan for their business delivery needs to clients. Various BPO (Business Process Outsourcing) companies also use these vehicle types in order to transport work from home equipment from the office to the home of their employees.
Larger trucks such as the 4 wheeler truck, 6w forward, and 10 wheeler wing van are ideal vehicles for larger and bulkier deliveries. Various home and office appliances and furniture can be delivered using the 4 wheeler or 6 wheeler truck of Transportify. Palletized cargo and other voluminous goods are best transported with the 10 wheeler wing van. As the name suggests, these vehicles open up at the sides like "wings" which makes it easier for a forklift to load and unload the palletized cargo.
Other vehicle types of Transportify include the dropside truck, mini dump truck, and refrigerated truck. The dropside truck is often used by agricultural companies to move products across the various provinces of the country. Construction companies are known to often use the mini dump truck for hauling aggregates such as sand and gravel. Lastly, the refrigerated truck can handle deliveries of temperature-sensitive goods such as meat and vegetable products.
SEE ALSO
Flexible delivery operations
One of the main challenges that business owners face is the seasonality of consumer demand. In the days leading up to Christmas, consumer demand is at an all-time high and it is quite difficult to keep up with the volume of orders and delivery operations. On the other hand, there are months where consumer demand is low which translates into fewer sales and delivery volumes. 
Because of these challenges, it is important for a business to have flexibility when it comes to moving goods around their facilities and delivering items to clients. After all, much of the operations of a business rely on it being able to transport stocks to a distribution center or showroom and even deliver straight to the home of a client. And in order to meet this need, many companies form their own in-house fleet of delivery vans and trucks.
But if a company were just to rely on its own in-house fleet of delivery trucks, it would not be able to satisfy the logistics requirements of the months with high volume such as October, November, and December. 
That is why the solution that many entrepreneurs and company executives use is to outsource the logistics operations to a third-party delivery provider like Transportify. With its 24/7 availability in accommodating deliveries, Transportify is in the best position to augment the in-house logistics department of a company during busy months. On top of that, there are no monthly subscription fees with Transportify. Delivery fees only occur whenever you use the app. 
Besides being able to handle deliveries at any time, Transportify can carry out these transportation services anywhere in Luzon and Cebu. A company in  Metro Manila can seek to expand the reaches of its business to include areas in southern, central, and northern Luzon. In a similar manner, a company in Metro Cebu can deliver to the whole island by using Transportify. This app-based logistics company also offers interisland trucking services from anywhere in Luzon to key areas in the Visayas and Mindanao. Interisland shipping from Cebu to various destinations in the Visayas is also available in the app.
Lastly, Transportify has 24/7 customer service availability. This ensures excellent service levels because customers can readily direct their questions or concerns to a live CS agent at any time of the day. 
Download the app by clicking on the buttons below or learn more about our corporate account for businesses by clicking on this link.
| | | |
| --- | --- | --- |
| | or | |
Frequently Asked Questions:
What are examples of cargo truck services?
? Cargo truck services can come in the form of the first mile, mid mile, and last mile deliveries. First mile refers to the transportation of goods from the supplier to the warehouse or storage facility of a company. Mid mile delivery is the process of moving goods across the various establishments of the business, such as from the warehouse to a distribution center. Last mile delivery refers to the delivery of goods straight to the home of the client.
What are some common business delivery needs?
? In the Philippines, the common business delivery needs are transporting goods from the supplier to the company's warehouse and delivering goods from the warehouse to the homes of various customers. In other words, the two key business delivery requirements are first mile and last mile logistics.