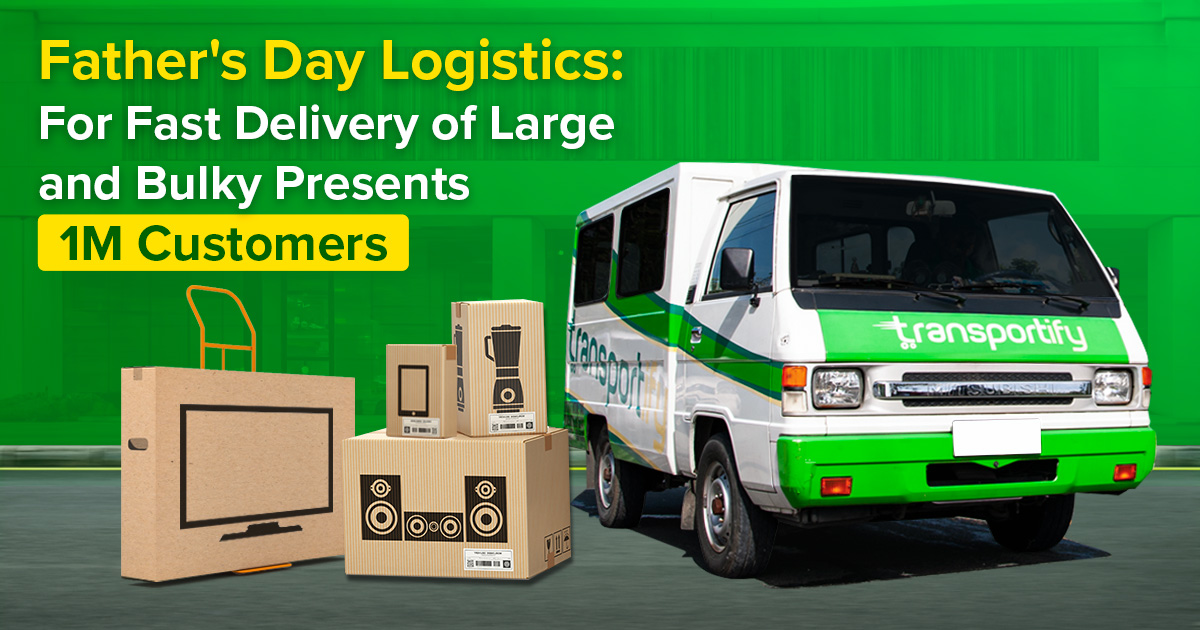 Father's Day is a special occasion to honor the father figures in our lives. While finding the perfect gift to express your gratitude and love is essential, delivering it safely and conveniently can be equally challenging. Large and cumbersome facilities, such as furniture, appliances, or oversized hobby equipment, often need more support.
However, with the proper planning and resources, you can ensure that your thoughtful present reaches your dad impeccably, even if it's unwieldy. This guide will explore strategies and services to make Father's Day gift delivery a breeze, especially for hefty and oversized surprises.
The Challenge of Delivering Large Father's Day Gifts
Choosing a substantial gift for your dad can be a wonderful gesture. Yet, the excitement of selecting such a meaningful present can quickly become a logistical headache when arranging its delivery. Here are some common challenges associated with delivering large Father's Day gifts:
Size and Weight:

 Large items, whether a new sofa or a grill, can be heavy and difficult to transport without proper assistance and equipment.

Fragility:

 Oversized gifts may also be fragile or delicate, making them vulnerable to damage during transit if not handled with care.

Delivery Time:

 Coordinating the delivery of substantial presents to coincide with Father's Day can be tricky, especially if you're ordering from afar.

Surprise Factor:

 Keeping the gift a surprise for your dad can be challenging when dealing with large packages requiring coordination with delivery services.
To make sure that your gift will arrive safely and on time on Father's Day, book Transportify sedan for fast delivery service for whatever gift you will get for your father. You can use our truck rental delivery service to pick-up your orders and deliver them anywhere you want. Get our budget car rental anytime using our mobile app or web app. Check out the table for the estimated delivery service rates:
Vehicle Type
Dimensions/
Weight Limits
Base Price


(Metro Manila)

Base Price


(Outside Metro Manila)

Base Price


(Visayas/Mindanao)

Wing Van 

32 to 40 x 7.8 x 7.8 ft




12000kg to 28000kg

7500 PHP

6500 PHP

6500 PHP

6w Fwd Truck

18 x 6 x 7 ft




7000kg

4850 PHP

4850 PHP

4850 PHP

Closed Van

10 to 14 x 6 x 6 ft




2000kg to 4000kg

1800 PHP

1450 PHP

1450 PHP

Open Truck

10 to 21 x 6 ft x open




2000kg and 7000kg

2300 PHP

1950 PHP

N/A

L300/Van

8 x 4.5 x 4.5 ft




1000kg

430 PHP

330 PHP

310 PHP

Small Pickup

5 x 5 ft x open




1000kg

310 PHP

250 PHP

220 PHP

Light Van

5.5 x 3.8 x 3.8 ft




600kg

250 PHP

192 PHP

225 PHP

MPV/SUV

5 x 3.2 x 2.8 ft




200kg

160 PHP

130 PHP

140 PHP

Sedan

3.5 x 2 x 2.5 ft




200kg

140 PHP

110 PHP

120 PHP
For inquiries, our customer service is open 24/7 to assist you.
Tips for Fast Delivery Father's Day Gifts
Fortunately, several strategies can help you overcome these challenges and ensure a successful Father's Day gift delivery:
Plan Ahead
Start planning well in advance to allow time for selecting the perfect gift and making delivery arrangements. Consider factors like shipping times, delivery dates, and any potential delays due to the size or fragility of the gift.
Choose Reliable Retailers
Opt for reputable retailers or online stores with a track record of delivering large items safely and on time. Read reviews and ratings to gauge the experiences of previous customers.
Professional Delivery Services
Many retailers offer specialized delivery services for large items. These services often include assembly and placement, ensuring your gift is ready for immediate use.
Consider Local Retailers
If possible, consider purchasing from local retailers. This can simplify delivery logistics and reduce the risk of damage during transit.
Custom Packaging
Request custom packaging or crates from the retailer to protect your gift from damage during transportation.
White Glove Delivery
White glove delivery services provide comprehensive support, including unpacking, assembly, and placement of large items. This can be a convenient option for both you and your dad.
Transportify: Your Solution for Large and Cumbersome Gifts
One service that can make a significant difference in the delivery of large and cumbersome Father's Day gifts is Transportify. Transportify offers a range of delivery solutions designed to meet your specific needs, no matter how big or delicate the gift may be.
Key Features:
Variety of Vehicles:

 Transportify provides access to a diverse fleet of vehicles, including trucks and vans of different sizes. This ensures that your gift is accommodated appropriately.

Trained Professionals:

 With Transportify, your Father's Day gift is in capable hands. Their delivery professionals are experienced in handling large and delicate items.

Flexible Scheduling:

 You can choose a delivery time that suits your schedule, allowing you to maintain the element of surprise for your dad.

Safe and Secure:

 Transportify prioritizes the safety of your gift. They employ secure packaging methods and equipment to prevent damage during transit.

Transparent Pricing:

 You'll receive clear and competitive pricing, with no hidden fees. This transparency makes budgeting for gift delivery hassle-free.
How Transportify Works:
Booking:

 Simply book a delivery through the Transportify app or website. Provide details about your gift's size and any specific instructions for handling.

Pickup:

 The Transportify driver will arrive at the pickup location, whether it's a store or your home, and load your gift securely onto the vehicle.

Delivery:

 Your Father's Day gift is transported safely to your desired destination, whether it's your dad's home or another location.

Assembly and Placement:

If required, Transportify can assist with assembly and placement, ensuring your gift is ready for immediate use.
Father's Day is a time to celebrate and show appreciation for the remarkable men in our lives. When choosing a substantial and meaningful gift for your dad, it's crucial to consider the logistics of its delivery, especially if it's large or cumbersome. Planning, choosing reliable retailers, and utilizing professional delivery services like Transportify can ensure a hassle-free and successful Father's Day gift delivery experience. With Transportify's range of vehicles, trained professionals, and flexible scheduling, you can rest assured that your thoughtful gift will reach your dad in perfect condition, ready to make his day truly special. Say goodbye to delivery worries and focus on creating cherished memories with your dad this Father's Day.
Use Transportify's Tracking Services
Transportify has an on demand delivery mobile application that you can use to track and trace delivery. We offer this kind of service to our customers to ensure that your gift will arrive on-time and safe to its intended receiver. The track and trace online delivery will allow you to keep track of the real-time status and location of your gift.
Also, you will receive a notification that will serve as proof of fast delivery when your father's day gift has been reached to your dad. What's more, tracking services here in Transportify is free and therefore won't cost you any penny.
| | | |
| --- | --- | --- |
| | or | |
Frequently Asked Questions:
Is Transportify available during holiday?
🎉Transportify services is available 24/7 for 365 days. This means you can freely book your delivery needs during holidays or special events. You don't have to worry anymore about sending your gifts to your beloved father. May it be any occasion, we have driver partners available and is willing to deliver anything to your loved ones.
What is the rating of Transportify?
🎉Being able to serve 24/7 365, assures that Transportify can serve customers of any kind. Since launching their operations in 2016. Transportify review has been really well received. Most of the reviews and comments about them show how they value their customers and work toward ensuring that each and every booking made on their platform are done in a high quality standard. Customers and even big and small companies alike continue to use our online logistics service every day. Check out their reviews from their app stores, social media, and Google.