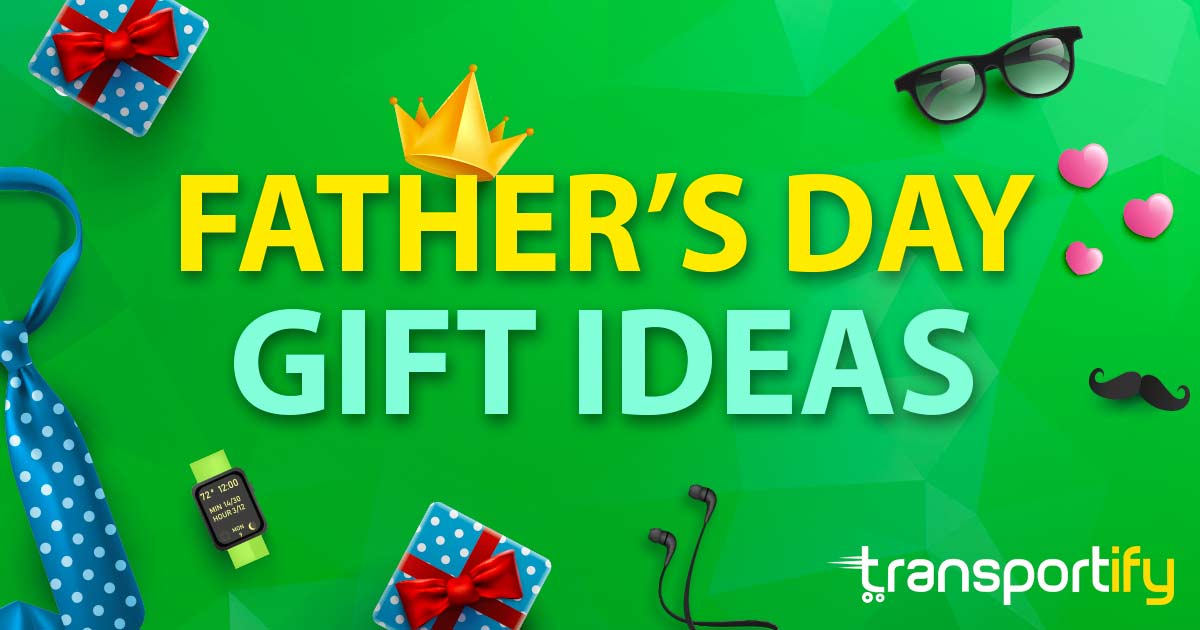 Father's Day is just around the corner. Have you decided what present will you give your father? If you're still undecided, Transportify is here not only to help you deliver your gifts with our immediate delivery services, we're also here to give you ideas so you don't have to worry about your Father's Day surprise!
1Stylish Dad
For dads who love to dress-up and style, you can give him a new shaving set, a nice tie or just get him that leather belt he always wanted. You can also give him a stylish watch or sunglasses to complete his outfit.
2Sporty Dad
For dads who like sports, he'll surely appreciate a new bike, anyway who doesn't love a new bike?. A fitness tracker is also ideal to help him monitor his daily activities. You can also give him a new sports gadget of whatever sports he's into. Or to encourage him to finally start his fitness journey.
3Bookworm Dad
For every book lover, just like your dad, nothing beats the excitement of finally having your most wanted book from your favorite writer. Of course, a signed copy is a plus. But if you think he has all the books he wanted. Why not just give him a new bookshelf to make room for more books? And a bookmark is definitely useful too!
4Plant-loving Dad
Replace your dad's old gardening tools or give him a new plant to grow. This will surely melt your plant-loving dad's heart. You could also spend a day at your father's garden to give him some help. Gardening as a way of family bonding on his special day sounds awesome, right?
5Techie Dad
Give your millennial dad some cool gadget that can be useful for his everyday life at work or even at home. There are a lot of gadgets to choose from, depending on your father's hobby. Some of these are handy powerbank that he can carry anywhere, action camera for his adventures, and video game console for gamer dads.
6Driving Dad
If your dad is a car enthusiast or if he drives frequently, you may want to consider giving him a new car gadget. Car care kits will also be useful for him.
7Cinephile Dad
Your cinephile dad will surely be thrilled to get a copy of his favorite film or movie collectibles. Aside from that, you can also treat him on a movie date at his favorite cinema house.
8Music-loving Dad
For dads who love music, buy him a new earphone that he can use to listen to his favorite songs at work or when traveling. A Bluetooth speaker is also ideal for dads who want to share his music out loud. For sure, your father will love a turntable for his antique vinyl records so he can listen to the music he grew up with.
To make sure that your gift will arrive safely and on time on Father's Day, book Transportify sedan for delivery service for whatever gift you will get for your father. You can use our rent a car delivery service to pick-up your orders and deliver it anywhere you want. Get our budget car rental anytime using our mobile app or web app. Check out the table for the rates:
| Delivery via Economy | Standard Rate | Full Day Rate |
| --- | --- | --- |
| Manila | ₱190 + ₱20/km | ₱1,800 |
| Pampanga | ₱170 + ₱20/km | ₱1,700 |
For inquiries, our customer service is open 24/7 to assist you. Just click on the buttons below to get started.