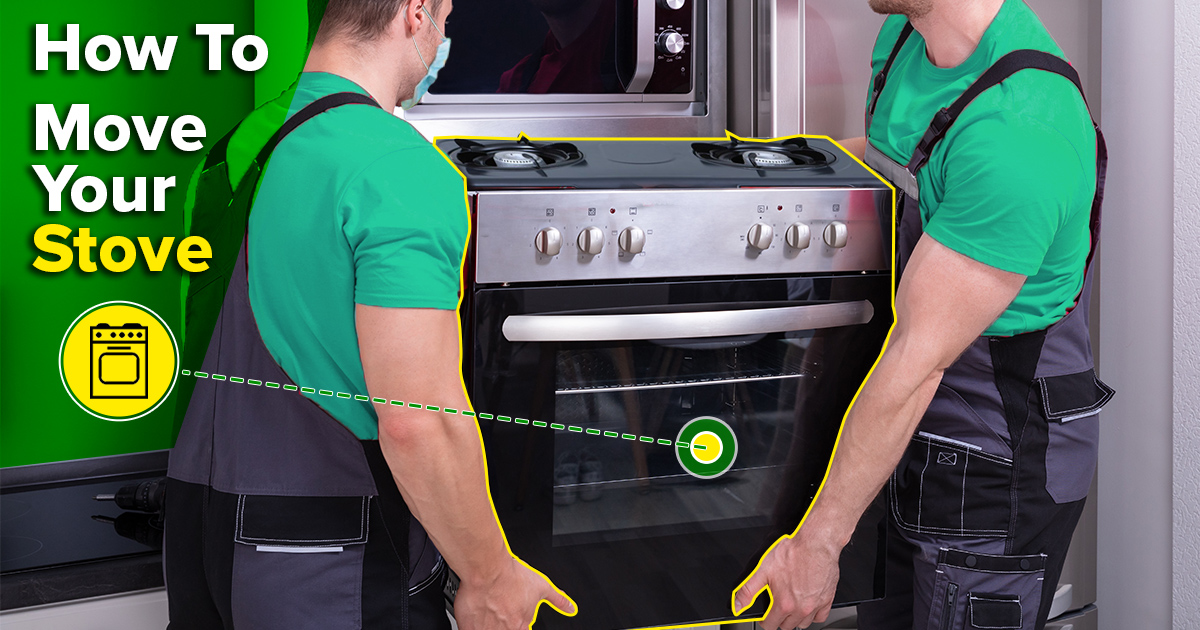 Are you moving soon and having trouble how to move stove without scratching floor? Moving major kitchen appliances from one place to another is challenging, especially if you're doing it yourself. This article will give you some tips and effective ways how to move stove without scratching floor and will discuss ideas on how to pack major kitchen appliances.
What Are Common Examples of Major Kitchen Appliances?
Major kitchen appliances include oven, refrigerator, microwave, oven, toaster, air fryer, instant pot, waffle maker, etc. Many people have difficulty moving these heavy objects from one place to another.
It is a daunting job to transfer major kitchen appliances such as stoves and ovens as it is easy to scrape, scratch, or otherwise damage your floor. Whether your floors are made of tiles, carpet, or hardwood, they are especially vulnerable to damage.
Dragging these appliances can cause the entire tile to break, leave scratches on the floor, or cause tears into your carpet. While on the other hand, dropping suddenly of these items can leave your floor with dents.
These are just some of the worst-case scenarios that could occur if we are unfamiliar, for example, how to move a stove without scratching the floor and other major kitchen appliances. To prevent property damage when moving out, you need to make a solid plan ahead of time and have the right set of tools and equipment to complete the task conveniently and easier.
Tips on How to Pack Your Major Kitchen Appliances
We have prepared some tips on packing major kitchen appliances and enlist safe and effective ways how to move stove without scratching floor and other kitchen appliances.
Clean and Disassemble Each Appliance
It is important to clean and ensure that each appliance is dry before packing it.
Remove the loose parts.
Separate loose/removable parts from each appliance, such as a glass tray inside the microwave or blender blades. These need to be handled according to their fragility. It would be helpful if you put instructions on how to reassemble the appliance and write it on a piece of paper. Attach the paper to the part before wrapping it.
Select an Appropriate Box
It is advisable to use the appliance's original packaging or boxes if you still have it.
Otherwise, select a box depending on the size of the item. Tape the bottom flaps of all boxes with packing or sealing tape to ensure they are secure.
Place the Appliance in the Box
After choosing the appropriate box, you may place the wrapped appliances and any other parts, including cords, into the box.
Fill the Gaps
Kindly fill in the gaps if there are still small spaces. You may want to fill these up with slightly scrunched paper. Make sure to add paper to any unwrapped items to prevent scratching and staining.
Secure the Box
Add crumpled paper over the box's contents, so there is no space at the top. Close the box and secure it with packing tape.
Label the box "Kitchen" and list each of the contents inside.
Effective Ways On How To Move Stove
Take measurements
Measuring the appliance and the pathways you'll pass through is important.
Sometimes your kitchen appliances like your stove may need you to remove or unhinge your door to create more space for them to pass through.
Don't just start moving your major kitchen appliances without knowing if they will fit through the doorway. Taking measurements and making a firm plan will save you plenty of headaches and a tough time during the moving process.
Clean the Floors
It is part of our preparation job to clean the floors. Dirty surfaces have particles of various materials. Friction between these particles and the appliances occurring while moving the appliances will result in a greater likelihood of floor damage such as ripping or scratching. The cleaner the surfaces, the easier it is to slide across your heavy item to its new location.
It is important to clean the surface where the stove will be sitting.
Use Floor Protection
You may want to use your old carpet or runners as your floor protector that could help us carry the appliances and pause to get everyone in the same direction. Places that use runners are usually narrow, like a doorway or stairways.
Prepare Your Moving Equipment & Tool
You need to gather all your moving equipment and tools as these items are helpful and can make your task easier and safer.
Below is a list of must-have moving equipment and tools you may find helpful when transporting heavy kitchen appliances such as your stove. All of these will help prevent scratches on the floor.
Dollies and Hand Carts: This equipment can move large, heavy, or unwieldy objects. A dolly can spare you a lot of back-breaking labor during your next moving project, but it's important to use the device correctly to keep yourself and your belongings safe.
1Work Gloves:
Gloves are essential for the proper handling of various valuables. They also protect the movers' hands and fingers from unnecessary injuries.
2Bubble Wrap:
Bubble wrap is important as it provides a layer of protection between the furniture and the floor.
3Packing Tape:
Packing tape is another essential item when moving heavy furniture. It secures the bubble wrap and prevents the appliances from moving around during transport.
4Moving Blankets or Towels:
Moving blankets can be used on large, bulky items, including refrigerators, ovens, and other heavy appliances. In addition to protecting these pieces from damage and filth in the moving van, blankets reduce the risk of them shifting during transport. In essence, moving blankets serve as padding within the truck.
5Air Sled:
Glide right into tight spaces with literally just your fingertips without damaging your flooring.  This tool is slipped beneath the appliance, and the sled is plugged in and filled with air from a pumping mechanism. This technique allows the cumbersome item to be lifted and transported with zero risk of chips or rips in the flooring.
6Protective Sliders:
One of the best ways how to move stove without scratching floor is by using furniture sliders when moving heavy furniture and appliances across the floors. Sliders should be placed at the bottom part of your heavy object. It provides an option that doesn't require lifting but just tilting and pushing.
7Protective Plastic Floor Guides:
These protective plastic floor guides work great for short-distance moves of heavy objects while protecting the floor. Place the plastic guards or guides in front of the appliance making sure they are near the appliance for easy moving. After that, lift the appliance and slip the guides beneath them. Remember, do not pivot the appliance.
Make sure all the appliance's legs are resting on the guards, especially the back ones, to avoid dropping the appliance on the floor. Connect each guide piece as needed to create a moving path for the machine. Carefully move the appliance forward until you reach the desired destination.
Prepare the Appliances
For all appliances, make sure to disconnect the power and remove any removable parts of the appliance that may fall while moving them.
Before moving your stove, disconnect the gas line or electrical cord from this appliance. Clean the inside of the stove and disassemble it. Tape up its door or remove it from its hinges for complete protection.
Remove any parts that are in the way when removing the stove. The last stage of protection is by covering the stove with a blanket. This will add a layer of protection for the stove and help protect anything stacked next to the stove during transit.
Cover anything that will be sitting near the stove. Such as any other appliances to prevent any damage from coming about while you're moving it. You can keep the stove clean and safe by sliding cardboard underneath its front legs. Use this card to pull out your stove.
SEE ALSO:
Ask for Assistance From a Reliable Moving Company
One of the most important things to do is to enlist help. Moving appliances is important and can also be a dangerous job. This task can be easier and safer if you ask for assistance from your family or friends.
You might also want to consider hiring a professional mover if you seek help or are not physically capable of doing the job.
Hiring a professional mover would be great as they would know how to move stove without scratching floor. It may eliminate a lot of hassle and worry and save you time.
Transportify is a leading trucking service provider in the Philippines that can do the lifting and relocation for you in a breeze. We have trained drivers and helpers to assist you with loading and unloading your heavy furniture to and from locations. Here are our vehicles you can book for your next relocation.
Vehicle Type
Dimensions/
Weight Limits
Base Price


(Metro Manila)

Base Price


(Outside Metro Manila)

Base Price


(Visayas/Mindanao)

Wing Van 

32 to 40 x 7.8 x 7.8 ft




12000kg to 28000kg

7500 PHP

6500 PHP

6500 PHP

6w Fwd Truck

18 x 6 x 7 ft




7000kg

4850 PHP

4850 PHP

4850 PHP

Closed Van

10 to 14 x 6 x 6 ft




2000kg to 4000kg

1800 PHP

1450 PHP

1450 PHP

Open Truck

10 to 21 x 6 ft x open




2000kg and 7000kg

2300 PHP

1950 PHP

N/A

L300/Van

8 x 4.5 x 4.5 ft




1000kg

430 PHP

330 PHP

310 PHP

Small Pickup

5 x 5 ft x open




1000kg

310 PHP

250 PHP

220 PHP

Light Van

5.5 x 3.8 x 3.8 ft




600kg

250 PHP

192 PHP

225 PHP

MPV/SUV

5 x 3.2 x 2.8 ft




200kg

160 PHP

130 PHP

140 PHP

Sedan

3.5 x 2 x 2.5 ft




200kg

140 PHP

110 PHP

120 PHP

If you plan to hire professional movers, communicate your concerns about moving heavy appliances. They will be able to provide you with the necessary manpower and equipment to get the job done.
| | | |
| --- | --- | --- |
| | or | |
Frequently Asked Questions:
What are some examples of major kitchen appliances?
🏠 Major kitchen appliances include oven, refrigerator, microwave, oven, toaster, air fryer, instant pot, waffle maker, etc. Moving your heavy object can be a daunting job. However, if we plan ahead and carefully, it can be done without throwing your back out or damaging your floors. You must remember to measure everything first, clean the surfaces, tape lids and doors closed, gather the right tools and equipment, seek assistance from your family member or friend, or consider hiring a professional mover to make the task easier.
What are the best ways to pack major kitchen appliances?
🏠 To pack these appliances, you must first clean and disassemble each item.
Keep in mind to separate all loose/removable parts from each appliance. Choose an Appropriate Box for the items, place it in the box and make sure to fill the gaps by adding paper to any unwrapped items to prevent scratching and staining. Lastly, we must secure the box by adding crumpled paper over the box's contents, so there is no space at the top. Then close the box, secure it with packing tape, and put a label on it.