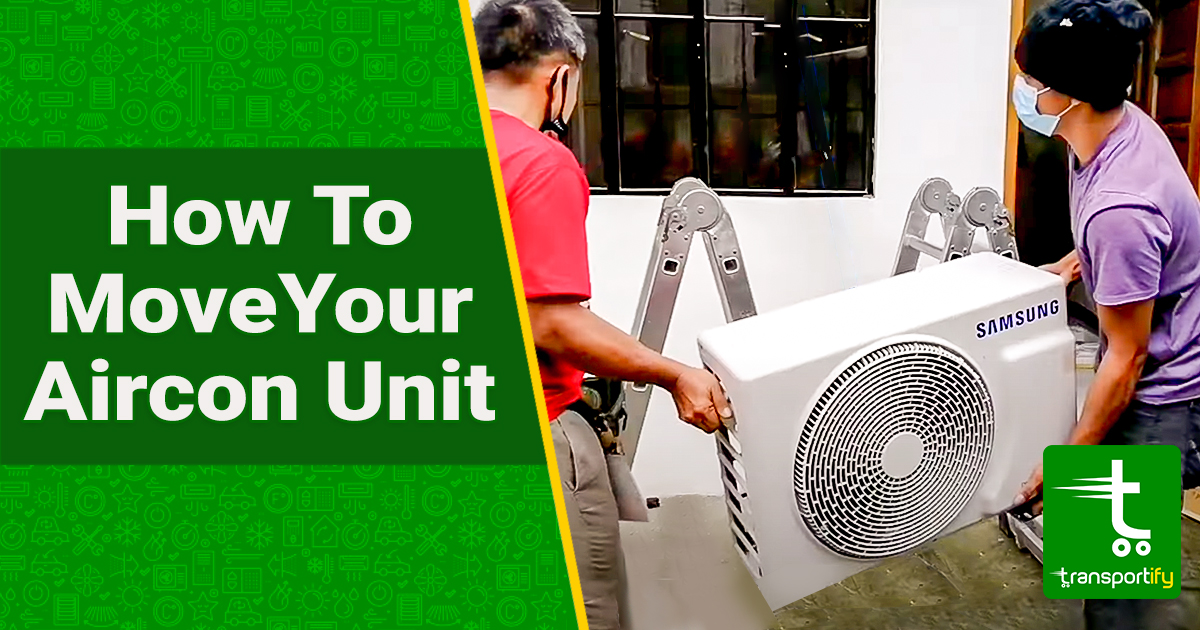 It can be a daunting task moving aircon unit from one home to another. Not only is it heavy and difficult to carry, but it can also be tricky to get it set up in the new space. This blog post will provide tips on moving aircon unit safely and efficiently. We will also advise how to set it up in your new home to immediately enjoy the benefits of cool air.
Can You Damage the Aircon Unit While Transporting It?
The answer is yes, but it depends on how careful you are while moving it. If you do not know how to handle an air conditioner and carry it with care, then there is a possibility that it may get damaged. So make sure to check and research how to move certain appliances like your AC unit before attempting to move aircon unit on your own.
Here are the possible risks in moving aircon unit:
The refrigerant pipes are another sensitive part of an AC unit that may become damaged during transportation. If these pipes break or leak, there will be no refrigerant in your system, and it will not work properly when you install it in your new home. If this happens, you will have to install a new system at your home and pay for installation and labor charges again.
The fan blades can also be damaged if not handled with care. If the fan blades are bent or broken, then it will cause the air conditioner to work less efficiently and use more energy. This will increase your electricity bills, and you may even have to get a new air conditioner unit installed if the damage is severe enough.
The compressor is another moving part in an air conditioner that can be damaged during transport. If the compressor is damaged, it will not be able to pump refrigerant properly, and your air conditioner will not work.
Freon gas cools the compressor, producing cold air for your home. The freon gas can leak while you're moving aircon unit. A leak can cause harm to you, your family, and your pets. If you're moving aircon unit without following proper protocol, the freon may leak out and cause problems with the compressor.
Tips for Moving an Aircon Unit Safely to Your New Home
Now that you know the risks associated with moving aircon unit, here are some tips that will help you move it safely to your new home:
1. Determine the type of air conditioner you have
Before moving it, you need to determine what kind of air conditioner you have. This will help you determine how much work is involved in moving it from one home to another. Some air conditioners are too heavy for one person to carry, especially if they are gas-powered ones.
If you have a gas-powered air conditioner, you need to find someone to help you move it.
2. Defrost your air-conditioning unit the right way
Before packing up your AC unit for transport, ensure it has been properly defrosted. This will ensure that no damage occurs during transport and will allow it to run more efficiently once it arrives at its destination. If you don't know how to defrost an AC unit, contact a local HVAC professional or ask someone familiar with these processes to help.
3. Gather the right equipment and people to help
Before you start moving your air conditioning unit, make sure that you have all the necessary equipment on hand. You will need a dolly or hand truck for moving the unit and a pair of blankets or sheets to wrap it in when it's not running. The blankets will protect the AC unit from being scratched by any other items being moved with them.
4. Remove the front panel with care
Most modern units have a removable front panel that can easily take off. However, there are some older models where this panel needs to be unscrewed before being removed. In either case, ensure that you do not damage any wiring or other parts when removing this panel. If possible, disconnect any wires from this panel before removing it from its place so that you won't have any problems while installing it back again.
5. Detach the electrical wiring
All air conditioners have electrical wiring running to them from a power source. This needs to be detached before moving the unit as well. Once again, take extra care not to damage any of the wirings while doing this. Once the wiring has been detached, cover the exposed end of the wires with electrical tape.
6. Pack your aircon unit
After taking all these safety measures, you can start packing your air conditioner unit for transport. Wrap it up in moving blankets or old towels and secure them in place with duct tape.
Next, place the unit on a dolly or hand truck and secure it with straps or ropes. If you have a central air conditioning system, ensure all the refrigerant piping and electrical wiring are properly packed and secured before loading them into your transport truck.
SEE ALSO:
Moving Aircon Unit with Help from a Logistic Company
If you are moving the aircon unit along with the rest of your belongings, it is best to hire a professional moving or logistics company like Transportify to help you. These companies are experienced in moving all sorts of items, including large and delicate appliances like air conditioners. Plus, they have the necessary manpower to do the job lift and load your items quickly and efficiently.
The cost of using Transportify moving services depends on the size and weight of your cargo and the distance it needs to be transported. You can get a free moving quote by inputting the details of your move on their website or app.
Transportify also allows you to track your air conditioner in real-time so you can know exactly where it is and when it will arrive at its destination. This is a very useful feature, especially if you are moving to a new city or town and are not familiar with the area yet.
You can book Transportify's moving services by logging on to their website or app. Payment can be made through cash or credit card.
Vehicle Type
Dimensions/
Weight Limits
Base Price


(Metro Manila)

Base Price


(Outside Metro Manila)

Base Price


(Visayas/Mindanao)

Wing Van 

32 to 40 x 7.8 x 7.8 ft




12000kg to 28000kg

7500 PHP

6500 PHP

6500 PHP

6w Fwd Truck

18 x 6 x 7 ft




7000kg

4850 PHP

4850 PHP

4850 PHP
Closed Van

10 to 14 x 6 x 6 ft




2000kg to 4000kg

1800 PHP

1450 PHP

1450 PHP

Open Truck

10 to 21 x 6 ft x open




2000kg and 7000kg

2300 PHP

1950 PHP

N/A

Mini Dump Truck

10 x 6 ft x open




2000kg

1500 PHP

1200 PHP

N/A

L300/Van

8 x 4.5 x 4.5 ft




1000kg

430 PHP

330 PHP

310 PHP

Small Pickup

5 x 5 ft x open




1000kg

310 PHP

250 PHP

220 PHP

Light Van

5.5 x 3.8 x 3.8 ft




600kg

250 PHP

192 PHP

225 PHP

MPV/SUV

5 x 3.2 x 2.8 ft




200kg

160 PHP

130 PHP

140 PHP

Sedan

3.5 x 2 x 2.5 ft




200kg

140 PHP

110 PHP

120 PHP

| | | |
| --- | --- | --- |
| | or | |
Frequently Asked Questions:
Is moving aircon unit without cover safe?
🏠 No, moving aircon unit without a cover is not safe. The moving process can damage the unit, and it is also more likely to get dirt and debris inside the unit if it is not properly covered. It is best to prepare and pack your aircon unit a day before your more so you'll have ample time to secure and clean it.
How to pack the aircon unit?
🏠 You first need to clean the unit thoroughly and ensure no dirt or debris is left on it. Once you're done cleaning the unit, wrap it up in moving blankets or old towels and secure them in place with duct tape. Then, place the unit in a box that's slightly larger than it and fill any space with packing peanuts or crumpled-up newspaper. Finally, seal up the box and label it clearly so you know not to open it until you're ready to install the air conditioner.