×
Leading Small Pickup For Intracity Same Day Delivery
Transportify is Manila's leading pick when it comes to same day delivery. Book anytime for courier express delivery at an affordable rate.
Learn more why Transportify's Small Pickup is a top choice for courier express delivery.
On this dedicated page, you'll see the full details of our affordable Small Pickup vehicles for intracity delivery Metro Manila. Our highly affordable courier express delivery service has a base rate of only P310 additional P27 per succeeding kilometer. You can also add additional drop-offs for the cost of P40.00 per drop-off.
Our Small Pickup vehicles can accommodate up to 1000kg. As they are not the biggest of the Transportify fleet, Small Pickup is often used for express delivery of smaller and more delicate packages.
Transportify is continuously changing intracity "on demand" delivery in Metro Manila and the whole of Luzon. Download Transportify now to join the revolution! For the latest updates about our services, you can go to our media section with the latest news and blogs.
---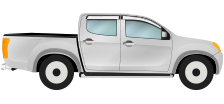 Small Pickup
Standard Price

Full Day Price

Included Free

Extra Options

Driver

Fuel

Loading / Unloading

CS 24/7

App Features
Select an extra option from the drop down menu for information.
Add this extra service if your booking has extended loading or unloaded distances or special tasks.
60 PHP for 1st & 2nd destination 30 PHP for 3rd - 10th destination 20 PHP for 11th-15th destination
You can request from your driver to bring a helper to assist with your booking.
160 PHP for 1st & 2nd destination 50 PHP for 3rd - 10th destination FREE for 11th-15th destination
Select this option to send your own staff to ride with our driver to secure or administer your goods.
Free (Max of two staff)
This equipment is especially important in situations with scarce illumination (ie. nighttime, inside warehouses).
10 PHP
Safety shoes protect the wearer's feet in hazardous work environments, the most common would be working in a warehouse.
20 PHP
Add up to 15 locations per booking
Actual Distance + 40 PHP per destination
Tolls & Parking fees require your pre-approval.
Small Pickup is ideal for delivering items with a higher height that will not fit in an L300 or Van. Schedule your deliveries one hour before the pick-up time or up to two weeks in advance.