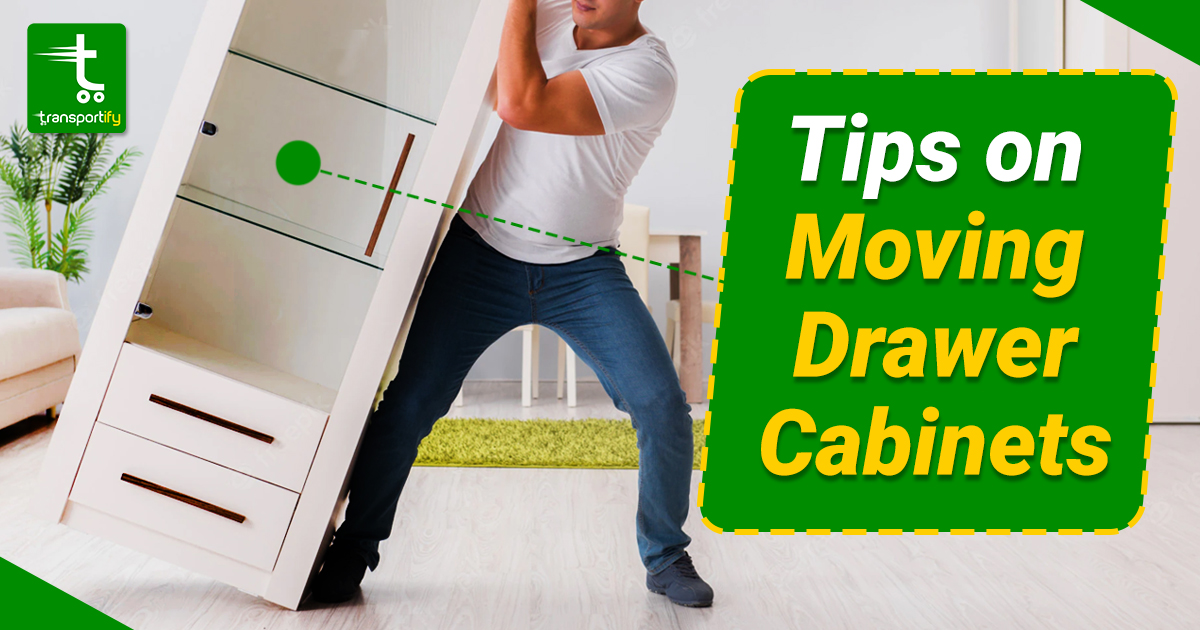 Drawer cabinet is a type of furniture widely used in homes and offices. It is usually placed on the floor and consists of one or more drawers for storage. If you are moving soon and have drawer cabinets in your home, it is important to take precautions when packing them. This article will discuss some tips on moving drawer cabinets safely and efficiently. We will also discuss some packing dos and don'ts to help make your move go smoothly.
What Are The Common Challenges When Moving Drawer Cabinets?
The most common challenge is that the drawers tend to fall out when you try to move the cabinet. You can prevent this by ensuring that the cabinet is securely locked before you start moving it or removing the items inside. Another challenge is that the cabinet is heavy and awkward, so it is important to get help from someone else when attempting to move it.
Must-Have Tools When Moving and Packing Drawer Cabinets
You'll need a few essential tools if you're not hiring a professional to help you pack.
Packing Tape
First, you'll need some good-quality packing tape.
Utility Knife
You'll also need a sharp box cutter or utility knife. This will be handy for taping boxes and cutting through stubborn packing material.
Bubble Wrap
Make sure you have a good supply of bubble wrap, packing peanuts, and other protective materials. These will help ensure that your drawer cabinet contents arrive at their destination safely.
Dolly
You might also want to consider renting a dolly to make moving the cabinet easier. The wheels of the dolly will take care of carrying the drawer for you. This is ideal if you're moving around in flat areas.
Marker
Don't forget to label everything with a marker. This will help you track what goes where and make unpacking a breeze.
Rope or bungee cords
If you need to secure the drawers shut for transport, use some rope or bungee cords. This will help prevent them from opening and spilling their contents during the move.
Now, if you have the following equipment and tools, here are simple do's and don'ts to observe when moving drawer cabinets:
Packing Dos:
Packing Don'ts:
Don't try to move the cabinet yourself, as it can be quite challenging and may result in the drawers falling out.
Don't pack too many items into the cabinet, which may make moving more difficult. Try to keep the contents of the cabinet light and well-organized.
As far as do's and don'ts go, one of the most important things to remember is to label everything clearly. This will save you a lot of headaches when it comes time to unpack.
SEE ALSO:
Step by Step: Tips On Moving Drawer Cabinets
Packing drawers for relocation seems simple, right? Fortunately, in most situations, it is. Follow a few simple packing guidelines, and you should be able to pack your furniture drawers effectively and securely.
Drawers may be packed for a move in one of two ways. You can either empty the drawers and pack their contents separately or wrap them together with the content inside.
Option 1: Empty the drawers and then pack them adequately
When should you empty your cabinets' drawers?
If the furniture is weak, old, antique, or in poor condition.
The drawers store fragile, tiny, heavy, or precious goods.
You lack the manpower to lift and carry the whole furniture/cabinet.
Here are tips on moving drawer cabinets when they are empty:
For additional protection of your belongings, line the insides of the boxes with sheets of clean packing paper before filling them.
Suppose the furniture has many drawers, empty one at a time. Start with the bottom drawer and work your way up.
Relocate whatever is in the drawer into appropriate moving boxes.
Stay organized when packing. When you finish with one drawer, place two sheets of clean packing paper in the box as a divider, then continue with another drawer. When you move into your new home, unpacking will be a lot simpler.
Pack everything tightly so that there's no movement when it's in transit. Place crushed paper in any open spaces once you are finished packing.
Make sure the box is tightly fastened and adequately labeled.
Option 2: Leave the drawers full and make sure they're tightly fastened
When should you leave your cabinet's drawers loaded?
When the furniture is of excellent quality, durable, and new.
Clothes and bedding are kept in the drawers because they are non-fragile and lightweight.
You have enough manpower to lift and transport the drawer cabinets. Hiring professional movers come with a vehicle. Here are the usual moving trucks and vehicles you can choose from in Transportify:
Vehicle Type
Dimensions/
Weight Limits
Base Price


(Metro Manila)

Base Price


(Outside Metro Manila)

Base Price


(Visayas/Mindanao)

Wing Van 

32 to 40 x 7.8 x 7.8 ft




12000kg to 28000kg

7500 PHP

6500 PHP

6500 PHP

6w Fwd Truck

18 x 6 x 7 ft




7000kg

4850 PHP

4850 PHP

4850 PHP
Closed Van

10 to 14 x 6 x 6 ft




2000kg to 4000kg

1800 PHP

1450 PHP

1450 PHP

Open Truck

10 to 21 x 6 ft x open




2000kg and 7000kg

2300 PHP

1950 PHP

N/A

Mini Dump Truck

10 x 6 ft x open




2000kg

1500 PHP

1200 PHP

N/A

L300/Van

8 x 4.5 x 4.5 ft




1000kg

430 PHP

330 PHP

310 PHP

Small Pickup

5 x 5 ft x open




1000kg

310 PHP

250 PHP

220 PHP

Light Van

5.5 x 3.8 x 3.8 ft




600kg

250 PHP

192 PHP

225 PHP

MPV/SUV

5 x 3.2 x 2.8 ft




200kg

160 PHP

130 PHP

140 PHP

Sedan

3.5 x 2 x 2.5 ft




200kg

140 PHP

110 PHP

120 PHP
You should note that this drawer packing technique is best suited for full-dresser drawers that only contain clothing and bedding.
Here are lipat bahay tips on moving drawer cabinets when they are loaded:
Remove each drawer and set it on the ground carefully.
If the drawer is half-empty or there are visible empty spaces, add small amounts of delicate apparel or bedding goods. It's critical to eliminate any occurrences of things shifting within the drawer.
Place a couple of clean paper sheets on the drawer's contents for further protection.
Finally, to ensure that things remain safe within the drawers, wrap each open-top area with thick stretch film wraps. You can use plastic wrap for this.
You can't return them to their original slots once you've used plastic wrap to seal the drawers. Instead, wrap each one in a moving blanket or two to guarantee they arrive in excellent condition at their new place.
Leave The Carrying To Professionals
If you have a drawer cabinet that needs to be moved, you should keep a few things in mind. Moving can be stressful, but following these simple tips on moving drawer cabinets will help make it go smoother. Be sure to pack everything ahead of time and label each box to know where everything goes.
Packing and moving are two different activities. While you can do packing mostly by yourself, moving may require the help and support of others, especially if your drawer cabinets are heavy. Moving companies like Transportify come in handy in this situation. After packing, sit back and watch your furniture be transferred from your old home to your new one. Paying professionals can help reduce the stress associated with manual labor.
Here's what Transportify can do for you when moving houses:

| | | |
| --- | --- | --- |
| | or | |
Frequently Asked Questions:
What are the two packing options when moving drawer cabinets?
🏘️ Here are two common tips on moving drawer cabinets. First, you can either disassemble the cabinet and pack it into smaller pieces or leave it assembled and move it as one unit. Packing a drawer cabinet in smaller pieces will take more time, but it may be worth it to avoid damaging the structure during the move. If you choose to disassemble your cabinet, keep all hardware (screws, nails, etc.) in a baggie or other safe place, so you don't lose them. Leaving the cabinet intact and moving it in one piece is often the easiest option. Just be sure that any loose items inside the drawers are secure.
Should you empty the drawers before moving?
🏘️ This is a common question people have when moving drawer cabinets. The answer is, that it depends on the drawer cabinet and what type of drawers they are. If the drawers are made of solid wood, you might want to leave them full so that they don't warp or crack during the move. However, if the drawers are made of particleboard or another type of material that isn't as sturdy, you'll probably want to empty them before moving so that they don't break.