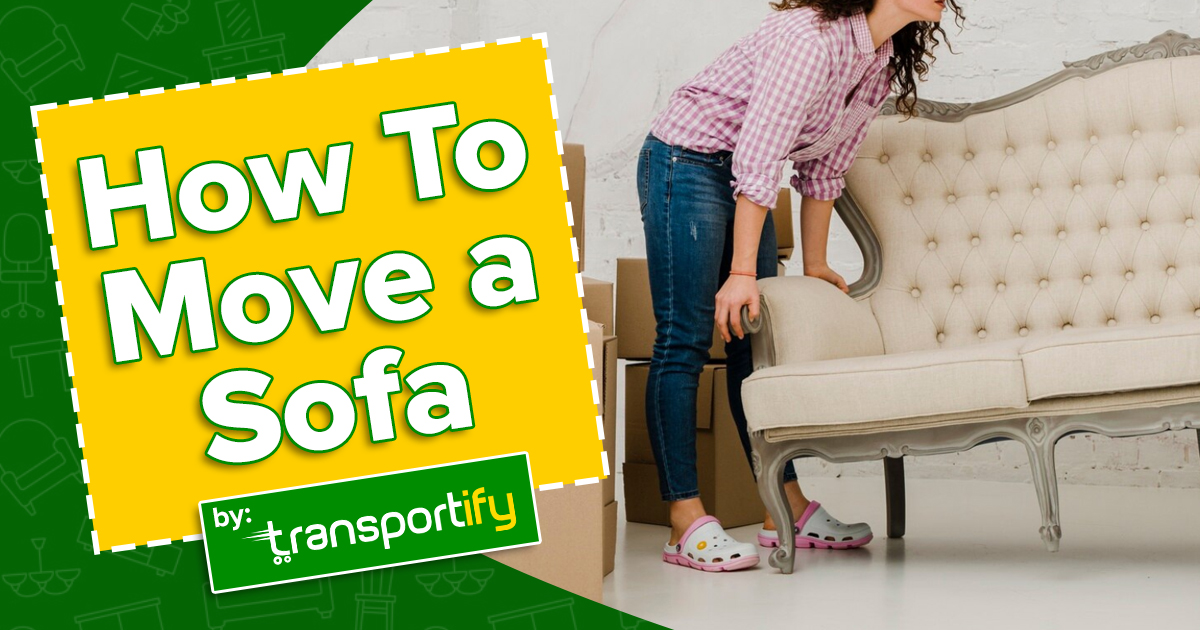 Do you have a bulky sofa that needs to be moved during your next lipat bahay? Don't worry, because we've got you covered! In this article, we'll show you how to move a sofa safely from one house to another. This lipat bahay guide will also give you tips on reducing the amount of stress involved in the move. Follow these simple steps, and your sofa will be relocated in no time.
Why Is It Difficult To Move A Sofa?
One of the most difficult pieces of furniture to move is a sofa. They are usually large and bulky items which makes them hard to transport. In addition, sofas are often made with delicate materials that can be easily damaged. For these reasons, it is important to take extra care when moving a sofa from one location to another.
What is the most secure and effective method for moving your sofa without causing any damage? Learn how to move a sofa by researching the internet and reading various materials. It's worth it, in the long run, to use a lipat bahay guide to avoid needless damage expenses.
Find out more easy relocation ideas in this article.
You'll Need These Tools To Move A Sofa
The following are some of the most commonly used tools and equipment when moving your sofa:
1Furniture dolly:
This platform has wheels you can use to roll your sofa from one place to another.
2Furniture blanket:
This thick blanket can be used to wrap your sofa and protect it from scratches or damage.
3Furniture slider:
This long strap can be used to secure your sofa to the dolly.
4Helping hand/s:
It is always helpful to have an extra set of hands when moving large pieces of furniture. Hiring a moving company can relieve you from the stress of carrying and loading/unloading.
Types Of Sofas And How To Move Them
There are many different types of sofas, each requiring a different moving approach. Here are some of the most common types of sofas, along with instructions on how to move them:
Sectional sofa
A sectional sofa is a couch that is made up of multiple sections. The easiest way to move this type of sofa is to disassemble it into smaller pieces and then reassemble it at your new location. This will make the relocation process much easier and safer. You will need a few tools, including a screwdriver, hammer, and pliers.
Reclining sofa
A reclining sofa has a mechanism that allows the backrest and footrest to being moved independently. You must remove the backrest and footrest from the frame to move this sofa. Once they are removed, you can transport the sofa like any other piece of furniture.
When you reach your destination, reattach the backrest and footrest to the frame. Make sure that they are securely in place before using the sofa. If they are not properly attached, it could cause injury.
Sleeper sofa
A sleeper sofa or sofa bed is a type of sofa that can be converted into a bed. To move a sleeper sofa, you must fold it into its bed form. Once it is in this form, you can move it like any other piece of furniture.
When you reach your destination, unfold the sofa and ensure it is in the correct position. The last thing you want is for your guests to sleep on an uneven surface.
Love seat
A love seat is a piece of furniture for two people to sit on. It is usually smaller than a regular sofa and can be either a standalone piece or part of a set. Love seats come in many different styles. Choose one that will complement the rest of your furniture. When moving a love seat, take measurements beforehand. This will ensure you know exactly how much space you have to work with and avoid any surprises on moving day.
How to Move a Sofa Safely and Damage Free?
Relocating your sofa may seem daunting, but it can be a breeze with the right preparation and tools. Here's a step-by-step guide on how to move a sofa, whether it's a standard sofa, sectional sofa, or sleeper sofa.
Step One:
Measure your sofa and doorways. This is important to know ahead of time to determine the best way to get your couch out of your old home and into your new one.
Sofa dimensions can vary greatly, so get an accurate measurement of your furniture and your doorways. To measure your sofa, start from the widest point and work your way down to get the full length and width. For doorways, measure the opening from the top to bottom and side to side.
If you're moving a sleeper sofa, be sure to also measure the mattress when it's fully extended. This will give you a better idea of how much space you'll need when moving your sofa.
Step Two:
Protecting your couch's fabric from poking objects, filth, and stains is also critical. Remove any cushions or loose pillows first. These items may be packed separately in a box. Remove the legs, arms, and any large sectionals that are detachable. To save weight when moving a couch with a mattress, remove the mattress first. Wrap the entire couch in plastic wrap and tuck any loose ends in.
Moving blankets should be used instead of plastic wrap or shrink wrap if your couch is upholstered with delicate materials such as leather, suede, or microfiber cloth.
Step Three:
Whatever approach you take for moving the sofa, be ready to modify it to keep everyone safe. Communication is key so that everyone is prepared to lift simultaneously and can take rests as needed. If you have a furniture dolly, turn the sofa vertically and place it on the dolly. Tie-down straps are used to keep it in place.
Slowly guide the sofa down the path you've drawn. Tight corners and doorways might be difficult to squeeze through, and you may need to pivot, tilt, or alter your transportation techniques. Maintain your composure and communicate with your help to get the greatest result. This not only keeps people safe, but it also protects your hardwood floors.
Step Four:
Many sofas are compact enough to travel in MPVs/SUVs, L300s, or Open Trucks. Moving trucks like closed vans and 6-wheeler forward trucks are most likely your best option for huge sofas. If you're renting a moving van, it's possible to add a loading ramp or lift.
Here are vehicles you can rent from Transportify for lipat bahay:
Vehicle Type
Dimensions/
Weight Limits
Base Price


(Metro Manila)

Base Price


(Outside Metro Manila)

Base Price


(Visayas/Mindanao)

Wing Van 

32 to 40 x 7.8 x 7.8 ft




12000kg to 28000kg

7500 PHP

6500 PHP

6500 PHP

6w Fwd Truck

18 x 6 x 7 ft




7000kg

4850 PHP

4850 PHP

4850 PHP
Closed Van

10 to 14 x 6 x 6 ft




2000kg to 4000kg

1800 PHP

1450 PHP

1450 PHP

Open Truck

10 to 21 x 6 ft x open




2000kg and 7000kg

2300 PHP

1950 PHP

N/A

Mini Dump Truck

10 x 6 ft x open




2000kg

1500 PHP

1200 PHP

N/A

L300/Van

8 x 4.5 x 4.5 ft




1000kg

430 PHP

330 PHP

310 PHP

Small Pickup

5 x 5 ft x open




1000kg

310 PHP

250 PHP

220 PHP

Light Van

5.5 x 3.8 x 3.8 ft




600kg

250 PHP

192 PHP

225 PHP

MPV/SUV

5 x 3.2 x 2.8 ft




200kg

160 PHP

130 PHP

140 PHP

Sedan

3.5 x 2 x 2.5 ft




200kg

140 PHP

110 PHP

120 PHP
One person on each side should roll the dolly into the truck after loading it. Remove the tie-down straps and lower the couch onto the furniture dolly to keep it level. With the help of two people, remove the sofa from the dolly and place it in the moving truck.
If you're loading your sofa into a vehicle or SUV without the help of a dolly, use the same method of lifting with at least one individual on each side. After that, load it and set it up for transport. Tie-down straps can prevent movement during transit.
SEE ALSO:
How To Move a Sofa Up or Down The Stairs?
The most difficult part of moving a sofa is lugging it up or down the stairs. Depending on the type of sofa, there are different ways to carry it safely.
For example, if you have a sectional sofa, it would be best to disassemble it first before trying to move it. This way, you can carry each piece separately and reassemble them once you reach your destination. You can also use furniture sliders to help you move the couch pieces one by one.
On the other hand, if you have a reclining sofa, try tilting it back and carrying it like a stretcher. Have two people lift each end of the couch and be careful not to bang it against the walls or doorways.
Finally, if you have a sofa bed, fold it up first and then carry it like a large suitcase. Again, two people would be needed to lift and move this type of couch.
Transportify Is Your Lipat Bahay Guide
Transportify is well-known in the Philippines' Luzon, Visayas, and Mindanao areas for offering one of the most cost-effective lipat bahay solutions. With Transportify's lipat bahay guide and service, you can be sure that you will be able to move your furniture, furnishings, and delicate goods with ease.
For more information about Transportify's lipat bahay service nationwide click below:

| | | |
| --- | --- | --- |
| | or | |
Frequently Asked Questions:
Why is sofa hard to move?
🚛 The sofa is one of the heaviest pieces of furniture in the house. It is also big and bulky, which makes it difficult to move from one place to another. If you researching how to move a sofa, it is important to know the different types of sofa and how each of them can be safely moved. Each type of sofa has its own unique features that make it difficult to move.
What are the commonly used tools for relocating a sofa?
🚛 The most common tools for relocating a sofa are furniture dollies, moving blankets, and straps. These items are essential in ensuring that your sofa is moved safely and securely from one location to another. Furniture dollies are used to lift and move heavy furniture pieces like sofas. They come in different sizes and can be rented from most hardware stores. Moving blankets are thick pads that are placed on top of furniture to protect it from scratches or dents during the move. They can also be used to wrap around the sofa for extra protection. Straps are used to secure the sofa onto the furniture dolly or moving truck so that it does not shift during transport.