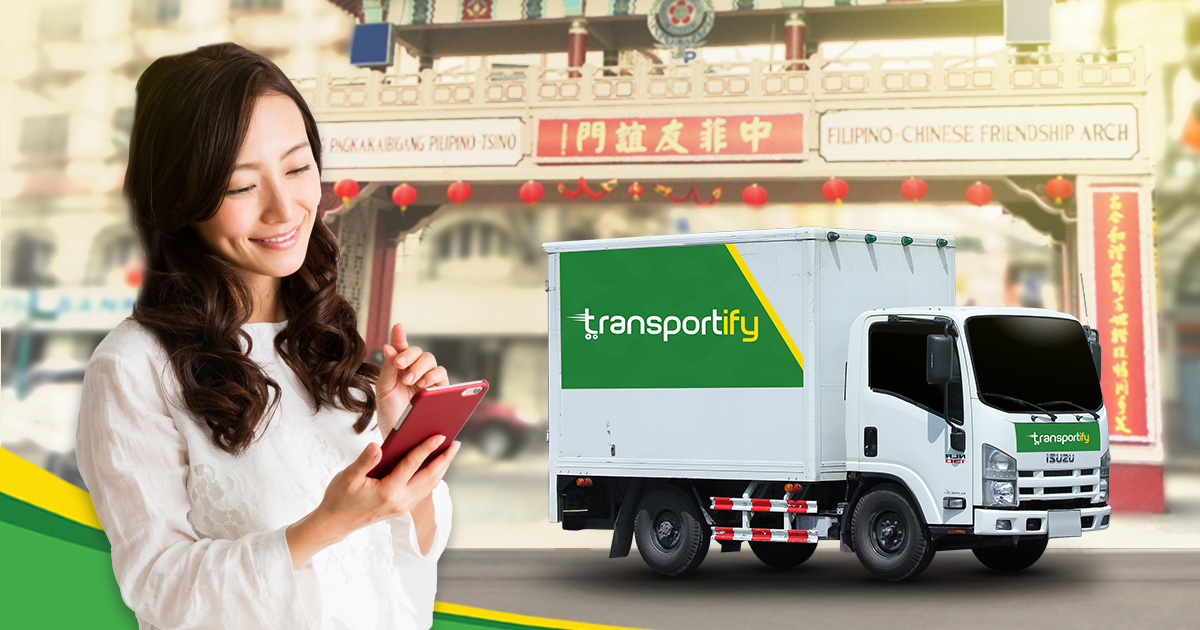 The Philippines is one country where the retail and wholesale business is thriving. The Philippine population consumes heavily goods and products which wholesalers provide such as apparel and food products. In Metro Manila, Binondo is considered a center of commerce where many types of retail and wholesale businesses are situated. It is in places like Binondo where wholesale delivery plays an important role in keeping the business alive. For these types of delivery, large vehicles are the most suited since they can carry heavy loads. Transportify, a truck booking app, offers big trucks for your delivery needs at affordable rates.
Businesses in Binondo
Binondo, a district in the southern part of the city of Manila, is known as the world's oldest "Chinatown" in existence for around 400 years. This part of town is also considered as the center of "Chinese-Filipino" life. It is also no surprise that some of the oldest Chinese schools in the Philippines are found in this 67 hectare area.
Besides its rich historical and cultural heritage, Filipinos of today see Binondo as a shopping center with many great finds at very affordable prices. Thus, many people would flock the streets of Chinatown especially during the holidays to shop for presents to be given to loved ones. Businesses situated in Binondo are mostly into retail and wholesale selling of goods. If you are a businessman engaged in the wholesale business, then you would want to have enough stock for your consumers to purchase. Besides having enough stock, you would also want to be able to deliver your products to different areas in Metro Manila or to any point in the Philippines. In order to support your wholesale delivery operations, a truck booking app is what you need to do the delivery service for you.
Vehicle Type
Dimensions/
Weight Limits
Base Price


(Metro Manila)

Base Price


(Outside Metro Manila)

Base Price


(Visayas/Mindanao)

Wing Van 

32 to 40 x 7.8 x 7.8 ft




12000kg to 28000kg

7500 PHP

6500 PHP

6500 PHP

6w Fwd Truck

18 x 6 x 7 ft




7000kg

4850 PHP

4850 PHP

4850 PHP
Closed Van

10 to 14 x 6 x 6 ft




2000kg to 4000kg

1800 PHP

1450 PHP

1450 PHP

Open Truck

10 to 21 x 6 ft x open




2000kg and 7000kg

2300 PHP

1950 PHP

N/A

Mini Dump Truck

10 x 6 ft x open




2000kg

1500 PHP

1200 PHP

N/A

L300/Van

8 x 4.5 x 4.5 ft




1000kg

430 PHP

330 PHP

310 PHP

Small Pickup

5 x 5 ft x open




1000kg

310 PHP

250 PHP

220 PHP

Light Van

5.5 x 3.8 x 3.8 ft




600kg

250 PHP

192 PHP

225 PHP

MPV/SUV

5 x 3.2 x 2.8 ft




200kg

160 PHP

130 PHP

140 PHP

Sedan

3.5 x 2 x 2.5 ft




200kg

140 PHP

110 PHP

120 PHP
Wholesalers or distributors serve as the "middlemen" between the producer and the retailer. Products from the producer pass through these wholesalers before reaching the retailers and eventually the consumers. As the name suggests, wholesalers supply products to retailers in "whole" amounts or large volumes. Data from CEIC, a company providing financial and economic data, show that the current coronavirus pandemic has negatively affected the wholesale and retail sector of our country for 2023. However, with the holiday season and New Year 2023 coming soon, this downward trend could change into an upward one as people start buying more and more items to serve as Christmas presents to family and friends.
The government is also starting to allow some sectors to resume business. With the "turning back on" of the Philippine economy, retailers which have halted their operations will once again open their doors to consumers. These retailers will need wholesale delivery to once again fill up their shelves with stocks from various wholesalers. The rising e-commerce business in the Philippines is also good news to those in the wholesale business. Many consumers resort to online selling platforms to buy their desired products. And in many cases, those businesses in online shops get their supplies either from retailers or straight to wholesalers themselves. This is where a truck booking app offering vehicles such as L300, closed vans, and open trucks comes in handy to ferry goods from the wholesaler's warehouse to the online seller's office or storage facility.
A businessman in Binondo would like to take advantage of these opportunities to scale up his business. He may be thinking of expanding his reach to various places outside Metro Manila. In order to be able to execute these plans, he needs to partner up with a trucking company that can accommodate his wholesale delivery needs. Transportify, a truck booking app, has all the services and qualities that can take your wholesale business to the next level. For your wholesale delivery needs, this truck booking app has a wide range of vehicle classes from closed vans to 10 wheeler wing vans which can handle large volumes of goods. Furthermore, Transportify is committed to offering the best quality of service in every booking. These are just a few reasons why Transportify should be your choice for wholesale delivery operations. By outsourcing your delivery operations, you can focus more on your core business operations and still be able to meet customer expectations of a prompt delivery at affordable rates.
Features of Transportify
Wide range of vehicles
This truck booking app has all the vehicle types for your wholesale delivery needs. If you are just looking to transport small amounts of goods, Transportify has L300 type vehicles ready to do the job. For deliveries of large amounts of goods, the closed van open trucks can easily get the job done. The body of the closed van offers protection from the rain and we make sure that the open trucks have tarpaulin covers to protect your cargo from the outside environment. For voluminous deliveries in pallets, we have a 10 wheeler wing van truck that can accommodate your needs. The vehicles of this delivery and logistics company are ready to take your products throughout Luzon. Book them anytime with your mobile phone or computer.
Chat with Driver
Here is Transportify, we understand that you put a premium on wholesale delivery since it is a crucial business operation. Surely, you would want a truck booking app where you can easily communicate with the driver handling your delivery. The Transportify app allows you to send messages to the driver and vice versa. This app feature is perfect for situations where you have to send an urgent message to the driver. Along with the chat function comes the Track and Trace feature of our app. This feature allows both the sender and receiver of the goods to know in real time the current position of the vehicle handling their 2023 delivery.
Business Program
For many years, the Micro, Small and Medium Enterprises (MSMEs) have played a vital role in the country's economy. These enterprises are responsible for providing around 60% of the country's total employment. Indeed, without these businesses, many Filipinos would be out of a job. A big sector in MSMEs is retailers and wholesalers. In fact, nearly 50% of the MSMEs in the country are engaged in the retail or wholesale business according to a report by the Asia Pacific Foundation of Canada.
In Metro Manila, we can find many wholesalers situated in the Binondo area. With the Business Program of Transportify, a wholesale business owner who is in need of a regular delivery service is given access to many features of this truck booking app which would surely make his booking experience convenient. We believe that a business owner need not worry about the wholesale delivery operations of his company. This truck booking app offers the following features under its business program for a worry free delivery:
No enrollment fee.
Customer Service support which is open 24/7.
Postpay and prepay options.
Proof of Delivery and Cash on Delivery services for your transactions.
Up to Php 3 Million warranty.
You may give special handling instructions to our operations process team so that they can inform our driver-partners on how to properly handle your goods.
Web dashboard and your own account manager.
Please visit this link or email business@transportify.com.ph to know more about our Business Program.
Frequently Asked Questions:
What vehicles are used for wholesale delivery?
🚚 Wholesale delivery usually means transporting bulky items. For this type of delivery option, one needs large trucks such as a closed van, pick up trucks, long pick up trucks and even a 10 wheeler wing van if the cargo weight reaches 15 tons. These vehicles are capable of transporting heavy cargo across long distances. Transportify, an app based logistics company, offers these vehicle types at affordable rates. Furthermore, when you book these vehicles in Transportify, you get amazing services such as 24/7 customer service and track and trace features.
How can I use a truck booking app?
🚚 A truck booking app allows you to make a delivery booking either through your mobile device, tablet or computer. In order to use it, it is advisable to to download the app either in google play store or app store. After the app has been downloaded and installed, you may create your account and then start using the app. If you prefer to use the computer, you may access the web app page of the particular truck booking app you wish to use. Because a truck booking app can be used across multiple platforms, Transportify is available in all kinds of devices.