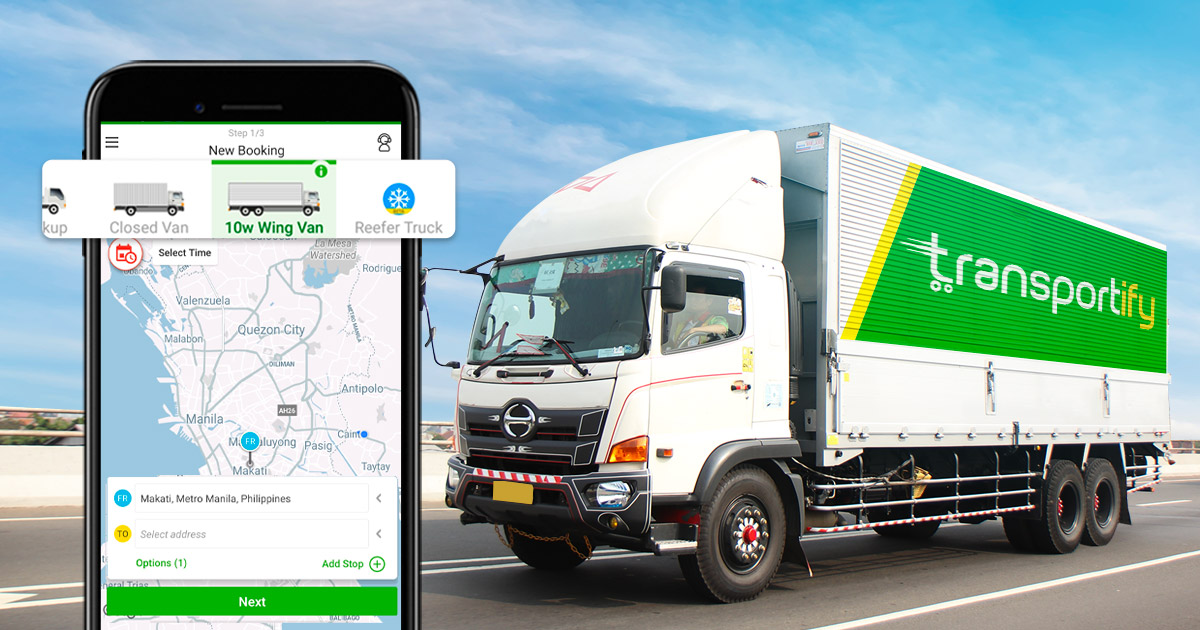 The ever-changing market and growing economy open new opportunities for businesses in the Philippines. More companies are being so particular in handling and integrating their distribution network since it is now considered one of the industry's greatest assets. They try to find the best and most advanced logistics solutions for their customers. With this fact, costs in distribution partnerships became an essential variable in deciding the best step.
Since more businesses require big vehicles for their deliveries, they became pickier about choosing the right provider for their logistical needs. Price competitiveness and reliable transportation services became the utmost priority for them. In this article, you will know how your company or business can save a big chunk of money on large vehicles for bulk and large deliveries like 10 Wheeler Wing Van of Transportify.
What Are the Business Benefits of Using a 10 Wheeler Wing Van?
10 Wheeler Wing Vans are considered the most appropriate logistics solution for long and short distance routes for large scale deliveries. It remains the fastest delivery solution for every corporation and large businesses. While it requires a bulk number of goods for transport, it is among the cheapest and economic steps to integrate the distribution network. Compared to smaller vehicles,10 Wheeler Wing Van can transport more goods and packages at the least possible time. These vehicles will help your company reduce its cost for the supply chain. Cargo shipping and truck rental companies are also focusing on extending their fleet's reach to maximize the potential of 10W Wing Vans. As one of the most used cargo solutions globally, companies were able to implement cargo services across its service area effectively.
Most people tend to assume that more oversized vehicles like 10 Wheeler Wing Van entail higher costs. It is the other way around. If a company is used to transport thousands of goods with larger vehicles, it becomes more economical than using small and medium delivery trucks. The cost can be utilized on a per-product basis, which gives much savings for every delivery if computed. A right provider of 10W Wing Van in the market is Transportify. They have different fleet and driver-partners from other parts of Luzon and Cebu to cater to the bulk and large deliveries requests using their cargo delivery app. Transportify delivery rates are low compared to the current average market price for 10W Wing Vans giving more cost savings to their customers.
10 Wheeler Wing Van for Provincial Delivery
Bulk deliveries are the most common use of big vehicles like 10W Wing Vans and trucks, especially to businesses with different distribution centers across our country. Most of these deliveries include palletized goods that require extra support from pick up to drop off. 10 Wheeler Wing Vans are a great help especially to businesses outside the metropolitan areas of the country. These big vehicles serve as a connection in the industries of trade such as agriculture, consumer goods, electronics and other equipment that mostly require big vehicles for their provincial deliveries.
Transportify has a service area covering the entire island of Luzon. Most businesses from Subic, Pampanga, Bulacan, La Union, Laguna, Batangas, Quezon, Rizal and other provinces may now easily deliver their bulk goods to any point in the island. Apart from that, the 10 Wheeler Wing Vans of Transportify offers the lowest rates compared to other logistics providers in the region. Your business will surely benefit from these perks of 10W Wing Van truck availment.
Suppose you are wondering about the current average market price of 10 Wheeler Wing Vans in the Philippines compared to the current cargo delivery app rates of Transportify to specific destinations. In that case, you may refer to this table.
Vehicle Type
Dimensions/
Weight Limits
Base Price


(Metro Manila)

Base Price


(Outside Metro Manila)

Base Price


(Visayas/Mindanao)

Wing Van 

32 to 40 x 7.8 x 7.8 ft




12000kg to 28000kg

7500 PHP

6500 PHP

6500 PHP

6w Fwd Truck

18 x 6 x 7 ft




7000kg

4850 PHP

4850 PHP

4850 PHP

Closed Van

10 to 14 x 6 x 6 ft




2000kg to 4000kg

1800 PHP

1450 PHP

1450 PHP

Open Truck

10 to 21 x 6 ft x open




2000kg and 7000kg

2300 PHP

1950 PHP

N/A

L300/Van

8 x 4.5 x 4.5 ft




1000kg

430 PHP

330 PHP

310 PHP

Small Pickup

5 x 5 ft x open




1000kg

310 PHP

250 PHP

220 PHP

Light Van

5.5 x 3.8 x 3.8 ft




600kg

250 PHP

192 PHP

225 PHP

MPV/SUV

5 x 3.2 x 2.8 ft




200kg

160 PHP

130 PHP

140 PHP

Sedan

3.5 x 2 x 2.5 ft




200kg

140 PHP

110 PHP

120 PHP
SEE ALSO:
Transportify, the Best Provider of 10 Wheeler Wing Van
10 Wheeler Wing Vans can carry the majority of your packages to a specified destination or distribution center. Utilizing more oversized vehicles for deliveries and transportation is a good measure of cost and energy efficiency. Partnering with reliable cargo shipping companies will offer the most effective way of handling your supply chain process.
In Transportify, our 10 Wheeler Wing Van fleet caters to all deliveries to any point in Luzon and Cebu.  If you or your business is interested in booking, you may access our cargo delivery app and schedule your deliveries 24 hours before the pickup time and up to two weeks in advance. We also have an available price matrix and instant quote feature for your reference. Apart from these services, you may also track and trace your delivery using our state-of-the-art GPS technology available in our cargo delivery app that offers real-time tracking for every booking.

Business Program
Services
Program Features
Live Support

Open 24/7

Prepay

Available

Postpay with Monthly Invoicing

Available

Destinations

A total of 16 destinations can be added in every booking

COD/POD
COD + POD
2.50% of invoice
Min of 80 PHP
(Flat Fee/Booking)
POD Only
80 PHP for ≤ 3 destinations
160 PHP for ≤ 10 destinations
200 PHP for ≤ 15 destinations
Insurance and Warranty

Up to 3 million PHP coverage from OONA Insurance

Nationwide Service Area

Available




Interisland and Same Day Trucking in Luzon, Visayas, and Mindanao

Business Web Dashboard

Team Account Management Customized Reports
| | | |
| --- | --- | --- |
| | | |
Transportify also has a Corporate Account for Business partnership for interested clients. This program includes great benefits such as postpay and prepay monthly options, goods insurance for up to P3 million, custom SOP and equipment, process mapping, and dedicated services and fleet for your business. Our business program clients can also avail of the Cash on Delivery and Proof of Delivery option using our cargo delivery app with an extra fee for every transaction made.
We value our client's outlook in creating an integrative supply chain network and mapping out cost-effective distribution strategies. We don't just offer the most affordable delivery services to the market; we help create a good vision of the quality of every step we provide to our customers.
If you want to know more about our business program, you may reach out to our 24/7 customer service and business agents or explore our cargo delivery app. You may also explore our website to know more about our company and other services available for you and your business.
Download the Transportify app now by scanning the QR code below or simply clicking on the button.
| | | |
| --- | --- | --- |
| | or | |
Frequently Asked Questions:
What are the benefits of using 10 Wheeler Wing Vans for deliveries?
🚚 The benefits of using a 10 Wheeler Wing Vans for your delivery includes achieving efficiency on cost and energy. Using big vehicles like 10W Wing Vans for large scale deliveries reduces the cost of distribution compared to using a smaller truck. Next is, the company or business is sure that professional handlers and transporters are handling your goods and packages. Most providers are doing extensive training and background checks on their fleet partners to ensure excellent customer service and work ethic. Lastly, more oversized vehicles are best when setting up last-mile deliveries. They can carry the majority of goods to your specified destination quickly and effectively.
What are the cargo shipping companies that offer 10W Wing Van in Manila?
🚚 Many available cargo shipping companies provide 10W Wing Vans in Metro Manila. These cargo shipping companies can handle different requirements of your business and deliver to other parts of the country. If your business is looking for an immediate trucking solution with high tech features and the lowest price, you may try to book your 10W Wing Van with Transportify. Our fleet partners and drivers are trained to handle deliveries from different industries and businesses. Apart from that, your goods are insured during transportation with up to 3 million pesos in claims for every booking.
Who is the best cargo delivery app in Manila?
🚚 Transportify is a cargo delivery app that offers bulk delivery services anywhere in Luzon. Apart from the best quality service, they also have the most affordable rates in the market of 10 Wheeler Wing Vans. Their professional transporters will surely get your goods safe and secured to its destination. If you are interested to book, just download the app, explore and schedule your large scale deliveries with our fleet.