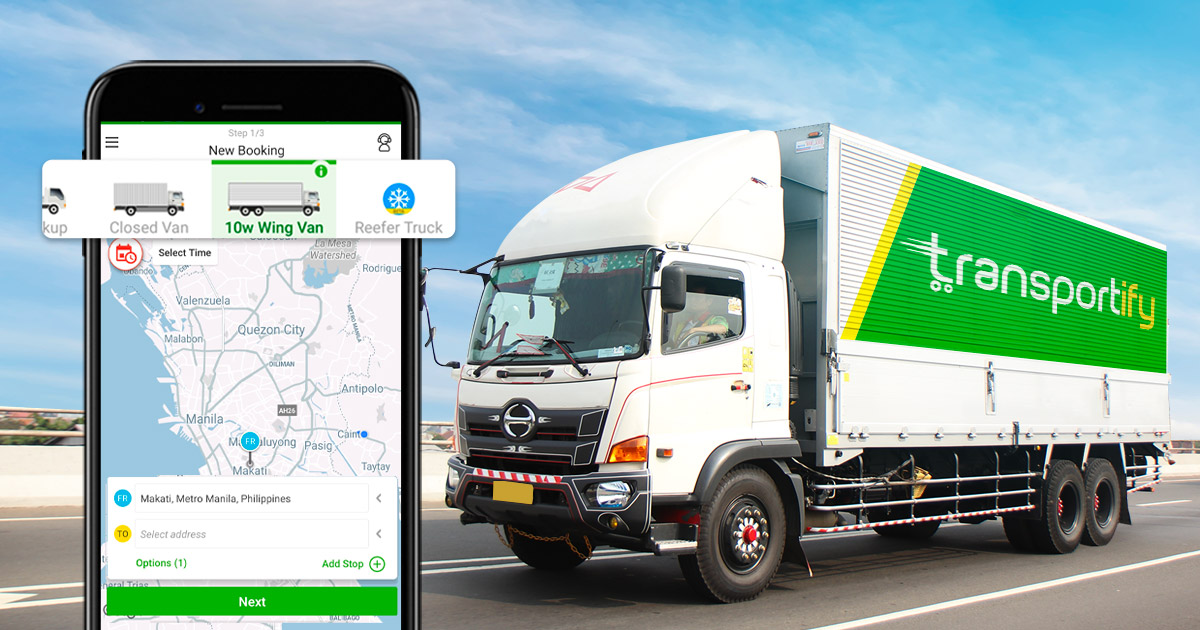 The ever-changing market and growing economy open new opportunities for businesses in the Philippines. More companies are being so particular in handling and integrating their distribution network since it is now considered one of the industry's greatest assets. They try to find the best and most advanced logistics solutions for their customers. With this fact, costs in distribution partnerships became an essential variable in deciding the best step.
Since more businesses require big vehicles for their deliveries, they became pickier about choosing the right provider for their logistical needs. Price competitiveness and reliable transportation services became the utmost priority for them. In this article, you will know how your company or business can save a big chunk of money on large vehicles for bulk and large deliveries like 10 Wheeler wing van of Transportify.
The Business Benefits of Using a 10 Wheeler Wing Van
10 Wheeler Wing Vans are considered the most appropriate logistics solution for long and short distance routes for large scale deliveries. It remains the fastest delivery solution for every corporation and large businesses. While it requires a bulk number of goods for transport, it is among the cheapest and economic steps to integrate the distribution network. Compared to smaller vehicles, 10W Wing Van can transport more goods and packages at the least possible time. These vehicles will help your company reduce its cost for the supply chain. Cargo shipping companies are also focusing on extending their fleet's reach to maximize the potential of 10W Wing Vans. As one of the most used cargo solutions globally, companies were able to implement cargo services across its service area effectively.
Most people tend to assume that more oversized vehicles entail higher costs. It is the other way around. If a company is used to transport thousands of goods with larger vehicles, it becomes more economical than using small delivery trucks. The cost can be utilized on a per-product basis, which gives much savings for every delivery if computed. A right provider of 10W Wing Van in the market is Transportify. They have different fleet partners from other parts of Luzon to cater to the bulk and large deliveries requests using their cargo delivery app. Transportify rates are low compared to the current average market price for 10W Wing Vans. Suppose you are wondering about the current average market price of 10 Wheeler Wing Vans in the Philippines versus the current rates of the cargo delivery app of Transportify to specific destinations. In that case, you may refer to this table.
Column 1
Column 2
Column 3
Column 4
Column 5
Pick-up Point
Drop-off Point
Total Distance
Average Market Price
Transportify Rates (Base Price + per KM)

San Antonio, Pasig

Makati

6.9 km

₱

11,255

₱

8,595

San Antonio, Pasig

Pasay

9.7 km

₱

11,238

₱

8,850

San Antonio, Pasig

Taytay, Rizal

12.7 km

₱

11,363

₱9,105

San Antonio, Pasig

Paranaque

18.4 km

₱

11,638

₱9,615

San Antonio, Pasig

Valenzuela

20.4 km

₱

11,835

₱

9,785

San Antonio, Pasig

Marilao, Bulacan

27 km

₱

14,543

₱

10,295

San Antonio, Pasig

Calamba, Laguna

51.5 km

₱

18,286

₱

12,420

San Antonio, Pasig

Tagaytay

63.1 km

₱

20,337

₱

13,440

San Antonio, Pasig

San Fernando, Pampanga

75.7 km

₱

19,201

₱

14,460

San Antonio, Pasig

San Pablo, Laguna

85.7 km

₱

21,110

₱

15,310

San Antonio, Pasig

Tarlac

134.8 km

₱

27,189

₱

19,475

San Antonio, Pasig

Subic

172 km

₱

28,993

₱22,620

San Antonio, Pasig

Baguio

250.2 km

₱

41,633

₱29,335

San Antonio, Pasig

Naga City, Bicol

398.3 km

₱

52,547

₱41,915

San Antonio, Pasig

Laoag City

487.3 km

₱

59,261

₱49,480
Industries Using 10 Wheeler Wing Vans
Bulk deliveries are the most common use of big vehicles like 10W Wing Vans and trucks, especially with businesses with different distribution centers across our country. Most of these deliveries include palletized goods that require extra support from pick up to drop off. If you are wondering what businesses and industries are using big vehicles for their deliveries, here are some examples:
1Fast Moving Consumer Goods (FMCGs)
FMCGs require big deliveries to key cities where they have an existing distribution center and customers who order large numbers of goods. Some fast-moving consumer goods include packaged food, toiletries, beverages, stationery, medicines, cleaning and laundry products, plastic goods, and personal care products. These products are essential to every people's life. Large scale deliveries with 10W Wing Vans for inbound logistics have a crucial role in distributing FMCGs to its client businesses.
2Chemicals
Chemicals require extra care during transportation. Many production companies are very cautious when it comes to the transport provider for their products. The most common type of vehicle used by chemical companies is large trucks like 10W Wing Vans. It gives them the comfort of transporting light chemicals to their customers and achieving cost reduction on their distribution strategies.
3Paper Products
10W Wing Vans are the usual vehicles used in large scale deliveries of paper products. Since paper products are sensitive to humidity and temperature changes, transport providers should always ensure that essential requirements from their customers are being met. During loading and stacking, handlers should check if the process is neatly done on products. Any free materials should be filled with soft materials, and boxes should be made with moisture-resistant materials. Everything should be checked and labeled as this could affect the condition of the paper product.
4Heavy Equipment
Preparation takes time to transport heavy equipment. Cargo shipping companies should implement extra safety measures needed to mitigate liabilities and avoid accidents. Most heavy equipment suppliers use trucks like 10 Wheeler Wing Van to deliver to their customers. Transporting heavy equipment is no easy undertaking. Delivery truck drivers should prioritize the safety of the equipment as this can result in problems during transportation.
5Agriculture
Fresh produce and different agricultural commodities are being transported by big vehicles like 10W Wing Vans and trucks. Keeping these products safe during the transportation is very important. Cleanliness and worker training on the right handling processes are the two areas to focus on reducing risks in delivery. The transport provider's functionality and additional properties add up to the importance of choosing the right partner in delivering perishable goods from farm and agricultural commodities.
6Consumer Durables
Consumer durable goods are the type of goods that do not wear out quickly. Some kinds of consumer durables are also not purchased by customers frequently. These products include air-conditioning units, electrical appliances, washing machines, audio equipment, ovens, and consumer electronics. Since most consumer durable goods are oversized, freight companies with large trucks like 10W Wing Vans are the most appropriate vehicle for bulk transportation.
7Packaging
The packaging is considered to be essential for any business. Its primary function is to protect the product from any potential hazards during storage or transportation. The packaging industry in the Philippines is rapidly growing as more businesses continue to patronize its usefulness. Big trucks like 10 Wheeler Wing vans are the frequently used vehicles for client deliveries of packaging materials. Transporting packaging materials is different from other products since it requires additional support from the cargo shipping companies. Most companies have a requirement on the distribution cycle as this could affect the packaging products' condition.
8Medical Devices
It is our best interest to have very easy access to medical care. Companies who are producing medical devices require professional handling for these expensive products. The ample space offered by large vehicles like 10 Wheeler Wing Vans fit the requirement of medical device manufacturers to have specialized handling and transport for their products.
Transportify, the Best Provider of 10 Wheeler Wing Van
10 Wheeler Wing Vans can carry the majority of your packages to a specified destination or distribution center. Utilizing more oversized vehicles for deliveries and transportation is a good measure of cost and energy efficiency. Partnering with reliable cargo shipping companies will offer the most effective way of handling your supply chain process.
In Transportify, our 10 Wheeler Wing Van fleet caters all deliveries to any point in Luzon. If you or your business is interested in booking, you may access our cargo delivery app and schedule your deliveries 24 hours before the pickup time and up to two weeks in advance. We also have an available price matrix and instant quote feature for your reference. Apart from these services, you may also track and trace your delivery using our state-of-the-art GPS technology available in our cargo delivery app that offers real-time tracking for every booking.
Transportify also has a business program partnership for its clients. This program includes great benefits such as postpay and prepay monthly options, goods insurance, custom SOP, process mapping, and dedicated services and fleet for your business. Our BP clients can also avail of our COD and POD services using our cargo delivery app with an extra fee for every transaction made. We value our client's outlook in creating an integrative supply chain network and mapping out cost-effective distribution strategies. We don't just offer the most affordable delivery services to the market; we help create a good vision of the quality of every step we provide to our customers. If you want to know more about our business program, you may reach out to our 24/7 customer service and business agents or explore our cargo delivery app.
Frequently Asked Questions:
What are the benefits of using 10 Wheeler Wing Vans for deliveries?
🏆 The benefits of using a 10 Wheeler Wing Vans for your delivery includes achieving efficiency on cost and energy. Using big vehicles like 10W Wing Vans for large scale deliveries reduces the cost of distribution compared to using a smaller truck. Next is, the company or business is sure that professional handlers and transporters are handling your goods and packages. Most providers are doing extensive training and background checks on their fleet partners to ensure excellent customer service and work ethic. Lastly, more oversized vehicles are best when setting up last-mile deliveries. They can carry the majority of goods to your specified destination quickly and effectively.
What are the cargo shipping companies that offer 10W Wing Van in Manila?
🏆 Many available cargo shipping companies provide 10W Wing Vans in Metro Manila. These cargo shipping companies can handle different requirements of your business and deliver to other parts of the country. If your business is looking for an immediate trucking solution with high tech features and the lowest price, you may try to book your 10W Wing Van with Transportify. Our fleet partners and drivers are trained to handle deliveries from different industries and businesses. Apart from that, your goods are insured during transportation with up to 3 million pesos in claims for every booking.
Who is the best cargo delivery app in Manila?
🏆 Transportify is a cargo delivery app that offers bulk delivery services anywhere in Luzon. Apart from the best quality service, they also have the most affordable rates in the market of 10 Wheeler Wing Vans. Their professional transporters will surely get your goods safe and secured to its destination. If you are interested to book, just download the app, explore and schedule your large scale deliveries with our fleet.