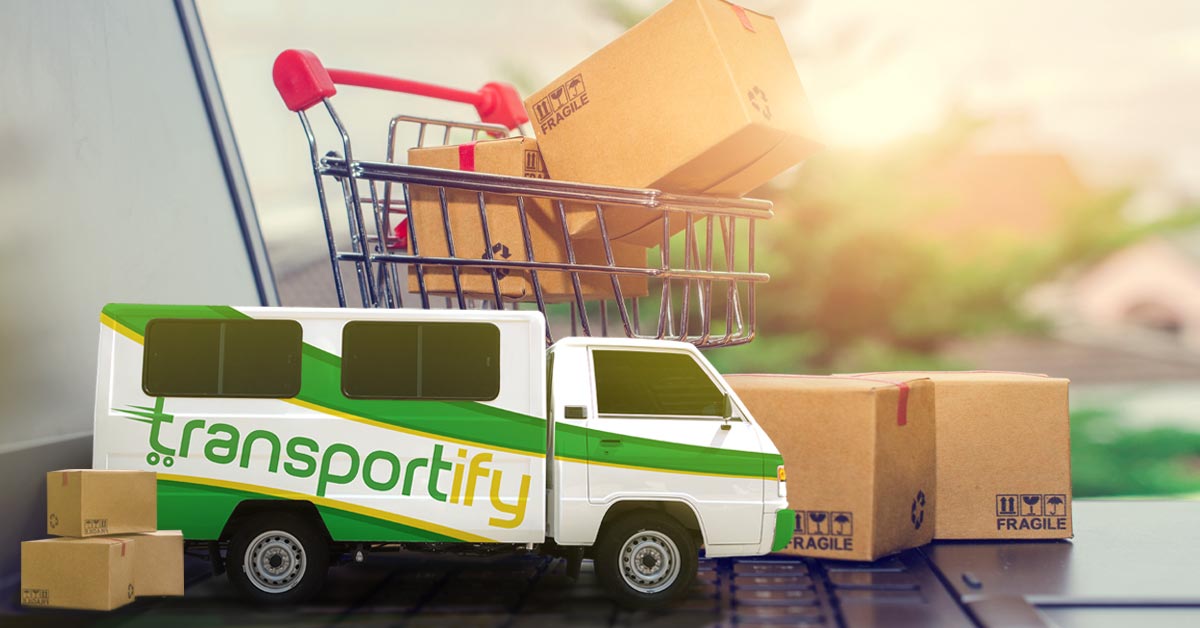 The lockdowns brought about by Covid-19 have been difficult for many people. However, in spite of the chaos and devastation that has been wrought on certain industries, others have prospered. Online shopping platforms have seen massive website traffic as more and more consumers resort to these mediums to buy products from household essentials to christmas gifts. In this article, we will talk about the growth of the ecommerce industry and how it affected the logistics operations in the Philippines. For those readers wishing to get a price quotation from Transportify, kindly click on the button below.
The ecommerce industry has already been popular in the Philippines in the years before Covid-19. Because it provides such a convenient way of shopping for items from everyday grocery essentials to new gadgets, it has changed the consumer behavior of many Filipinos. With just a smartphone or a desktop, you can buy your toiletries, home appliances, and even new books and expect them to be delivered to your doorstep promptly.
During the lockdown periods, with many malls and grocery stores closed in an effort to reduce public gatherings, the ecommerce industry has reached even greater heights in the Philippines in terms of website traffic and revenue. A report from iPrice Group, a privately owned online shopping aggregator, says that there is an increase of about 2 million visits per month on mobile apps and websites of popular ecommerce logistics platforms in the Philippines. Furthermore, experts predict that the online shopping behavior of Filipinos will only experience an upward trend even after the pandemic is over.
Thus, with the busy activity in the ecommerce industry, one can only imagine the logistics operations that support each ecommerce transaction. A business owner engaged in online selling must have the trucking portfolio to ensure that he can deliver the purchased items to customers promptly and without damages. An online retail business needs on demand logistics operations provided by trucking companies with a wide range of vehicle classes from sedans for bulk courier deliveries to 10 wheeler wing vans for large and heavy cargo delivery. Transportify, an app based trucking company, has such capabilities for 2022 and beyond.
The table below shows the list of vehicles available in the Transportify app.
Vehicle Type
Dimensions/
Weight Limits
Base Price


(Metro Manila)

Base Price


(Outside Metro Manila)

Base Price


(Visayas/Mindanao)

Wing Van 

32 to 40 x 7.8 x 7.8 ft




12000kg to 28000kg

7500 PHP

6500 PHP

6500 PHP

6w Fwd Truck

18 x 6 x 7 ft




7000kg

4850 PHP

4850 PHP

4850 PHP
Closed Van

10 to 14 x 6 x 6 ft




2000kg to 4000kg

1800 PHP

1450 PHP

1450 PHP

Open Truck

10 to 21 x 6 ft x open




2000kg and 7000kg

2300 PHP

1950 PHP

N/A

Mini Dump Truck

10 x 6 ft x open




2000kg

1500 PHP

1200 PHP

N/A

L300/Van

8 x 4.5 x 4.5 ft




1000kg

430 PHP

330 PHP

310 PHP

Small Pickup

5 x 5 ft x open




1000kg

310 PHP

250 PHP

220 PHP

Light Van

5.5 x 3.8 x 3.8 ft




600kg

250 PHP

192 PHP

225 PHP

MPV/SUV

5 x 3.2 x 2.8 ft




200kg

160 PHP

130 PHP

140 PHP

Sedan

3.5 x 2 x 2.5 ft




200kg

140 PHP

110 PHP

120 PHP
How Has COVID-19 Affected the E-Commerce Industry?
The E-commerce industry has gone through some interesting changes in light of the COVID-19 pandemic. As mentioned above, there has been a significant amount of growth as more consumers have been forced to purchase online rather than shopping directly in retail stores and shopping centers. People would rather buy items online in the safety of their homes and wait for it to arrive through last mile logistics operations from various ecommerce players.
There is also a change in the types of items that people purchase online. Before the outbreak of Covid-19, online buying was often associated with purchasing items like gadgets, appliances, shoes and accessories. Nowadays, people buy everyday necessities like toiletries and grocery items online. This behavior was evidently seen in countries like the Philippines where the elderly or vulnerable members of society were advised to stay at home. It is also common that Filipino households are large and have elderly family members. Thus, it is very practical buy daily necessities such as food, medicine and toiletries online and have it delivered to your home via last mile logistics operations.
Unfortunately, not all sectors in the ecommerce industry experienced growth during the lockdowns. Sectors such as sports and travel equipment have significantly dropped because sporting facilities and events have been temporarily closed or postponed and there were many travel restrictions.
On the other hand, Covid-19 has sped up the digitization of many industries in the ecommerce industry and in other sectors as well. Because face to face interactions are discouraged, more and more businesses are turning to digital app-related functionality in order to keep doing business.
In fact, a report by the World Bank and the National Economic and Development Authority (NEDA) states that the use of digital technologies such as ecommerce, digital payments, telemedicine, and online education methods is growing and has greatly supported individuals and companies cope with lockdown restrictions.
For example, a company selling home appliances and furniture at a shopping mall before the covid-19 is now exploring ways to input all their products in a website so that they can continue doing business despite the lockdowns. Instead of the usual way of buying appliances which is a face to face encounter with the salesperson at an appliance store, customers can browse through the selection of television sets or refrigerators using their phone or desktop computer. Then, they can call or chat with a customer service representative to ask specific questions about the product. Then, once the customer confirms the purchase, a last mile delivery logistics operation makes it possible to deliver the new appliance straight to the customer's home.
If you like the logistics operations set up described above, then you would be interested to learn more about how Transportify can be your logistics partner since they are ready to handle any kind of situation.
Transportify: Your Logistics Partner For All Situations
Because it is an on demand app based trucking company, Transportify is your solution for all the logistics operations of your business. A business in the ecommerce industry does not need to worry about creating delivery schedules in order to meet cut off times set by logistics companies. With Transportify, all you need to do is download the app in your smartphone or use the web app on your desktop and you can begin making bookings at any time of the day. This feature is important for unpredictable circumstances such as the lockdowns where a business would not know when is the best time to make deliveries. By having an on demand trucking company that can support your entire logistics operations, there is no need to worry about getting your products to your customer's home despite the lockdown restrictions.
Transportify for Business
If your ecommerce business needs delivery services often, you may consider joining the Transportify business program. By joining this program, your business can avail numerous exclusive benefits such as insurance of up to Php 3 million for damaged, stolen or lost goods, payment options which are flexible, and an account manager to help you in all your bookings. Click this link to learn more about the business program.
Another key feature of this company is the variety of vehicle classes that they offer to their customers, both individually and business clients. This trucking company has sedan and L300 vehicles for retail type deliveries of food products, small gym equipment, grocery items and the like. Retailers in the ecommerce industry usually avail these vehicle types since it can best accommodate their needs and it comes at an affordable rate. Online businesses selling larger items like appliances and furniture can make use of the closed van or open trucks of Transportify. These vehicles can be booked anytime and comes with an extra helper to assist the driver in the entire logistics operation. Lastly, for logistics operations that transport large volumes of goods, the 6w Forward truck or the 10 wheeler wing van is the right type of vehicle for such delivery processes. You may download the app via the options shown below.
| | | |
| --- | --- | --- |
| | or | |
Frequently Asked Questions:
What is the future of the ecommerce industry in the Philippines?
🚚 The future of the ecommerce industry looks bright in the Philippines since it has introduced a new and more convenient way of shopping for things like new gadgets and even daily essentials. In fact, a report from a market research firm says that almost 50% of Filipinos will continue shopping online even after the pandemic is over. This goes to show that more and more Filipinos welcome the idea of using their smartphones or desktop computers to purchase items rather than going to shopping malls themselves.
What logistics operations are needed by an online business?
🚚 To run an online business, one must have the necessary logistics operations that can support such a major undertaking. First of all, it needs an on demand trucking service which can accommodate any type of delivery at anytime. Then, it must have a wide selection of vehicles or trucks for specific types of deliveries. Transportify, an app based trucking company has these two requirements which would greatly help online businesses transport their items to the door steps of their customers.