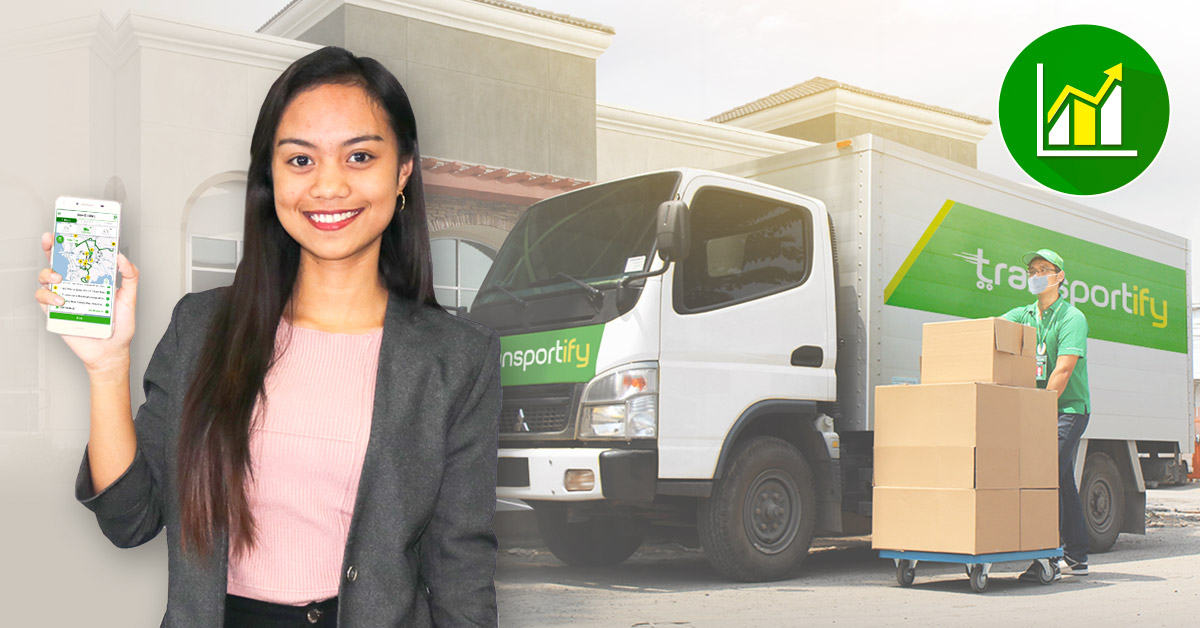 The impact that Covid-19 has had on the global markets have been significant for most industries. Because of the lockdown restrictions which discouraged people from getting out of the house, many businesses had a tough time getting the usual number of customers. However, in spite of the difficulties caused by the pandemic, there are some positive developments thanks to truck delivery apps. The ecommerce industry for example has been booming as more and more people are turning to online shopping for basic necessities. These online sellers rely on truck delivery apps like Transportify to deliver purchased items to the customer's home. Get a price check now to see our affordable trucking rates.
The pandemic has brought about a rise in entrepreneurial innovation because businesses have to adapt to a new business model of heavily doing transactions online. Before the pandemic, retail owners having stores inside malls rely heavily on foot traffic. And the Philippines, a nation with at least 14 million square meters of mall space, receives many shoppers on a daily basis. But with the pandemic and subsequent lockdown restrictions, shopping malls have seen a decline in shoppers which means less traffic to the stores inside those malls. In fact, a report from Google's Covid-19 Community Mobility reports show that the Filipino's usage of retail and recreational facilities have significantly dropped by 82% from February to April 2020.
These information show that companies must restructure their current business model to suit the current situation we are facing. Many businesses can no longer rely on the heavy foot traffic coming from malls to supply them with customers. This is why the ecommerce industry is booming in the Philippines. To support such a claim, a report from Google and Temasek states that the size of the ecommerce industry in the Philippines will balloon to about 12 billion US dollars by 2025. And in order to support the growth of businesses in our country, truck delivery apps offering on demand delivery are important.
The table below shows the different vehicle types available in the Transportify app.
Vehicle Type
Dimensions/
Weight Limits
Base Price
(Metro Manila)
Base Price
(Outside Metro Manila)
Base Price
(Visayas/Mindanao)
Wing Van 
32 to 40 x 7.8 x 7.8 ft
12000kg to 28000kg
7500 PHP
6500 PHP
6500 PHP
6w Fwd Truck
18 x 6 x 7 ft
7000kg
4850 PHP
4850 PHP
4850 PHP
Closed Van
10 to 14 x 6 x 6 ft
2000kg to 4000kg
1800 PHP
1450 PHP
1450 PHP
Open Truck
10 to 21 x 6 ft x open
2000kg and 7000kg
2300 PHP
1950 PHP
N/A
Mini Dump Truck
10 x 6 ft x open
2000kg
1500 PHP
1200 PHP
N/A
L300/Van
8 x 4.5 x 4.5 ft
1000kg
430 PHP
330 PHP
310 PHP
Small Pickup
5 x 5 ft x open
1000kg
310 PHP
250 PHP
220 PHP
Light Van
5.5 x 3.8 x 3.8 ft
600kg
250 PHP
192 PHP
225 PHP
MPV/SUV
5 x 3.2 x 2.8 ft
200kg
160 PHP
130 PHP
140 PHP
Sedan
3.5 x 2 x 2.5 ft
200kg
140 PHP
110 PHP
120 PHP
How Truck Delivery Apps Support Businesses
The growing digitization of logistics has contributed significantly to entrepreneurial success in the Philippines. A tremendous shift has been observed in the way logistics companies operate. The traditional way of accommodating deliveries from companies used to be setting up cut off schedules then planning delivery routes. A company that does not meet the said schedule must wait until the next day. Today, on demand truck delivery apps like Transportify can provide efficient and affordable delivery services at any time of the day. All you have to do is download the truck delivery app in your device, create an account and start making deliveries.
This new online delivery process has made it simple for businesses of all sizes and industries to deliver their goods from source to destination. New entrepreneurs who have been taking advantage of certain websites like Lazada, Shopee, or Facebook marketplace can simply register and book a delivery on the app, and then the nearest delivery driver in the vicinity is able to reach them quickly and make the delivery on their behalf. With Transportify, you can even do last mile deliveries straight to your customer's home since it has vehicles fit for the job like the sedan or L300 van.
And it's not just small businesses who can benefit from truck delivery apps, large companies such as Fast Moving Consumer Goods (FMCGs) companies can benefit greatly from on demand delivery apps. There will always be seasons in the year when demand is at its highest and the in house logistics can not fulfill delivery needs. In that case, managers can use on demand truck logistics apps to augment their logistics capabilities. Using Transportify gives you access to large delivery vehicles such as the 6w Forward truck and the 10 wheeler wing van so that you can transport goods from your warehouse to various distribution centers all over Luzon, Cebu, and Davao. An additional benefit of using these logistics apps is that you do not have to worry about truck maintenance since it is the responsibility of the vehicle owner.
Construction companies are also in need of logistics services. From hauling debris off the site to delivering construction materials, this industry requires a lot of logistics operations. And just like the seasonality of demand in FMCG companies, the construction companies also experience months with many projects and also slow months. Having an on demand trucking company like Transportify ensures that you only pay for the services you need. It also has the right vehicles for construction materials hauling like the mini dump truck and open truck. By using Transportify, you don't have to worry about maintaining an in-house fleet for logistics services.
What Are the Features Of Transportify's Truck Delivery App?
A truck delivery app like Transportify offers plenty of features and benefits for its users. The main benefit of using trucking delivery apps is that you can use them at any time of the day from anywhere. One can conveniently book a delivery using a mobile device or a laptop and within a reasonable time, a vehicle will arrive to take your goods. Because of this feature, the client only needs to pay for the booked deliveries and no need to worry about membership fees or a minimum booking volume.
The section below explores other important features of a trucking delivery app.
GPS – Tracking in Real Time
Not only can entrepreneurs make quick and easy deliveries from their mobile phone, but they can even track their orders in real time. This handy innovation has allowed them to offer their customers accurate Estimated Time of Arrival (ETA) in terms of when their products will arrive at the customer's doorstep, and with great accuracy.
Transparent Itemized Pricing
Before confirming an order, the truck delivery app like Transportify will clearly itemize the cost of your booking. It will display important information such as the total distance of the trip, the type of vehicle you selected, price of additional services that you selected and the grand total. This is very convenient because it allows customers to know exactly where they stand before committing to the service.
Customer Support Available 24/7
Another huge benefit is having 24/7 customer service support. These advantages have contributed greatly towards entrepreneurial success in the Philippines and we will continue to support individuals, small businesses, and growing enterprises with their logistics requirements. We pride ourselves on our work and love helping out businesses and individual clients get their items to its intended destination on time and in good condition.
Corporate Account for Businesses
Businesses in regular need of deliveries can enroll themselves in the Corporate Account of Transportify. This program offers numerous exclusive benefits such as a warranty of up to Php 3 million for damaged, lost or stolen goods while in transit, flexible payment options, and your very own account manager who can help you in all your bookings. Click here to enroll in our corporate account.
Truck delivery apps like Transportify continue to serve various businesses in these times. Because it offers such a convenient way of booking a delivery, many clients use Transportify for all their logistics needs: from last mile delivery of small items up to heavy cargo delivery to warehouses or distribution centers. Transportify also offers a wide range of vehicle types from sedans to refrigerated trucks and 10 wheeler wing vans which means it can accommodate any type of delivery.
Download our app now and experience the excellent delivery services of Transportify.
| | | |
| --- | --- | --- |
| | or | |
Frequently Asked Questions:
What are the features of Transportify's truck delivery app?
? A truck delivery app like Transportify offers plenty of features to its clients, both individual and businesses. Its main features is that one can make a booking from a smartphone or a laptop at any time. Other features include real time track and trace capability, transparent itemized pricing, and 24/7 customer service support.
How can a truck delivery app help my business?
? A truck delivery app like Transportify can help your business in a lot of ways. First, it can augment your in house logistics fleet in months when the demand is high and it is difficult to fulfill deliveries. It can also do last mile logistics which means you can deliver your products straight to the homes of your customer. Another way it can help your business is that you can make bookings at any time of the day and from anywhere in Luzon, Cebu, and Davao.