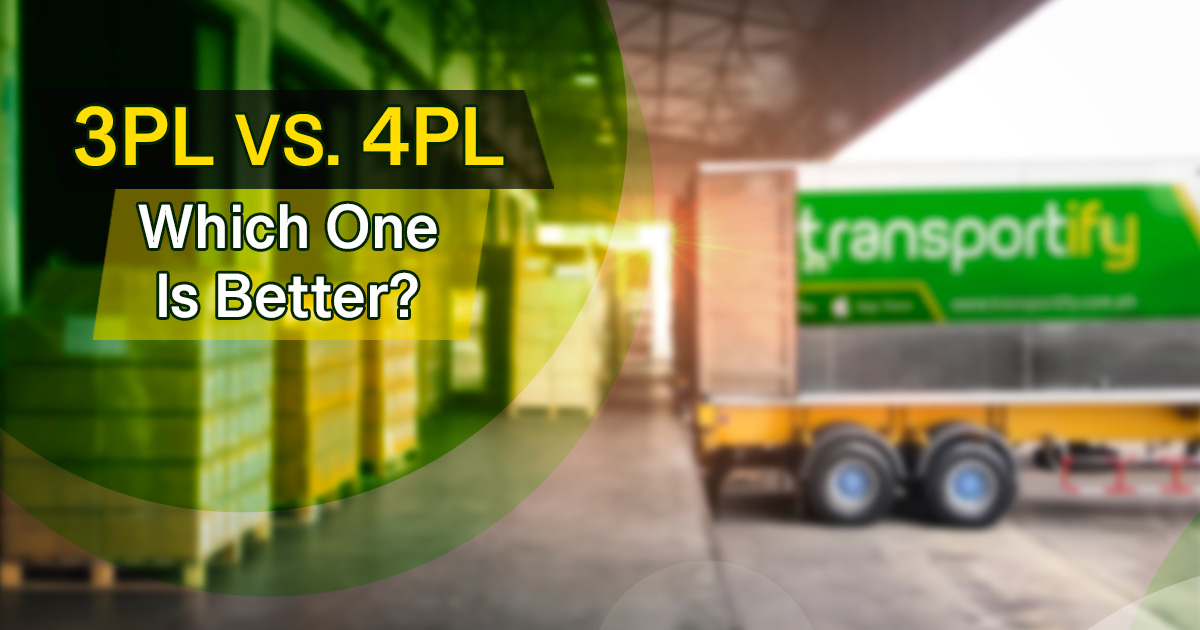 Businesses often face the dilemma of choosing between 3PL and 4PL. Both have advantages and disadvantages, making it difficult to decide which is better for your company. We will compare 3PL and 4PL in terms of their main differences and similarities. We will also discuss when it might be beneficial for a business to use each type of service. By the end of this article, you should have a good understanding of both 3PL and 4PL and decide which one is best for your company!
Why Do Businesses Need Support From Logistics Providers?
There are many reasons why businesses need support from logistics providers.
Focus on core competencies
The most common reason is that businesses want to focus on their core competencies and leave the logistics to someone else. Focusing on your core competencies allows you to be better at what you do, and being good at what you do is the best way to ensure long term success.
Logistics is a necessary evil. It's something that all businesses have to deal with, but it's not necessarily something they're good at. Most often than not, businesses are pretty bad at logistics.
Save on cost
Other causes include:
Wanting to outsource a non-core function.
Reducing inventory costs.
Needing access to a larger network of transportation options.
Outsourcing logistics can also help businesses save costs. This is because logistics providers usually have economies of scale that allow them to offer lower rates to their clients. Furthermore, these providers also have access to a wider network of resources that they can utilize to get the best deals for their clients.
More tailor-fit services to customers
Lastly, working with a logistics provider gives businesses flexibility in managing their supply chain. This is because these providers can offer various services that businesses can choose from depending on their specific needs. This allows businesses to tailor their logistics operations according to their preferences and requirements.
So, if you're wondering whether you should outsource your logistics operations to 3PL or 4PL or not, the answer depends on your own business needs and objectives. However, it is generally more practical for businesses to outsource non-core functions like logistics since it can help them save costs, improve efficiency, and gain flexibility in managing their supply chain.

Vehicle Type
Dimensions/
Weight Limits
Base Price


(Metro Manila)

Base Price


(Outside Metro Manila)

Base Price


(Visayas/Mindanao)

Wing Van 

32 to 40 x 7.8 x 7.8 ft




12000kg to 28000kg

7500 PHP

6500 PHP

6500 PHP

6w Fwd Truck

18 x 6 x 7 ft




7000kg

4850 PHP

4850 PHP

4850 PHP
Closed Van

10 to 14 x 6 x 6 ft




2000kg to 4000kg

1800 PHP

1450 PHP

1450 PHP

Open Truck

10 to 21 x 6 ft x open




2000kg and 7000kg

2300 PHP

1950 PHP

N/A

Mini Dump Truck

10 x 6 ft x open




2000kg

1500 PHP

1200 PHP

N/A

L300/Van

8 x 4.5 x 4.5 ft




1000kg

430 PHP

330 PHP

310 PHP

Small Pickup

5 x 5 ft x open




1000kg

310 PHP

250 PHP

220 PHP

Light Van

5.5 x 3.8 x 3.8 ft




600kg

250 PHP

192 PHP

225 PHP

MPV/SUV

5 x 3.2 x 2.8 ft




200kg

160 PHP

130 PHP

140 PHP

Sedan

3.5 x 2 x 2.5 ft




200kg

140 PHP

110 PHP

120 PHP
To help you further decide, check out the comparison between 3PL (third party logistics) and 4PL (fourth party logistics) below.
Definition of Terms
What is 3PL?
A third party logistics provider is a company that provides logistics services to its customers on behalf of another company. The term "third party" refers to the fact that these providers are not part of the same company as their clients. They are also not part of the supply chain since they do not own any resources used to transport and store goods. However, they play a vital role in the supply chain by providing various services that help businesses move their products from point A to point B.
The 3PL is a method for outsourcing operational logistics from warehousing to last mile delivery. Third party logistics (3PL) companies offer various supply chain logistics services. Transportation, storage, picking and packing, inventory forecasting, order fulfillment, packaging, and freight forwarding are the services provided.
What is 4PL?
Just like its name suggests, a fourth party logistics provider is a company that provides comprehensive logistics services. They function as system integrator who oversees the whole supply chain. A 4PL can offer various services, including physical logistics and information technology, procurement, and finance. In addition, a 4PL may engage with one or more 3PLs to handle physical commodities and deliver bespoke services to end clients.
6 Key Differences Between 3PL & 4PL
Distribution
A 3PL service is a subset of a 4PL provider's services. A 3PL partner handles your inventory's transportation, storage, and distribution. A 4PL company, on the other hand, manages the whole logistics operation, from strategic choices to legal documentation to operations execution. Many 4PLs have a wide network of warehouses, which may include several 3PLs to give clients complete shipping, storage, and regional coverage.
Customer Interaction
The 4PL is typically its main point of contact with customers. As a result, all customer interactions with the various 3PLs are managed by the 4PL. This form of customer service can cause delays in resolving issues since the 4PL acts as a go between for the client and the 3PL.
There is no ownership at the 3PL level with this sort of client care, which might be frustrating for clients. You gain access to the same customer service staff when you partner with a 3PL and a dedicated account manager. This way, issues are fixed more quickly, and you can deal with a knowledgeable team with your account.
Strategic Scalability
With 3PLs, merchants are typically bound by long term contracts that impose more significant limits on the amount of storage space and order volume that may be fulfilled. However, contracts and service agreements are very scalable with 4PLs. Regarding scalability, 4PLs can swiftly add warehouses to their network, allowing retailers to extend their distribution network quickly. With 4PL, customers pay for only the resources when they require them on demand and can reduce operational costs.
Order Fulfilment
A third party logistics provider concentrates on order fulfillment, including warehousing, picking and packaging orders, and shipping parcels. A fourth party logistics provider takes this further by managing the complete supply chain, including fulfillment, transportation, and technology. A merchant works directly with a 4PL company to resolve issues throughout the supply chain and with other vendors.
Integrated Technology
4PLs often operate via a cloud-based warehouse management system (WMS), which gives merchants visibility into order receipt, fulfillment, and delivery statuses across all locations. This software links e-commerce platforms and enterprise resource planning (ERP) systems to provide automated reporting.
On the other hand, a tech-focused 3PL provider has developed ways to streamline transport management, shipping, and order fulfillment to satisfy the needs of sellers, frequently utilizing cutting-edge IT. They can also provide software that can integrate data from multiple sources to give both the seller and the consumer a complete view into the lifecycle of the order fulfillment process and help with the decision-making process.
Professional Assistance
Today's finest 4PLs will provide customer care beyond essential support and offer merchants strategic guidance on optimizing their inventory and distribution management. Alternatively, traditional 3PL assistance is typically confined to responding to simple inquiries and resolving day-to-day operating difficulties.
SEE ALSO
What's Your Final Decision?
If you're wondering whether your business needs the support of a 3PL company or a 4PL company, this article will help you understand the main differences between the two.
Third party logistics companies focus on order fulfillment, including warehousing, picking and packaging orders, and shipping parcels.
Fourth party logistics companies take this further by managing the complete supply chain, including fulfillment, transportation, and technology.
Both types can provide software that integrates data from multiple sources to give sellers and consumers a complete view of the order fulfillment process. Ultimately, the choice between a 3PL and a 4PL company depends on the specific needs of your business.
If you need 3PL services for e-commerce fulfillment and last mile delivery, Transportify is a perfect choice. You can always install our app for free. We have our business accounts if you need more tailored-fit services like COD/POD and customized SOP.
| | | |
| --- | --- | --- |
| | or | |
Frequently Asked Questions:
What are the main differences between 3PL and 4PL?
🚚 The main difference between the two is that a 4PL is an extension of your company. They become part of your business and are involved in every step of the process — from planning to execution to post shipment follow-up. A 3PL, on the other hand, only handles certain parts of the logistics process. For example, you might outsource your transportation management to a third party, but you'd still handle warehousing and order fulfillment.
Why do businesses outsource logistics services?
🚚 The answer is simple, to save time and money. Outsourcing has become increasingly popular among businesses of all sizes, and for a good reason. It allows businesses to focus on their core competencies while leaving the logistics to experts.