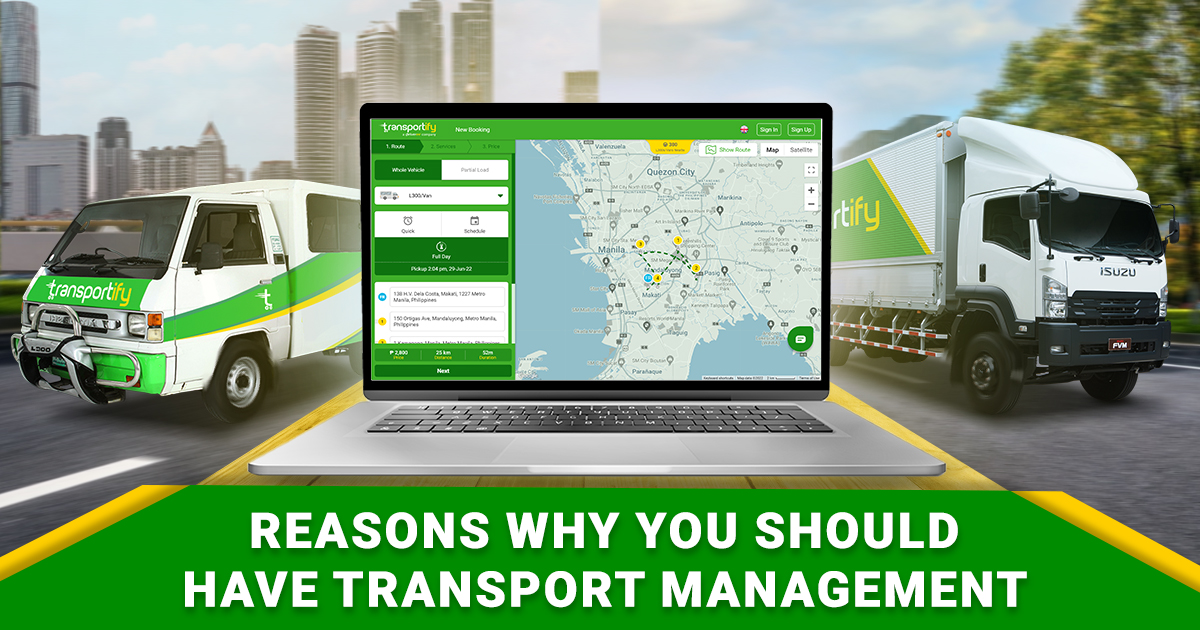 Whether you are an e-commerce business, a manufacturer, a supplier of raw materials, or any other distribution industry, a transport management system (TMS) is essential in this modern-day age. The world of logistics is forever on the move. As demand for greater efficiency grows, having systems in place that not only supports smart movement but encourages is important.
But, what do you do if your current systems are working? Would you want to rock the boat? Should you stick to the old saying: "if it ain't broken, don't fix it?". Do you take the plunge, embrace the tide of innovation, and modernize your business processes?
Below are the five main reasons your business should use a TMS. If you are still unconvinced by the end, we'll throw in some other advantages that might help sway your decision.
Why Should You Switch to a Transport Management System?
Let's look at the reasons businesses use a transport management system to automate their supply chain and logistics requirements.
Better cash flow
The first and most attractive benefit is better cash flow. Any decent TMS will help your business reduce shipping costs. The perfect system will allow you to analyze each logistical option's financial aspects. Also, it will provide user-focused suggestions to reduce the expenses even further. These suggestions are specific to each area, such as route optimization, fuel consumption, and overtime.
Integration of planning and execution
A good TMS can integrate seamlessly with existing systems that are crucial for the management of a business's transportation requirements, including
Purchasing and order management
Warehouse optimization and management
Customer relationship management
Supplier relationship management
With such ease of integration at your disposal, you'll be in a better position to execute orders via the most cost-effective carriers. It will provide the best possible route planning and load optimization as well. In other words, you will have all the information you need to make the best decisions possible. Thus, resulting in a culture of satisfied customers and easy supplier relationships.
Less paperwork
Another attractive benefit to using a TMS is that it can save you and your employees an awful lot of time and money spent on paperwork. Automation is the future. The reduction in administration provided by having a solid TMS is an incredible bonus! Not only that, but it reduces human error as the bulk of billing and invoicing AI handles jobs.
Transparent inventory management
Using TMS, businesses can better monitor the lifecycle of their orders and shipments in real-time. This allows you to get accurate status updates on each. With an accurate inventory forecast, you can improve decision-making and accountability across the supply chain network. You can provide buyers/partners with accurate ETAs and identify problem areas that need rerouting.
Better visibility throughout the supply chain
The new generation of transportation management systems can integrate throughout the supply chain. It can provide businesses with an accurate 'big picture' summary of their entire supply chain systems. With such incredible operational visibility, having ready access to real-time data from all angles can produce incredible results. It enables decision-makers to act quickly and seize opportunities or solve potential problems before they arise. All of this and more can help boost brand loyalty without sacrificing performance.
To summarise, a TMS system provides your business with greater accountability. Every aspect of your supply chain management will be automated. Valuable data will be recorded and used for various decision-making purposes. Data is king. By gathering critical information on every aspect of the supply chain, you can tune up and improve each step until your process is airtight.
Five Additional Benefits You Should Know
If the advantages above aren't enough to sway your decision, then we have some other bonus benefits to share with you. It keeps getting better and better.
Optimized routing
A quality TMS can help you optimize your routing for maximum efficiency. Practicing multiple deliveries using TMS can be cheaper and more efficient. It gives you greater control and visibility across the board. Combine this with GPS tracking software and smart-routing technology, and you can save a lot of money and man-hours. All these while decreasing the time your customers have to wait before receiving their goods.
Real-time tracking
When tracking every single driver in your fleet, you can assess the various routes they take. The more information you gather, the better you will recognize the problematic routes. Identify which times of day are slowest and how best you can optimize a specific route for the greatest possible efficiency.
The most advanced rerouting software can take into account any potential changes in weather and traffic. We're talking about significant safety benefits, fewer traffic accidents, lower fuel costs, and faster delivery times.
Here are common trucks and delivery vehicles businesses can deploy using Transportify TMS.
Vehicle Type
Dimensions/
Weight Limits
Base Price


(Metro Manila)

Base Price


(Outside Metro Manila)

Base Price


(Visayas/Mindanao)

Wing Van 

32 to 40 x 7.8 x 7.8 ft




12000kg to 28000kg

7500 PHP

6500 PHP

6500 PHP

6w Fwd Truck

18 x 6 x 7 ft




7000kg

4850 PHP

4850 PHP

4850 PHP
Closed Van

10 to 14 x 6 x 6 ft




2000kg to 4000kg

1800 PHP

1450 PHP

1450 PHP

Open Truck

10 to 21 x 6 ft x open




2000kg and 7000kg

2300 PHP

1950 PHP

N/A

Mini Dump Truck

10 x 6 ft x open




2000kg

1500 PHP

1200 PHP

N/A

L300/Van

8 x 4.5 x 4.5 ft




1000kg

430 PHP

330 PHP

310 PHP

Small Pickup

5 x 5 ft x open




1000kg

310 PHP

250 PHP

220 PHP

Light Van

5.5 x 3.8 x 3.8 ft




600kg

250 PHP

192 PHP

225 PHP

MPV/SUV

5 x 3.2 x 2.8 ft




200kg

160 PHP

130 PHP

140 PHP

Sedan

3.5 x 2 x 2.5 ft




200kg

140 PHP

110 PHP

120 PHP
Flawless order fulfillment
A reliable TMS can ensure that your shipping becomes far more accurate than a legacy system. Order fulfillment accuracy is improving thanks to real-time tracking and supply chain visibility. Shipping errors will be a thing of the past. If a minor error does occur, it can be resolved on the spot without the customer being negatively impacted or even knowing.
An exceptional customer experience
Customers aren't looking for great products. They're looking for great adventures. Today, as the demand for quick delivery and flexibility grows, businesses are forced to adapt. A TMS will bridge the gap between order and warehouse management systems. It will consolidate orders and find the best possible carrier with the fastest possible route at the lowest possible price. Everyone wins, and there is very little human effort (or error).
Brand loyalty
With an improved customer experience, brand loyalty can only increase. When your business is more productive and efficient, fewer mistakes occur. Thus, fewer complaints. The benefits mentioned here contribute to making your business and logistics processes as airtight as possible.
As a result, your customers will be far more likely to use your services again and recommend them to their friends and family. This creates a snowball effect that will ultimately increase your business, and guess what? With a quality TMS, you'll have a solid foundation and the infrastructure to cope with increased demand and absent error.
The Takeaway
In a nutshell, having an innovative transportation management system up your sleeve is fast becoming essential for any business that wants to remain competitive. To keep up with an ever-evolving business environment, you need to be ready to adapt and overcome.
The rate of savings might not be immediately apparent, but as each incremental benefit slots into place, the overall improvement in performance will eventually make your business unrecognizable, an automated machine designed for growth and built for success.
Feeling overwhelmed by it all? We appreciate how much information there is to process. That, and these benefits, seem like they might create even more work: analyzing data and tracking orders in real-time, for example. However, these tasks are automated, and data is used and reported back to you in a way that is easy to process.
Smart alternatives are available. Once you and your team are familiar with the new systems, everything will become easier. They aren't designed to create more work, but quite the contrary.
If you would like to know more, please do not hesitate to contact us today. We will gladly discuss your options and answer any questions you may have.
| | | |
| --- | --- | --- |
| | or | |
Frequently Asked Questions:
How can TMS help with route optimization?
🚚 TMS software can help with route optimization in a number of ways. First, it can help identify the most efficient routes between locations. Second, it can help create optimized schedules that take into account traffic conditions and other factors. Finally, it can help monitor and adjust routes as needed to ensure that they are always as efficient as possible. By using TMS software, businesses can save time and money on their logistics operations.
What are the main reasons why businesses should use a transport management system?
🚚 There are many reasons why businesses should use a transport management system. A transport management system can save businesses time and money by improving the efficiency of their operations. It can also help businesses to improve customer service levels by providing accurate information about delivery times and locations. In addition, a transport management system can help businesses to reduce their environmental impact by reducing emissions from vehicles.