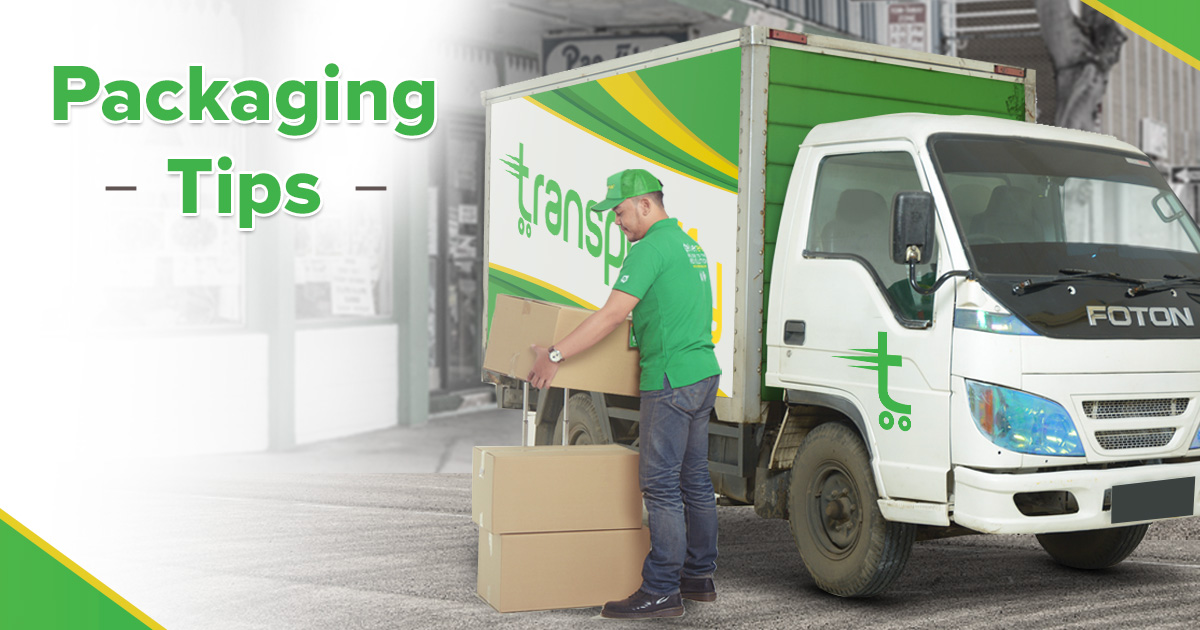 As a sender, it is your responsibility to ensure that the recipient doesn't receive damaged goods on the other end. Of course, the freight forwarding company has a duty of care to handle the packages appropriately; however, there can be no guarantees if you haven't bothered to pack your items properly.
Try our freight forwarding company now or know more about how we can help your business. Our Customer Service is open 24/7 to answer your inquiries! Click the button below to get started.
While the drivers working with Transportify delivery app and freight forwarding company are exceptionally well trained and handle every delivery with the utmost care and consideration, we would still advise reading this article. We're going to cover the top 5 packaging tips approved by the professional shipping services delivery to avoid damage to your deliveries.
Top 5 Freight Forwarding Packaging Tips
It is important to secure your goods properly especially if it includes items that require special handling. For your reference, here are some useful tips on how to manage your packages to avoid unwanted damages during transport for all your deliveries:
1Opt for brand-new, double-walled boxes
One of the easiest packaging tips is to use boxes for your delivery services. You may be tempted to use second-hand boxes for deliveries to save a little bit of money, but you have to ask if it is worth it? Used boxes do not offer half as much protection as a brand-new double-walled box. These boxes will ensure that it is sturdy enough to survive a little rough handling, just in case.
2Avoid fabric or cloth bags as opposed to cardboard boxes
For smaller items, some people are tempted to save money on their boxes and send the items in fabric bags. Such materials do not offer enough protection. You should also opt for cardboard boxes and ensure that there is enough padding inside for the best results.
3Bubble wrap is a must-have
There is no more satisfaction than receiving a delivery and opening the package to reveal loads of bubble wrap! Adding an extra layer of protection is not only essential for keeping the items safe, but it's also a lot of fun for the recipient too (who doesn't love popping bubble wrap?).
Be sure to contact your delivery service to find out if there are any specific packaging tips or requirements to follow this 2023. This is important if you want your items to be covered in the event of an accident. You might also be able to get some extra tips as well!
4Try to avoid shipping overly expensive items
For ultra-expensive items such as jewelry, it's also worth considering delivering the package yourself, mainly if the value exceeds the recommended amount for your pick up and delivery service. However, if you choose a reputable and reliable delivery app like Transportify, we will ensure that your goods arrive safely and without issue. It's all about finding a freight forwarding company that you can trust!
5Always use heavy-duty packaging tape to seal packages
Please don't waste your time sealing a package with regular cello-tape, because it only will not be secure enough to keep your package safe while in transit this 2023. Instead, it would be best if you opted for heavy-duty, purpose-designed packaging tape. That way, you can seal your package appropriately and won't have to worry about anything coming loose or being damaged by the freight forwarding company.
Conclusion
If you follow these simple packaging tips, then you won't have to worry about your items being damaged in transit. There's always a bit of a risk, but provided you're using certified and insured shipping delivery services, and you meet all of the packaging tips, then you'll be protected for your logistics operations.
Are you a business owner looking to work with a reliable pick up and delivery service provider that offers additional perks and services to corporate clients? Then why not check out our business page? There you'll find all of the information you need on our "free to join, free to leave" business partner scheme.
Besides the five main packaging tips, there are two bonus ways for improving how your packages will be handled in transit by your freight forwarding company. They are not guarantees, but they help prevent carelessness with the handling of the package and any damage that could negatively affect your business.
Fit the items in the appropriately sized box or sleeve.
In some cases, you may run out of the appropriate size for the item. This issue occurs frequently with purchases made in physical stores like clothing retailers or take-away services. Bulk orders/ multiple items are divided between smaller containers, and single/small orders are in an oversized bag. Sending merchandise out with freight forwarding companies provides your business with the luxury of addressing the packaging issues as they arise. It doesn't have the same urgency of an immediate sale.
It is essential to find the right size of the box for the correct item because of the lack of space, or the excess can affect how the item will move in transit. When items are too small, and you do not compensate with the stuffing of the box, the brand-new box will dent and warp while heavier packages can affect the appearance when it reaches the customer.
It is more problematic when the item is too big for the box. The patch-up solution is taping two smaller boxes together. It might do in a pitch, but it is not ideal. The packaging is not about concealing the product. If that were the case, a cloth bag would be the go-to method. The packaging is all about protection, and without ample space for padding, the item can be damaged. Sensitive oversized items, like tech, can become defective.
The right box does not only help the item arrive in pristine condition, but it also minimizes the box deformation that may come from either having too much space or the lack of it for the item. You can refer to the table below to find the right delivery service for you.
Vehicle Type
Dimensions/
Weight Limits
Base Price


(Metro Manila)

Base Price


(Outside Metro Manila)

Base Price


(Visayas/Mindanao)

Wing Van 

32 to 40 x 7.8 x 7.8 ft




12000kg to 28000kg

7500 PHP

6500 PHP

6500 PHP

6w Fwd Truck

18 x 6 x 7 ft




7000kg

4850 PHP

4850 PHP

4850 PHP
Closed Van

10 to 14 x 6 x 6 ft




2000kg to 4000kg

1800 PHP

1450 PHP

1450 PHP

Open Truck

10 to 21 x 6 ft x open




2000kg and 7000kg

2300 PHP

1950 PHP

N/A

Mini Dump Truck

10 x 6 ft x open




2000kg

1500 PHP

1200 PHP

N/A

L300/Van

8 x 4.5 x 4.5 ft




1000kg

430 PHP

330 PHP

310 PHP

Small Pickup

5 x 5 ft x open




1000kg

310 PHP

250 PHP

220 PHP

Light Van

5.5 x 3.8 x 3.8 ft




600kg

250 PHP

192 PHP

225 PHP

MPV/SUV

5 x 3.2 x 2.8 ft




200kg

160 PHP

130 PHP

140 PHP

Sedan

3.5 x 2 x 2.5 ft




200kg

140 PHP

110 PHP

120 PHP
Label your package
The fragile symbol in the shape of broken glass should not be excessively used. When you hope for your package to be treated with care, but is not fragile, sometimes it helps to have a note or label to give the people delivering your item a better sense on how to handle it.
Labeling your boxes might not always help when using the ordinary post. Still, it might come in handy with more specialized services with a third party delivery like Transportify, where communication between delivery drivers and the client is encouraged. In the event you forget to inform them about any specifications for specific orders, a label can take care of it without any issues.
An SME needs to be aware of useful packaging tips on how to properly manage their merchandise well. Even if you expanded your service with the help of a freight forwarding company, it would not give you the growth you are expecting when deliveries only increase the dissatisfaction of customers. Most one-star reviews online are due to inconveniences with the service. While not all SMEs are directly responsible for the delivery of their items, the anger and frustration of the customer will still be directed to you. That is why Transportify is your SME logistics solution.
There are two things SMEs need to keep in mind when packaging merchandise: the state of the product and the brand image. Preventing the item from moving in the box does not have to be styrofoam galore. Proper design elements with packaging can tick off your need for product safety while being eco-friendly. Cardboard frames and shredded recycled paper are examples of how you can stay green.
The brand image concern has more moving parts. It covers the state of the delivery—did the company care to customize the packaging? Are there any standout design elements? Does it look good? Another aspect is the character of the company—did the product arrive on time? Was the delivery process smooth? It may seem not very easy to control these aspects if you do not have an in-house delivery system. Still, a freight forwarding company like Transportify has a business program that allows you to customize your delivery operations as well as any other custom delivery requests.
Hopefully, these packaging tips can help you move your merchandise with confidence that they will reach your customers in good condition. And trust your freight forwarder in the Philippines.
Frequently Asked Questions:
What is the advantage of partnering with a freight forwarding company to handle professional shipping services?
🚚 Partnering with a freight forwarding company gives assurance that your items are being handled properly. Freight forwarder fleets are trained with different types of parcels across all businesses. This is to avoid damages during transit to the destination. Other than ensuring proper handling of cargo, some benefits of partnering with a delivery service are: insurance for goods, cost savings, focus on business operations and services, and focus on customer satisfaction. The focus on business operations will greatly boost productivity.
How can these packaging tips help in improving the business service?
🚚 These useful packaging tips will give assurance that your parcel or packages will now encounter any unwanted damages during transport. It is a must to secure the safety of your goods and reduce the probability of having problems during delivery. This will also help you move your merchandise with confidence that they will reach your customers in good condition. When a customer knows that their seller and delivery partner is handling their goods with the best quality service, they will continue to patronize the service.