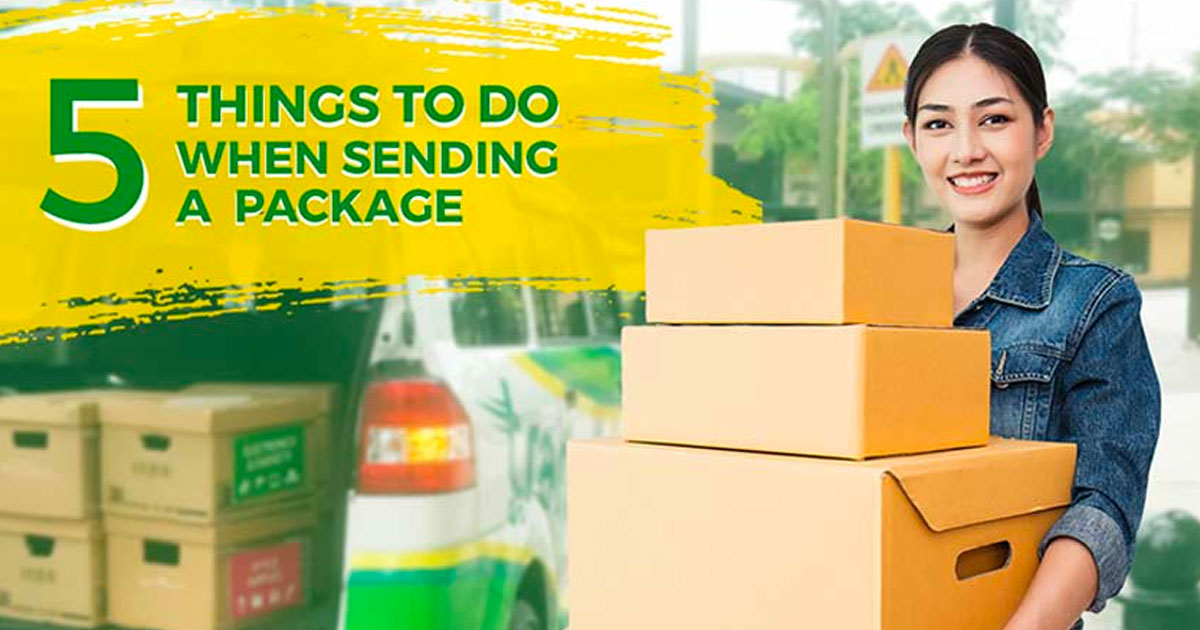 A package is perhaps the easiest thing to send when it comes to shipping and truck delivery. It is simple, it is small, it is cheap, and there are no other complications as you know it. But one should not be deceived! Sending packages can be tricky as well, especially if you do not know the proper handling and the package delivery process. And if you happen to be an entrepreneur doing business, you will need to know how to send packages accurately. Here are five things you should do when sending a package!
Things To Do When Sending a Package
Make sure it is not dangerous!
As the sender, you have to make sure that the item or items you are sending are in no way harmful to our Transportify driver partners and your receiver. Flammables, explosives, toxic liquids or materials, biological substances, and illegal drugs are extremely prohibited. As the sender, this is your responsibility—one that should not be taken lightly.
Package it properly
It would be best if you also took the time to package it properly. If you send it bare and without any protection, then it might get damaged in the process. You need to package it and secure it before you hand it over to a delivery app Manila driver. If it is small and breakable, you can use bubble wrap to protect it from being damaged. You can also use a small box to contain it to ensure it will not break. For sharp objects and large glass items, make sure they are wrapped in padding.
Here's a table to give you a quick summary of our package delivery rates and prices:
Vehicle Type
Dimensions/
Weight Limits
Base Price


(Metro Manila)

Base Price


(Outside Metro Manila)

Base Price


(Visayas/Mindanao)

Wing Van 

32 to 40 x 7.8 x 7.8 ft




12000kg to 28000kg

7500 PHP

6500 PHP

6500 PHP

6w Fwd Truck

18 x 6 x 7 ft




7000kg

4850 PHP

4850 PHP

4850 PHP
Closed Van

10 to 14 x 6 x 6 ft




2000kg to 4000kg

1800 PHP

1450 PHP

1450 PHP

Open Truck

10 to 21 x 6 ft x open




2000kg and 7000kg

2300 PHP

1950 PHP

N/A

Mini Dump Truck

10 x 6 ft x open




2000kg

1500 PHP

1200 PHP

N/A

L300/Van

8 x 4.5 x 4.5 ft




1000kg

430 PHP

330 PHP

310 PHP

Small Pickup

5 x 5 ft x open




1000kg

310 PHP

250 PHP

220 PHP

Light Van

5.5 x 3.8 x 3.8 ft




600kg

250 PHP

192 PHP

225 PHP

MPV/SUV

5 x 3.2 x 2.8 ft




200kg

160 PHP

130 PHP

140 PHP

Sedan

3.5 x 2 x 2.5 ft




200kg

140 PHP

110 PHP

120 PHP
Put labels as well
It would help if you also put labels on the package you are sending. If it is fragile and breakable, label it so. This can ultimately help drivers of our delivery app Manila know how to handle the package. Our driver partners here at Transportify are trained to handle different kinds of items correctly already. But if you label or list down the item or items included in the package, you will be sending, and you will be helping them further. You can also put some labels when you book in our package delivery app Manila.
Find a cheap package delivery.
Look for a cheap package delivery service provider whose affordable delivery service rates do not compromise the quality of service. Here at Transportify, you can avail of an inexpensive package delivery app Manila booking with high-quality standards that will be good for both business owners and ordinary people trying to send small packages. Not only that, but Transportify also offers express same day delivery, so you can expect your package or small package to arrive immediately at its destination. With our affordable delivery app Manila services, trained driver partners, and express delivery, your package will be in good hands.
Take Note of the Tracking Number
Last but not least, take note of the tracking number. This is important as this will help you track the location of your cheap package delivery app Manila at different times of the day. With Transportify's unique track-and-trace feature, on the other hand, you get to track the location of your package and the driver in real-time! With this feature, you will know where the package is currently, and when it is going to arrive at the receiver's place.
Be sure to keep these things in mind when you send a package. You can also apply these things to every packet, or your cargo forwarder needs you will send in the future, to make sure every item you are shipping or transporting is safe and comfortable.
The Do's and Don'ts of Sending Goods for Package Delivery App Manila
Shipping orders is an essential part of successfully running a business, whether it's an e-commerce business or an in-store market. Though it may seem so simple to ship an item in packaging and send them off with your chosen delivery service provider, the process is a bit more complex than you can expect.
If your shipping methods are not that efficient, you will end up wasting your time and essential resources on arranging shipments and assembling packages with the package delivery service provider.
Or worse, it could damage, ruin, or even lose shipments, giving inaccurate information or orders that will arrive in a less good condition. However, an excellent streamlined package delivery system enables you to arrange everything, starting from the service provider you have chosen down to the actual receiving times.
Being organized can also help your business to find the best rates available so you can save additional money while keeping your customers satisfied and happy at the same time. If you want to save more money, expand your business profits, and make your business shipping method as smooth as possible, consider avoiding these mistakes:
Don't Pick the Same Packaging for All of Your Products
Generally speaking, different items and products need different packaging materials to make sure that it will arrive safely to their destination. If you use the same boxes and packaging for everything, you will end up throwing more money by putting your items in jeopardy.
For instance, a clothing business should not use the same packaging and boxes they have for bulk orders to ship a few shirts to a customer. That way, you will end up paying for additional fees for the unnecessary shipping size.
However, you should not also stuff too many items into a small box, as it will break or damage your items inside during the transit, which can leave you with bad feedback from your customers. So, even if your chosen delivery logistics solution provider has all the fantastic features like on-demand delivery app Manila, if your item doesn't have the appropriate packaging, then it will end up getting damaged or ruined over time.
Do Choose Appropriate Boxes and Fill Them Up Nicely
Generally, your business shipping process should have a variety of types and sizes of packaging on hand to perfectly suit your product inventory. So, even if you sell one type of product, you still need an option for customers who will order for bulk.
Also, you will need to wrap those breakable and fragile items in protective wrapping, and you need to utilize packaging fillers like foam, packaging peanuts, and bubble wrap to prevent the item from moving inside the box.
To maximize its efficiency, you need to keep a variety of these packaging fillers and packaging materials on hand, so you can have access to these materials that will work the best for each kind of order.
Don't Choose the Same Logistic Service Automatically
Many package delivery service providers can offer competitive rates for each kind of package. Sometimes, other logistic companies may provide you with the lowest price available. However, it would help if you were careful; not all logistic services and quality are made equal. Meaning, a cheaper service can't guarantee you a high-quality delivery app Manila. So make sure to pick the best package delivery service provider for your business.
Some other times, one of these logistic companies might have a better deal for your shipping needs. So, don't always go for the cheapest one, also look for a company which can give you a reasonable and flexible deal that you can enjoy.
| | | |
| --- | --- | --- |
| | or | |
Frequently Asked Questions:
What are the package delivery apps available in Manila?
⭐Transportify is your best choice for package delivery services that are backed with a reliable app. We offer intracity services at any point in Luzon. Our fleet can cater different business requirements at an affordable price.
How fast can Transportify deliver?
⭐Transportify app has a feature to track your delivery in real-time. Before your transaction, you will be given the estimated time of arrival (ETA) for your delivery. Our optimized route technology enables our driver partners to go through the fastest path to your drop off. Not to mention our variety of vehicles available will be efficient for you no matter how big or a lot your package is.