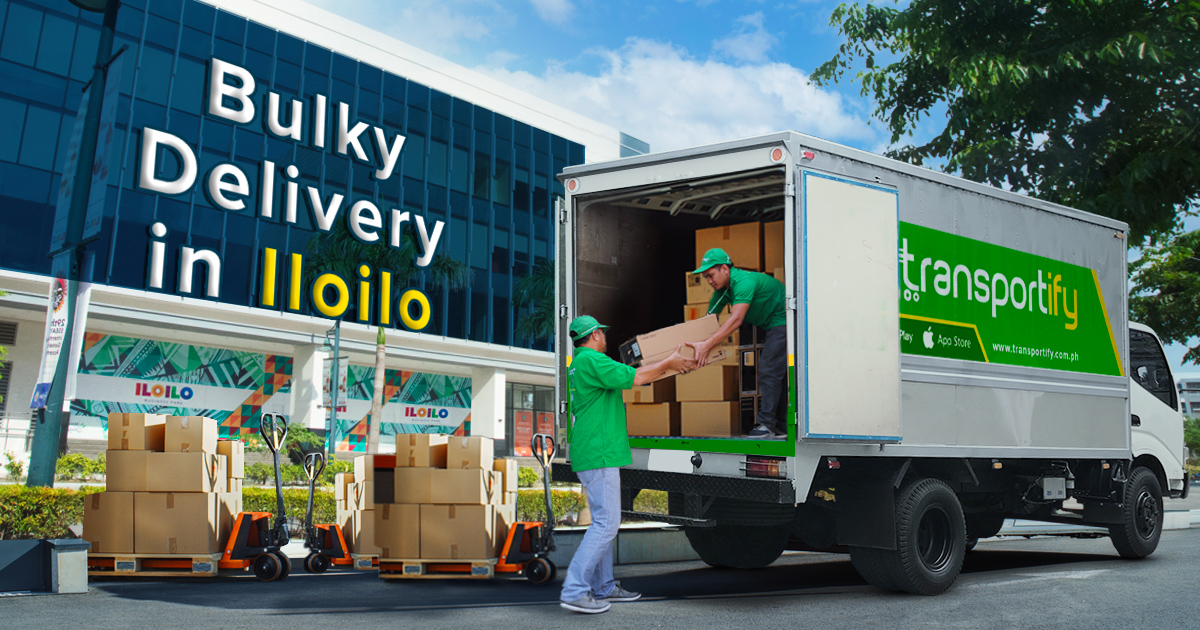 You may be wondering what to do to start the new year right and on a positive note in 2023 if you want to have a different experience this time. If you're residing in Iloilo or would like to be in an environment that is progressing, experts say that renovations, a new business or even moving into a new home would be a perfect opportunity to start anew. Such fresh ideas are good to do by yourself but recognizing that you need help like freight forwarding Iloilo for bulky cargo would be your first step to your fresh start. That is why Transportify is here to help you with any delivery that you'll need in Iloilo.
But before we start, we should first be knowledgeable to what extent freight forwarding Iloilo can be of help to our bulky cargo or even in our daily lives.
Why Do We Need Freight Services?
Freight forwarders are specialized companies that move products through the supply chain for importers and exporters. They enlist the services of shipping companies to transfer items from one producer to the next, as well as to the ultimate market or customer. In some cases, goods transportation involves long or complicated routes across land and sea.
Freight forwarding Iloilo companies for bulky cargo like Transportify provide a variety of services to assist importers and exporters in safely and efficiently transporting their goods across Iloilo or local borders. Transportify can advise on the best freight forwarding Iloilo for bulky cargo shipping routes and coordinate transportation details for road or RORO shipping to ensure that goods arrive on time.
The Demand for Freight Forwarding in Iloilo
Because Iloilo is recognized as one of the most competitive cities in 136 others included in the NCR competitiveness ranking project by the National Competitiveness Council in 2014, most of its urbanization and industrial development rely on freight forwarding services. As a result, a freight forwarder in Iloilo is someone who manages domestic trade shipments. They organize and execute the movement and storage of items during transit, working with importers and exporters to confirm that all customs clearance and other paperwork is correct.
You're in luck because the continuous demand in Iloilo for a dependable and cost-effective freight forwarding Iloilo for bulky cargo has finally paved the way for Transportify's expansion to any point on Visayas. Clients can now schedule a pick-up in Iloilo for other destinations throughout Panay. The Transportify base rates of available vehicles are listed in the table below.
Vehicle Type
Dimension &
Weight Capacity
Base Price


(Visayas/Mindanao)

Wing Van 

32 to 40 x 7.8 x 7.8 ft




12000kg to 15000kg

6500 PHP

6w Fwd Truck

18 x 6 x 7 ft




7000kg

4850 PHP

Closed Van

10 to 14 x 6 x 6 ft




2000kg to 4000kg

1450 PHP

L300/Van

8 x 4.5 x 4.5 ft




1000kg

310 PHP

Small Pickup

5 x 5 ft x open




1000kg

220 PHP

Light Van

5.5 x 3.8 x 3.8 ft




600kg

225 PHP

MPV/SUV

5 x 3.2 x 2.8 ft




200kg

140 PHP

Sedan

3.5 x 2 x 2.5 ft




200kg

120 PHP
To further help you achieve the best of your kick start with your optimized logistics process or new life in Iloilo, here are some helpful tips in choosing the freight forwarding Iloilo services for bulky cargo.
SEE ALSO
Tips in Choosing Your Freight Forwarder
As all services or products have standards of service, here are some tips in helping you choose the best out of your freight forwarding Iloilo service especially for bulky cargo.
1
Must Be Advantageous to Your Business
Whether it's for your business or for even helping friends in moving out, you must look for a freight forwarding Iloilo service that can help you achieve your goals. Using freight forwarding Iloilo companies like Transportify to transport goods to your consumer can be beneficial to your business and your life in a variety of ways.
Freight forwarding Iloilo uses their knowledge and expertise to ensure that your goods or bulky cargo arrive at their destination on time and save you money when compared to doing it yourself. As we all know that Iloilo is a more vibrant city in our country, growth in our business or personal life can help maintain that vibrance.
2
Wide Service Area
Having options for customers and being able to secure them is one notion that you want the best for your business or life. A freight forwarding Iloilo company like Transportify offers a wide variety of places for you to expand your reach throughout the Philippines, especially in the islands of Panay and Negros.
Transportify, with their latest offering of interisland service, is ready to provide an innovative solution. RORO ships would be used to cross the waters from Luzon to key cities in Visayas and Mindanao. As Iloilo is an expanding business hub in the Visayas region, being ready for the possibility that your goods can reach other cities is a guarantee that freight forwarding Iloilo for bulky cargo like Transportify can guarantee.
3
Adaptability in Technology
Iloilo is living in a fast-paced economy, which means technology may be involved in a lot of areas. Along with its expansion in the global working standards, ensure that your freight forwarding Iloilo service can adapt to our ever-changing world. Especially during this pandemic, most people and industries heavily rely on technological advancements. Good thing, that Transportify, with its freight forwarding Iloilo service for bulky cargo, provides helpful in-app features to make operations fail-safe. Transportify also has a logistics app that is available on all mobile phones, whether they are powered by Android or IOS. Users can download and book their freight forwarding Iloilo for bulky cargo through the app at any time and from any location on Iloilo as well as some provinces in Mindanao.
Transportify Freight Forwarding in Iloilo
Transportify is a reliable freight forwarding Iloilo for bulky cargo company that has adapted to modern demands through our expanded service area, app-based booking system, high quality of service, and wide and flexible fleet selection. We believe that these are the characteristics that freight logistics companies must possess in order to provide faster and more efficient distribution.
| | | |
| --- | --- | --- |
| | or | |
Frequently Asked Questions:
What is the most efficient way to transport bulky cargo?
🚛The most efficient way to transport bulky cargo is to find the right vehicle that it will fit into. If your cargo perfectly fits the vehicle, you won't have to worry that other cargo will be left behind, because they can be delivered altogether. Moreover, finding the right vehicle will save you money because the delivery can be done in one go, the vehicle doesn't have to come back just to pick up the remaining ones. Finding the right vehicle can be challenging especially if your cargo is heavy and bulky, but there are logistics companies like Transportify that specializes in delivering cargo up to 15000 kg in Visayas and Mindanao.
Why do businesses need freight forwarding services?
🚛 The movement of goods is considered a staple if you are running a business. At some point, you will need to transport cargo from one place to another. For example, from your warehouse to the customer or from the manufacturer to your warehouse. The possibilities are a lot, and it mainly involves movement.