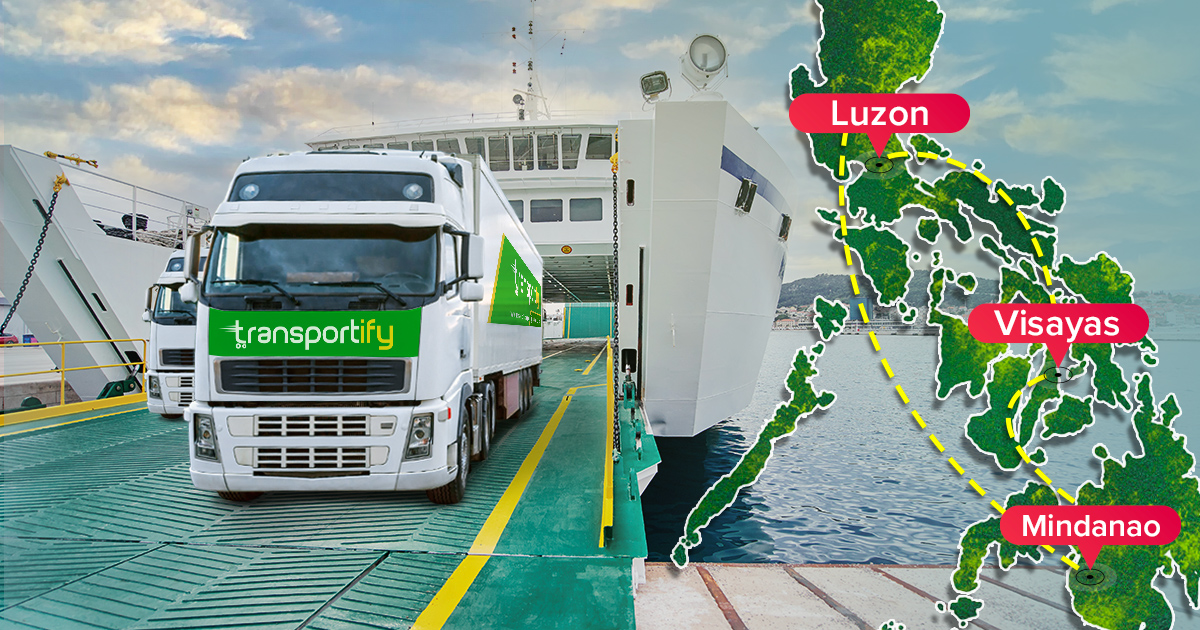 Transportify is your nationwide delivery service provider. The services are accessible to you anytime in Luzon, Visayas, and Mindanao. Given our archipelagic situation in the Philippines, some Filipino companies may find trucking and deliveries to be expensive and less accessible. Transportify wants to address this by being a logistics provider that makes trucking easier for its clients through its on-demand delivery model. Continue reading and learn how Transportify can support your deliveries wherever you are in Luzon, Visayas, and Mindanao.
What Are the Delivery Services of Transportify Across the Country?
Interisland Trucking Service
If you need to transport cargo from one island to another island in the Philippines, this is the service for you. Transportify's interisland trucking service makes use of RORO (roll on roll off) ships to carry full loaded trucks/light delivery vehicles which will dock in the destination island indicated by the customer. Individuals and business bookers of Transportify can book 48 hours in advance L300s, Closed Vans, 6w FWD Trucks, and 10w Wing Vans to do the delivery.
Interisland trucking service is available nationwide covering popular destinations like Cebu, Davao, Cagayan De Oro, General Santos, Iloilo, Bocolod, Dumagueste, Tacloban, Mindoro, and more.
Here are the rates of these popular routes from Manila and Cebu.
For more information about this service, click here.
Same-Day Delivery
Need to finish the delivery within the same day of pickup? Transportify offers this service for time-sensitive deliveries. Transportify's same-day delivery service covers a wider service area nationwide than other Philippines logistics companies.
Same-day pick up and delivery can be done in areas of Luzon island, Cebu, Davao, Cagayan De Oro, and General Santos. Soon, our customers and business clients can book this service to more service areas in Visayas and Mindanao.
For more information about this service, click here.
Send Load Service (Less-than-truckload)
Unlike interisland trucking service and same-day delivery where you are required to book the whole vehicle, our partial load service does not. The send load service is perfect for backloading or cargo too small to occupy the whole cargo space. The main difference of this service compared to the previous ones is that your cargo will be co-loaded with others, allowing you lesser spending specific only to your cargo. Partial load service is currently available in Luzon and Cebu only.
For more information about this service, click here.
Bulky Delivery Service
Aside from our nationwide delivery service and the ability to deliver within the same day, Transportify is also well-known for its bulky delivery services. The heaviest cargo we can transport is up to 25 tons, heavier compared to other logistics apps in the Philippines. For businesses who need on-demand cargo transport for bulky and odd-sized cargo, this service will best serve you. We wide selection of trucks you can choose from any time and anywhere in mainland Luzon, Cebu, Davao, Cagayan De Oro, and General Santos City.
It is important to know that our bulky delivery service can be booked either via full truckload or partial.
For more information about this service, click here.
SEE ALSO:
Transportify: Nationwide Delivery Service Provider for Businesses
Transportify is driven to provide end-to-end logistics solutions to businesses anywhere in the Philippines. Recognizing the challenges of logistics in our country, Transportify can be your bridge to adapt to changes and attain your operational goals. But how can we do that? Here's how:
1Vehicles and trucks at your fingertips
Convenience is what elevates the competition. The more convenience you provide, the more enhanced the customer experience will be. Through the on-demand logistics app of Transportify, you will be able to secure a vehicle within a shorter time than traditional logistics services that are not app-based. For example, do you need an L300 to deliver your supplies from Metro Cebu to Moalboal? A vehicle can arrive at your warehouse within an hour or less. Or do you need a closed van from Cebu to Manila? We can have your interisland trucking set within or less than 48 hours – all through your phone at your fingertips.
2Extract data at your expense
Do you need a whole report of your deliveries within the month or further? The Transportify on-demand logistics app can store these data up until your first ever booking. Monitoring and management will not be your problem because the app will be your buddy with that. Remember, having the right data will yield more precise decisions towards your short and long-term business goals.
3Customize your service to your need
Transportify is customizable to our individual and business clients. Customized services are more cost-efficient because you are only adding what you need. Such services can help you achieve optimal fulfillment operations, which is beneficial in the long run. Since you have full control over your booking, you can add and subtract extra services any time the need arises, thus making Transportify's nationwide delivery services adaptable.
4Wide service area across the country
The wider reach of Transportify makes it ideal for start-ups and expanding businesses nationwide. The ability of the services to pick up and deliver to many economic hubs in the Philippines proves that it can support you while you are working on growing the business. Transportify also offers its nationwide delivery service to various industries like construction, business process outsourcing (BPO), fast moving consumer goods (FMCG), manufacturing, relocation, lifestyle equipment, and goods, and more.
5Accommodating customer service
Transportify aims for your satisfaction and good customer experience with each booking you place. Your overall contentment with our nationwide delivery services is our goal every time. To ensure that you will have a smooth and professional experience, Transportify customer service is open to addressing your concern at any time of day, wherever your delivery may be.
Reach Us For More Information
Need more information about Transportify's nationwide services? You can visit our website or chat with our customer service anytime. For interested business users, you can reach out at business@transportify.com.ph.
Under the Corporate Account for Business, you can avail of exclusive services that can help your business to have more efficient delivery operations. These services include flexible payment arrangements, higher insurance coverage, and customized operations based on your requirements.
| | | |
| --- | --- | --- |
| | or | |
Frequently Asked Questions:
What are the popular routes of Transportify interisland?
🚢 Transportify delivers to the island of Visayas and Mindanao through the interisland trucking service. Some popular drop-off destinations are Cebu, Tacloban, Bacolod, Iloilo,Dumaguete,Davao, Cagayan De Oro, General Santos City. Since Transportify is a nationwide delivery service provider, you can also book an interisland from Cebu going to provinces of mainland Luzon like Batangas, Baguio,Tarlac, Pampanga, Quezon, Bicol, and others.
How can I avail the services of Transportify?
🚢 Transportify is an app-based logistics platform. Meaning, you can use the platform either via mobile or the web. Whichever delivery services you will need, you can directly book them on the app. Since Transportify operates every day, the app can accept your booking any time of day. You can put your time preference if you want it as soon as possible, scheduled, or full-day.