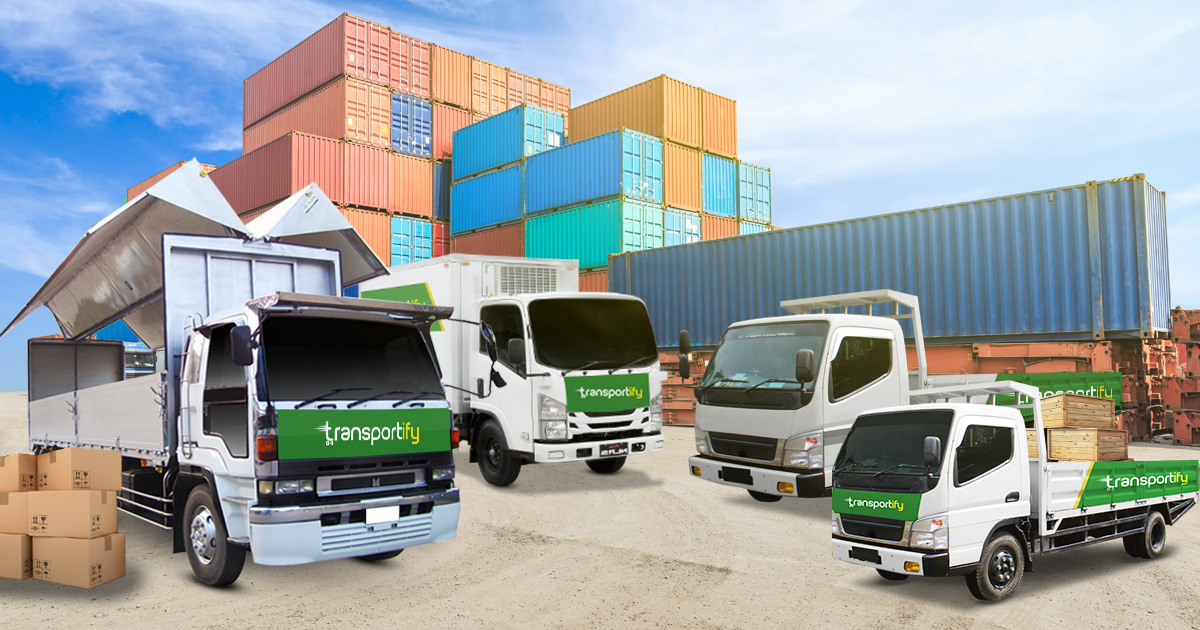 We price our services based on the size and type of vehicle. For the sake of a convenient transaction process, we recommend our clients to rent a car that is appropriate for their packages.
Picking the right vehicle
This will not only save you money but also the time in trying to find out how the package will fit in the vehicle. Remember that the Sedan model is sufficient for small and single items like flower delivery or 3 XL balikbayan boxes. In contrast, a piece of medium-sized furniture like a couch or equivalent to 19 XL balikbayan boxes can only fit inside an L300 van or larger. However, more substantial or larger appliances, which equates to 31 XL balikbayan boxes, call for a moving truck for rent.
For services, rates, and vehicle classes, refer to the table below:
Vehicle Type
Dimensions/
Weight Limits
Base Price


(Metro Manila)

Base Price


(Outside Metro Manila)

Base Price


(Visayas/Mindanao)

Wing Van 

32 to 40 x 7.8 x 7.8 ft




12000kg to 28000kg

7500 PHP

6500 PHP

6500 PHP

6w Fwd Truck

18 x 6 x 7 ft




7000kg

4850 PHP

4850 PHP

4850 PHP
Closed Van

10 to 14 x 6 x 6 ft




2000kg to 4000kg

1800 PHP

1450 PHP

1450 PHP

Open Truck

10 to 21 x 6 ft x open




2000kg and 7000kg

2300 PHP

1950 PHP

N/A

Mini Dump Truck

10 x 6 ft x open




2000kg

1500 PHP

1200 PHP

N/A

L300/Van

8 x 4.5 x 4.5 ft




1000kg

430 PHP

330 PHP

310 PHP

Small Pickup

5 x 5 ft x open




1000kg

310 PHP

250 PHP

220 PHP

Light Van

5.5 x 3.8 x 3.8 ft




600kg

250 PHP

192 PHP

225 PHP

MPV/SUV

5 x 3.2 x 2.8 ft




200kg

160 PHP

130 PHP

140 PHP

Sedan

3.5 x 2 x 2.5 ft




200kg

140 PHP

110 PHP

120 PHP
Driver Uniform
Our delivery driver-partners are required to wear a specific set of Transportify uniform not for cosmetic or fashion purposes, but for our drivers to look presentable. Also, having a uniform makes it easy for our clients to distinguish legit Transportify drivers. And that makes Transportify as one of the best truck freight services company here in the Philippines.
Our customers must know that Transportify drivers are required to wear at all times a Transportify collared shirt or any plain collared shirt, a Transportify cap, and his/her official Transportify ID with picture. Our drivers are also instructed to wear pants and closed shoes.
No hidden charges
As much as possible, we keep our clients aware of all the reasonable costs. We do not order our driver-partners, shadow fleet members, or any employee to conduct solicitations on behalf of our company. Remember that the only amount you have to pay is the amount written on the transaction bill provided by the Transportify app. Today, Transportify is one of the most well-known Philippine logistics company that provides a user-friendly and responsive mobile app to customers.
Waiting time
We advise our clients to have their packages ready for pick up before the Transportify vehicle arrived, and to avoid coming late at the meet-up place. As we are an on-demand app for distribution and freight services, we value our driver's time as much as we value our clients' time. Waiting too long for one client will affect our service with other clients.
Extra helper
We give our clients the option of asking for a helper to accompany and help the delivery with the packages. However, keep in mind that the extra helper service feature has additional charges that vary depending on your choice of vehicle.
Lack of security
Most pick up and deliver freight services offer insurance options in case something happened to the packages. However, Transportify only provides an insurance option to customers under the business program. The maximum damage warranty that Transportify offers is a very reasonable amount and is the same amount as the maximum stolen and missing warranty that it covers. When it comes to insurance, Transportify Philippine logistics company is well-known for being fair and just to its customers.
Full-day booking
Want our services for a whole day? Clients can book a Transportify vehicle and driver-partner for ten straight hours. We advise our clients who would like to avail of this service to please efficiently utilize the given 10 hours. As such, an overtime fee will apply to those services that will exceed the given time.
When to Use Philippine Logistics and Freight Services?
Now that you have a primary customer's guide on how to make your future freight services transactions let's jump on the next essential topic: when to use Philippine logistics services for freight shipping?
There are tons of scenarios where many businesses and individuals choose to benefit from partnering with capable and professional freight services forwarder.
1

Your Business is Scaling Up

Companies and individuals who require a lot of access to different modes of transportation are the main prospects to begin choosing freight services.

To be more precise, these are organizations whose primary responsibility is to use end-to-end shipping needs or even domestic shipping. They need the use of rail, ground, air, and water passage that can successfully navigate and deliver cargos and heavy packages more straightforwardly and cost-effectively, rather than choosing to have their transportation management.

A professional Philippine logistics company like Transportify can handle your transportation needs, which makes booking and managing billings easier. So all you need to do is to focus more on your business scaling.
2

Your Business is About Importing

Getting supplies from foreign markets is a challenging task for any business out there. Getting those products on time, however, is a different story.

An expert freight forwarder company like Transportify can manage the complete gamut of shipping and trade operations. They are knowledgeable when it comes to Philippine logistics and customs regulations, paperwork, licensing, port controls, and inventory inspections, which are the essential undertakings that can take years of experience to navigate correctly.
3

You Need Help in Increasing Your ROIs (Return of Investment)

Expertise and specialization can save your business capital and investment. In today's era, where there are tons of competitive manufacturing marketplace, shipping discounts alone is a big game-changer for every commercial goods manufacturer.

What's more, expert and professional freight forwarders can give additional and necessary services like cargo consolidation consulting and payment management by using their advanced on-demand app.

When these freight services and Philippine logistics companies offer you their services, your business can focus more on increasing your production without hurting the quality or the integrity of your products.

As a result of this, many businesses and individuals can see drastic changes in per-unit fixed costs of production while expanding your market reach.
4

You are Seeking for an Expert's Help

Philippine logistics and freight services like Transportify can manage both primary and secondary services linked with the domestic shipping industry. Starting from one vendor, your business has a freight partner who can give you useful guidance and administration into end-to-end cargo when it comes to extended and short-distance operations.

It includes the following:
Insurance
Inspections
Documentation
Bills management
Guaranteed date of delivery
Standard packing
Itemization… and more
A responsible and capable freight services company's through shipping specialization can also give you a strengthened risk assessment and management. If a cargo shipping company has this kind of specialization, a business can save and lessen the case of stolen cargo and deliveries in the future. Because of this specialization, businesses and individuals who sent their goods or products to the intended receivers can protect their cargos as well as their reputation to their clients
Choosing the best Philippine logistics company will play a vital role in your business reputation and customer relationship. Applying the information that you have read in today's topic will help you to have a successful transaction to any delivery logistics and freight services companies here in the Philippines.
Always remember, an ethical and responsible Philippine logistics company should not ruin your business; instead, it will help to increase your ROIs, build good customer relationships with your future and current clients.
Frequently Asked Questions:
What is the best provider of freight services in the Philippines?
?Depending on the client's requirements, there are many established freight service providers in the Philippines. They give different services such as same-day delivery, affordable courier, and delivery services to ease the hassle of handling a business distribution network. If you or your company is looking for the most affordable freight services with the best quality, you may try Transportify. They have a large fleet of sedans, L300s, Small Pickup, Closed Van, Open Truck, and Wing Van, and a wide service area covering Luzon, Visayas, and Mindanao.
What are technological advancements present today in the Philippine Logistics industry?
?Most companies nowadays are shifting their focus on improving their services by using modern technology. They have been experimenting with new and improved technologies to meet the requirements of their clients. There are new players in the industry which offer unique logistics solutions. For example, an on-demand logistics service has been introduced to the logistics market like Transportify. These companies are servicing same-day delivery, courier, and delivery services by using an app. The cost of using these services is 40% cheaper than most logistics providers.