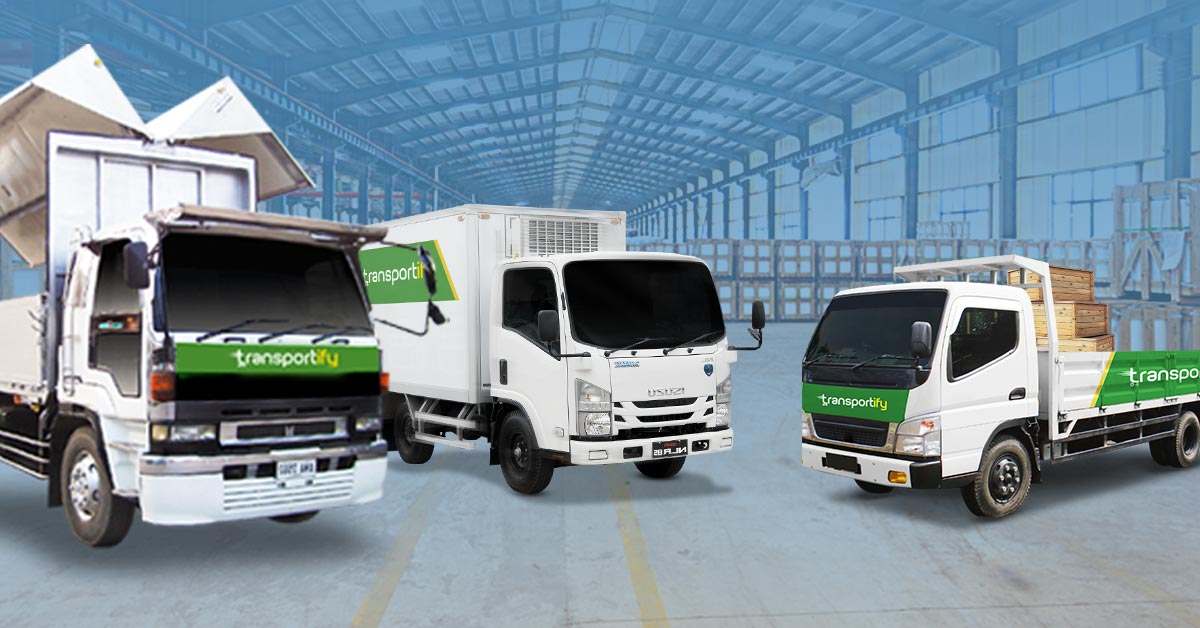 "Madali lang talaga dito sa Transportify, plug and play lang ako nag-start ng trucking business ko. Sinali lang ako ng kaibigan ko, nakapasok agad ako at naturuan tungkol sa tamang pag-dedeliver. Madali lang ang proseso!" – Romel Baluyut, Transporter since 2017
Starting a trucking business in the Philippines has never been easier. There are so many great deals on trucks and financing, and, best of all, finding delivery bookings is much easier than ever with Transportify, the country's top on-demand logistics trucking platform that connects truckers with businesses that need trucking services. Nowadays, most businesses, large and small, now get trucking services to fulfill their delivery needs. Whether you have a small delivery van such as an L300 or a larger truck or even a fleet of trucks, Transportify's platform is the easiest way on how to start trucking business and to enter the booming logistics industry in the country.
The table below shows how much truck owners or fleet operators can expect to make from their trucks per month:
Vehicle Type
Monthly Income for Full-Time
Vehicle Type
Monthly Income for Full-Time

Delivery Van (ie. Mitsubishi L300FB)

Range is ₱80,000 to ₱135,000
Average is ₱105,000

- The amounts above are gross booking value. Please deduct approximately 19% for commissions.


Closed Van Light Truck (ie. Isuzu Elf 4wheeler, 6wheeler)

Range is ₱90,000 to ₱250,000
Average is ₱145,000

- The amounts above are gross booking value. Please deduct approximately 20% for commissions

- The large variation in  range of earnings for the Closed Van Light Truck. This is because some drivers and fleet owners operate very efficiently while others operate very inefficiently.
For more accurate estimations, you can also calculate your driver earnings income with Transportify's earning estimator.
How To Start A Trucking Business In Philippines?
Acquire or Borrow A Delivery Van or Truck
The first thing you need to know on how to start trucking business in Philippines is where you acquire your truck or a delivery van. If you are lucky, you might be able to borrow a vehicle from your family, relatives, or friends. It is a need to acquire a vehicle to enter the logistics industry. Transportify suggests starting with the most versatile and affordable vehicle type, the delivery van. The most common and recognizable delivery van in the Philippines is the Mitsubishi L300 with an FB body.
You can use this vehicle for both personal and business purposes. It is called "FB," which means Family Business. Also, parking is less complicated when you own a delivery van than a larger truck. You can easily catch sight of parking spaces on every street or a vacant lot.
The logistics industry is always the first to do well when a country's economy is booming. And the Philippines is booming at 6% GDP growth per year. This means that vehicle dealers are happy to give great deals to buyers. Most importantly, banks and other financing companies are eager to lend to people interested in how to start trucking business in the logistics industry. Low down payments and monthly payments for delivery vehicles make it easy to acquire your vehicle and start your journey in the logistics industry.
Get The Necessary Permits and Franchises
Good papers are always the recommended way to go. Here are the steps to acquire your needed requirements:
First, set up your necessary business registrations
Business registration with DTI or SEC registration, depending on whether you are a sole proprietor or a corporation. Remember to make your business purpose related to delivery and how to start trucking business.
Taxpayer registration with BIR to obtain your businesses Tax ID.
Business Permit, you need to procure this permit from your local government. In Metro Manila, this is the city government.
Next is applying for a Truck-for-Hire Franchise; you will need to get a franchise with the government regulator.
Don't let all these permits and documents intimidate you. They take a bit of diligence, and Transportify has a team to help guide you through all the process in acquiring these documents and requirements you need to start your trucking business. It just takes perseverance to succeed in the logistics industry, and Transportify will support you on how to start trucking business successfully.
Enroll Your Van or Truck and A Driver in Transportify
This is the easy part of how to start trucking business. If you intend to be the driver of your vehicle and want to have your trucking business started in an instant, proceed to one of Transportify's contact offices to attend the driver training seminar and onboard or register your vehicle. If you intend to have someone else drive your delivery vehicle, he must come to Transportify's office to attend the seminar and be trained and be ready to take part in the logistics industry.
Before visiting the office, make sure to bring the complete requirements to training:
Documents: Driver's license (professional or non-professional), OR/CR or Sales Invoice.
Pictures of your vehicle (all sides: front, rear, and back view).
Photos of your vehicle's plate number or conduction sticker.
An Android Smartphone – it is suggested to have an Android operating system with a version of 5.0 and up since Transportify's app works only on Android phones.
500 Philippine Pesos – 150PHP is for your Gcash kit, and 350PHP is for your initial top-up deposit in Transportify's app.
During training, you will learn how to use Transportify's driver app. The training coordinators will introduce you to how to contact and work with Transportify's customer service team. More importantly, your training will focus on what and how to do a proper delivery on Transportify's platform, and also how to use the payment system with Globe Gcash. Generally, you will be educated about everything essential in how to start trucking business in the logistics industry.
The entire onboarding process will only take 2-3 hours, depending on how many applicants are being processed when you arrive. When you finish onboarding, you will be given your Transportify ID, Cap, and Gcash card. Once everything is set, you can now start your trucking business the same day you applied!
Turn On Your App, Accept Bookings, and Deliver
Now that you have an active driver account, you're ready on how to start trucking business. Turn on your Transportify driver app and see all the bookings on the platform. You can accept as many bookings as you like and work when you want. Transportify allows you to be your own boss in the logistics industry. With the more bookings you accept and complete, the more money you earn. You will receive payments in cash or within one week from Transportify.
If you are the type of person who thinks big and wants to be big in the logistics industry, then you might want to consider starting a fleet of multiple delivery vehicles and hiring drivers. Transportify has a Fleet Partner system that allows owners to accept bookings for their fleet and assign those bookings to the drivers. Again, how to start trucking business has never been easier.
| | | |
| --- | --- | --- |
| | or | |
Frequently Asked Questions:
What are the challenges of operating a trucking business?
🚚 Just like running any business, you will be faced with various challenges. Operating a trucking business is no easy task. Apart from investing a substantial capital, you will also be faced with a lot of bureaucracy, red tape, and probably more administrative work that you can handle. It's best to be prepared and make sure that you have enough people to help you get through these birthing pains. But it does get easier when you have a partner like Transportify. There are thousands of individual owner-operators and fleet operators that have already made Transportify's platform their primary source of income.
What is the hardest thing about starting a business related to the logistics industry?
🚚 Business in the logistics industry is typically a B2B (business-to-business) operation. The sales and admin process is very challenging. Finding clients, drafting contracts, and collecting payments are just headaches. Most people that get into the trucking industry just want to deliver. Fortunately, Transportify's platform already has thousands of clients waiting for you, and the payment systems are already integrated with the app.