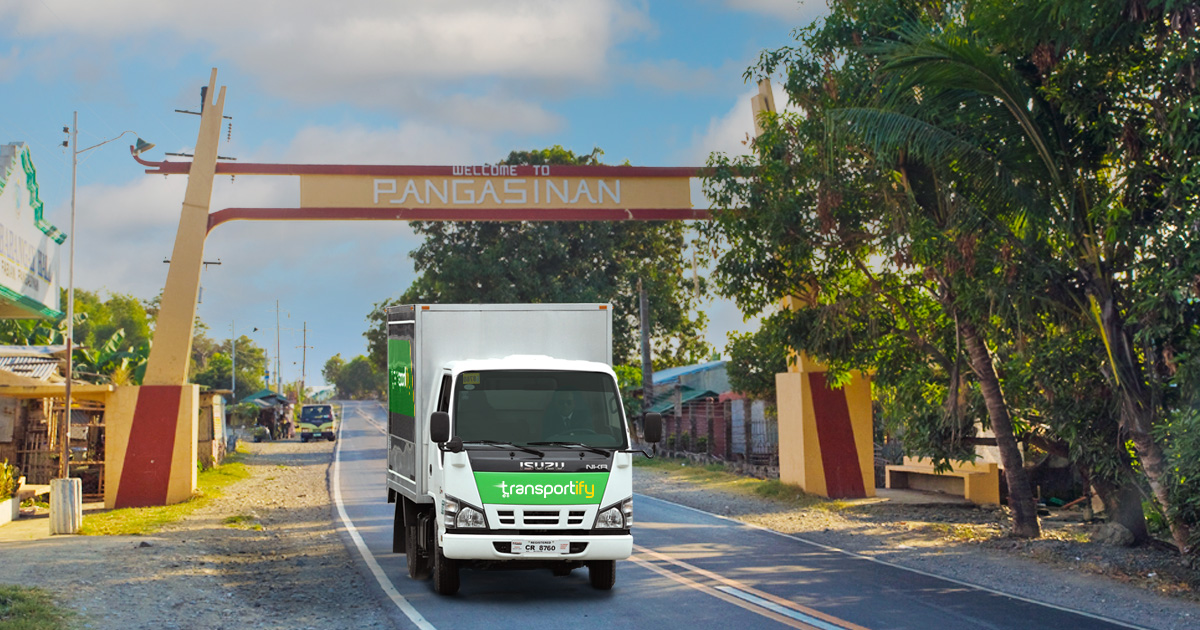 Transportify is one of the most well-known long distance budget delivery truck rental and delivery service provider. Our trucking service from Manila to Pangasinan includes all routes between Metro Manila and even covering up to parts of Rizal and Cavite and delivering to anywhere in major cities in Pangasinan like Dagupan.
The above price is all inclusive of tolls, parking, driver and vehicle rental along with CS support for 24 hours everyday. For any questions, don't hesitate to chat with us now:
Looking for cheap moving trucks from Manila to Pangasinan? You can send your package as quickly as today or schedule your booking up to two weeks in advance through Transportify. We only give the best trucking service from Manila to Pangasinan for all types of goods delivery and product distribution. You may also use our vehicles to send event collaterals and even medical equipment. As one of the Philippines' biggest service providers of pick up and delivery from Manila to Pangasinan, we can assure that you get same day budget truck rental from Manila to Pangasinan. See below for further information:
Vehicle Type
Cargo Dimension
Capacity
Manila to Pangasinan (Base Price + per KM)
Vehicle Type
Cargo Dimension
Capacity
Manila to Pangasinan (Base Price + per KM)

Economy (Sedan/Hatchback)

L: 3.5 ft
W: 2 ft
H: 2.5 ft

200 kg

₱4,005.00

Economy Extra Space (SUV/MPV)

L: 5 ft
W: 3.2 ft
H: 2.8 ft

300 kg

₱4,045.00

L300/Van

L: 7 ft
W: 4 ft
H: 4 ft

1000 kg

₱4,725.00

Pickup Truck

L: 10 ft
W: 6 ft
H: Open

2000 kg

₱9,375.00

Pickup Truck Extra Space

L: 14 ft
W: 6 ft
H: Open

2000 kg

₱9,775.00

Closed Van (4W)

L: 10 ft
W: 6 ft
H: 6 ft

2000 kg

₱8,915.00

Closed Van Extra Space (6W)

L: 14 ft
W: 6 ft
H: 6 ft

2000 kg

₱9,215.00

Long Pickup Truck

L: 18 ft
W: 6 ft
H: Open
7000 kg

₱18,430.00

10-W Wing Van

L: 32 ft
W: 7.8 ft
H: 7.8 ft

15000 kg

₱20,390.00

Reefer Truck
L: 14 ft
W: 6 ft
H: 6 ft

2000 kg

₱12,400.00

Mini Dump Truck
L: 10 ft
W: 6 ft
H: Open

3000 kg

₱9,260.00

6w Fwd Truck

L: 18 ft
W: 6 ft
H: 7 ft
7000 kg

₱14,500.00
SEE ALSO:
What Are the Advantages of Utilizing Delivery Truck Rental From Manila to Pangasinan?
Hail to the flexible delivery truck rental windows and affordable rates of Transportify, today's delivery has now become an essential service for many individuals and businesses.
Different kinds of deliveries, such as goods, equipment, food supplies, and order distribution, has become the norm in today's business working environment. And with the help of technology and modern strategies, it has become more efficient and accessible compared to before.
For many businesses and individuals who needs cargo delivery and freight forwarding service in Manila to Pangasinan and Pampanga to Pangasinan, this kind of concept only represents an excellent opportunity to create successful business operations and infrastructure depending on the efficiency and growth of the business.
If you're new in the world of business and deliveries, and you are not fully aware of the benefits you can get from a delivery truck rental services, Transportify will shed some light on how this kind of service will be beneficial for your company.
1High Fulfillment Growth
When it comes to an unpredictable load of orders, many businesses are faced with tons of challenges. They can quickly lose out over time due to the incapacity to fully-utilize the company's available resources.
For many of these businesses, there are called peak seasons like holidays where you can experience a surge in orders, which means that there will be a higher risk of not fulfilling the orders on time. To enhance your capability to face this aspect and to keep your clients satisfied and happy, businesses might need to establish an alternative solution.
However, there will be challenges in this kind of scenario; the expenses linked with investing in hiring and managing new employees and vehicles can add up during the peak season. So, an excellent way to face this issue without being defeated by the odds is to use a crowdsourced solution, which is utilizing a third party delivery truck rental provider like Transportify.
Like what was mentioned earlier, this aspect can only be solved if you're going to tie-up with a reliable 3pl company, like Transportify, which can provide all of your order fulfillment. Here in Transportify, we use a gig economy as an essential part of our business model to have a successful operation in a flexible and open environment.
By choosing Transportify as your delivery partner from Manila to Pangasinan and Pampanga to Pangasinan, your business will have the appropriate ability to meet your customer's fulfillment rate and provide excellent customer service to their clients.
2Crowdsourcing: Flexibility and Convenience
Transportify enables businesses and individuals to acquire the benefits of a crowdsourced delivery network. Meaning, you don't need to invest in an in-house delivery van, drivers, or logistics strategies. With more than thousands of freelance drivers and employed drivers that you quickly tap daily to fulfill your product deliveries, you can quickly establish a smooth and flawless delivery ecosystem.
Besides, your primary goal is to give a seamless, professional, and efficient experience from the point of your customer's purchase down to the delivery.
3Excellent Customer Support Experience
Transportify knows the trials of running a business from start to finish, but we are also aware that establishing a bandwidth to handle customer support is a different issue. Aside from the delivery truck rental services, a 3PL company can provide, businesses may be able to develop an outstanding customer team with the help of Transportify. Hence, it can help to take another efficient deed on daily business operations.
With the help of Transportify, providing you a perfect and flawless delivery truck rental service from Manila to Pangasinan and Pampanga to Pangasinan, you can create a successful plan for your deliveries by utilizing another touchpoint. It is an excellent customer support team that can help you establish a good customer experience for your company.
Generally, this can save you a significant amount of money because you don't need to invest in hiring, training, and purchasing office equipment to create a successful customer service team. Here in Transportify, once you choose us as your delivery partner, you can automatically acquire our excellent customer service in place of your selected services from us. This way, you ensure that all of the concerns and issues about your product deliveries will be answered professionally and accordingly.
4Reliable Solution for Direct, Short and Long Routes
Generally, a truck can cause more pollution compared to other types of delivery truck rental, only if the vehicle is not well-maintained. But here in Transportify, we can assure you that all of our delivery truck rental is well-maintained and regulated.
Besides, truck transportation is being considered as the most appropriate kind of solution that is suitable for both direct, short, and long distances. The loading and unloading of cargos can be quickly undertaken compared to a railway and maritime transportation. Especially here in Manila to Pangasinan and Pampanga to Pangasinan, where marine transfers can cost you big time, a delivery truck rental is a brainer choice for every business.
Truck deliveries minimize the handling time and help your products and goods to reach their destination as possible as they can. Since truck deliveries are often effective, it remains as the sole direct solution for goods deliveries and cargo, and also being considered as one of the fastest solutions in the Philippine logistics industry.
To make it simple, freights are being moved directly from location A to Location B without the needs of any change in transportation methods, compared to other delivery methods.
In addition to that, many vehicles can quickly drive on all types of roads, regardless of the current weather situation and season. In the Philippines, during the rainy seasons, truck delivery rental is a good option compared to other types of delivery methods.
Moreover, this kind of transportation is usually more reliable when it comes to unforeseen delays. Hence, road vehicles such as trucks, closed vans, economy cars have more facilities to offer. This enables them to catch up with the customer's desired time and location schedule that was states in the shipping contract.
A truck delivery rental, especially here in Manila to Pangasinan and Pampanga to Pangasinan, is the most widely used mode of cargo transport in the Philippines. Though maritime and railway delivery options could be a useful solution too, especially for large and bulk freight volumes, everyone in the logistics industry agrees that truck deliveries will remain the most dominant mode of freight transportation for many years to come.
Download the Transportify app now by scanning the QR code below or simply clicking on the button.
| | | |
| --- | --- | --- |
| | or | |
Frequently Asked Questions:
Does Transportify accept bookings in Pangasinan?
🚚 Transportify's service area for pickups is available anywhere in Luzon. For areas in Pangasinan, you may use the Transportify mobile and web app to be able to arrange a booking with any of our available vehicles. Our fleet is  ready to serve the business needs of Pangasinan residents and businesses. 
What delivery services are available to deliver from Manila to Pangasinan?
🚚 There are different services available for delivery to Pangasinan. But the one you will choose depends on the item you will deliver. For parcels, documents, and small packages, it is cost efficient to have it rely on LBC, 2Go, or JRS Express. For larger vehicles needed such as sedans, you can choose Lalamove and Transportify. But Transportify also offers bigger delivery trucks rentals also for pick up trucks and 10-wheeler wing vans.