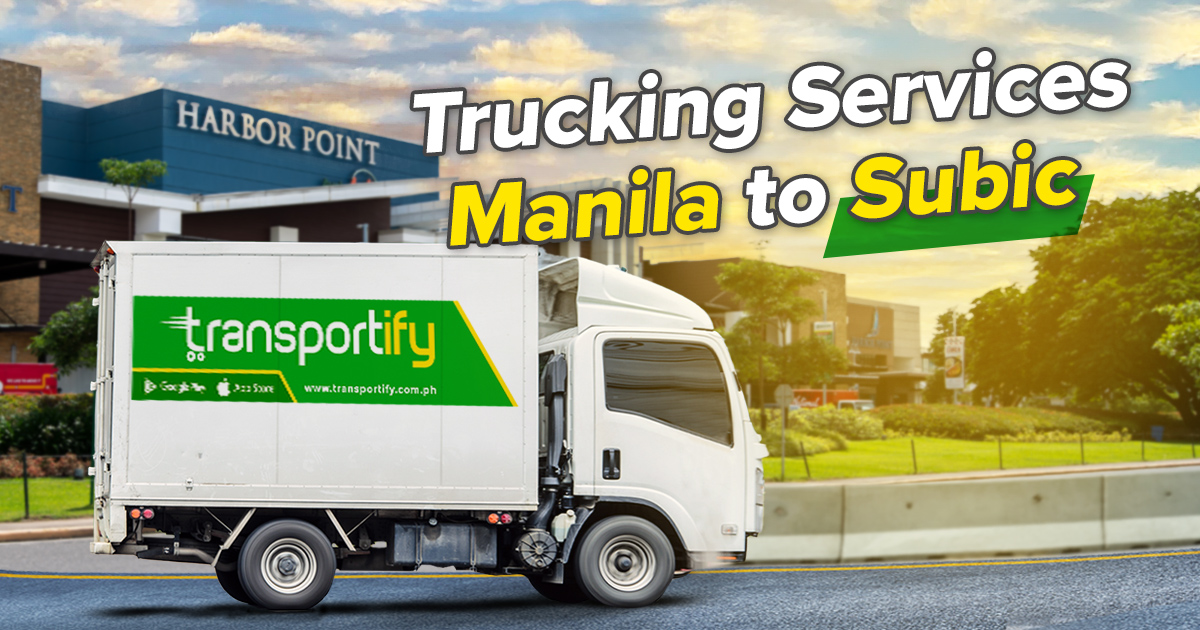 Point to point delivery prices provided above are based on L300 and closed van vehicle classes of Transportify. Sending consumer packaged goods at the cheapest delivery service prices is a lot easier and faster when you do it with our app. Aside from providing efficient cargo delivery from Manila to Subic, you can also get our service for lipat bahay. Choose between L300 or a closed van, depending on the sizes of the items that you will load. If you need a bigger vehicle, select Closed Van Extra Space, or the six-wheeler closed van to fit more appliances and furniture. Book with us now to experience quality moving at the cheapest trucking services for rent in the Philippines.
Deliveries Going to Subic
Manila to Subic and Pampanga to Subic delivery service includes all the fees for the driver, vehicle use, gas, and fuel. In addition, our CS is available 24/7 to answer your inquiries. Contact us anytime if you need help!
Transportify offers the best Manila to Subic delivery service. Our pick-up service area covers all of Mega Manila and the province of Pampanga with all-in price as below:
Vehicle Type
Dimensions/
Weight Limits
Base Price


(Metro Manila)

Base Price


(Outside Metro Manila)

Base Price


(Visayas/Mindanao)

Wing Van 

32 to 40 x 7.8 x 7.8 ft




12000kg to 28000kg

7500 PHP

6500 PHP

6500 PHP

6w Fwd Truck

18 x 6 x 7 ft




7000kg

4850 PHP

4850 PHP

4850 PHP

Closed Van

10 to 14 x 6 x 6 ft




2000kg to 4000kg

1800 PHP

1450 PHP

1450 PHP

Open Truck

10 to 21 x 6 ft x open




2000kg and 7000kg

2300 PHP

1950 PHP

N/A

L300/Van

8 x 4.5 x 4.5 ft




1000kg

430 PHP

330 PHP

310 PHP

Small Pickup

5 x 5 ft x open




1000kg

310 PHP

250 PHP

220 PHP

Light Van

5.5 x 3.8 x 3.8 ft




600kg

250 PHP

192 PHP

225 PHP

MPV/SUV

5 x 3.2 x 2.8 ft




200kg

160 PHP

130 PHP

140 PHP

Sedan

3.5 x 2 x 2.5 ft




200kg

140 PHP

110 PHP

120 PHP
Guide to Find the Best Trucking Services for Rent from Manila to Subic.
Whether you're a business start-up, new to the world of the shipping business, or perhaps you are looking to switch your trucking services for rent, it is vital to know what qualities you are looking for a logistics company.
Finding a logistics company that can provide trucking services for rent and shipping needs that will fit your business requirements will help to make your business more effective and efficient. However, not finding the appropriate shipping company can hugely damage your business operations, reputation, and can hurt the relationship between you and the customers.
Though, that is not the only chance a business should need to take. So, whether you have experienced or you are new in this kind of business, you want a logistics company like Transportify, which can be beneficial to your business. It only means that you will have to make a comparison before deciding on which shipping company to choose from.
Takeaways in Choosing the Best Trucking Services
When choosing for a trucking and transportation company, the same with shipping, a lot of small to medium-sized businesses from Manila to Subic and Pampanga to Subic will look for the quotation or better shipping deals. A quote for the services is an excellent way to make a comparison. However, it is also essential to take a look at the price you are getting for.
That means not all the cheapest trucking services for rent can guarantee you outstanding services. Some of these companies will trick you into signing you up. Luckily, here in Transportify, you can make sure that the services we provide are only the best, and we focus on the customer's satisfaction. So you can guarantee that you will only receive the services you deserve to have. And that is the most important – you get what you paid for.
Figuring out how many years a shipping company does its business is an excellent place to begin with. Many new companies are still on the verge of trying to identify how to deliver goods and supplies as fast as possible without breaking or damaging the packages. On the other hand, well-established shipping companies like Transportify have already set the bar so high when it comes to shipping and transportation services. It is not just our ability to service outside the Metro like Manila to Subic but also the trust we gain from all our customers.
These well-established companies already embraced the changes in the shipping industry. They make use of the technology to provide outstanding services to their customers. Like Transportify, we use our on-demand delivery app to provide convenience to our customers.
Download the mobile application through your mobile phones, open the app, and book your cargo shipping, trucking services for rent, and transportation needs. Delivering your goods from Manila to Subic is now easy. The good thing is, you can book anytime and anywhere you want! So, it is very convenient, especially for last-minute delivery services.
In addition to that, established companies have reliable training programs for their employees to promote and deliver efficiency and safety. Moreover, trained employees are thoroughly informed on how to safeguard packages and get them to their destination on time, and that is a critical factor for your business.
Tips for Finding an Excellent Trucking Services Company Partner
Aside from the details that were explained above, it would help if you also came up with a detailed list of some things to expect from trucking services for rent providers. Below are some general qualities that are vital for a shipping company.
1Location
The first thing to note is the location of the logistics trucking company in the Philippines. You should know where the company is located in relation to where your products will be delivered. The further away from the company from your town, the more you will have a concern regarding the on-time deliveries. Moreover, extended distances also affect the flexibility you can give your customers..
So if you prefer a shipping company outside of your town, you have to make sure that they have a strong history of dependable deliveries.
Luckily, here in Transportify, you don't need to worry about the location. Our main offices might be far from your local area, but with the help of our on-demand delivery app, you can book trucks and vehicles near your city. Not only that, our partner drivers are well-oriented and well-experienced when it comes to shipping and deliveries, so you can ensure that you will provide the services that your customers are expecting.
That's why if you're going to transport your products from Manila to Subic or Pampanga to Subic, you will not have any problems regarding that. Here in Transportify, we can ensure excellent trucking services for rent that you deserve.
2Cost
This is the most common factor to be considered when looking for a shipping company. However, it shouldn't be the one that will guarantee your decision. Some shipping companies can give you low prices and deals, but you can't be sure about their services.
Other shipping companies can price aggressively since they have a good reputation in the logistics industry and can really do a lot for your business. So to sum it up, costs are essential, but you should need to take the price together with other factors.
3Services
Services go hand in hand together with the cost. What exactly are you getting paid for? What type of services is the shipping company can provide for your business? What services do you need right now? Can trucking services for rent save you a lot?
Remember, not all shipping companies can offer you every service. For instance, others may offer some storage services, while others can't. It is essential to understand what the company will provide so you can get the most value for the money you're going to spend. And your customers knowing you are capable of delivering outside the city like Manila to Subic, it can bring your business to the spotlight. Providing a variety of services is always a plus.
4Business Needs
This is the most crucial factor when looking for a shipping company partner; you need to consider your business needs. Your choice of trucking services for rent will be relevant to your industry and what you're expecting them to give to you.
For instance, you should need to make additional instructions if your products need some special accommodation such as food or cosmetics. Consider how much storage space it will consume inside the vehicle. You might need help from supplying all your orders from Manila to Subic using our high volume capacity trucking services for rent in the market. Having this in mind will help you to lessen down your search and make looking for a trucking company easier.
| | | |
| --- | --- | --- |
| | or | |
Frequently Asked Questions:
How much does it cost for the Transportify trucking service from Manila to Subic?
🚚 Deliveries done outside Manila will surely cost a lot. There are factors to consider when travelling outside the city. This includes the toll fee, not to mention the time and gas wasted if ever the trip coincides with the rush hour. Transportify considers all these factors. The company has a variety of vehicles to choose from. For deliveries from Manila to Subic/Olongapo there is an estimated price of ₱4,000 for the L300 and ₱7,200 for the Closed Van.
What are good choices for truck services for rent?
🚚 Traditionally, Filipinos get their trucking services from colleagues or job postings they see in advertisements. However, for the last 5 years it has become more accessible for every individual to hire their own trucking service. Transportify and Lalamove entered the Philippine logistics industry with a fresh introduction of booking trucks with an app. If you are an individual running a business with limited resources, its an ideal choice to partner with a third party logistics. And having an experienced logistics provider can be a relief for businesses who are just starting out. Consider this companies for your trucking needs as either companies has different strengths you can utilize.