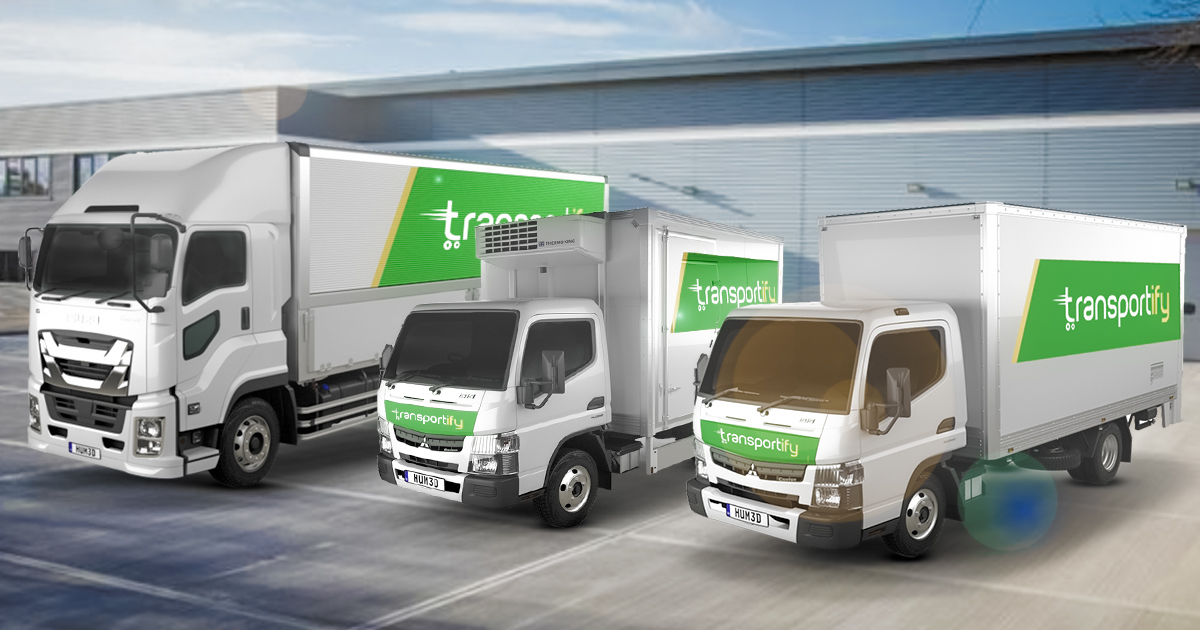 In a country where small-to-medium entrepreneurs grow in number, and individuals have fast-paced lives, the need for on-demand delivery services continue to rise. An efficient logistics trucking company that is always available almost anywhere and anytime is no longer a luxury but a necessity. This is where Transportify, the best trucking company Philippines, comes in.
What Are the Features of a Trucking and Logistics Company in the Philippines?
Trucking and logistics companies are known to move heavy cargo across far distances which makes them very important for SMEs (small and medium enterprises) as well as large corporations. The list below are some common features of a trucking and logistics company.
High delivery acceptance rate
With several of our delivery driver-partners that has a rating of 5-star and trucks distributed around Metro Manila and nearby provinces, it's easy for clients' requests to get accepted. Our app for fast courier service can match you with a driver in about a minute and will provide you immediately with the driver's contact details and ETA to pick up location. Your delivery request can't get rejected. Check out the full fleet options and rates listed below:
Vehicle Type
Dimensions/
Weight Limits
Base Price
(Metro Manila)
Base Price
(Outside Metro Manila)
Base Price
(Visayas/Mindanao)
Wing Van 
32 to 40 x 7.8 x 7.8 ft
12000kg to 28000kg
7500 PHP
6500 PHP
6500 PHP
6w Fwd Truck
18 x 6 x 7 ft
7000kg
4850 PHP
4850 PHP
4850 PHP
Closed Van
10 to 14 x 6 x 6 ft
2000kg to 4000kg
1800 PHP
1450 PHP
1450 PHP
Open Truck
10 to 21 x 6 ft x open
2000kg and 7000kg
2300 PHP
1950 PHP
N/A
Mini Dump Truck
10 x 6 ft x open
2000kg
1500 PHP
1200 PHP
N/A
L300/Van
8 x 4.5 x 4.5 ft
1000kg
430 PHP
330 PHP
310 PHP
Small Pickup
5 x 5 ft x open
1000kg
310 PHP
250 PHP
220 PHP
Light Van
5.5 x 3.8 x 3.8 ft
600kg
250 PHP
192 PHP
225 PHP
MPV/SUV
5 x 3.2 x 2.8 ft
200kg
160 PHP
130 PHP
140 PHP
Sedan
3.5 x 2 x 2.5 ft
200kg
140 PHP
110 PHP
120 PHP
SEE ALSO:
Customer service
Our customer service representatives are available both through phone calls and live chats. Clients can call us during an ongoing transaction in case a question or a problem arises. Our live chats, which are available on our website and mobile apps, are open 24 hours 7 days a week and yes, even on the holidays. We'll make sure all your issues and inquiries are solved within the day to give you a 5-star delivery experience.
60-minute immediate booking
In a hurry? No problem. You can select your timing preference within 60 minutes. As long as there's a Transportify vehicle nearby, we guarantee that your delivery will be picked up within an hour. We understand that some clients have urgent and emergency delivery needs, which we strive to cater by becoming a reliable and fast trucking and logistics company.
Rain or shine, we'll deliver
It doesn't matter if it's raining or if it's too hot to go outside because Transportify will be at your service, rain or shine, as long as the weather permits. Book an immediate transaction even if it's raining cats and dogs. Unlike any other trucking and logistics companies, if you have scheduled delivery in advance with Transportify, we'll still push through with the deal even if it rained unexpectedly. And because we do door-to-door pickup and delivery, you don't have to bother leaving the house to send your package to any courier service center.
Transportify is not just another trucking and logistics company in the Philippines. Clients can rely on us the way they rely on their business partners since we focus more on building trust than building profits at a lower cost. Because of this, you can always say that you can trust Transportify as your freight logistics trucking company. Never settle for companies that provide less than 5-star service at a higher price.
Top industries could benefit from using a delivery trucking company. Businesses today have come to terms with the fact that all sectors have become very competitive. Especially with the rise of social media, even small to medium enterprises nowadays can quickly get their name out there and compete with big brands.
For this reason, specific industries are looking to make their services better to gain a competitive advantage. One of the best features that businesses should add to their services is using a logistics trucking company to take care of their deliveries.
What Is a Logistics Trucking Company?
A trucking company in the Philippines serves to help businesses handle delivery and product transportation. It provides services such as door-to-door delivery, same-day delivery, and moving services.
What Are the Industries That Could Use Trucking and Logistics Companies in the Philippines?
A trucking company in the Philippines is very beneficial, especially to specific industries whose primary focus is customer satisfaction. Here are several businesses that could use the help of a logistics trucking company in their industry.
Online retail stores
In the Philippines, there is an increase of at least 6% of retail sales every year. It shows that more people are drawn to buy products. However, retail has now expanded to online stores, which is better known as e-commerce.
Using a trucking company in the Philippines for online delivery is in the best interest of every online retail store. A logistics company like Transportify can help sellers bring their products right to the customer's doorstep. Also, trucking and logistics companies can even handle these products in bulk and in all shapes and sizes.
Construction
With great tools and equipment, the construction industry will need a reliable form of transporting these items. Construction industries follow a strict timeline since any delay could cause additional expenses. As such, when trying to find the right trucking company in the Philippines would make sure that transporting the tools and equipment will not cause any delay.
Also, because of the many equipment pieces used in construction, it may be challenging to keep track of these materials. When you hire a logistics trucking company such as Transportify to handle the delivery and hauling of construction debris and materials, you can remain focused on handling other parts of the project. You can rest assure that the essential tools and equipment will arrive safely and punctually.
Hotel management
Hotel management is one of the busiest industries in the Philippines because of the increase in the number of tourists. Tourism has contributed a gross value of over 2 trillion pesos in 2018 and is still currently increasing by 2020. With these numbers, hotels will only continue to be busier than ever.
When it comes to managing a hotel, a logistics trucking company is essential in transporting supplies and necessary equipment for inventory. These include linens, furniture, fixtures, and other stuff that is necessary to maintain the hotel's cleanliness and overall impression.
Electronic and Office Equipment
Lastly, those engaged in the business of electronic and office equipment can make use of a trucking company in the Philippines. These items require special attention because most of them are delicate and comprise costly materials such as computers.
If you are supplying this equipment, then you have to find a reliable logistics trucking company that can handle these fragile materials carefully. Transportify provides an organized system of transporting these products from the warehouse and up until it reaches your customer's doorstep. Rest assured, when you find the right trucking company in the Philippines, your products will be damage-free.
These are only some of the many other industries that could benefit from the use of trucking and logistics companies. Restaurant businesses and pharmaceutical companies will also be able to have their customers satisfaction ratings increased upon finding the right trucking company in the Philippines.
Transportify is Here to Help Your Business
If you are engaged in any of those industries in the Philippines, then worry no more as Transportify can help you get a delivery system that caters to your needs. By downloading the application, you can select from an array of premium vehicles that will deliver your products right to your customer's hand, at a low cost and efficient speed.
Also, Transportify is a cargo logistics trucking company that can help manage and transport goods and products that requires a larger vehicle. Our drivers are professionally trained, and our workforce is sufficient to cover any deliveries that need extra support. In the Philippines, there is no other better logistics company that will help a multitude of industries to thrive in their business.
Download the app now and avail of trucking services right in the palm of your hand.
| | | |
| --- | --- | --- |
| | or | |
Frequently Asked Questions:
Does a trucking company like Transportify can deliver to Visayas and Mindanao?
🚚 Yes. Transportify has an interisland trucking service that can cater deliveries with pick up from Luzon and Cebu to cities of Visayas and Mindanao. Trucking has never been made this easy. Directly through the app, you can book an L300, Closed Van truck, 6w Fwd Truck, and 10w Wing Van to support your interisland distribution. Aside from interisland trucking service, Transportify also has same day delivery services in Cebu island and Davao.
What makes Transportify different from other logistics trucking companies?
🚚 Transportify is your modern logistics provider. We take pride in being innovative to craft modern logistics services for our bookers. We are a logistics trucking company that takes into consideration the experience of our customers and the intention of elevating it every time.