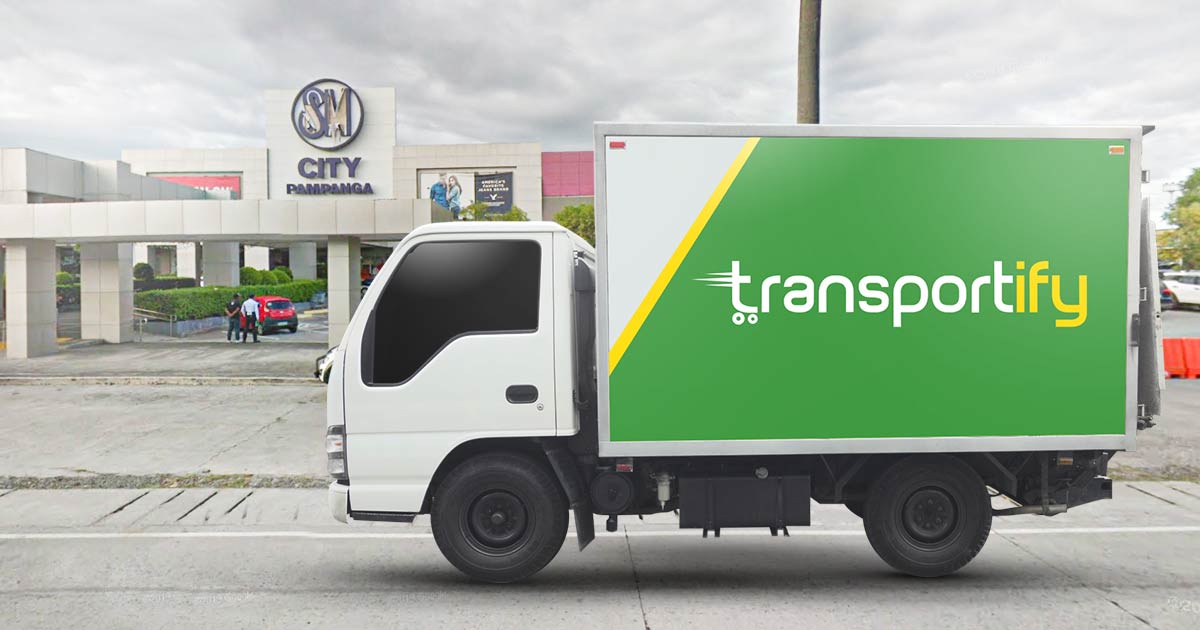 Manila's smartest delivery & cargo trucking services is now open in Pampanga! Transportify is getting bigger and farther. Aside from our fixed price route service in Batangas City, Lipa, Dagupan, Baguio, Lucena, Subic, Cabanatuan, San Pablo, Tarlac, we also included Pampanga as our standard service area to provide reliable and affordable logistics solutions to more local businesses.
With Transportify, avail 24/7 same-day Pampanga delivery solution for your business. You are now open to book Transportify to deliver within Pampanga's standard service area or even going to anywhere in Luzon. Scan the QR Code or click the download button to Book now!
What are Transportify's Pampanga Delivery Services?
Transportify is a mobile and web application that allows you to book and manage 24/7 pickups and deliveries of almost everything, whatever it takes. It is a platform which channels businesses and its customers for a much convenient, cheaper, and smooth transactions.
Full-service pickup and delivery
Full-service loading and unloading
Quick or schedule ahead of time
Real-time tracking of your deliveries
24/7 Live Customer Service
Commercial Goods Insurance
Our Prices
Try our cargo trucking services by booking a 10W Wing Van, 4 or 6 wheeler Closed Van, L300, Van, MPV, or sedan depending on your cargo size. Our low Pampanga delivery prices don't just assure you a cost-efficient solution but quality service as well. Get the best possible prices compared to other trucking services when transporting your goods around Pampanga.
Vehicle Type
Dimensions/
Weight Limits
Base Price
(Metro Manila)
Base Price
(Outside Metro Manila)
Base Price
(Visayas/Mindanao)
Wing Van 
32 to 40 x 7.8 x 7.8 ft
12000kg to 28000kg
7500 PHP
6500 PHP
6500 PHP
6w Fwd Truck
18 x 6 x 7 ft
7000kg
4850 PHP
4850 PHP
4850 PHP
Closed Van
10 to 14 x 6 x 6 ft
2000kg to 4000kg
1800 PHP
1450 PHP
1450 PHP
Open Truck
10 to 21 x 6 ft x open
2000kg and 7000kg
2300 PHP
1950 PHP
N/A
Mini Dump Truck
10 x 6 ft x open
2000kg
1500 PHP
1200 PHP
N/A
L300/Van
8 x 4.5 x 4.5 ft
1000kg
430 PHP
330 PHP
310 PHP
Small Pickup
5 x 5 ft x open
1000kg
310 PHP
250 PHP
220 PHP
Light Van
5.5 x 3.8 x 3.8 ft
600kg
250 PHP
192 PHP
225 PHP
MPV/SUV
5 x 3.2 x 2.8 ft
200kg
160 PHP
130 PHP
140 PHP
Sedan
3.5 x 2 x 2.5 ft
200kg
140 PHP
110 PHP
120 PHP
Use our Full Day service with unlimited distance and destination within Pampanga for 10 hours at an affordable fixed price.
Service Area
Curious to know which areas in Pampanga are covered by Transportify's delivery & trucking services. We made a map below to guide on which areas are open for pickup your cargo.
Business Program
We understand how businesses and different industries require more specialized logistics services in Pampanga; that's why Transportify's famous Business Program is made available to our Kapampangans who's continually moving products. Our Program provides full end-to-end ground logistics support with additional benefits when you sign-up for free!
Below are offers of the Program that's tailored-suit for the corporate client:
Free Commercial Goods Insurance
Post-pay monthly invoicing
Special CS business service hotline
Cheap COD & POD services
Service customization to your needs
To know more about our Program, you can chat us 24/7 or email support@transportify.com.ph.
Transportify Pampanga's location is at 2nd Floor, Unit 2-04, CBL Building, MacArthur Highway, Cer-Hil Subdivision San Fernando 2000 Pampanga.
Our Pampanga Delivery & Cargo Trucking Service Innovates Business
Pampanga is one of the major provinces in Central Luzon. As of 2018, the region houses a total of more than 2 million residents.
Pampanga has become one of the most highly urbanized cities that has made it a great place to start a business. It has the most increase in the number of companies since 2017. The figure includes small to medium enterprises, as well as barangay micro business enterprises.
As such, if you have a business in Pampanga, or planning to establish one, your services must be highly competitive. One of the best methods to attract more customers is by providing a Pampanga delivery service.
Statistics on delivery services
Many studies have shown that delivery services help any business become more profitable. Here are some statistics that show just how vital a delivery service is and why you should provide delivery service.
Consumer behavior shows that 7 out of 10 customers would more likely buy again from a company that offers excellent delivery options. Company sales in the Philippines with cargo trucking services grossed at least P20 Million in 2016.
Delivery services, especially those with the same-day option, give a business at least an 85% competitive edge against others.
For this reason, having a Pampanga delivery service is advantageous, considering the competitive market of the province. If you are engaged in the following businesses, you should offer delivery options.
Restaurant Business
Without a doubt, having a restaurant business in Pampanga is number one on the list. The province is known to be the Culinary Capital of the Philippines, which makes it an excellent place for any restaurant business.
However, due to the many thriving restaurants in the province, every starter should offer something new that would attract customers. As such, a delivery service for your food is a must. Studies show that at least 8 million Filipinos used food delivery services at least once in 2018.
Furniture Business
While Pampanga is mostly known for its delectable food, they are also popular as a producer of high-quality handcrafted furniture. From tables, chairs, and shelves, all durable furniture can be bought in the province.
If you have a furniture business or planning to set up one in Pampanga, then make sure that you have many available trucking services. Most of your customers would want to have their furniture orders delivered directly to their house's doorstep. For this reason, have an edge against competitors by availing of Transportify's cargo trucking services.
This heavy furniture can easily be transported with Transportify's vast list of available vehicles. Also, its cargo trucking services are operated by accredited and professional drivers that know how to handle this heavy furniture. Any business owner will rest assure that their products will be delivered damage-free and at the pristine condition.
Christmas Holiday Business
Surprisingly, Pampanga, specifically the City of San Fernando, is dubbed as the Christmas Capital of the Philippines since the 1990s. It is known as the "House of Giant Lanterns."
During the holiday season, orders can skyrocket, and customers demand quick delivery services. To cater to all of the requests, getting cargo trucking services for your Pampanga delivery is the best way to go. Logistics services like Transportify have vehicles ready to deliver all of your lantern orders right to your customer's house, no matter how big or small.
Transportify: The Provider of Same Day Delivery Service & Trucking Services in Pampanga
Transportify now provides excellent service in Pampanga – whether you are delivering to or from the city. Its services include same-day delivery, door-to-door delivery, and even cargo trucking. Its intracity delivery services are made with a wide selection of vehicles such as an L300, Closed Van, and even a ten-wheeler wing van that can accommodate all deliveries of any size.
As such, every business can improve by using Transportify's accessible service. Our Pampanga delivery service can be availed of by downloading the mobile application in the App Store or Play Store. By using the application, you can have your orders sent out to your customers anytime and anywhere in Pampanga.
So, if you have a business in Pampanga, what are you waiting for? Download the application now, and you will get services less than 30% of other logistics providers. Make your business better and booming with Transportify's Pampanga delivery services.
| | | |
| --- | --- | --- |
| | or | |
Frequently Asked Questions:
How to compute the cost of cargo trucking services?
💰Factors that are considered on getting the quote of trucking services is the weight & volume of the cargo to be transported. Next is the distance of the drop-off. And lastly, are other factors that depend on which provider you use. This includes how fast you want the cargo to be transported, gas, cost of the workforce, and others also charge extra if you want them to pick up your cargo.
Which companies offer same-day Pampanga delivery service?
💰Here are companies you can check out: JRS Express offers express & regular delivery service around the Philippines and including Pampanga and can deliver items of up to 20 kg. LBC is another known company that can deliver around Pampanga, and they can load more compared to JRS with a total limit of 100 kg. If you need to deliver around Pampanga heavier and more items, you can try Transportify instead with it's smallest vehicle can load up to 200-300kg. We also have vehicles for large scale express deliveries such as Closed van and 10W Wing Van.